Hot Pepper Jelly Cheese Brick – It's delicious and easy to make! A perfect appetizer for your Thanksgiving or Holiday celebration.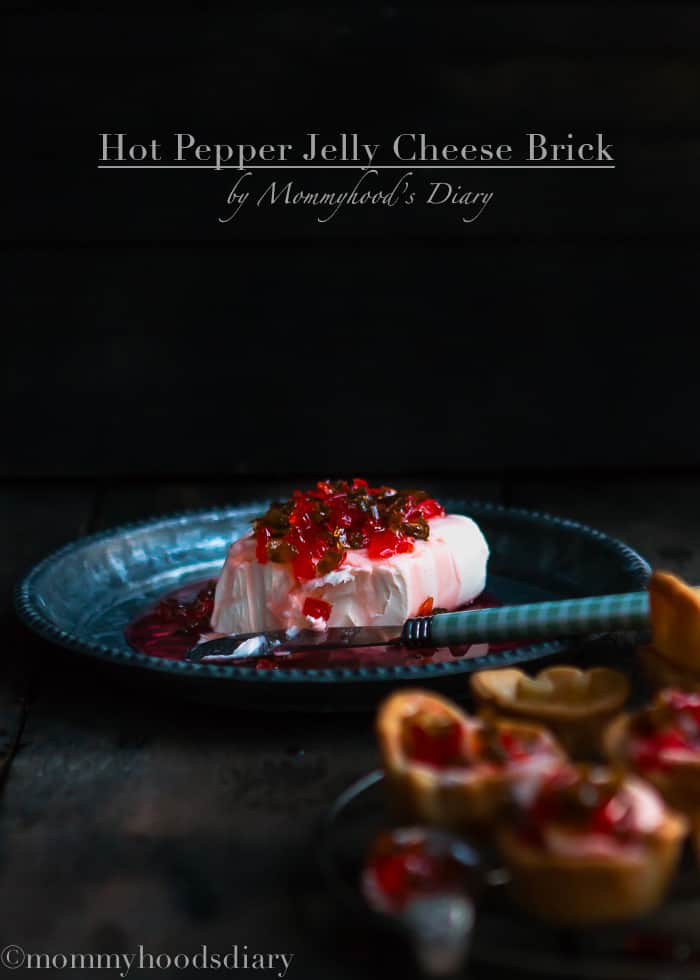 I still cannot believe Thanksgiving is the next week!
Even thought I am very excited I'm starting to feel the holidays stress. So many things to do and so little time. The past Sunday we went to the mall and Santa is already there. That made me realize that I'm so far behind. I have not even begun to see the clothes that my kids are going to wear for our Christmas photo. Not to mention that I'd love to lose like 10 lbs before the picture is taken….hahahaha. Yeap, I'm a dreamer!
For now, I'm trying to focus in one thing at the time. So today we are going to talk about delicious party food. YAY! Even better… HOT party food. Double YAY!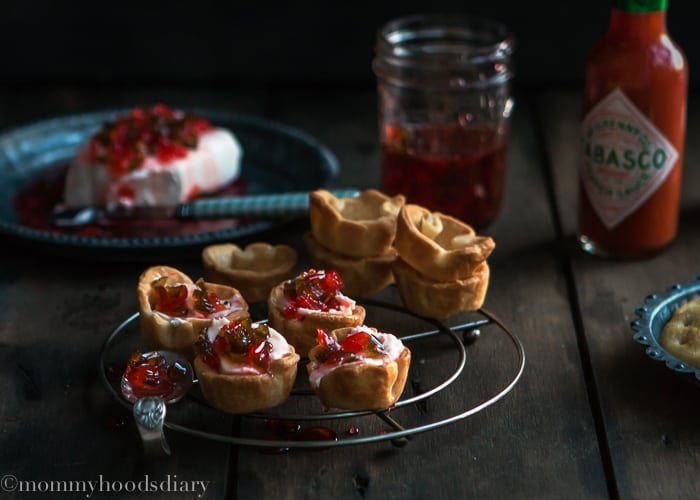 This Hot Pepper Jelly Cheese Brick is a real crowd pleaser!
Back home this appetizer is always present in every party. Actually If I don't see it on the table I kind of think: What is wrong with this people? I'm totally kidding (but not really).
This time I added a kick to my original recipe with a few dashes of Tabasco. I'm happy to say that this flavor combination worked out wonderfully… Sweet, sour and heat is a real fiesta in your mouth! Of course, the level of heat can be adjusted to your personal taste. I just added enough to intensified the flavors without making my guests cry or sweat.
If you want to served this delicious appetizer in a more sophisticated way bake a few mini tartlets … they are to die for!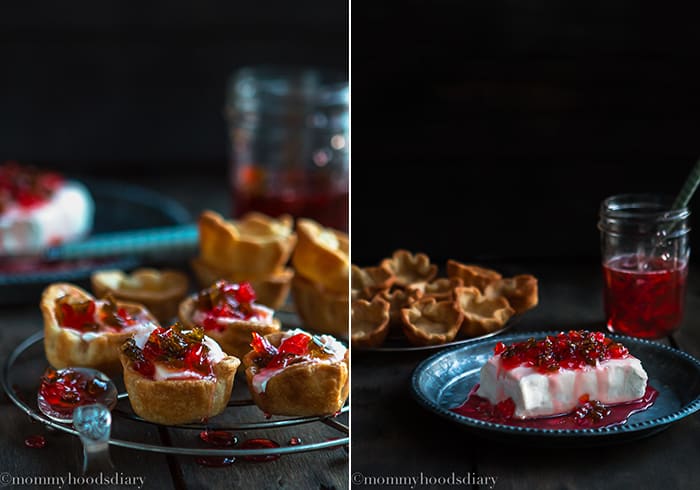 I didn't added pectin. Please don't underestimate the power of simmering and time. This jelly is just perfect and this is the traditional way we prepare it in Venezuela.
The beauty of this recipe is that you can prepare the jelly days in advance so your work can be cut down the day of the event. Simply jar the jelly and store in the refrigerator for up to three weeks. I seriously doubt it going to last that long. Once you try it you'll never buy the store-bought version again.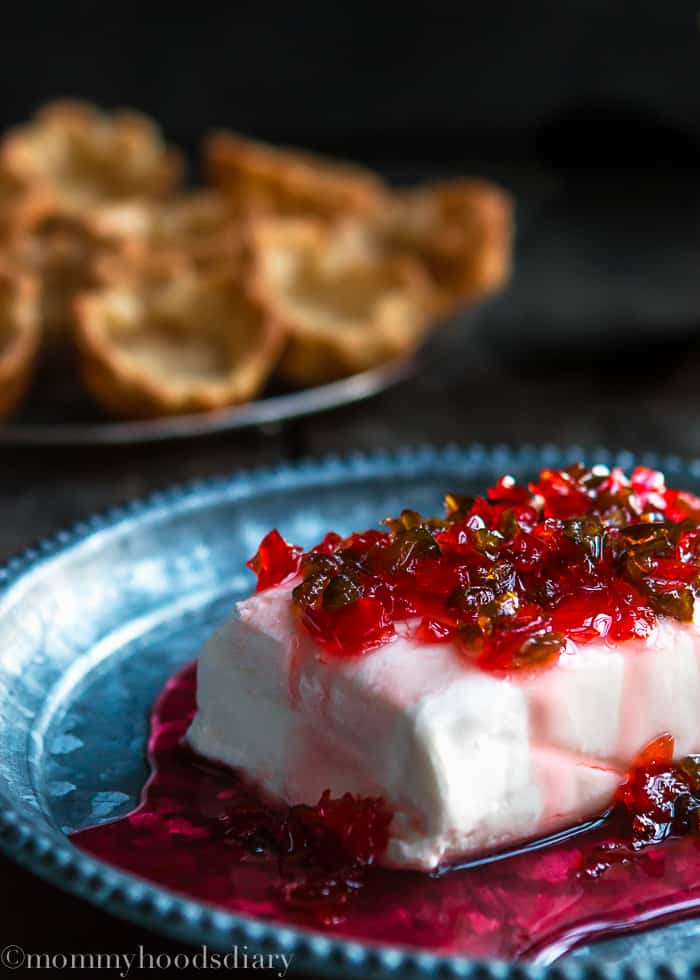 Hot Pepper Jelly Cheese Brick
Ingredients
1/2

green pepper

diced

1/2

red pepper

diced

1

cups

of sugar

1/2

cup

f white vinegar

1/2

cup

of water

1

teaspoon

of hot saucel

or to taste

1

oz

cream cheese brick

8
Instructions
Combine all ingredients in a medium saucepan. Cook mixture over medium-low heat, stirring occasionally, until the mixture has reduced by half and thicken, about 25 - 30 minutes.

Turn off the heat and let it cool.

Pour hot pepper jelly over the cream cheese brick and serve with crackers or mini tartlets.

If not using immediately pour the mixture into a glass jar and store in the refrigerator for up to three weeks.
Recipe Notes
If you want to add more heat you could add a jalapeño pepper, crusted red pepper flakes or cayenne pepper.
For the mini tartlets I used store-bought pie dough. I cut it with a round cookie cutter and arrange the rounds in a ungreased mini muffing pan. Then baked them for 10- 12 minutes at 425ºF.