This delightful Almond and Lemon Cake

is

moist and one of the most delicious cakes I've eaten in my life! Full of almond flavor with a fresh citrusy lemon touch.
I am very excited to share this recipe of Almond and Lemon Cake with all of you. I don't want to sound repetitive, but seriously, this is one of the most delicious cakes I've ever tasted. Yeap … that good!
I'm really enjoying this baking thing. I know that in the past I have said that sweets were not my forte. Well preparing them, eating them has always been my strong suit hahaha. Anyways. Lately, I've found baking therapeutic. Not only it puts me in a good mood but also relaxes me. Especially when the end result is so-so-so good as this cake.
Maybe because it's almost Fall and the weather is starting to change that this cake tastes like heaven to me. Well. Not really. I think it'd taste like heaven any time of year. It is so light and delicate, really delightful.
Some of you have written to me asking about baking times. Remember that every oven is different. In my case, my oven is a little old, but still, sometimes I feel like it is very powerful. That's why I'm always checking how the cooking process goes.
It was kind of hard to find sliced blanched almonds, the ones you see in the pictures. I looked in several grocery stores and I couldn't find them. They only carry the ones with the skin on, and those do not work for this recipe. I ended up buying them online on Amazon.
 Another thing you may notice in the photos is that I prepared small cakes, but I also did one in an 11-inches tart pan. I wanted to experiment and see which was better. I really like most the small ones but my husband liked the one from the bigger pan more because it was thinner.
As you can see, there's no accounting for taste.
So next time you feel a powerful craving for something sweet and delicious prepared this cake.
You will not regret it!
Love what you see? Subscribe to Mommy's Home Cooking so you'll never miss a recipe! Follow along on Instagram, Pinterest, Twitter, and Facebook for more fun! 
When you make this recipe, be sure to snap a photo and hashtag it #MommysHomeCooking. I'd love to see what you cook!
This is not an eggless recipe! I used to make before my daughter was diagnosed with egg and nuts allergies. If you're looking for eggless recipes, click here to browse.
Almond and Lemon Cake
Ingredients
8 1/2

tablespoons

unsalted butter,

softened

1 1/4

cup

caster sugar

1 1/2

teaspoon

pure vanilla extract

1/4

cup

lemon rind,

finely grated

4

eggs,

separated and at room temperature

1 1/2

cup

almond meal

1/2

cup

cornflour

1

pinch of salt

1

cup

+ 2 1/2 tablespoons of ricotta

1

cup

blanched sliced almonds

Confectioner's sugar for dusting
Instructions
Beat butter and 3/4 cup of sugar in an electric mixer for 5 minutes, or until pale and creamy. Add vanilla and lemon and beat to combine. Scrape down the side of the bowl and add egg yolks, one at a time, and beat for 2 - 3 minutes until well combined.

In a medium bowl, combine the almond meal and cornflour. Add this mixture to the butter mixture and continue beating until combined.

In another bowl, place the egg whites and whisk until a stiff peak forms. Add the rest of the sugar (1/2 cup) and salt; continue whisking until thickened, about 2 minutes.

With a flexible spatula, fold in the egg whites and ricotta through the batter in two batches. The key is to go slow, and not to overdo it.

Divide the batter equally between pans and carefully smooth the tops with a knife. Decorate the cakes with almond flakes.

Bake for 35 - 40 minutes, or until a wooden skewer inserted in the center comes out clean.

Allow to cool completely, remove from pans, and dust with Confectioner's sugar.
Nutrition
Calories:
557
kcal
Carbohydrates:
47
g
Protein:
14
g
Fat:
36
g
Saturated Fat:
12
g
Cholesterol:
129
mg
Sodium:
62
mg
Potassium:
170
mg
Fiber:
4
g
Sugar:
33
g
Vitamin A:
625
IU
Vitamin C:
3.9
mg
Calcium:
165
mg
Iron:
1.9
mg
Did you make this recipe? I want to see your yummy photos!
Tag @mommyshomecooking on Instagram and hashtag it #mommyshomecooking or Join my Private Facebook Group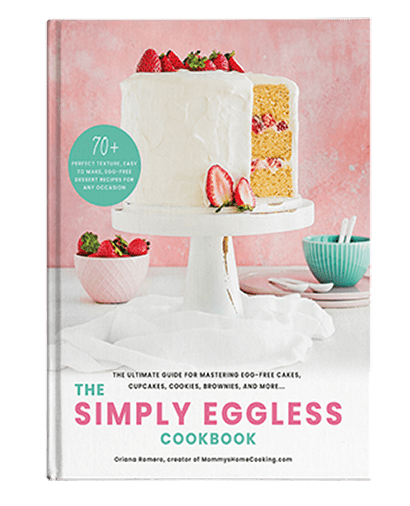 The Ultimate Guide to Eggless Baking!
Includes more than 70 easy-to-make recipes along with full-color photos, detailed instructions, and helpful tips for spectacular results.
Order Now!

---
Disclosure: This recipe was sponsored by Maseca.
* This post contains affiliate links, thank you for the support in keeping Mommy's Home Cooking up and running!