Black Forest Ham and Caramelized Onions Sandwich – A sandwich to die for! With great ingredients, easy to put together, and super yummy.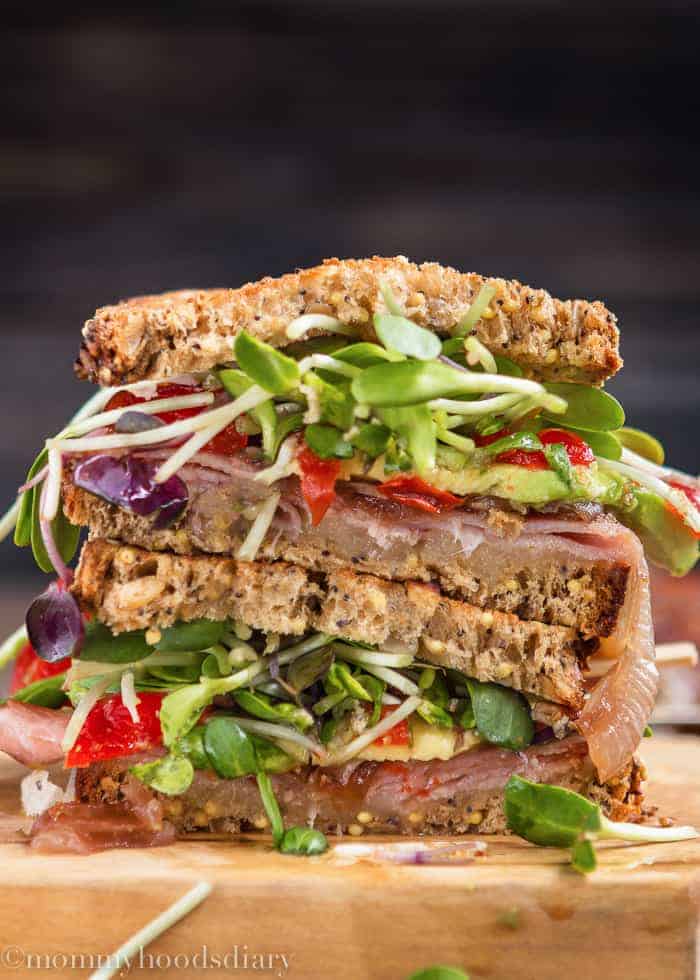 First of all, aren't you all glad it's the weekend? I am! It's been a long week and the weekend couldn't come any sooner. Ohh wait…I am a mom!! And my kids don't know the meaning of the word weekend. Danm.
Anyways… I feel like Friday needs a good sandwich. Believe me. It's a darn good sandwich and since it's now officially fall and all, I thought it would be a good idea to spicy it up a little bit. Friday doesn't need a boring sandwich!
This time I am using HillShire Naturals™ Black Forest Ham. I was super excited when they invited me to try their new line Naturals. As you can imagine for the name it's natural goodness to a new level, all natural flavors with no artificial ingredients, preservatives, colors or added nitrates/nitrites, and offers the same great taste and flavor that we are accustomed to.
Hillshire Farm Naturals™ is available at Walmart, or any grocery stores nationwide, in four varieties, including Slow Roasted Turkey Breast, Hardwood Smoked Turkey Breast, Honey Roasted Ham, and Black Forest Ham.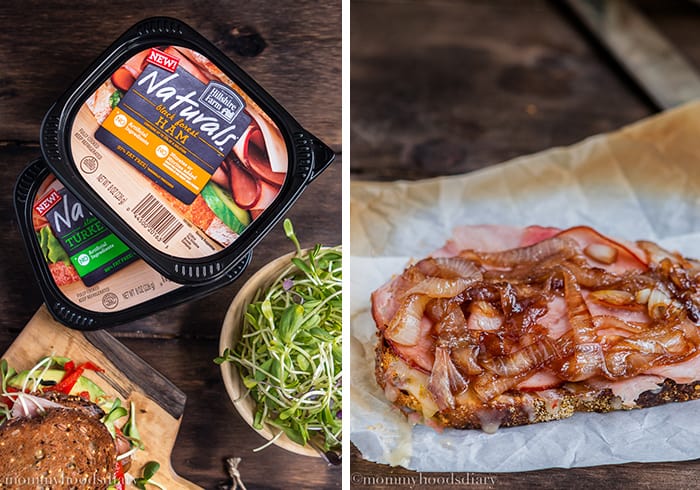 For this sandwich, I used Monterey Jack cheese with jalapenos, Black Forest Ham (of course), caramelized onion (soooo good), Peppadew peppers, avocados, sunflower and purple radish blend; Fresh and delicious.
It was my first time trying sprouted "microgreens" and I'm officially hooked. That they're loaded with more nutrients than mature vegetables, which is almost irrelevant given how good they taste!
Elaborate meals are … well great most times. But sometimes I just want a quick snack, or lunch for me or for the kids. When it comes to quick fix meals, easy, healthy and great tasting is the key to keep this mama happy; something we can actually enjoy.
This new premium line of lunchmeat Hillshire Farm Natural™  is perfect to make a sandwich, wrap or even if you want less carbs, cut out a slice of bread and enjoy a tasty and hearty open faced sandwich …. take it to work, school, or to simply eat at home! There's no excuse not to eat well at every meal, even if you have only minutes to put it together.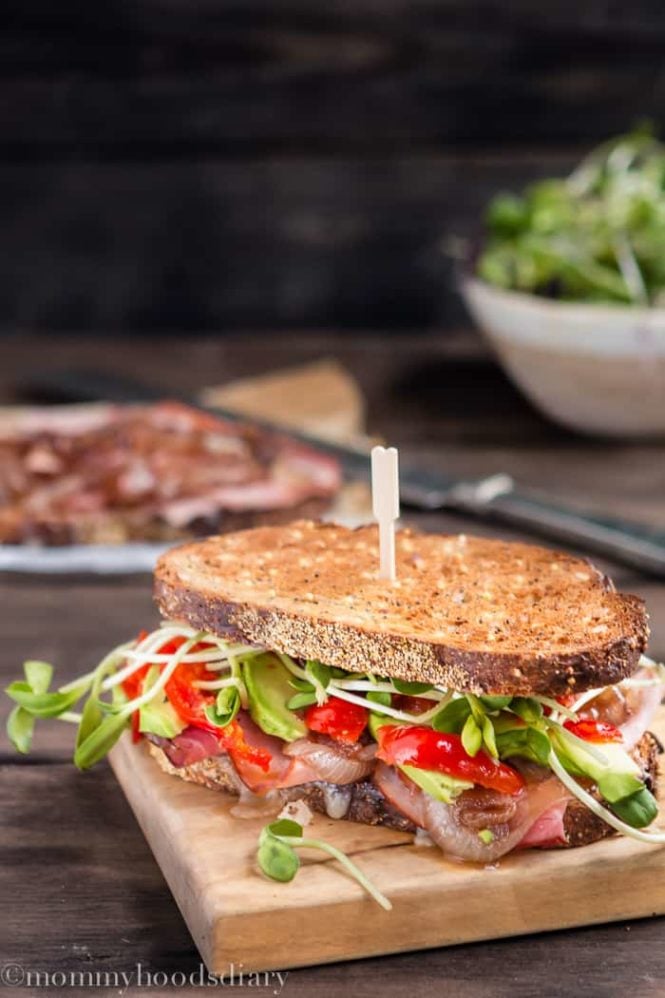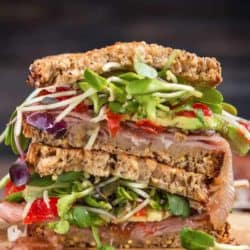 Black Forest Ham and Caramelized Onions Sandwich
Ingredients
2

tablespoons

of olive oil

1

tablespoons

of butter

2

tablespoons

of brown sugar

1

inch

onion

peeled and cut into 1/4- slices

1/4

cup

of red vine

4

slices

of whole wheat grain bread

1 1/2

cup

of Monterey Jack cheese with jalapeños

coarsely grated

6

slices

of Hillshire Farm Natural™ Black Forest Ham

4 -6

Peppadew peppers

cut into thin strips

4

slices

– 6 of avocado

1

cup

of you favorite greens

I used sunflower and purple radish blend
Instructions
Heat the oil and butter in a medium nonstick skillet over medium high heat. Add the sugar and mix with a wooden spoon until dissolved. Add the onion and cook for 5 minutes, or until the onions are lightly browned and soft. Pour in the red wine, pop the lid on, reduce the heat to low and cook for around 35 minutes, or until beautifully golden and caramelized.

Position a rack about 6 inches from the broiler and heat it to high. Line a baking sheet with parchment paper. Set aside.

Put the bread on the baking sheet and broil until lightly toasted. Set aside the tops. Sprinkle the bottoms with cheese, and broil until the cheese melts, 1 -2 minutes.

Top the bottoms with Black Forest Ham, caramelized onions, Peppadew peppers, avocado, greens and the top of the sandwich.

Serve immediately.
You can substitute the Monterey Jack cheese with jalapeños with any other cheese of your choice. Just make sure it's a good melting cheese.
Peppadew is the trade marked brand name of sweet piquanté peppers. I bought mine in Whole Foods.
Did you make this recipe? I want to see your yummy photos!
Tag @mommyshomecooking on Instagram and hashtag it #mommyshomecooking or Join my Private Facebook Group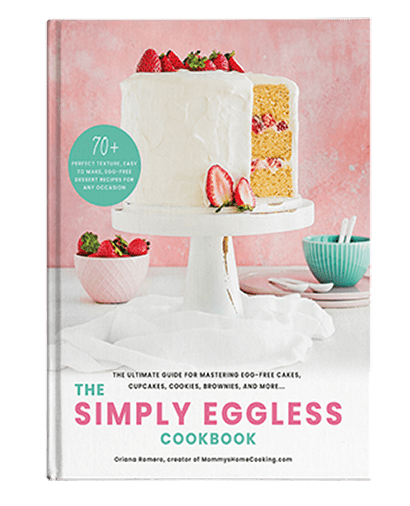 The Ultimate Guide to Eggless Baking!
Includes more than 70 easy-to-make recipes along with full-color photos, detailed instructions, and helpful tips for spectacular results.
Order Now!
To know more about Hillshire Farm visit their Facebook page and follow on Twitter and Pinterest.
Disclosure: This is part of a compensated campaign with Hillshire Farm®. However, all opinions expressed are my own.