Everyone says breakfast is the most important meal of the day; and I agree, but everyone gets bored of the typical breakfast: eggs, toast, cereal… etc. Once in a while it's good to have a delicious, easy, different, and creative breakfast.
A few days ago I heard my daughter's boyfriend talking about breakfast pizza and to be honest I hadn't heard about it before. I can even say I would have never even thought of a breakfast pizza as a dish. But his comments about it kept going around my head so I started doing some research and surprisingly I found some very interesting ideas.
After contemplating the thought of actually cooking a breakfast pizza, I bought pre-made pizza dough at the grocery store. My brain immediately started to create new ideas. I used my family's favorite breakfast ingredients to make the pizza: eggs, cheese, bacon, mushrooms and spinach. But basically, you can put whatever you can think of.
I made two types; one with scrambled eggs and the other one with sunny side up eggs. We all enjoyed the sunny side up egg pizza A LOT more. If you're going to make it for the children I think scrambled eggs would be less messy. It's so easy and quick to make that you can afford to prepare multiple types and please everyone at the same time!!
Love what you see? Subscribe to Mommyhood's Diary so you'll never miss a recipe! Follow along on Instagram, Pinterest, Google+, Twitter, and Facebook for more fun!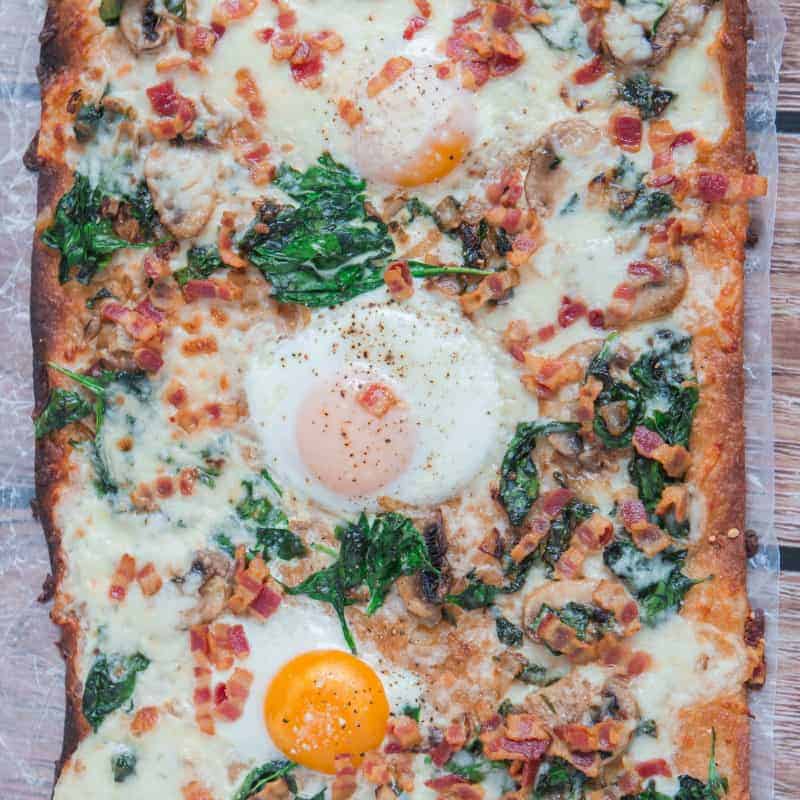 Breakfast Pizza
Ingredients
1

tube of Pillsbury® thin pizza crust

11oz

3

tablespoons

of olive oil

Salt and pepper to taste

1/2

cup

of onion

finely chopped

1

cup

of fresh mushrooms

sliced

2

cups

of fresh baby spinach

6

slices

of bacon

cut into small strips.

2

cups

of mozzarella cheese

shredded

3/4

cups

of parmesan cheese

grated

3 - 4

eggs
Instructions
Preheat oven to 400º F.

Open tube of Pillsbury ® pizza dough as directed.

Stretch the dough into a rectangular nonstick baking tray. Using a pastry brush paint the dough with olive oil and sprinkle a little ground pepper. Place in the oven and cook for 5-8 minutes or until lightly browned. Remove from oven and reserve.

In a medium skillet over medium heat 2 tbsp olive oil. Saute onion for 3 minutes or until translucent. Add mushroom and cook for 3 minutes. Add spinach and cook for 2 more minutes. Reserve

Heat a medium skillet over hight heat. When the skillet is hot add bacon and cook until crispy. Remove from the pan and place it on a paper towel to absorb excess fat.

Sprinkle pizza dough, previously baked, with half of mozzarella and parmesan cheese. Arrange spinach mixture evenly over the dough leaving room for the eggs.

Carefully crack the eggs on top and sprinkle with some salt and pepper to taste.

Sprinkle it with bacon and the rest of the parmesan and mozzarella.

Bake for 5 minutes or until cheese melts.

Serve hot .
You can use your favorite ready-to-use pizza crust or make your own dough.
Don't overcook the pizza dough the first time in the oven, or it might look burned at the end.
Did you make this recipe? I want to see your yummy photos!
Tag @mommyshomecooking on Instagram and hashtag it #mommyshomecooking or Join my Private Facebook Group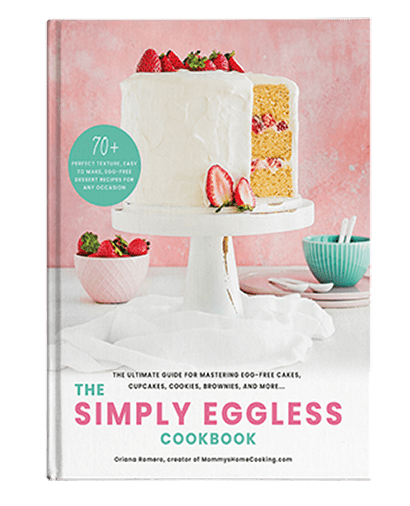 The Ultimate Guide to Eggless Baking!
Includes more than 70 easy-to-make recipes along with full-color photos, detailed instructions, and helpful tips for spectacular results.
Order Now!