Okay … I admit it! I got a little crazy with pumpkin this year. I think if I prepare one more recipe with pumpkin my husband divorces me LOL. Just kidding! He gladly offered to try and criticize all my recipes.
With this one he was delighted…It is D.E.L.I.C.I.O.U.S!!
I do not know how it's in your home but in my home big celebrations is all about desserts, so I like to prepare 2 or 3 to please everyone's taste. Of course, that chocolate cannot be missed. So, this bundt cake is ideal. Very easy to do. Even, you can do the night before if you want. I think it's perfect, exactly as you see it. But if you want you can sprinkle a  powdered sugar or make a simple glaze of sugar; mixing 1 cup powdered sugar, 2 tablespoons water or milk and two drops of vanilla extract.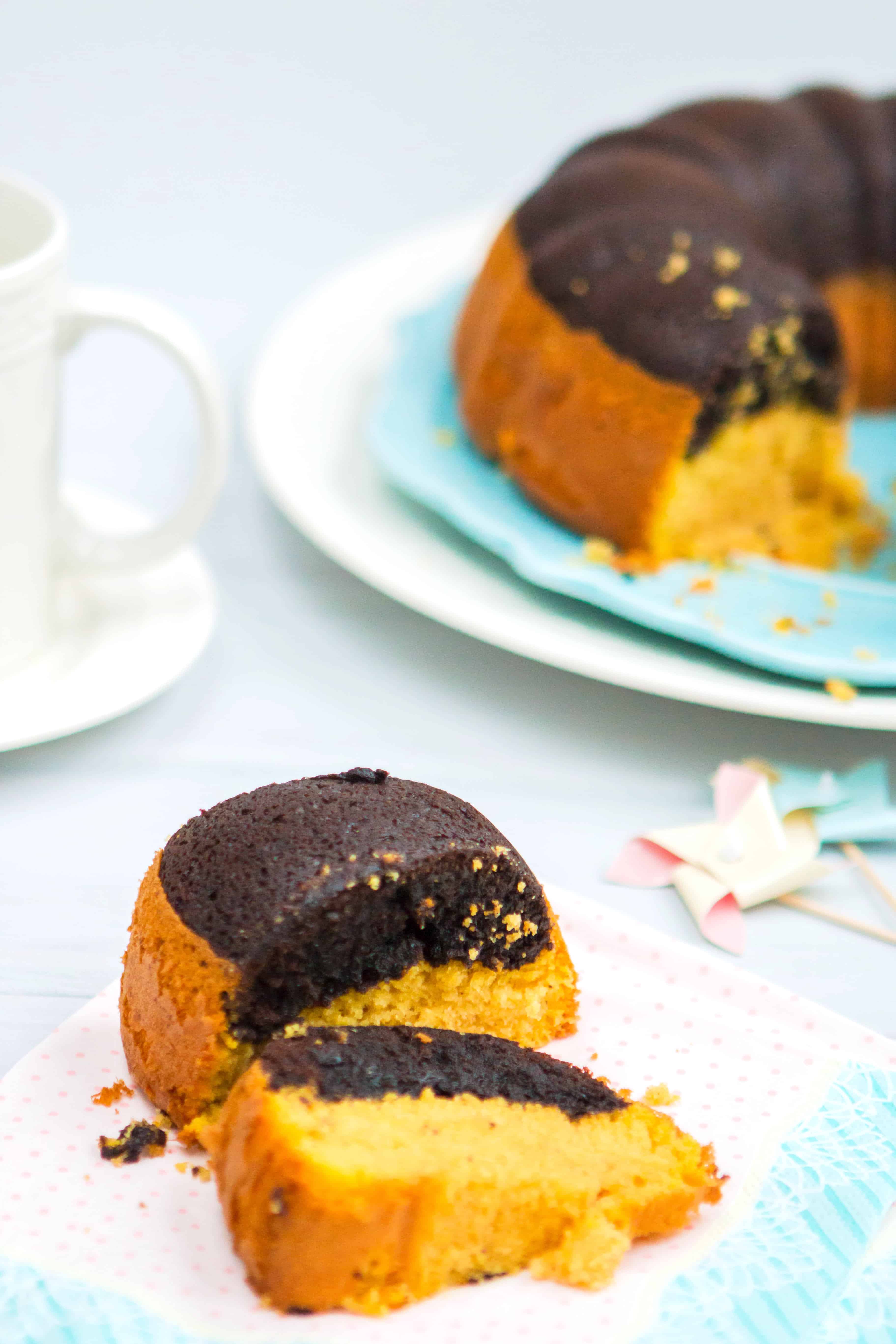 Ingredients
Brownie:

1

Box of brownie mix

I used Betty Crocker® Fudge Brownie

1/4

cup

of water

1/2

cup

of oil

3

eggs

Pumpkin Cake:

1

cup

of self-rising flour

1/2

teaspoon

of baking power

1/4

teaspoon

of pumpkin spice

8

tablespoon

of butter

room temperature, 1 stick

1/2

cup

of sugar

3

eggs

room temperature

1/2

cup

of pumpkin puree
Instructions
Heat oven to 350°F. Spray a bundt pan with baking spray. Set aside.

Make brownie batter as directed on box.

Pour the brownie batter into the prepared pan and bake for 30 minutes or until the batter is set. Removed from the oven and reserve

Prepare the pumpkin cake.

In a medium bowl mix flour, baking power and pumpkin spice. Set aside.

Beat the butter and sugar until it looks creamy and smooth, about 5 - 8 minutes. Add one egg at the time (do not add the next egg until the previous one is fully incorporated).

Add half of the flour mixture and continue beating until well incorporated. Add pumpkin puree and mix for 3 minutes. Add the rest of the flour mixture and mix for 3 more minutes.

Pour pumpkin cake batter over the brownie. Put in the oven and bake for 35 - 40 minutes or until a skewer inserted in the center comes out clean.

Remove from the oven and allow to cool for 10 min in the pan before inverting onto a wire rack to cool completely.
⭐️ RATE THIS RECIPE ⭐️
Do you have any questions? Ask me! I am happy to help 🙂