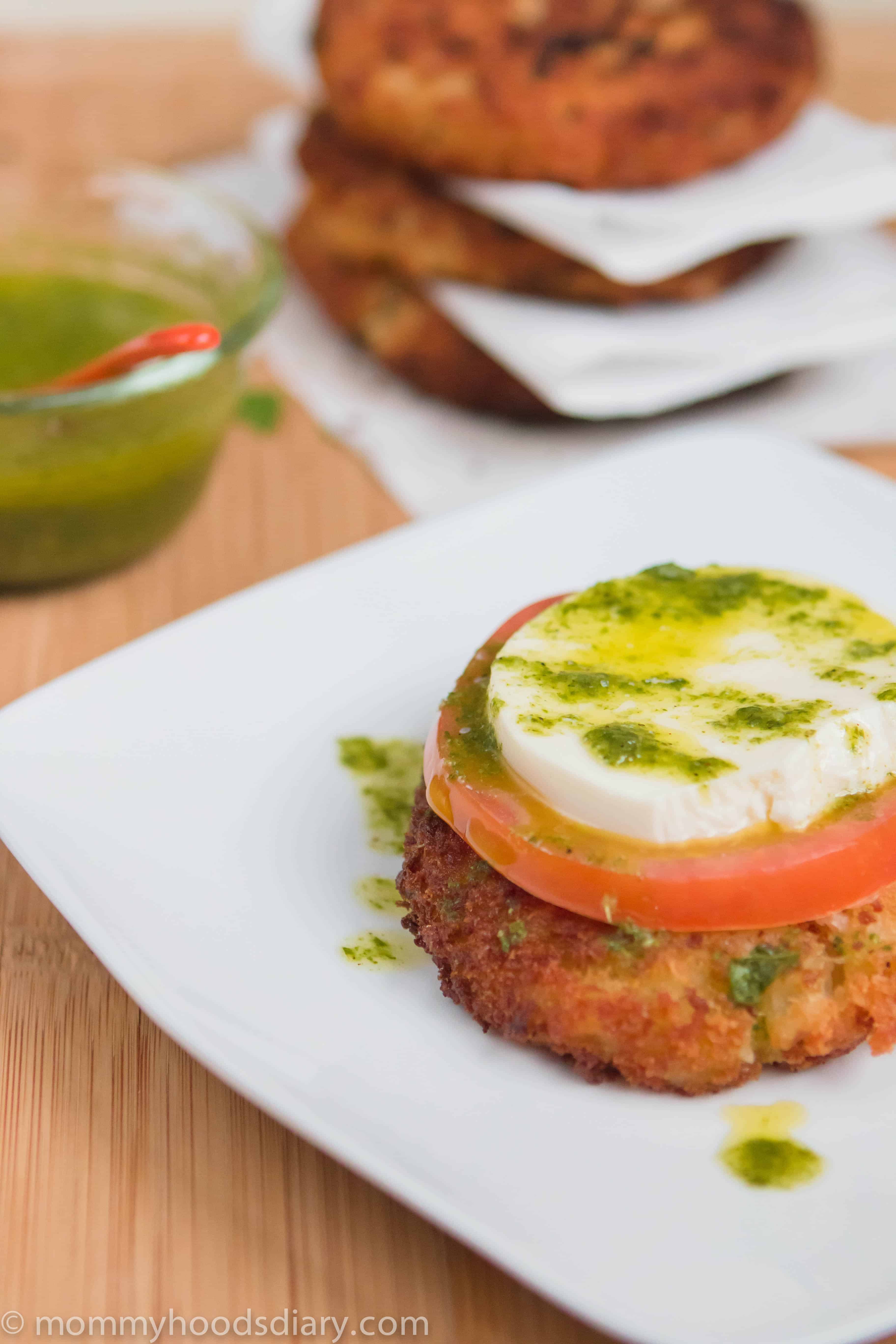 Sometimes my family gets bored of eating rice, potatoes, quinoa, etc … as an accompaniment. That's where my good friend Yucca comes to the rescue!
Yucca is a very popular food in the Caribbean. A wide variety of foods are made with it  ranging from desserts, breads and even drinks. It is very similar to the potato, just a lot more starchy and requires longer cooking time. Fresh Yucca has a brown rough skin that is a bit tricky  to remove. But, do not worry! You can buy it peeled , cut and  ready to cook in the frozen section of the supermarket.
My husband's favorite way to eat it is fried. So, instead of just frying  the yucca I came out with this recipe that is delicious. The combination of onion, garlic and cumin adds a very rich flavor.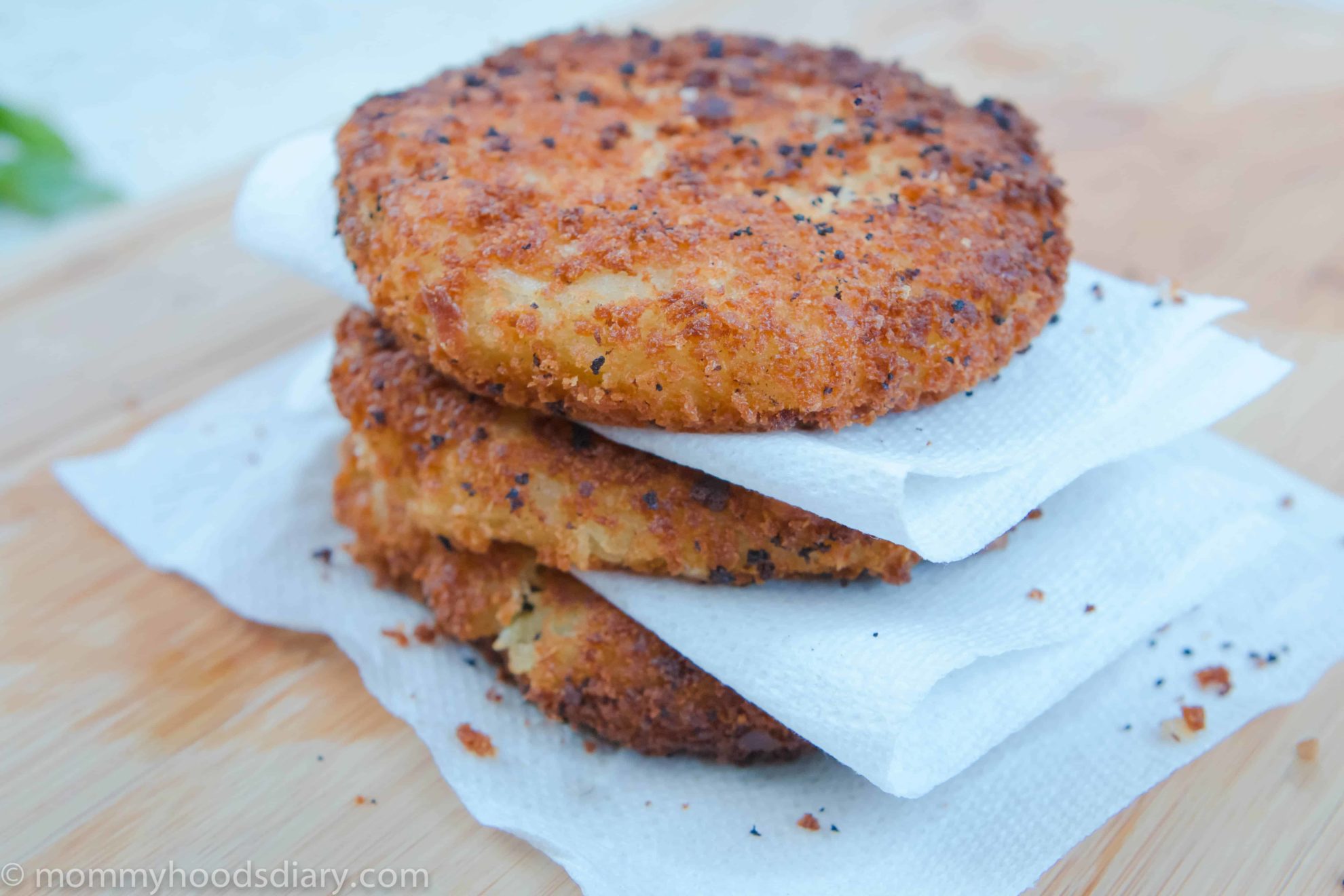 You can eat them alone, as the companion of any main course. Back home, the yucca is present in every "parrillada" (barbecue). Generally, it's dipped into guasacaca (an avocado sauce). Yum Yum Yum!
Another fabulous part of this recipe is the basil vinaigrette. Wow … delicious! I am a basil fan and this time around was the perfect touch. I always try to have a small  plant in some corner of my small kitchen.
Caprese Yucca Cake with Basil Vinaigrette Recipe
Ingredients
1.5

lb

of frozen yucca

6

cups

of water

1

tablespoon

of salt

2

tablespoon

of olive oil

1

cup

of onion

finely cut

3

cloves

garlic

crushed

1

teaspoon

of cumin

1

cup

of corn oil

6

slices

tomato

slices

Fresh mozzarella

cut into 6

Vinaigrette:

1

cup

of fresh basil leaves

1/2

cup

of olive oil

2

tablespoons

of red wine vinegar

1

clove

garlic

1/2

teaspoon

of salt

1/4

teaspoon

of pepper
Instructions
Add the water to large pot and heat over medium high heat. At first boil add the frozen yucca, wait until it boils again and cover. Cook for 15-20 minutes or until the yucca is fork-tender. Add salt and let it simmer for 5 more minutes. Drain and let it slightly cool.

While yuca is cooling, heat olive oil in medium skillet over medium high heat. Sauté onion and garlic. Add cumin. Stir occasionally; cook until beginning to soften, about 2-3 minutes.

Remove the thin vein in the middle of the yucca and any other fibrous core, if necessary. Then coarsely mash yuca with a fork. Add the onion mixture and mix well. Divide the mixture into 6 equal size portions; form balls. Take a ball and roll it in panko. Flatten with your hands and shape into a cake (3/4 inch thick). Cover again with panko (slightly press so it does not comes out at frying).Place it on a wax-paper-lined large tray. Repeat the same procedure with the rest of the mixture. Cover with plastic wrap and refrigerate for 1 hour.

Prepare the vinaigrette putting all the ingredients in a food processor or a blender. Process until everything is well incorporated. Reserve.

Heat the corn oil in a skillet over medium high heat (preferably nonstick). Fry the yucca cakes one by one until browned on both sides, about 2-3 minutes per side.

Arrange the yucca cakes over a big serving plate. Place a slice of tomato and a slide of cheese over each cake. Top them with basil vinaigrette.
Did you make this recipe? I want to see your yummy photos!
Tag @mommyshomecooking on Instagram and hashtag it #mommyshomecooking or Join my Private Facebook Group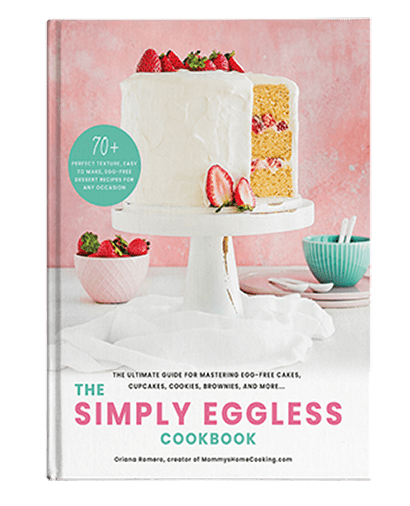 The Ultimate Guide to Eggless Baking!
Includes more than 70 easy-to-make recipes along with full-color photos, detailed instructions, and helpful tips for spectacular results.
Order Now!