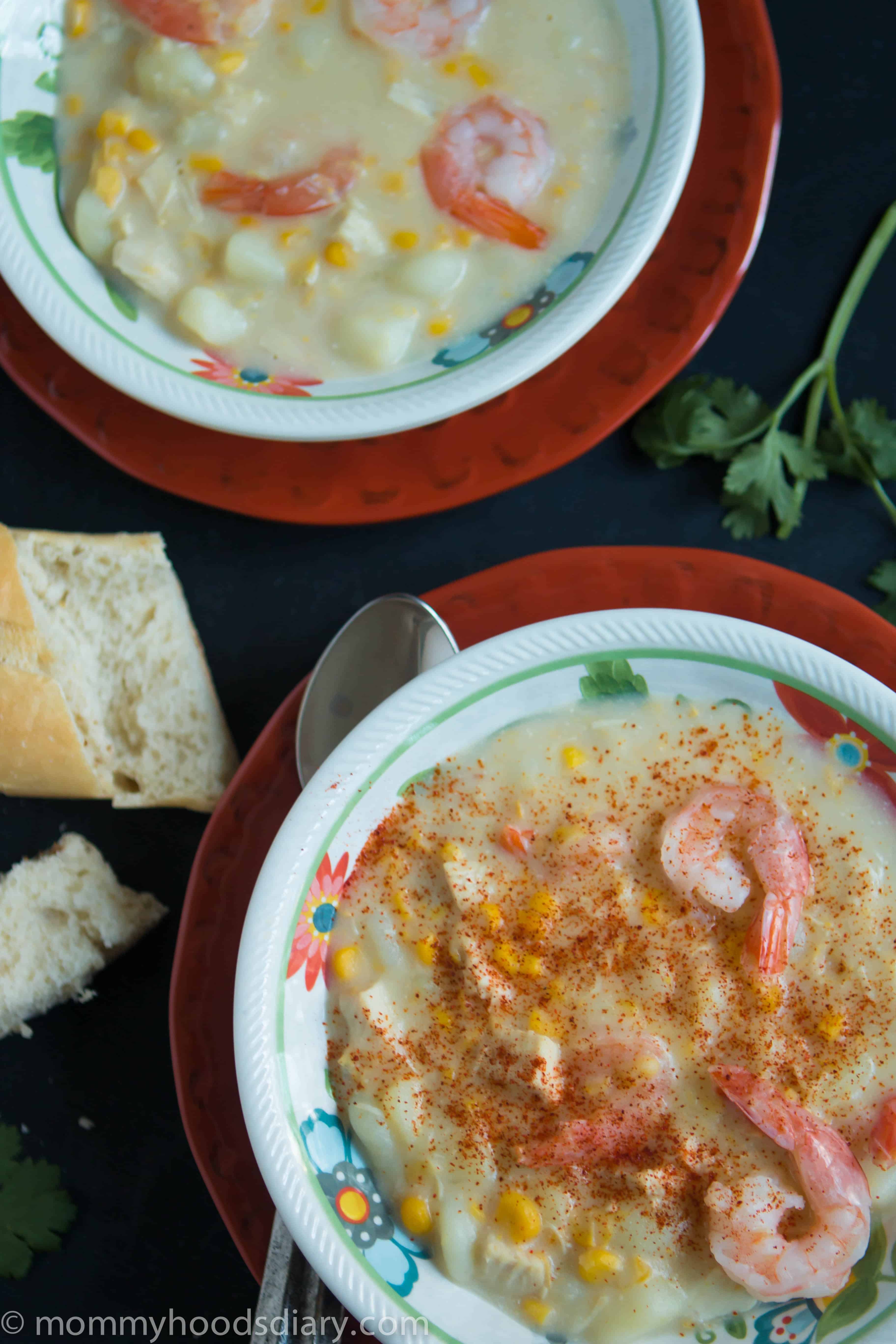 BRRRR!!!
The year has started with very cold temperatures and they seem to get worse every day. I just received an email from Matthew's school informing me that they will close tomorrow due to the big drop in temperatures. The truth is that I have been waiting desperately for school to starts. As a mom who works from home that has a super energetic child, staying at home it is definitely not the best idea. He really LOVES going to school and it helps him a lot to burn off that extra energy.
Unfortunately, this weather didn't only change my son's plans to go back to school; it also changed my recipe ideas for the month. I wanted to start off the year with more healthy recipes… You know, to shed off all the extra pounds we all put on during the holidays. But after going outside I decided I wanted AND needed a more filling and warming dish.
The chicken and shrimp potato corn chowder is my mom's recipe and this delicious soup is considered comfort food in our home. We love it not only because it is delicious and filling but because it reminds us of our family too. My older daughter loves it! she can eat it day and night. She can even eat it on the warmest days, which is usually when my mother comes to visit. My mom makes it almost every two weeks just because my daughter requests it so much. In this case, I used chicken and shrimp but you can do either one if that is your choice. I also like to sprinkle a little bit of ground red pepper for a special kick.
I hope this recipe warms up your home just like it does to mine!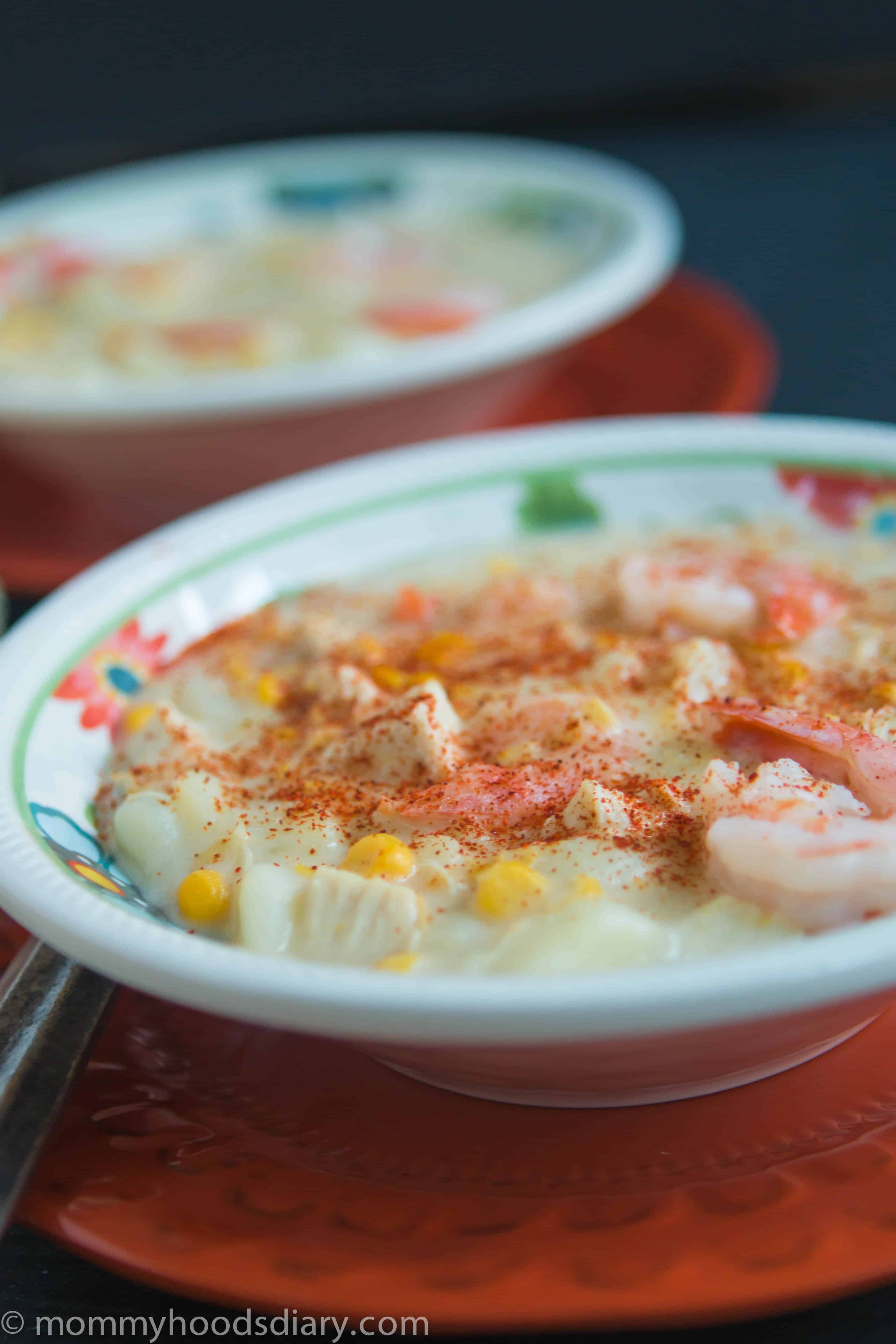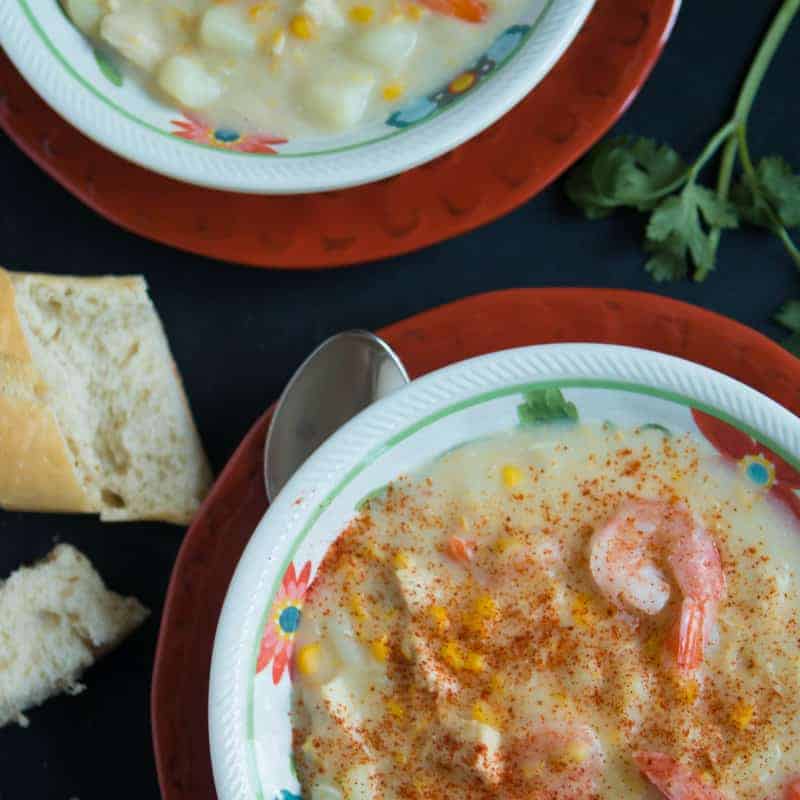 Chicken and Shrimp Potato Corn Chowder - Chupe de Pollo y Camarones
Ingredients
12

cup

chicken stock

1

medium onion,

cut into 4

1/2

green pepper,

cut into 2

2

cloves

garlic,

minced

1

chicken flavor bouillon

3

large sprigs of cilantro

2

boneless chicken breasts

Salt and Pepper to taste

6

medium potatoes,

cubed

4

medium carrots,

diced (optional)

2

cans

(15 oz) kernel corn

2

cans

(15 oz) Cream Style Corn

1

lb

fresh shrimps

washed, peeled, and deveined

1

can

(7.6 oz) Table Cream

ground cayenne pepper

(optional)
Instructions
In a large pot bring to a boil the chicken stock over high heat. Add the onion , pepper , garlic, chicken flavor bouillon, and cilantro. Let it boil for 5 min. Add chicken; cover, reduce heat to medium-low, and simmer 20 minutes or until chicken is cooked. Remove chicken from the pot, let it cool and cut it into small cubes. Set aside.

Pass the broth through a fine-mesh colander to discard solids. Transfer it back to pot. Adjust the seasoning and add more salt and pepper if necessary.

Add the potatoes and carrots and cook over medium heat until tender, around 10 minutes.

When potatoes and carrots are ready, add the chicken and kernel corn. Cover and let cook for 5 minutes. Then add cream style corn cover and cook over medium-low heat for 15 minutes.

Add shrimps and cook for 5 -8 minutes or until cooked.

Remove pot from heat. Add the can of table cream and keep stirring until totally incorporated.

Let stand 5 minutes and serve hot in individual bowls and sprinkle with ground red pepper if desired.
Did you make this recipe? I want to see your yummy photos!
Tag @mommyshomecooking on Instagram and hashtag it #mommyshomecooking or Join my Private Facebook Group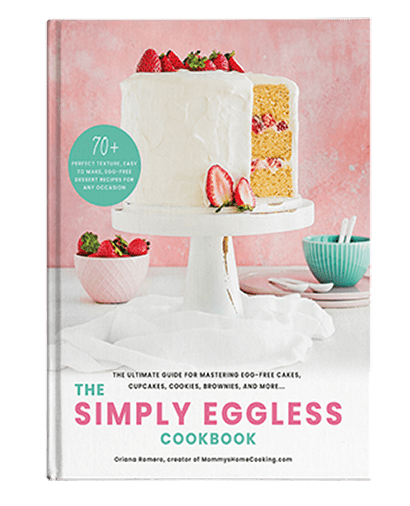 The Ultimate Guide to Eggless Baking!
Includes more than 70 easy-to-make recipes along with full-color photos, detailed instructions, and helpful tips for spectacular results.
Order Now!