When I think about the holidays is impossible not to think of this delicacy!
This dessert has had a special place in our holiday table for at least 15 years. The original recipe is from my husband's aunt who lives in Brazil. She taught my mother in law to prepare it and then she passed it to me.
Without fear I might say that this is my husband's favorite dessert. He loves to eat it after Christmas dinner accompanied by a glass of white wine.

This incredibly decadent and luxurious chocolate mousse recipe is super easy to make. Only 4 ingredients plus 10 minutes of preparation, results in this delicious dessert worthy of any celebration. Chocoholics Beware… it will have everyone asking for more! The only "problem" is that you need to let it get firm in the refrigerator for 3 hours or so.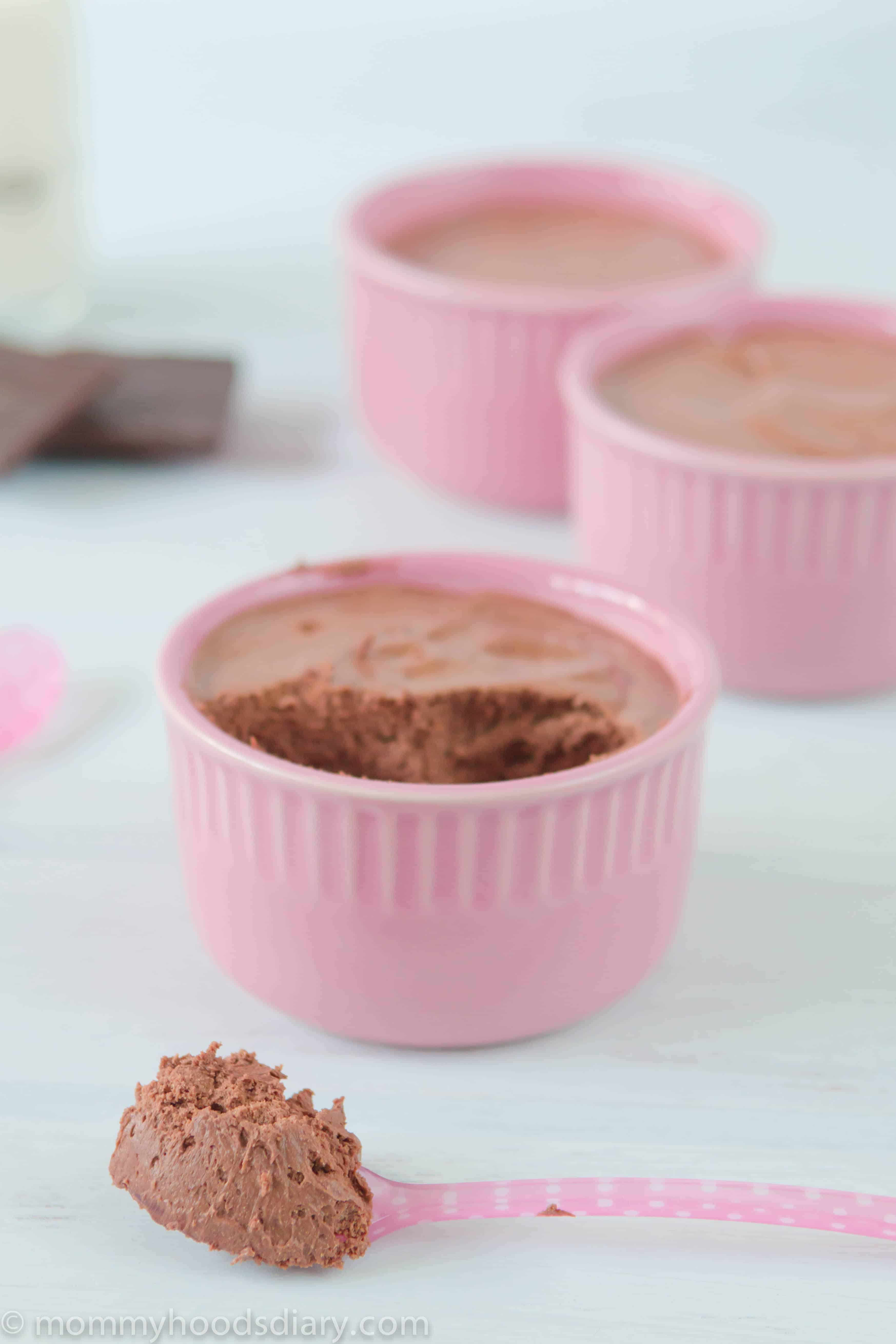 This recipe makes 4 servings … If you only see 3 in the pictures is because my dear husband couldn't  wait for me to take the photos LOL!!!
Chocolate Mousse
Ingredients
3

eggs

divided

8

tablespoons

of sugar

1

pinch of salt

7

oz

of 60% Cacao Bittersweet Chocolate Baking Bar

coarsely chopped

1

oz

can of table cream

7.6, Media Crema
Instructions
Beat the egg white until it forms soft peaks. Add 4 tablespoon of sugar and salt and beat for 1 more minute. Set aside.

Place chocolate in a microwave-safe medium bowl. Run the microwave for 20 sec. Stir. Run it again for 20 more sec. Stir. Return it to the microwave and repeat until small lumps remain, remove and continue to stir to complete melting. Don't set more that 20-seconds at the time to prevent scorching. Set aside.

Beat the egg yolks with 4 tablespoons of sugar until it forms a pale yellow cream. Add the Media Crema and mix until combined. Add melted chocolate and mix for 2 minutes.

Fold one-half of the beaten egg whites into the chocolate mixture, then fold in the other half just until incorporated, but don't overdo it or the mousse will lose volume.

Transfer to a serving bowl or divide into individual portions.

Cover and refrigerate for approximately 3 hour or until firm.
Did you make this recipe? I want to see your yummy photos!
Tag @mommyshomecooking on Instagram and hashtag it #mommyshomecooking or Join my Private Facebook Group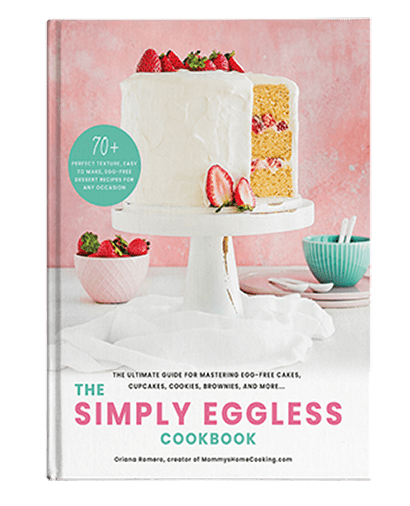 The Ultimate Guide to Eggless Baking!
Includes more than 70 easy-to-make recipes along with full-color photos, detailed instructions, and helpful tips for spectacular results.
Order Now!