Disclosure: This shop has been compensated by Collective Bias, Inc. and its advertiser. All opinions are mine alone.
Coconut Panna Cotta with Chocolate Sauce – Easy to prepare and tastes amazing…a truly decadent treat!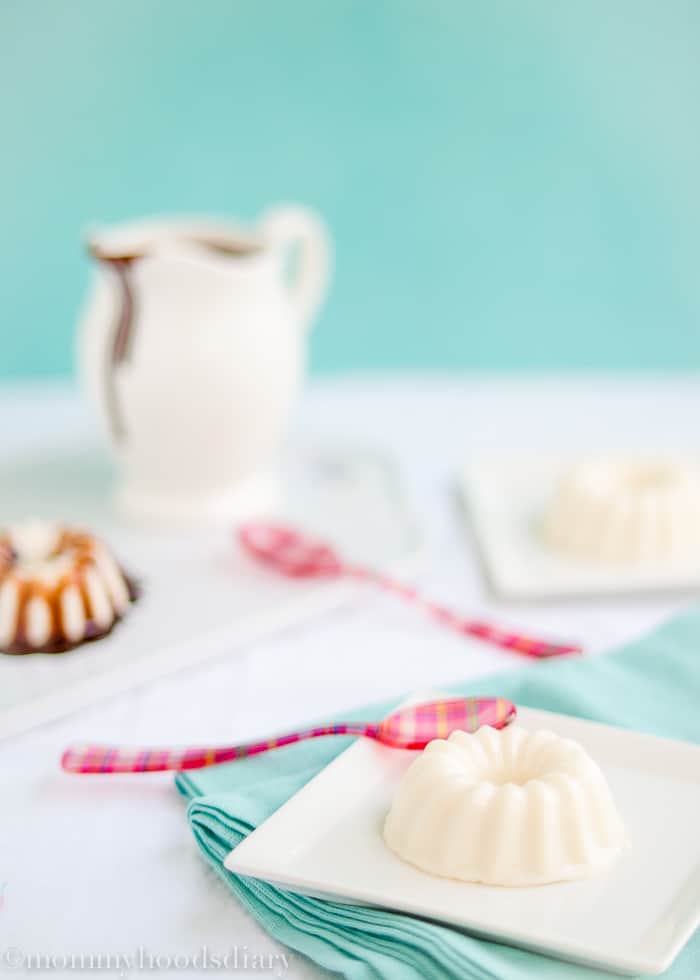 My dad is a countryman. He had – for many years – a ranch where he raised cattle and planted corn, beans, etc. As a child I used to spend summers in the ranch and I remember that every morning cows were milked. My dad was always trying to make me drink that milk, but no way! I never tried it. I am not lactose intolerance or allergic to milk at all, I am just turn off by the taste.
To be honest I've never been a big milk-drinker and I definitely cannot drink whole milk, much less if it's fresh out of the cow's udder. I do drink skin milk, mostly with my morning coffee or cereal. But that is it.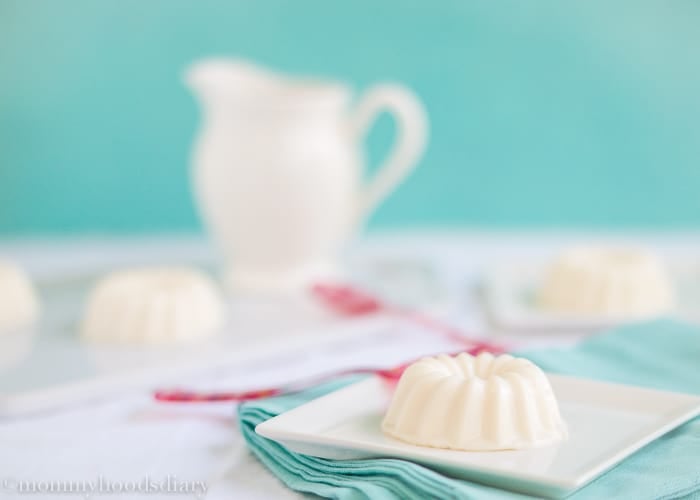 Since I am not a milk fan I had never try almond milk before. My first time was a few days ago when #CollectiveBias invite me to participate in #SilkAlmondBlends shop. I thought it could be a good opportunity for me to try a different way to consume milk, and I LOVE almonds… so it was worth a try.
I liked it! The taste is nutty, light, crisp and creamy but not greasy. Learning a little bit about benefits of almond milk I love the fact that is lower in calories than reduced-fat cow's milk and because almond milk is not an animal product, it contains neither saturated fat nor cholesterol.
Silk is now presenting 2 new blends: Silk® Protein+Fiber Almondmilk, packed with 5 grams of protein and 5 grams of fiber that may help keep you feeling full. And Silk® Original Almond Coconut Blend that has the perfect balance of almond and coconut flavors with only 50 calories a cup.
It sounds exciting, isn't? Almond + Coconut could not go wrong! So I went to my local Safeway and bough one of each. I knew my husband would love it. As I mentioned before he is coconut crazy. Right away my mind started thinking about all the recipes I can create with this fabulous blend.
BINGO … Coconut Panna Cotta with Chocolate Sauce!!!
Panna cotta is an Italian dessert made by simmering milk, cream and sugar, mixing this with gelatin. Basically, you add any flavor you want, like raspberry, coffee, etc. It is served with wild berries, caramel, chocolate sauce, or fruit caulis.
It was so so so GOOD!
This foolproof dessert is perfect for a warm day (or anyday), perfect creamy, velvety, divinely delicious, light, refreshing and oh so yummy!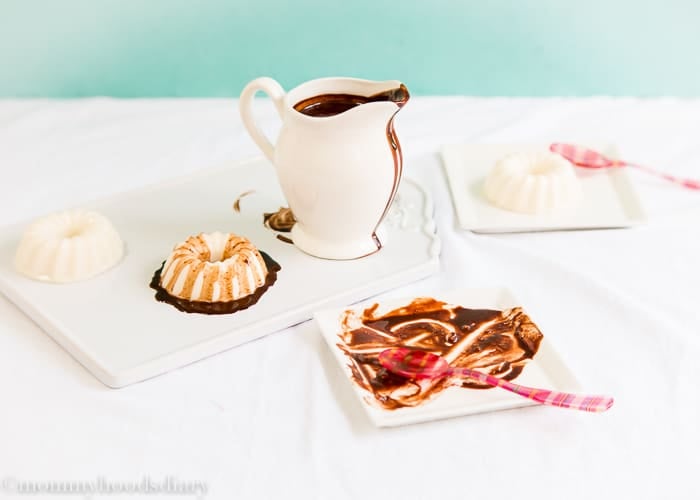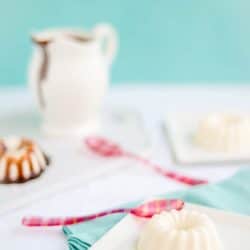 Coconut Panna Cotta with Chocolate Sauce
Easy to prepare and tastes amazing…a truly decadent treat!
Ingredients
4

cups

of cold water

2/3

cup

of heavy cream

3/4

cup

of coconut milk

2/3

cup

of Silk™ Almond Coconut Blend

2

tablespoons

of sugar

1/8

teaspoon

of coconut extract

1/2

cup

of white chocolate chips
Instructions
In a medium bowl add the cold water and the gelatin sheets. Leave them to soak for 10 min.

In a medium saucepan over medium heat mix the heavy cream, coconut milk, almond milk, sugar and coconut extract, stirring constantly. At first boil add the drained gelatin sheets and mix until completely dissolved, about 3 minutes.

Turn off the heat and add the white chocolate. Stir until dissolve.

Let the mixture cool slightly. Then evenly distributed into a flexible silicone mold of your choice. Refrigerate for 2 - 3 hours or overnight.
Prepare Chocolate Sauce:
In a medium saucepan over medium heat, whisk together the almond milk, sugar, corn syrup and cocoa powder. Bring to a boil. Remove from heat and stir in the chocolate chips until melted. Let the chocolate sauce stand for a few hours before serving.

When serving dip the mold into hot water (not submerge it, of course, just dip it in up until about 1 inch away from the top) for 5 – 10 seconds. Place a plate on top and quick flip it over. You may need to give a gentle wobble to get it loose. Serve with chocolate sauce.
Nutrition
Calories:
363
kcal
Carbohydrates:
48
g
Protein:
5
g
Fat:
20
g
Saturated Fat:
13
g
Polyunsaturated Fat:
1
g
Monounsaturated Fat:
5
g
Trans Fat:
1
g
Cholesterol:
30
mg
Sodium:
113
mg
Potassium:
258
mg
Fiber:
3
g
Sugar:
41
g
Vitamin A:
298
IU
Vitamin C:
1
mg
Calcium:
124
mg
Iron:
2
mg
Did you make this recipe? I want to see your yummy photos!
Tag @mommyshomecooking on Instagram and hashtag it #mommyshomecooking or Join my Private Facebook Group