A quick, easy, and delicious way to get into Easter mode. These Yogurt Covered Pretzels are not only an irresistible crunchy snack, but also a cute idea to decorate your Easter tree.
Spring is here and that means it's time to hop, hop, hop, down on the bunny trail!
Although, Easter eggs are a tradition we're going to skip those this year. Reason? You're not going to believe this but Vicky, my youngest daughter, doesn't want to get close to anything egg shaped. It totally makes sense. We have been telling her for months and months that egg are not safe for her – she is egg allergic – so for her eggs are eggs, no matter if they are the real thing or made out of plastic or chocolate.
Thank goodness we have lots of choices out there to make something special for our little ones, and at the same time create new traditions according our current reality. So while trying to put together my kid's favorite treats I came up with the idea of Easter Yogurt Covered Pretzels. When talking about favorites, of course, I couldn't leave out M&M.
What makes these pretzels so special and extra delicious is that I used M&M's® Crispy! Oh yeah… you read well. The crispy rice center version is back and just as delicious as before. They are super crispy and crunchy. Totally Irresistible!
Can you notice that some of the pretzels are missing the M&M's® Crispy touch? Well, what happened was that every time I turned my back away, 2 pairs of little hands sneaked themselves into my set and they took 1 or 2… or 3 M&M's® Crispy. I didn't realize what they did until I was editing the photos hahaha.
We've launched into full Spring – At home we are easter mode on . I have to admit that when it comes to crafts most of the time I get a little stuck on what to do. I'm not very crafty. But the other day I found this cute Easter tree at a craft store. Immediately, I knew I'd be perfect to hang my Almost-Too-Beautiful-To-Eat pretzels…. Almost!
Our pretzels were so beautiful and delicious that the Easter Bunny himself tried to grab a few.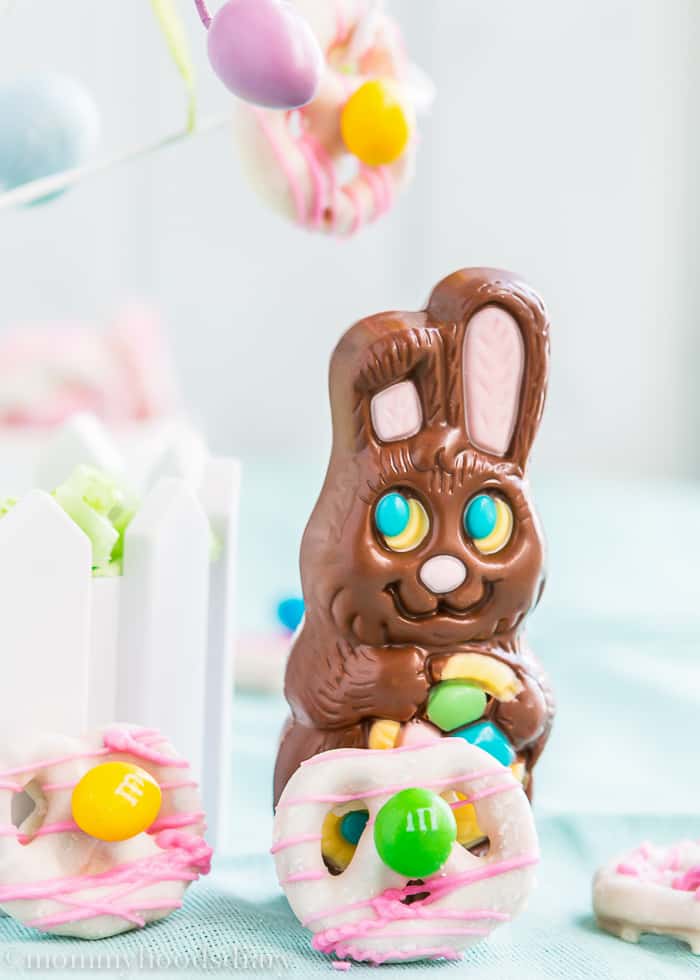 Happy Spring – Easter season!
Easter Yogurt Covered Pretzels
Ingredients
1

oz

bag yogurt covered mini pretzels

5.5

1

cup

pink candy melts

or any color you want

1

cup

M&M's® Crispy
Instructions
Place a cookie sheet under the wire rack to catch the excess frosting that will drip from the pretzels. Place yogurt covered mini pretzels on a wire rack.

Melt your colored candy melts in the microwave according to package directions. Then carefully poor the hot chocolate into the plastic bottle or a piping bag.

With a fluid motion, drizzle the hot candy melts back and forth over pretzels. Before it dries, place 1 M&M's® Crispy on top-middle of the pretzel. If necessary add a little dot of candy melt over the M&M's® Crispy and lightly press.

Place in the refrigerator for 5 minutes, or until set.

Store pretzels in an airtight container.
Did you make this recipe? I want to see your yummy photos!
Tag @mommyshomecooking on Instagram and hashtag it #mommyshomecooking or Join my Private Facebook Group
The Ultimate Guide to Eggless Baking!
Includes more than 70 easy-to-make recipes along with full-color photos, detailed instructions, and helpful tips for spectacular results.
Pre-Order Now!

This shop has been compensated by Collective Bias, Inc. and its advertiser. All opinions are mine alone. #CrispyComeback #CollectiveBias