This Easy Eggless Orange Cake is soft, tender, and bursting with fresh orange flavor! It's quick and easy to make from scratch. Perfect for breakfast, brunch, or dessert.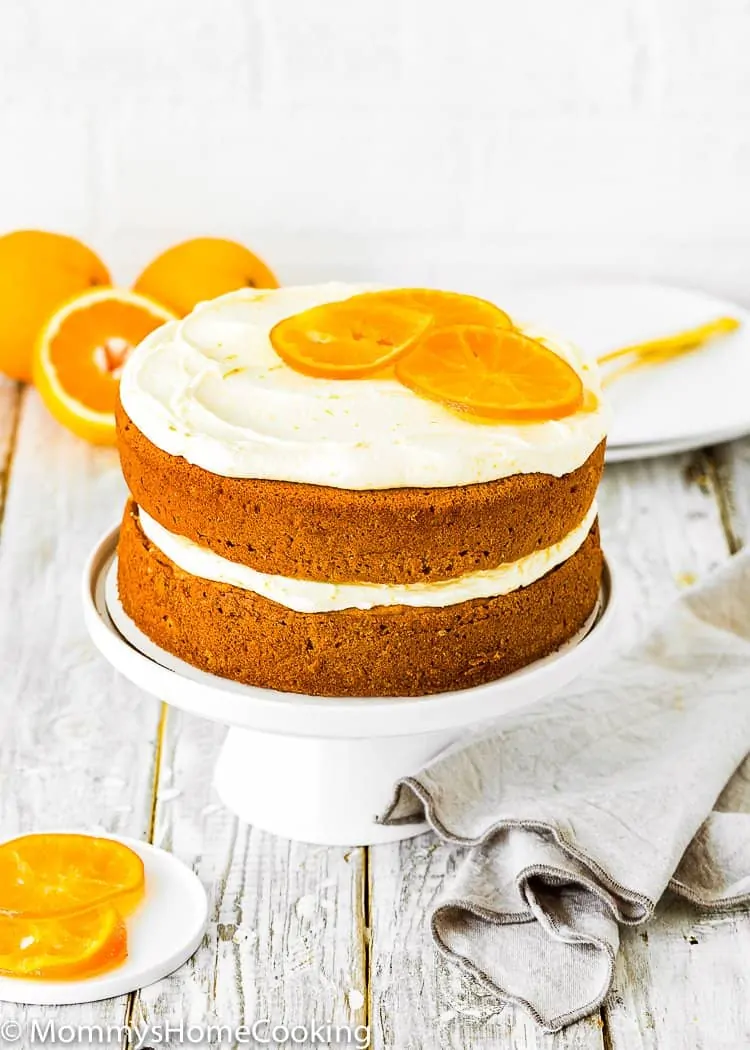 Easy Eggless Orange Cake Recipe
This Eggless Orange Cake is definitely one of my most-requested recipes by you! And I couldn't be happier how it turned out.
It's sweet, tangy, fresh, and bright… each bite is simply delightful!
This Eggless Orange Cake is super-easy and quick to make from scratch and very light and fluffy.
The orange buttercream amplifies the refreshing citrus.
The perfect cake for breakfast, brunch, snack, or dessert. It's simple and really tasty.
If you love the citrus flavor as much as I do, you'll love this cake!
EASY EGGLESS ORANGE CAKE INGREDIENTS
You'll need:
All-purpose flour
Baking powder
Baking soda
Kosher salt
Fresh orange (juice and zest)
Milk
Pure vanilla extract
Unsalted butter
White sugar
Please check the recipe card at the bottom of the post for exact quantities and instructions (scroll down).
HOW TO MAKE ORANGE CAKE WITHOUT EGGS
Prepare the pans and preheat the oven.
Mix dry ingredients: flour, baking soda, baking powder, and salt.
Mix wet ingredients: orange juice, milk, and vanilla.
Cream butter and sugar.
Add orange zest.
Add dry half of the flour mixture. Then add wet ingredients mixture in three additions, scraping down the mixing bowl with a spatula, and turn the batter over several times to ensure all of the ingredients are well incorporated. Add the remaining half of the flour; beat just until combined.
Evenly divide the batter between the prepared pans.
Bake at 350º F for 25-30 minutes.
Allow cake to cool on a wire rack for 10 – 15 minutes before removing from the pans. Allow the cakes to cool completely on the wire rack.
Please check the recipe card at the bottom of the post for exact quantities and instructions (scroll down).
ORANGE BUTTERCREAM
This orange buttercream is super easy to make and so delicious! It's made with freshly squeezed orange juice and plenty of freshly grated orange zest, so there's a real punch of orange flavor in this frosting.
SIMPLE ORANGE CAKE DECORATION
My motto when it comes to decorating cakes is: Keep it simple. Make it easy on yourself!
This is a true naked cake. This means the sides of the cake are bare. This beautiful eggless orange cake is simply decorated with generous amounts of orange buttercream and candied orange.
FREQUENTLY ASKED QUESTION
The recipe calls for unsalted butter but can I use salted butter instead?
Yes, you can! Just omit the extra salt called in the recipe.
Can I make this recipe gluten-free?
Yes! Substitute all-purpose for 1-to-1 Gluten-Free flour (this is my favorite).
Can I make this recipe dairy-free?
Yes! Substitute milk for your favorite dairy-free milk.
Can I use another size pan?
This recipe is enough to make:
Two 8- or 9-inch round cake pans
Tree 6-inch cake pan
One 9×13 inch rectangular cake pan
Please, remember to adjust the baking time accordingly.
STORING
Cover leftover cake and store at room temperature for up to 3 days or in the refrigerator for up to 5 days.
Freezing:
Let the eggless lemon cake cool completely.
Wrap it up in 2 layers of plastic wrap, then with foil to avoid freezer burn.
Place inside a large freezer Ziploc bag and freeze for up to 2 months.
Ready to eat it? Thaw overnight in the refrigerator and bring to room temperature before slicing and serving.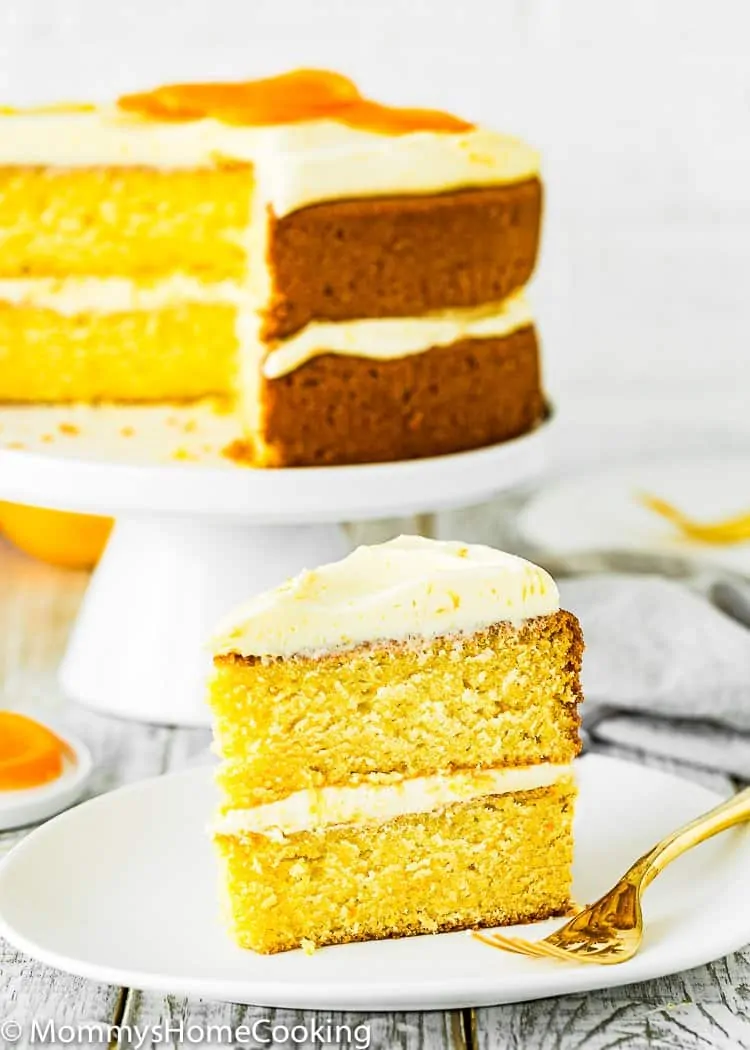 LOOKING FOR MORE EGGLESS RECIPES?
---
Love what you see? Subscribe to Mommy's Home Cooking so you'll never miss a recipe! Follow along on Instagram, Pinterest, Twitter, and Facebook for more fun!
When you make this recipe, be sure to snap a photo and hashtag it #MommysHomeCooking. I'd love to see what you cook!
* This post contains affiliate links, thank you for the support in keeping Mommy's Home Cooking up and running!