This Easy Instant Pot Arroz con Pollo recipe is ridiculously easy to make and unbelievably delicious! It has protein, vegetables, and grains cooked together in one pot in about 30 minutes. This one is definitely one to keep in your rotation.
My stovetop Arroz con Pollo recipe have been very popular for years so I thought it was about time to share the Instant Pot version.
Without further ado, meet my Easy Instant Pot Arroz con Pollo!
We love Arroz con Pollo … SO much. I make this recipe once a week and it's one of my kid's fave school lunches. Easy to pack and easier to eat.
You are going to LOVE this recipe because:
It's ridiculously easy to prepare,

It has protein, vegetables, and grains cooked together in one pot,

It's full of flavor and DELICIOUS.

And feed a small army.
Doesn't it look irresistible? YUM.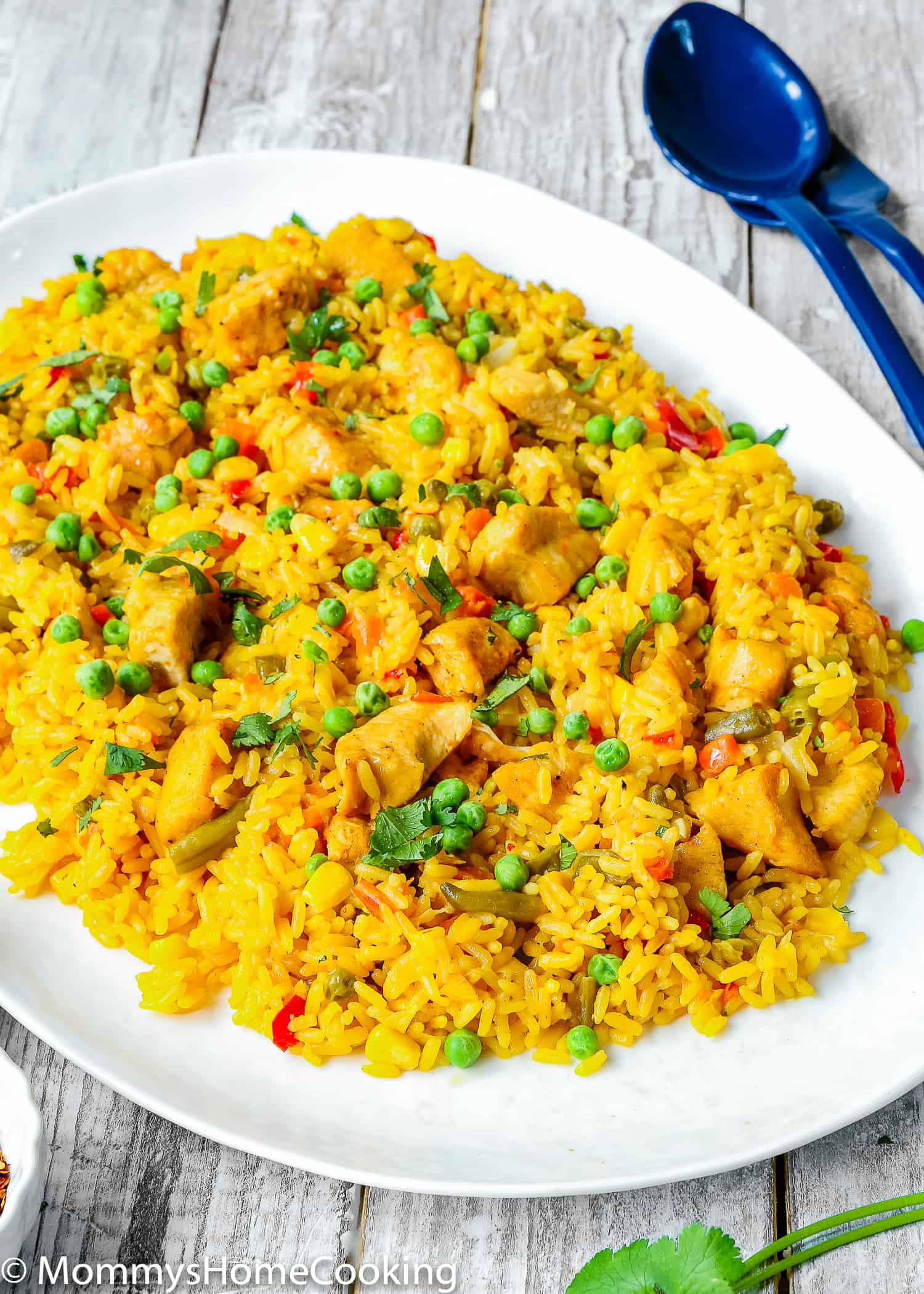 How do you make arroz con pollo in the Instant Pot?
Season the chicken with salt and pepper to taste. Cook chicken until chicken is lightly browned and no longer pink. Remove chicken from pot and reserve. Sauté onion, peppers, garlic and green onion for 3-5 minutes, or until onion is translucent. Add the rice and toast for 1 minute, stirring constantly. Add chicken broth, seasoning or saffron, frozen vegetables, and cooked chicken. Mix to combine. Bring to boil. Secure the lid to the Instant Pot. Close pressure release valve. Select "manual", or "pressure cook", and adjust cooking time to 10 minutes. When the time is over, let the pressure release on its own for 10 minutes. Then, carefully turn the valve to "Venting," to release any extra pressure that might still be in there. Then remove the lid. Press "cancel". Fluff arroz con pollo with a fork, garnish with fresh chopped cilantro, if desired, and serve hot.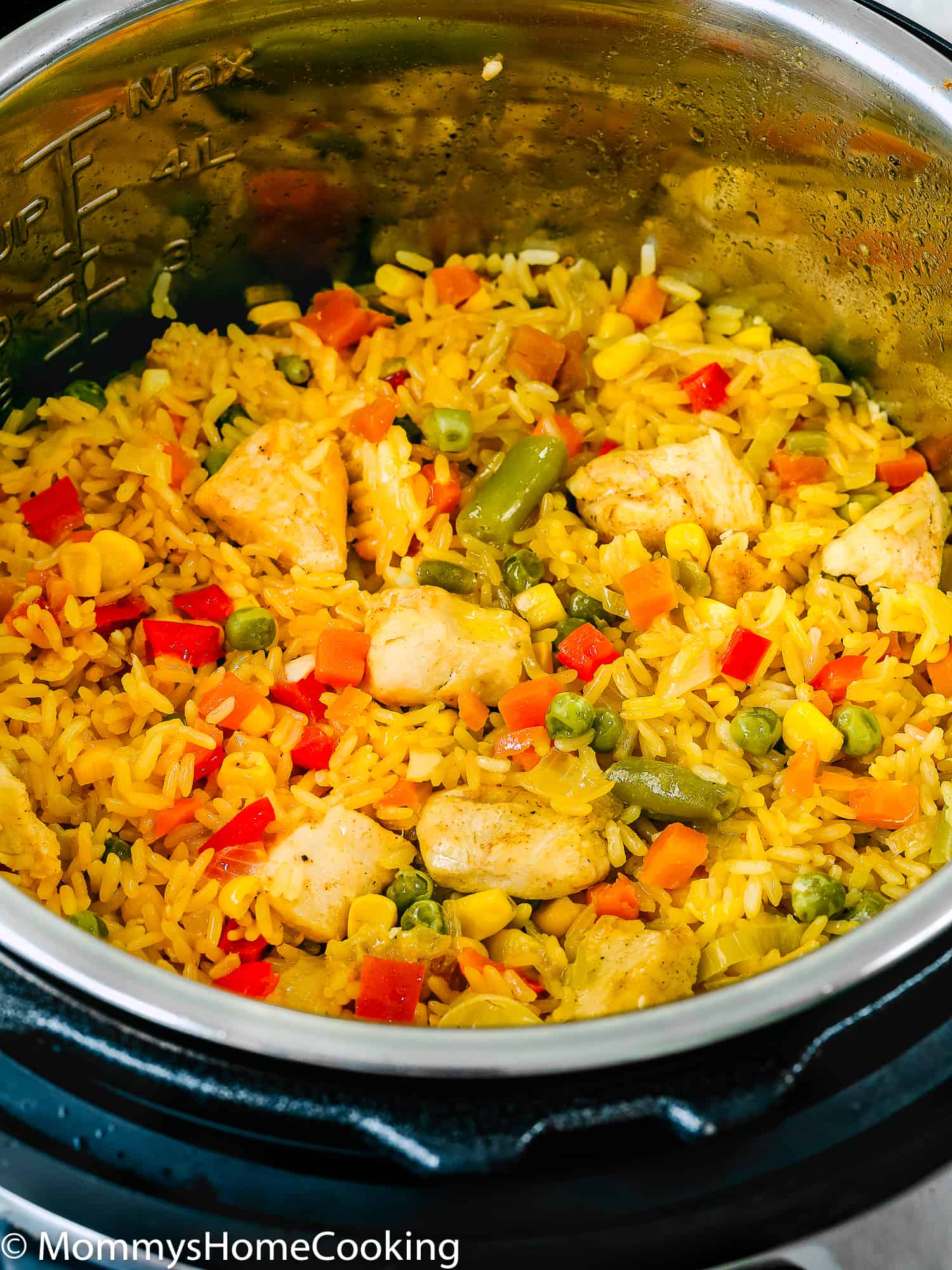 Can I use bone-in chicken instead of chicken breasts?
Yes! Just make sure to adjust the cooking time accordingly. An instant-read thermometer inserted in the thickest part of the breast meat should read 165º F.  
Can I freeze Arroz con Pollo?
Yes! Add arroz con pollo into a freezer bag. Press out as much air as possible and seal. Freeze the rice for up to 3 months. To reheat, transfer the rice to a microwave-safe bowl and sprinkle 1-2 tablespoons of water over top. Cover loosely with a damp paper towel. Warm in 1-minute increments, stirring in between, until the grains are hot.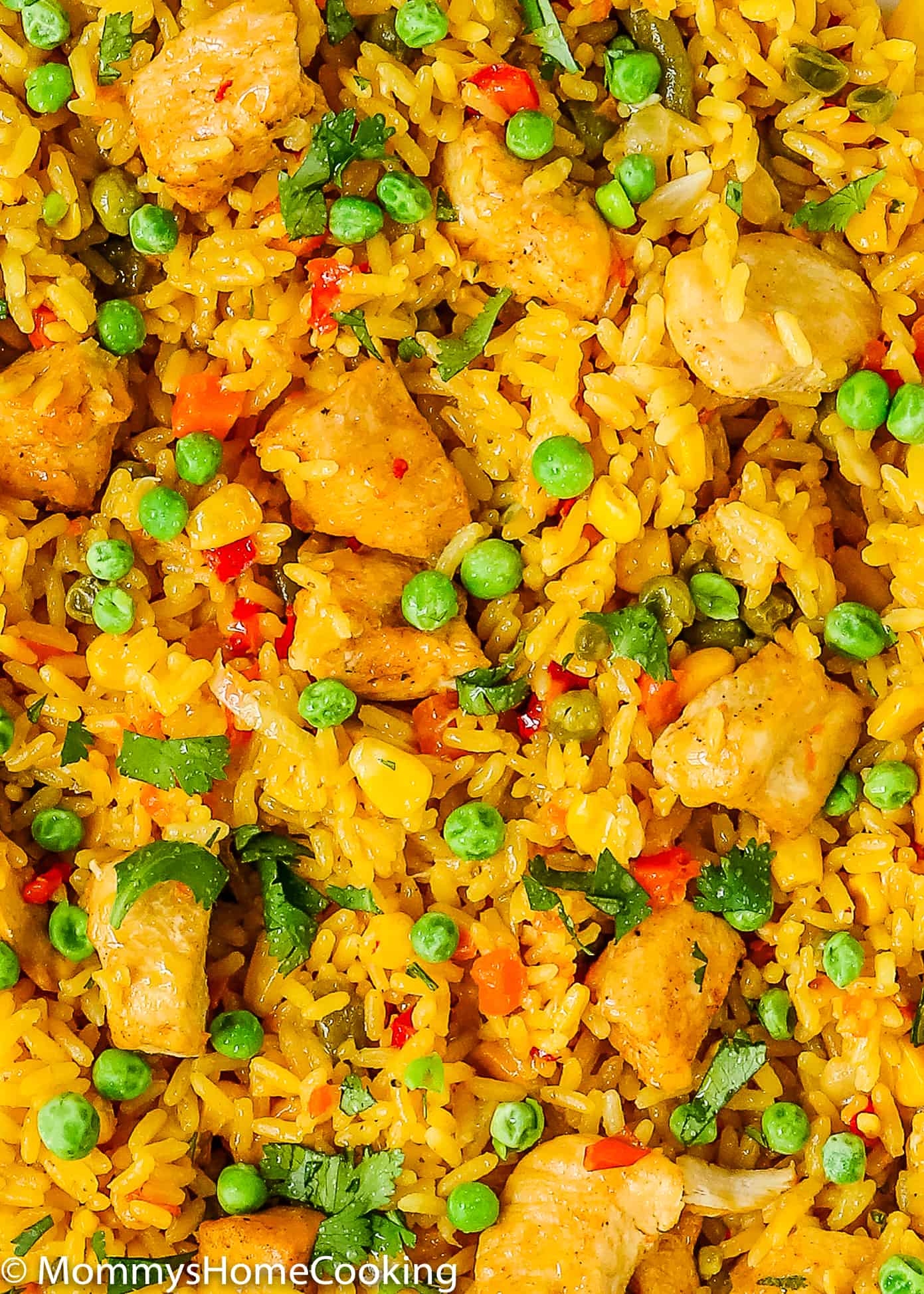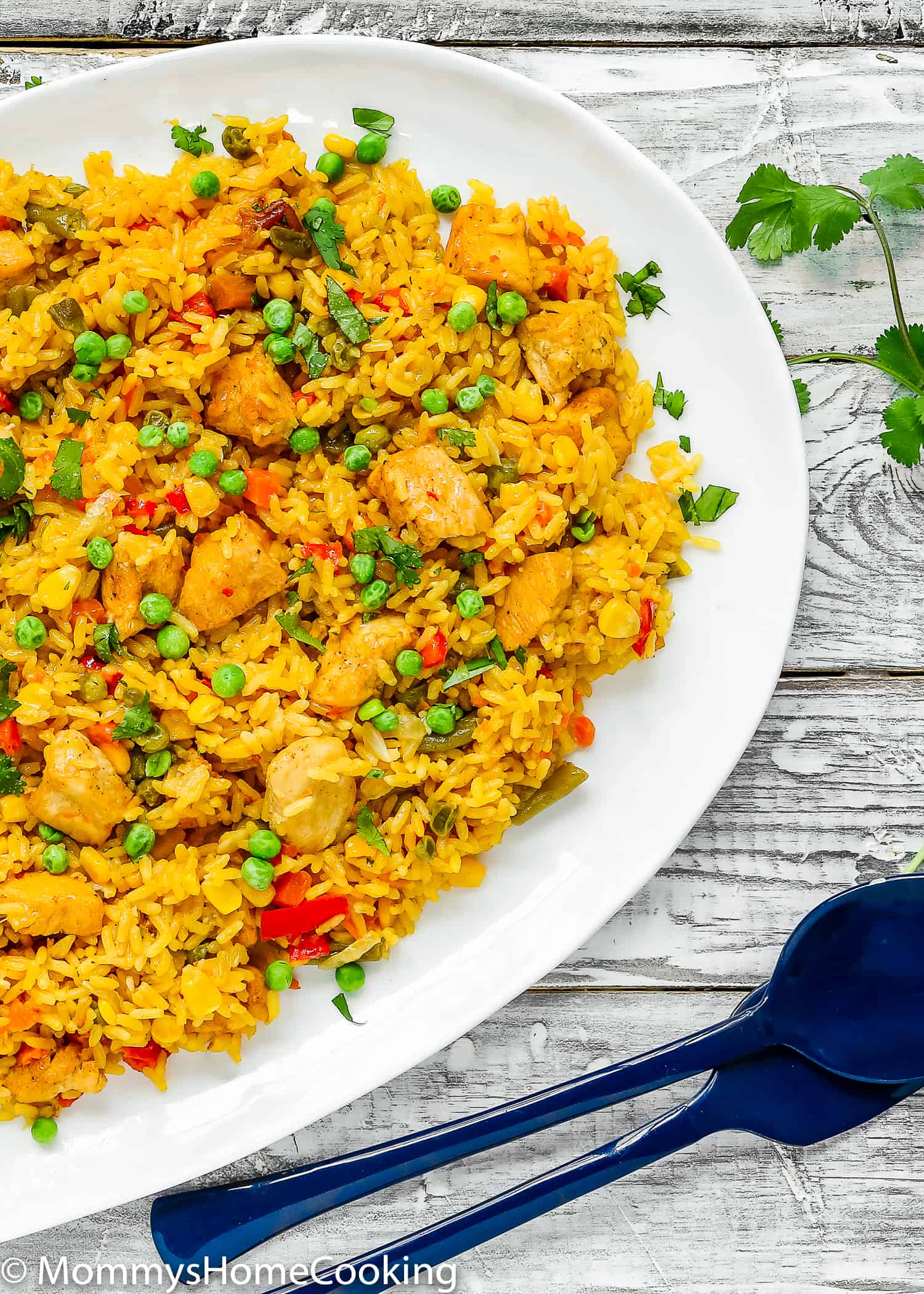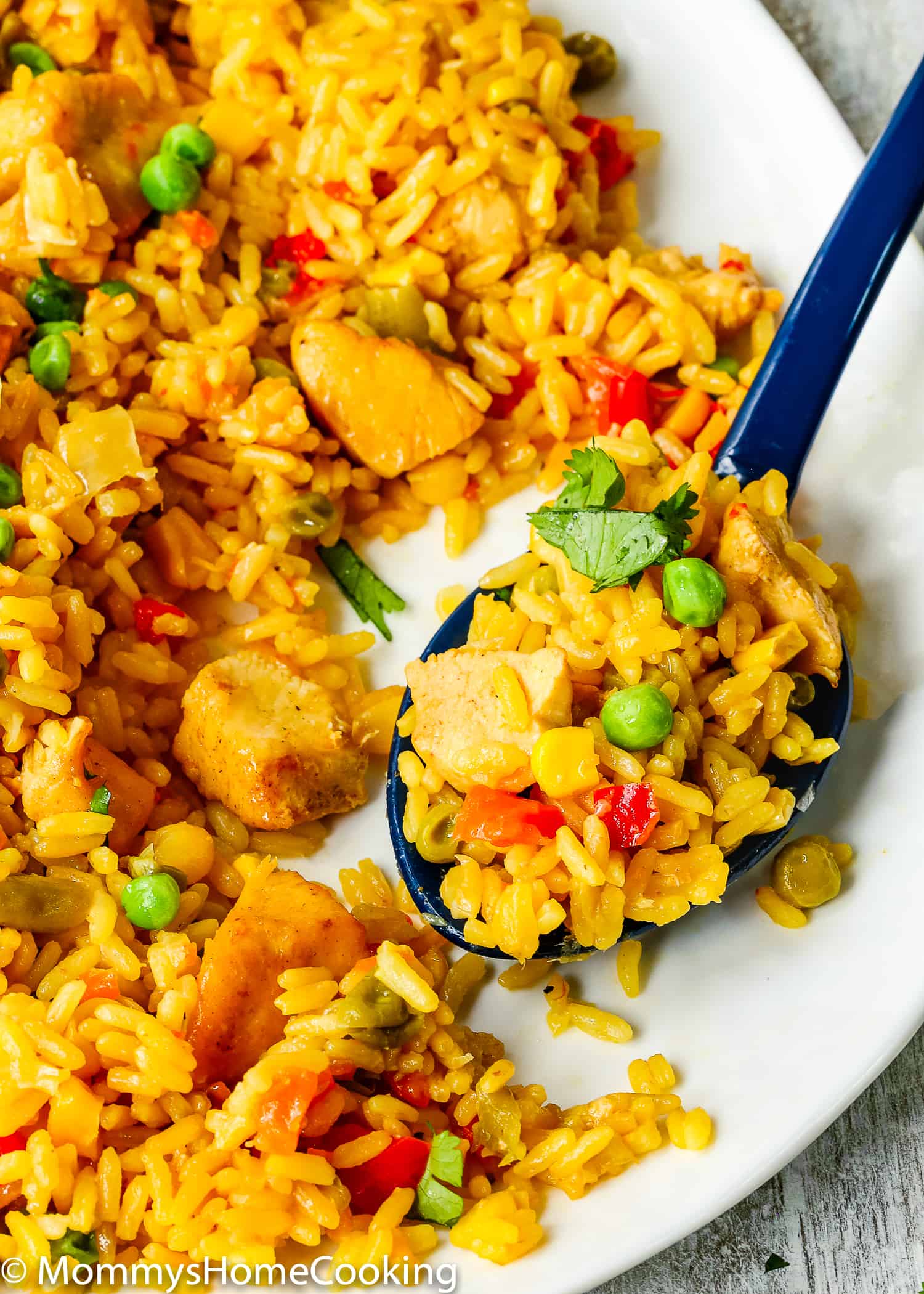 Here's to weeknight meals that take only a few minutes and an Instant Pot to make and tastes unbelievably delicious.
Happy Cooking!!!

---
Love what you see? Subscribe to Mommy's Home Cooking so you'll never miss a recipe! Follow along on Instagram, Pinterest, Google+, Twitter, and Facebook for more fun! 
📱When you make this recipe, be sure to snap a photo and hashtag it #MommysHomeCooking. I'd love to see what you cook!
* This post contains affiliate links, thank you for the support in keeping Mommy's Home Cooking up and running!