My sweet tooth and my wisdom tooth are arguing a lot lately LOL!
God knows that I really really really need to lose weight. But, the stress has been winning the battle and I end up cooking sweets.
Have you heard about cronuts? They're all the rage! The cronuts are a combination of croissants and donuts. In other words, it is a donut made ​​with croissant dough. Clever!!! don't you think?
According to what I could investigate, Dominique Ansel Bakery introduced the Cronut in May 2013. They are only available in his bakery in SoHo, New York. So…how the heck would I be able to try this sweetie? The only way that occurred to me was making it myself. Hands to work!… But as my time is very limited, buying ready-made dough was my best option.
I used Pillsbury Crescent dough. You can get it at any grocery store -in the refrigerated section- and is very easy to work with. If you have the option of going to a fancy market and buy a croissant dough block it also works. This is just the lazy way!
I had to make them twice. The first batch was uncooked inside. So the secret is not to use very hot oil because it will brown too fast on the outside but the inside will be still raw. Oil at 300°F seems to work best and be sure to cook them for  3-4 minutes, turning them around so they cook evenly.
I still haven't tasted an original cronut myself… but this one is GOOD!
Easy Mini Nutella Cronuts
Ingredients
1

Pillsbury Crescent Big and Flaky tube

(8 rolls)

4

cups

oil for deep frying

1

cup

Nutella

Powdered sugar for dusting

(optional)
Instructions
Open the tube of dough according to the manufacturer's instructions.

Unroll the dough onto a floured surface and pinch the perforations together to form one large sheet. Roll to flatten (just a little) about 1/4 inch thick and fold into thirds. Press very gently (don't flatten the layers).

Use donuts cutter (or a small cup if you don't have a cutter) to cut donuts. Make out a hole in the center.

Gently fry donuts in hot oil for 3-4 minutes or until golden brown on each side. Don't crowd the pot.

Drain on paper towels. Let them to cool slightly.

Place the Nutella in a piping bag and poke a hole on each side of the cronut. Pipe the Nutella through the opening.

Dust with powdered sugar if desired
Did you make this recipe? I want to see your yummy photos!
Tag @mommyshomecooking on Instagram and hashtag it #mommyshomecooking or Join my Private Facebook Group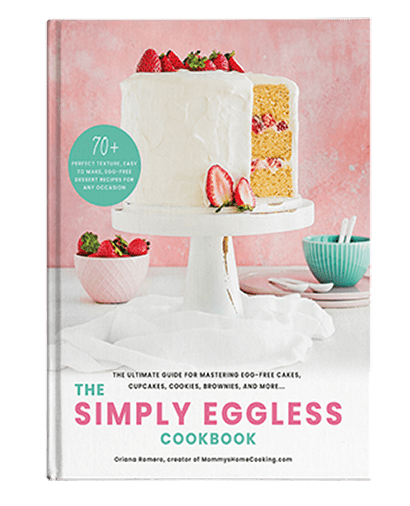 The Ultimate Guide to Eggless Baking!
Includes more than 70 easy-to-make recipes along with full-color photos, detailed instructions, and helpful tips for spectacular results.
Order Now!