Looking for an insanely good oatmeal cookie recipe without eggs? You found it! These Eggless Oatmeal Cookies are soft and chewy in the middle and slightly crispy on the outside.
Easy to make with simple ingredients.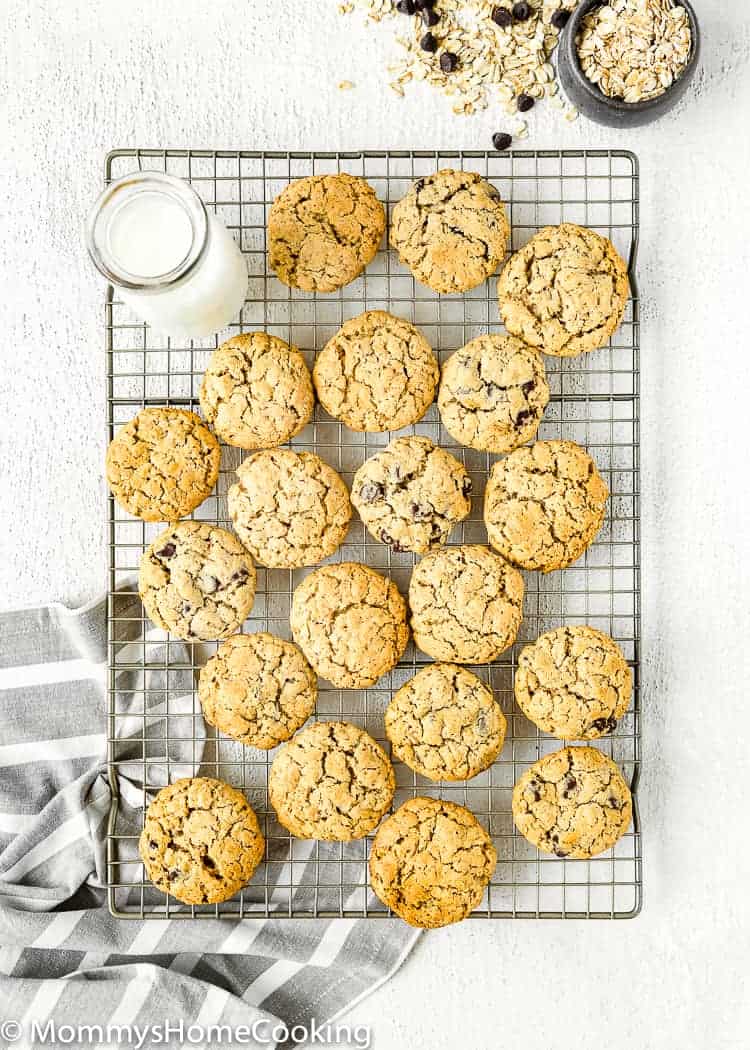 BEST Eggless Oatmeal Cookies Recipe
There's something incredibly delicious about Eggless Oatmeal Cookies' crispy edges, chewy texture, soft centers, and cinnamon flavor. Please tell me I'm not the only oatmeal cookie lover!!
They're made with simple ingredients and freezer friendly, plus they're out-of-this-world delicious.
You can even add your favorite mix-ins for an extra special twist. Check my mix-ins ideas below plus many tips and tricks to make the BEST Eggless Oatmeal Cookies.
Your family will love these easy eggless oatmeal cookies!
EGGLESS OATMEAL COOKIES INGREDIENTS:
You'll need:
All-purpose flour
Baking powder
Baking soda
Ground cinnamon
Salt
Unsalted butter
Granulated sugar
Brown sugar
Milk
Pure vanilla extract
Old-fashioned rolled oats
Please check the recipe card at the bottom of the post for exact quantities and instructions (scroll down).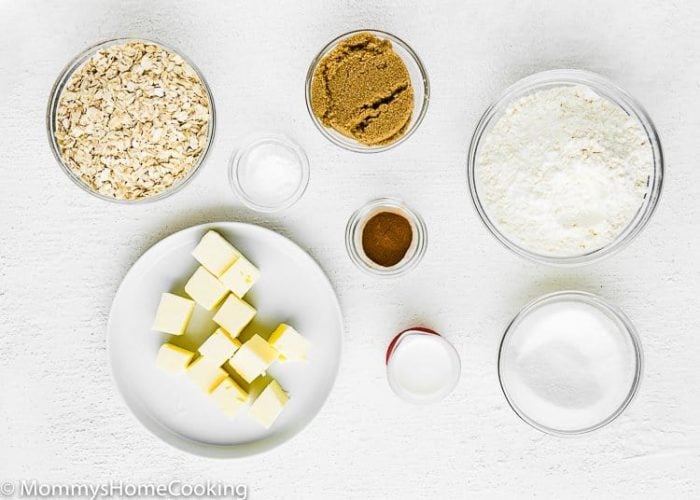 How to make OATMEAL COOKIES WITHOUT EGGS:
Mix flour, baking powder, baking soda, cinnamon and salt in a bowl.
Cream together butter and sugars.
Add milk and vanilla.
Add dry ingredients mixture.
Stir in oats until evenly distributed.
Add mix-ins (if desired).
Measure dough and refrigerate.
Bake.
Please check the recipe card at the bottom of the post for exact quantities and instructions (scroll down).
OPTIONAL MIX-INS
I love a plain oatmeal cookie, but if you want to jazz up your oatmeal cookies, you can add up to 1 cup of the following ingredients:
Chocolate chips (dark or white)
Chocolate chunks (dark or white)
Chopped nuts
Dried fruits, such as raisins or dried cranberries
M&M's
Flaked coconut
Chopped toffee
Cinnamon chips
Butterscotch chips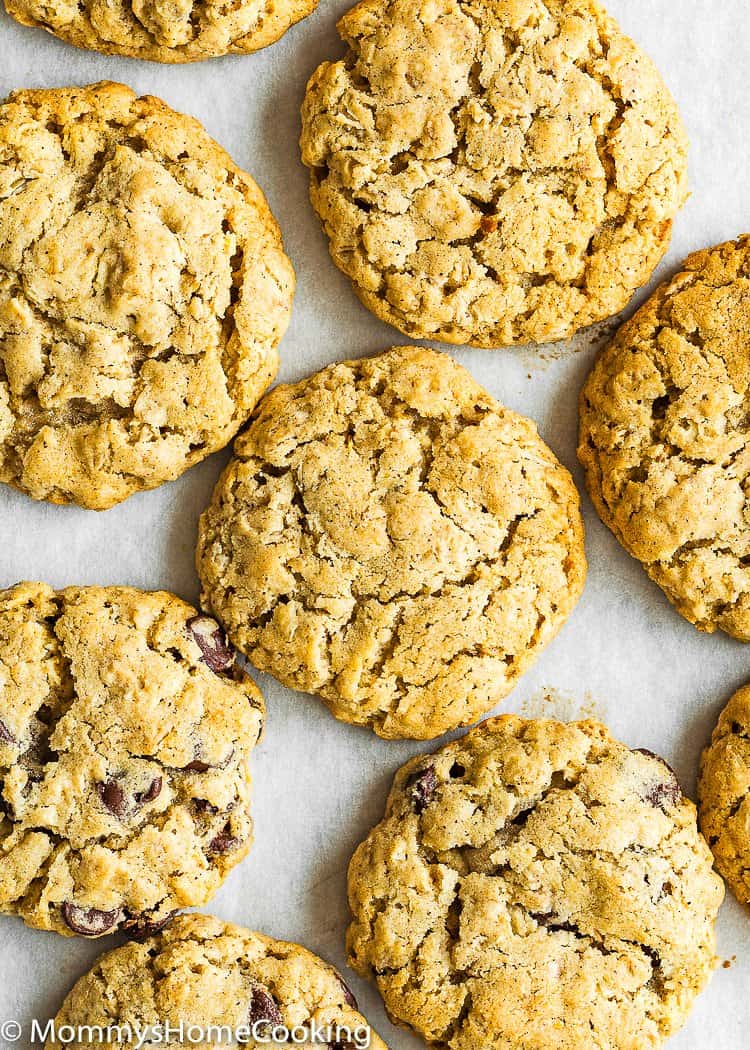 TIPS TO MAKE EGGLESS OATMEAL COOKIES:
Make sure the butter is softened, but not too soft.
Measure the ingredients properly! A kitchen scale is always the best option, in my opinion, but if you don't have a kitchen scale be sure to use a measuring cup made for dry ingredients (NOT liquid measuring cup), and liquid measuring cup for liquid ingredients. Also, do NOT dip a measuring cup directly into the flour bin or you can compact it and get up to 25% more flour, instead use a spoon to scoop the flour into the measuring cup and then use a knife (straight-edged) to level the flour across the measuring cup.
Don't over mix your cookie dough or you will end up with a dense cookie.
Chill the dough for 30 minutes before baking, this gives the dough a chance to firm up a little and allows them to bake much better.
For evenly sized cookies (better for baking) use a small spring-loaded ice cream scoop to spoon out the dough.
Bake the cookies until they are JUST golden around the outside. The cookies might still look a little raw in the center, but once they cool, they will be perfect. Let the cookies cool on the baking sheets for just a few minutes, around 2. If you leave the cookies on the baking sheets for too long, they will continue cooking and they will be hard.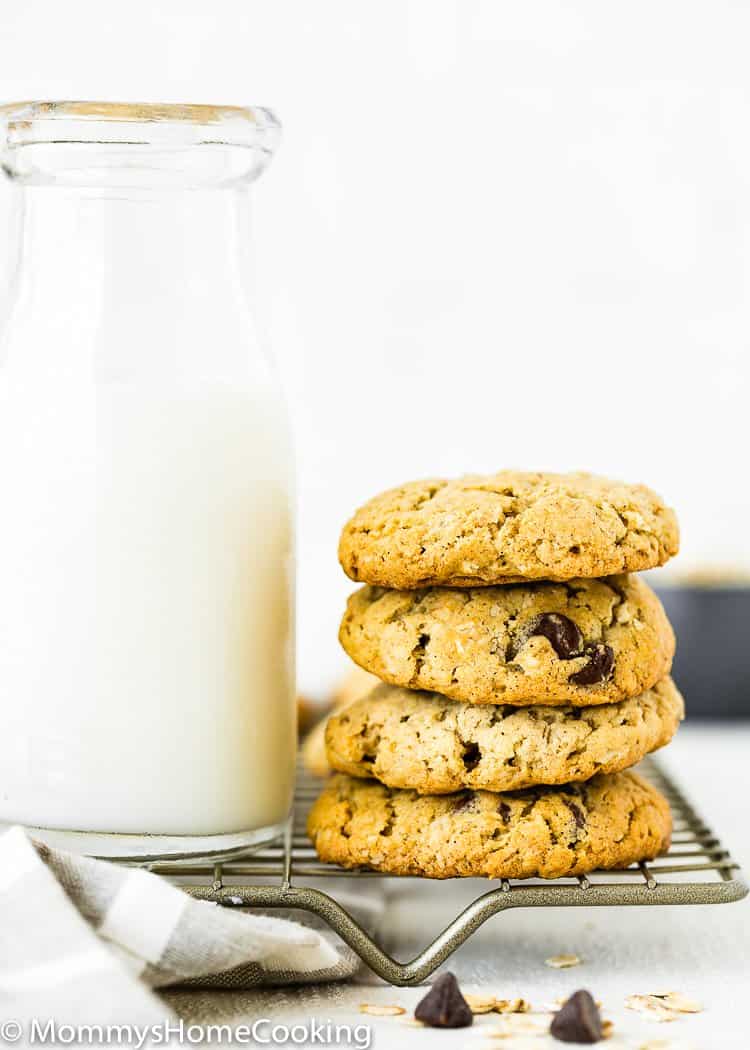 HOW TO STORE EGGLESS OATMEAL COOKIES
Store cookies in an airtight container up to 5 days at room temperature. To keep the cookies soft, place a piece of bread in the container. The bread will get hard, but the cookies will stay soft.
HOW TO FREEZE EGGLESS OATMEAL COOKIES
You can freeze this cookie dough for up to 3 months. Just roll it into balls, and freeze. When ready to bake, pull them out and bake as directed, just add a couple of minutes to the baking time.
LOOKING FOR MORE EGGLESS COOKIE RECIPES?

---
Love what you see? Subscribe to Mommy's Home Cooking so you'll never miss a recipe! Follow along on Instagram, Pinterest, Twitter, and Facebook for more fun!
When you make this recipe, be sure to snap a photo and hashtag it #MommysHomeCooking. I'd love to see what you cook!
* This post contains affiliate links, thank you for the support in keeping Mommy's Home Cooking up and running!