Green Protein Smoothie  –  A tasty green smoothie packed with veggies, fruits, and hemp protein… Perfect for beginners like me!
Yes… this is Mommyhood's Diary!
And yes… I made a green smoothie!
I have to admitted that I was kind of scare of green smoothies. Except for the ones made with pistachio ice cream LOL. No. Seriously. Everybody knows that the shining stars of green smoothies are the leafy greens. In my mind greens belong in salad, not smoothies. But after we came back from our trip to Seattle I have been feeling greener, bohemian and liberal.
As you might know, my husband and I went to Seattle to attend IFBC. It was a great conference. And the city… ohhh the city! I loved it. Everybody seems to be very happy and relax. The public market center: Pike Place is like heaven on earth for me. There you can find super fresh veggies, flowers, fruits, fish and much more. I could live in that place.
Take a peek at what we did!
P.S: photos were taken with my cell.

At the conference I won a Ninja Blender DUO With Auto-iQ. This blender is awesome. You don't have to guess what to do. The Auto-iQ™ takes the guesswork out of blending. Its intelligent programs combine unique, timed pulsing, blending and pausing patterns that do the work for you.
So … a brand new powerful blender + inspiration from our trip to Seattle = A vibrant green smoothie!!
Since there are no rules in green smoothie-town and create a combination with my favorite fruits and the nutrient-rich kale. I also added some of the hemp protein power that had been siting on my pantry for a long time. Hemp protein, made from the hemp seed, is a high-fiber protein. You can use hemp protein the same way you use any other protein powder.
I think it's important to mention that the smoothie has some kale in it, but not enough to overwhelm the flavour. If you are a green smoothie expert feel free to add some more greens.
I really enjoy this smoothie! I'm not scared anymore and I plan to keep trying other combinations. Actually, I discovered that if they're made properly they could be sweet tasting and delicious.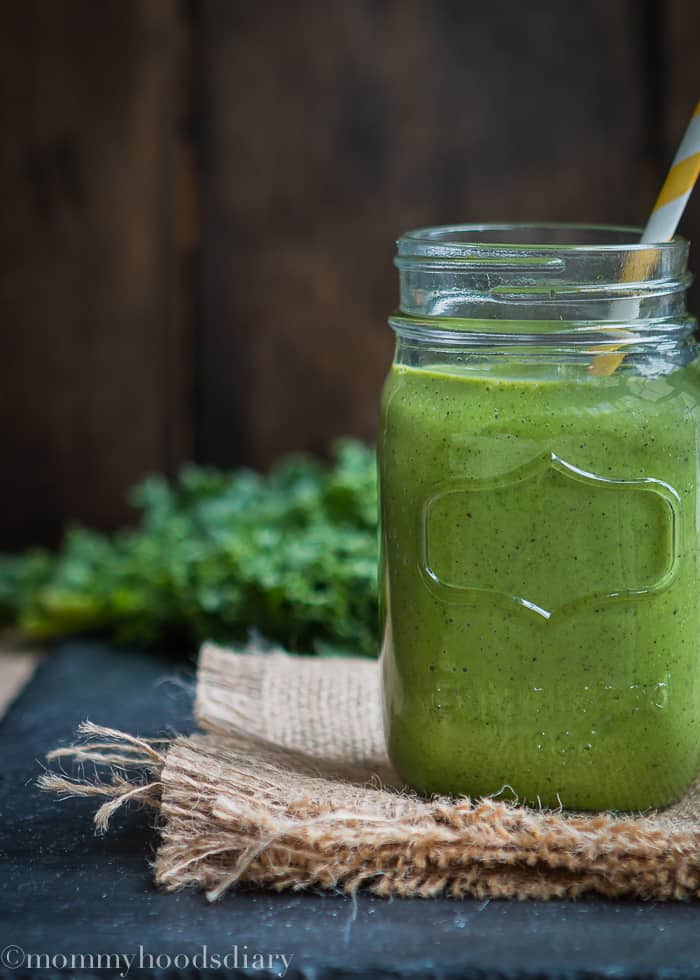 Green Protein Smoothie
Ingredients
2

cups

handfuls of kale

rinsed and stems removed (about 2 approx.)

1

mango

peeled and seeded

2

ripe bananas

peeled

2

cups

almond milk

4

tablespoons

hemp protein powder

1/4

cup

lime juice

1/2

cup

of Greek yogurt

Ice to taste
Instructions
Place all ingredients in a high speed blender and blend until desired consistency. Add more milk if necessary. Served in a glass.
For a vegan version avoid greek yogurt or use vegan yogurt.
Did you make this recipe? I want to see your yummy photos!
Tag @mommyshomecooking on Instagram and hashtag it #mommyshomecooking or Join my Private Facebook Group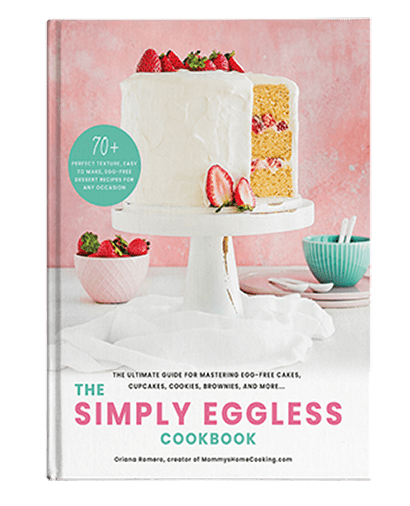 The Ultimate Guide to Eggless Baking!
Includes more than 70 easy-to-make recipes along with full-color photos, detailed instructions, and helpful tips for spectacular results.
Order Now!
Because you're awesome I'm giving away a Ninja Blender DUO With Auto-iQ  to ONE lucky winner. To enter just follow the prompts in the automated entry form below. For US residents only.