Simple and quick to prepare, these Honey Bacon Cheddar Scones are full of delicious flavors. This easy recipe is perfect for a quick breakfast, or for kids' lunchboxes. So, skip the old, boring sandwiches and surprise them with these delicious savory scones. They are also eggless!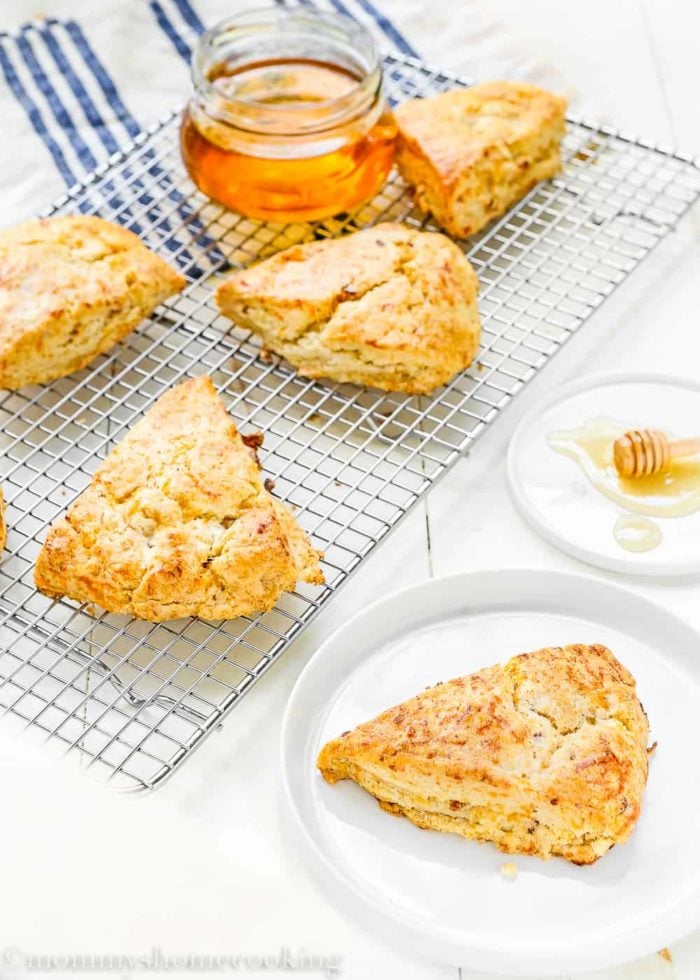 Happy Friday!!
One more week went by and it feels like the end of the Summer is fast approaching. Is it just me or are you also freaking out about back to school?
This back to school will be very special for us! Our little guy is going to start kindergarten. Yes, can you believe it? He is so excited! We already went to our first orientation at the school and he got to meet some of the teachers and saw the classroom, the cafeteria, and gym.
I cannot lie! I am a little nervous. Kindergarten is, after all, kind of a big deal.  My fear of the unknown is making me wonder: will he eat good? will he make friends? what if he gets lost? I know, this a little ridiculous, but It's such a big school compared to the pre-school he went to. Please tell me that I'm not alone!! Did you had this anxiety when your little ones started kindergarten? Letting go is hard. I'm whimpering just writing about this.
Other thing that is keeping me up at night is the lunch! I'm planning to pack his lunch everyday. The pros for packing lunches are numerous, and the most important for me is that I can pack according to my boys' likes and dislikes. He is very picky about food.
The mayor cons… It's time! It takes time to prepare a balance meal and change it up everyday. That is why I'm so excited to partner up with National Honey Board on their back to school campaign. In the next few weeks I will share with all of you 4, really delicious and easy to make, recipes perfect for back to school. They are not only ideal to put into kid's lunch box, but they're also great to serve as breakfast for those mornings, full of madness, when you're trying to get everybody ready.
So… here goes my first recipe: Honey Bacon Cheddar Scones!!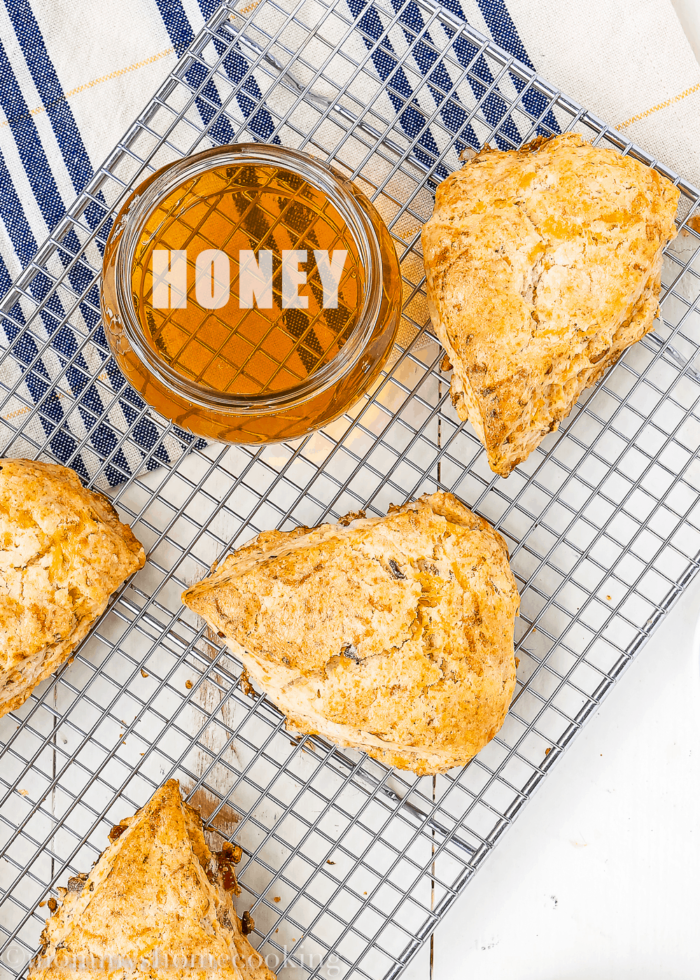 About National Honey Board:
The National Honey Board (NHB) is an industry-funded agriculture promotion group that works to educate consumers about the benefits and uses for honey and honey products through research, marketing and promotional programs. The Board's work, funded by an assessment on domestic and imported honey, is designed to increase the awareness and usage of honey by consumers, the foodservice industry and food manufacturers. The Ten-Member-Board, appointed by the U.S. Secretary of Agriculture, represents producers (beekeepers), packers, importers and a marketing cooperative."
These scones are Ah-Mazing!! The scones are tender and fluffy, but still incredibly hearty. Of course, the bacon cheddar combo is always a good one. The honey also adds a special touch, making these scones even more irresistible.
I thought I'd add some green onions, or chive, but then I imagined my kids saying: what is the green thing? So I left it out. But If you, and your family, love the "green thing" then by all means, go for it!
They are not only for back to school, they're also perfect for sharing with family and friends on a lazy weekend day. In fact, I have plans to make these again, just because, this weekend!

Love what you see? Subscribe to Mommy's Home Cooking so you'll never miss a recipe! Follow along on Instagram, Pinterest, Google+, Twitter, and Facebook for more fun! Don't forget to tag me #MommysHomeCooking if you share something you made on Instagram!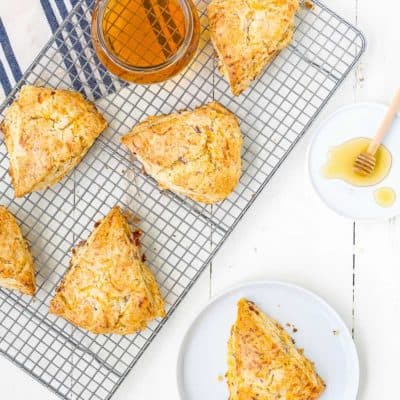 Honey Bacon Cheddar Scones
These scones are Ah-Mazing!! The scones are tender and fluffy, but still incredibly hearty. Of course, the bacon cheddar combo is always a good one. The honey also adds a special touch, making these scones even more irresistible.
Print
Pin
Ingredients
4

– 5 bacon strips

chopped

2

cups

all-purpose flour

1

tablespoon

+ 1 teaspoon baking powder

1/4

teaspoon

salt

Pinch of black pepper

10

tablespoons

unsalted butter

cold and diced

3/4

cup

heavy cream

plus more for brushing

1

tablespoon

honey

1

cup

cheddar cheese
Instructions
In a medium skillet over medium heat, cook the bacon, stirring, until crisp, about 5 minutes. Remove with a slotted spoon and drain well on paper towels. Set aside.

In a large bowl whisk together the flour, baking powder, salt, and pepper. Add the cold diced butter and using your fingertips, rub the butter into the flour mixture until it resembles coarse crumbs.

Mix the heavy cream and honey.

Create a small well in the center of the flour mixture. Pour the cream mixture into the well, and stir with a fork until the dough comes together. Toss in crisp bacon and cheese.

Turn the dough out onto a floured surface. Roll dough into a circle, about 3/4 of an inch thick, cover with plastic wrap and refrigerate for 30 minutes.

Preheat oven to 400º F.

Cut circle into 8 wedges with a sharp knife.

Transfer to baking sheet lined with parchment paper with a spatula, leaving 1/2-inch space between each wedge. Brush the tops of the wedges lightly with the remaining heavy cream.

Bake for 20 to 23 minutes, or until golden brown. Remove from the oven and let cool slightly on the baking sheet.

Serve warm.
⭐️ RATE THIS RECIPE ⭐️
Do you have any questions? Ask me! I am happy to help 🙂
For more information about National Honey Board click here. Para español haz click aquí.
Disclosure: This is a sponsored post in partnership with National Honey Board, all opinions expressed are my own as always.  Thank you, though, for supporting them and the other brands which help make this site possible.