If you feel under the weather all the time and your doctor never find an obvious reason why, you might have a food intolerance. Keep reading to learn How to Know If You Have A Food Intolerance with an easy and convenient test you can take in the comfort of your own home.
This post is sponsored by Pinnertest. I am NOT a health professional, the opinions expressed in this post are based on my own experiences. You MUST consult your doctor prior to changing your diet. 
---
Food intolerance is a hot topic right now because people are understanding that many of the ailments affecting them may be related to the type of food they eat, and I am not the exception.
My family has a LONG history of food intolerances and allergies. My parents, my siblings, and I, we all have had suffered some kind of food intolerance or allergy. Unfortunately, the tendency to develop allergies is often hereditary, which means it can be passed down through genes from parents to their kids. Having said that, my youngest daughter was diagnosed with egg allergies when she was one year old. At that time, we were told that she could outgrow the allergy, but she was recently re-tested, and she hasn't gotten any better.
However, food allergy and intolerance are not the same thing!
WHAT IS THE DIFFERENCE BETWEEN A FOOD ALLERGY AND INTOLERANCE?
A food allergy is an immune system response that can be triggered by even a small amount of the food and the symptoms appear almost immediately. On the other hand, food intolerance is a digestive system response. It occurs when you eat something, and your digestive system is unable to properly digest, or break down, the food.
WHAT ARE THE SIGNS OF FOOD INTOLERANCE?
If you feel under the weather all the time and your doctor never find an obvious reason why, you might have a food intolerance. Here are some signs of food intolerance:
Headaches and/or migraines

Food cravings

Fatigue

Heartburn

Joint pain

Gas, bloating, and constipation

Irritable Bowel

Brain fog

Bouts of breakouts 
I realized that I had to have some kind of food intolerance a few months ago when I did the Whole30 program and a few days after following the program I noticed that my levels of fatigue were reduced, I wasn't nauseous in the morning after my breakfast, and I could sleep much better.
So, when Pinnertest reached out to me I was super excited to try their food intolerance test!
WHAT IS PINNERTEST?
Pinnertest is a food intolerance testing company that uses advanced technology to analyze blood samples and identify an individual's food intolerances.
WHAT IS THE TECHNOLOGY AND SCIENCE BEHIND PINNERTEST?
By analyzing IgG (FC Fragment Specific), Antigen, Antiserum, Control tests, Pinner Tests' lab can thoroughly measure IgG antibody levels against the proteins of over 200 different foods. This advanced technology works to identify the foods that respond negatively with your system–all with just a few drops of blood dispensed by a basic finger prick.
DO PINNERTEST SHIP INTERNATIONALLY?
Yes! Use the code ORIANA when checkout and get $60 off + Free International shipping.
HOW DOES IT WORK?
Order your Pinnertest test via online and wait for your food intolerance test kit to arrive.
Follow the instructions and safely extract a few drops of blood from your fingertip onto the collection pad.

Fill out the consent form. Mail your sample and consent form to the laboratory using the FREE Return envelope and wait for the result.
HOW WILL YOU RECEIVE THE RESULTS?
You will receive the result via email after 7-10 business days. The results will show what food you are sensitive to and the reaction degrees, +1 is a low reaction. +2 is a moderate reaction. +3 is a high reaction.
I will update this post when I receive my results.
If you happen to be egg intolerant try my awesome eggless recipes!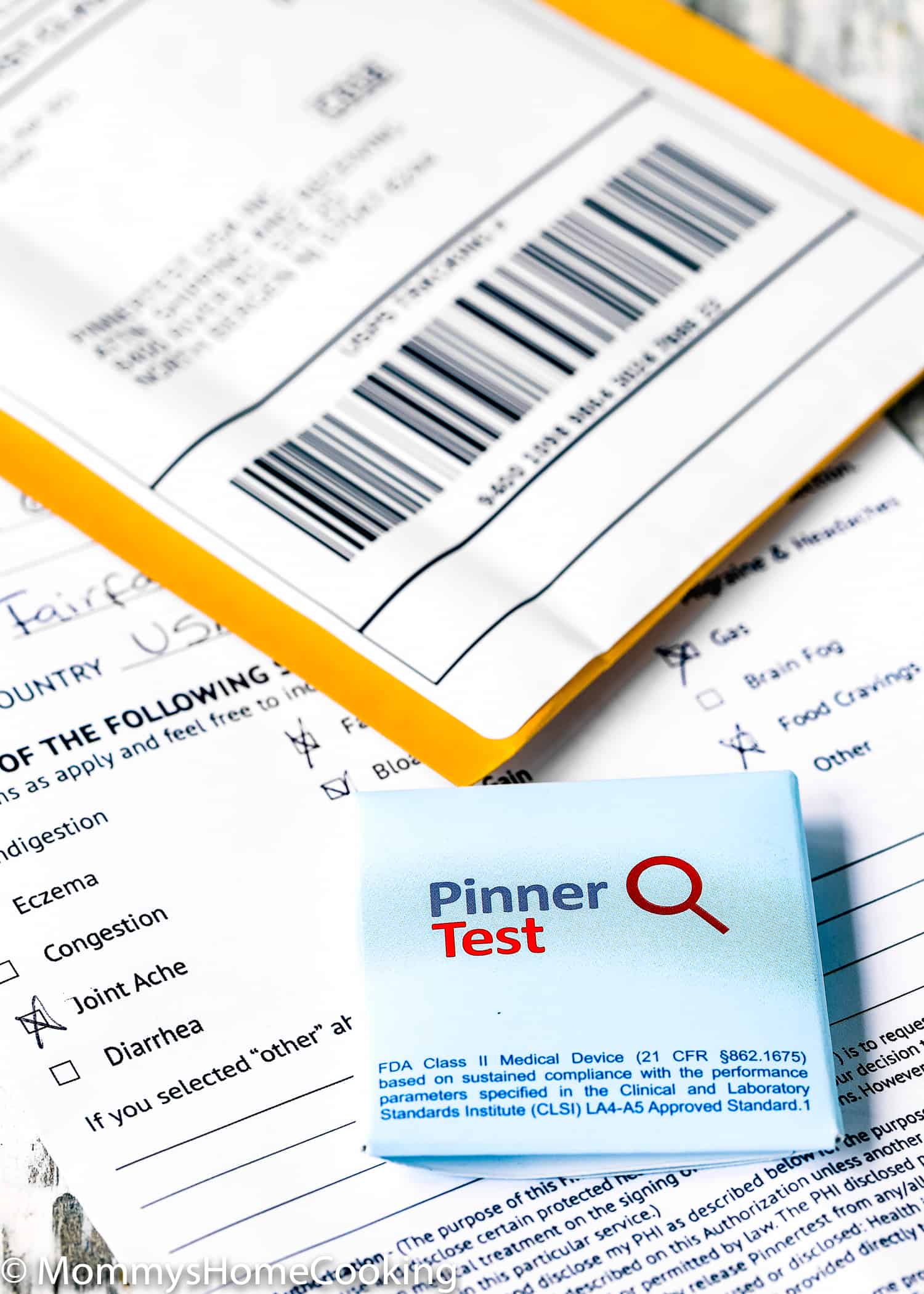 The beauty of knowing if you have any food intolerance is that you can reduce or completely eliminate the food that is troubling you and feel an almost instant improvement of your symptoms. However, you MUST consult your doctor prior to changing your diet!
Don't forget to use the code ORIANA when checkout to get $60 off and free international shipping.