For the recipe in English, check Eggless Cauliflower Pizza Crust.
Esta receta de Masa para Pizza de Coliflor – Sin Huevo ha estado en proceso por algunas semanas.
Hay muchísimas recetas de masa de coliflor en la internet. Personalmente prepare muchas de ellas para probar. Lo único que no me gusto de esas recetas es la masa resultaba muy húmeda al final. Era imposible comerla con las manos. Finalmente encontré una receta muy buena; crujiente y sabrosa. El problema con esa fue que tenia huevo. Así que la adapte un poco y quedo buenísima. Solo necesitas tener arroz de coliflor a la mano. Para aprender como hacer arroz de coliflor dale click aquí.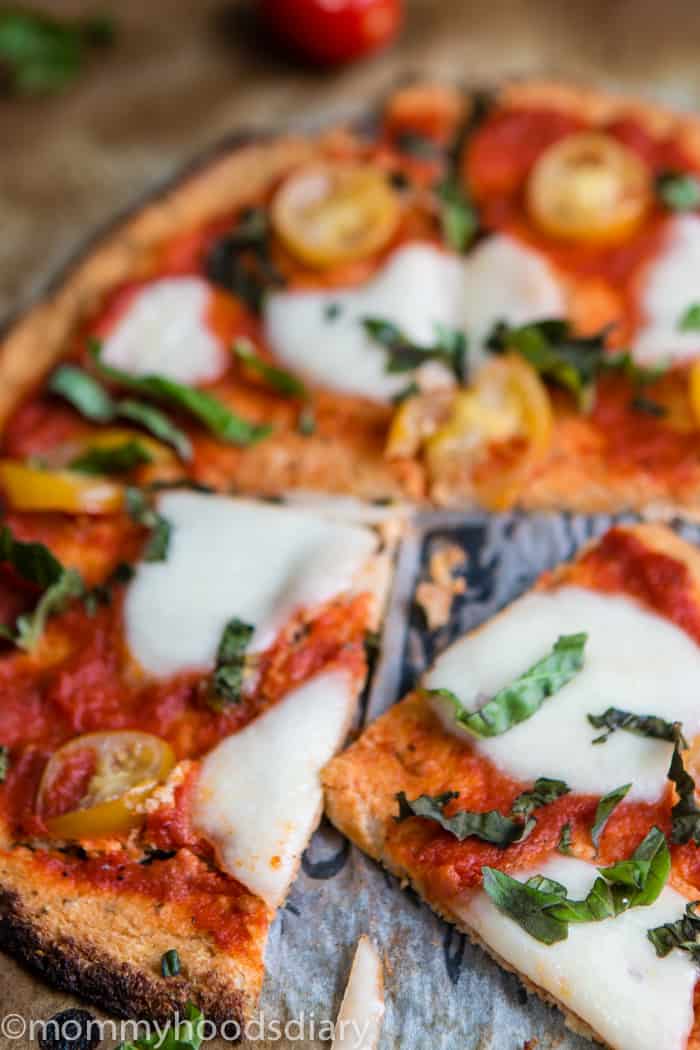 Esta es una fantástica forma de añadir más vegetales a nuestras comidas. A mi familia le gusto. Vicky se la comió sin problemas. Matthew solo probo dos bocados y ya. No les voy a mentir. Es muy buena pero no es exactamente como la pizza regular. La masa sabe ligeramente a coliflor, pero no mucho. A mi me encanto! lo que más me gusto es saber que no me estoy comiendo una cantidad exagerada de calorías. Si tu estas en la onda de contar calorías, prepara esta pizza pronto. ¡Te hará muy feliz!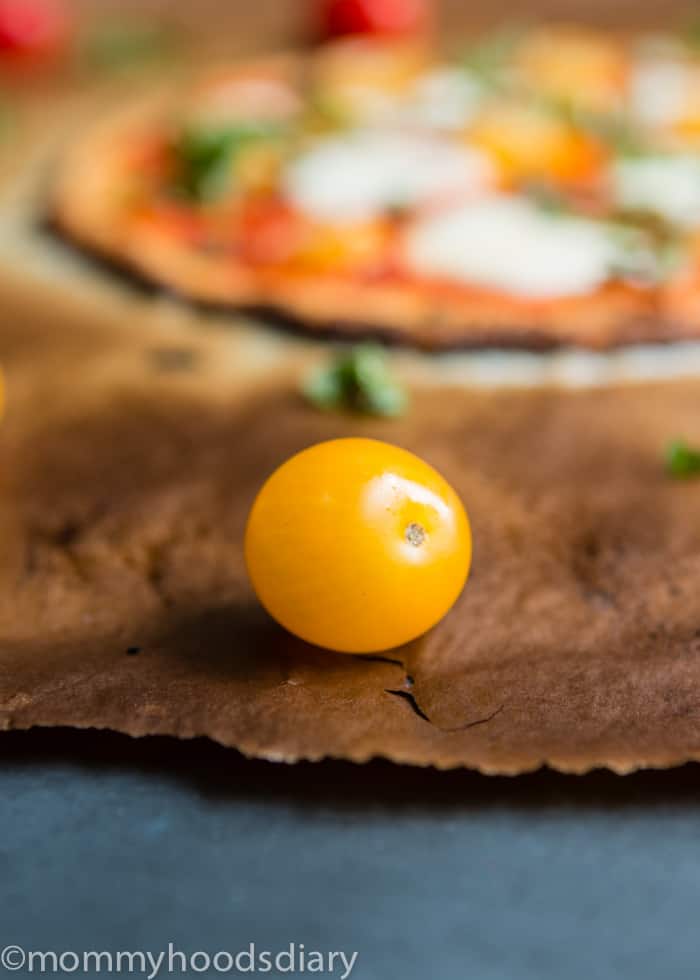 En esta oportunidad usé mis ingredientes favoritos tomates, queso mozzarella fresco y albahaca. Un montón de albahaca. El sabor ligero de coliflor es un buen telón de fondo para cualquier ingrediente que quieras añadir como topping… ¡Las posibilidades son infinitas!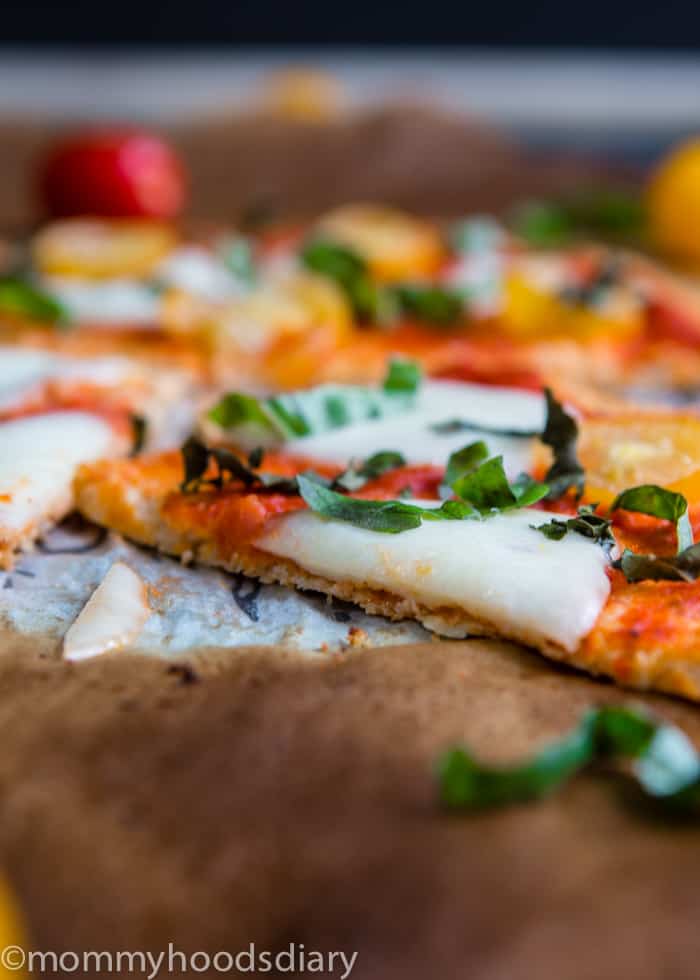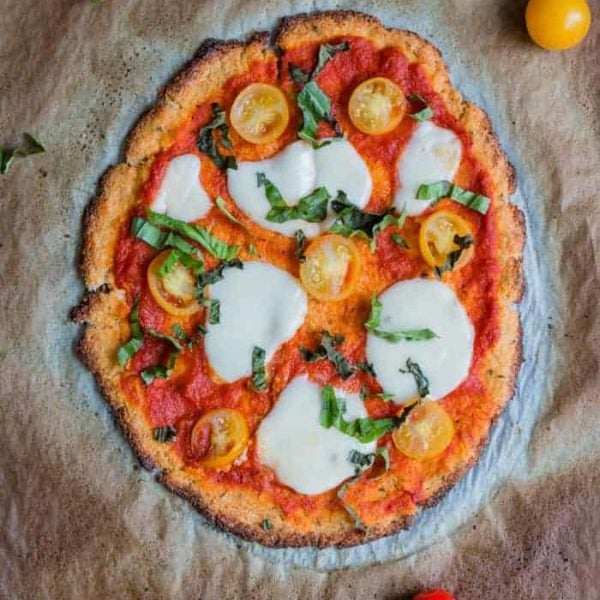 Cauliflower Pizza Crust – Egg Free
Sin Huevo ha estado en proceso por algunas semanas.
Ingredients
2

tazas de agua + 3 cucharaditas

4

tazas de arroz de coliflor crudo

1

cucharadita de semillas de linaza molidas

flax seeds

1/2

taza de queso parmesano

1

pizca de sal

1/4

cucharadita de hierbas italianas

1 – 2

tazas de salsa marinara

2

tomates medianos amarillos

en rodajas

2-3

oz

de mozzarella fresca en bolas

4, Ovolini – el tamaño de un huevo

1

taza de albahaca fresca

picada finamente
Instructions
Llena una olla grande con 2 tazas de agua y lleva a ebullición . Añade el arroz coliflor crudo y la tapa; cocina durante aproximadamente 4-5 minutos . Escurre en un colador de malla fina. Coloca la coliflor en un paño de cocina fino y limpio, y deja que se enfríe un poco . Envuelve con el paño, tuerce con tus manos y escurre el exceso de humedad. Repite este paso hasta que no salsa nada de agua.

[img src="https://mommyshomecooking.com/wp-content/uploads/2014/05/Cauliflower-crust-Collage.jpg" width="700″ height="350″ class="aligncenter size-full" title="Cauliflower crust Collage"]

Precalienta el horno a 450º F. Cubre una bandeja para hornear galletas con papel para hornear.

Mezclar 3 cucharadita de agua con de semillas de linaza molidas. Deja reposar durante 5 minutos para que espese.

En una tazón mediano mezcla de la coliflor, mezcla de linaza, el queso, la sal y las hierbas italianas. Mezcla bien con las manos o se puede mezclar en la batidora eléctrica con el accesorio de gancho.

Dispón la masa sobre el papel, extiende con tus manos para formar la corteza. El espesor dependerá de tu gusto personal, pero te recomiendo que no la hagas muy delgada ; 1/3 de pulgada de espesor funciona muy bien.

Hornear durante 20 minutos, o hasta que la corteza es firme y dorada.

[img src="https://mommyshomecooking.com/wp-content/uploads/2014/05/Cauliflower-Pizza-Crust-7.jpg" width="700″ height="467″ class="aligncenter size-full" title="Cauliflower Pizza Crust-7″]

Agregue tus ingredientes favoritos . En este caso yo he añadido la salsa marinara , tomates, mozzarella y albahaca fresca .

Regresa la pizza al horno y hornea otros 5-8 minutos, justo hasta que el queso derrita y se formen burbujas .

Deja reposar 5 minutos y sirve.
Nutrition
Calories:
181
kcal
Carbohydrates:
19
g
Protein:
13
g
Fat:
8
g
Saturated Fat:
4
g
Polyunsaturated Fat:
1
g
Monounsaturated Fat:
2
g
Cholesterol:
20
mg
Sodium:
1316
mg
Potassium:
1136
mg
Fiber:
6
g
Sugar:
11
g
Vitamin A:
1308
IU
Vitamin C:
91
mg
Calcium:
297
mg
Iron:
3
mg
Did you make this recipe? I want to see your yummy photos!
Tag @mommyshomecooking on Instagram and hashtag it #mommyshomecooking or Join my Private Facebook Group