This One Pot Creamy Alfredo Rigatoni with Bacon and Peas recipe is so simple, so easy, and just amazingly creamy.  No-stress, no-mess for any night of the week!!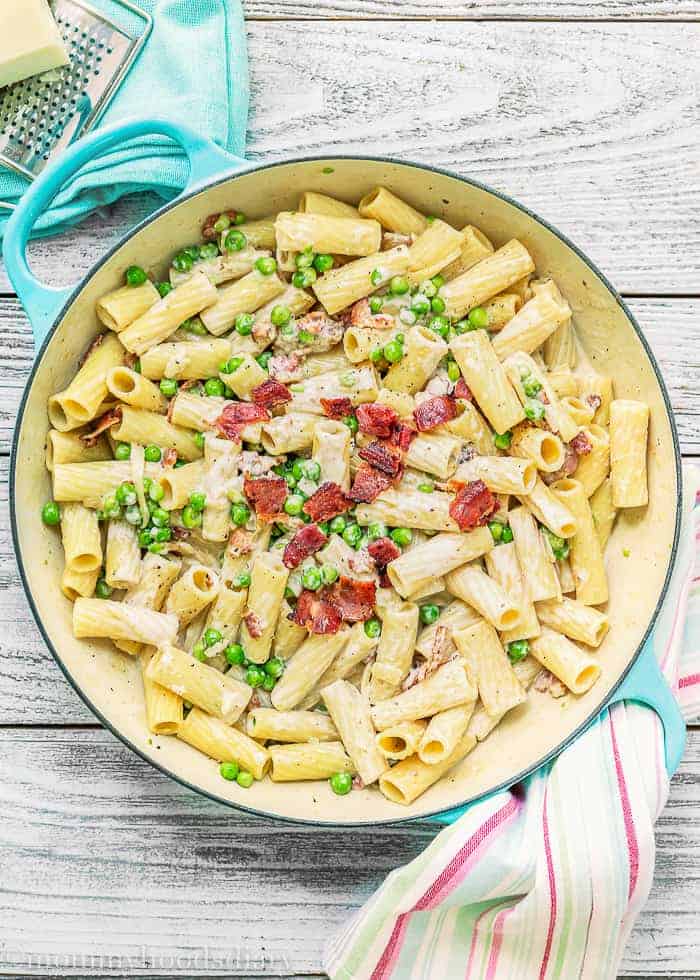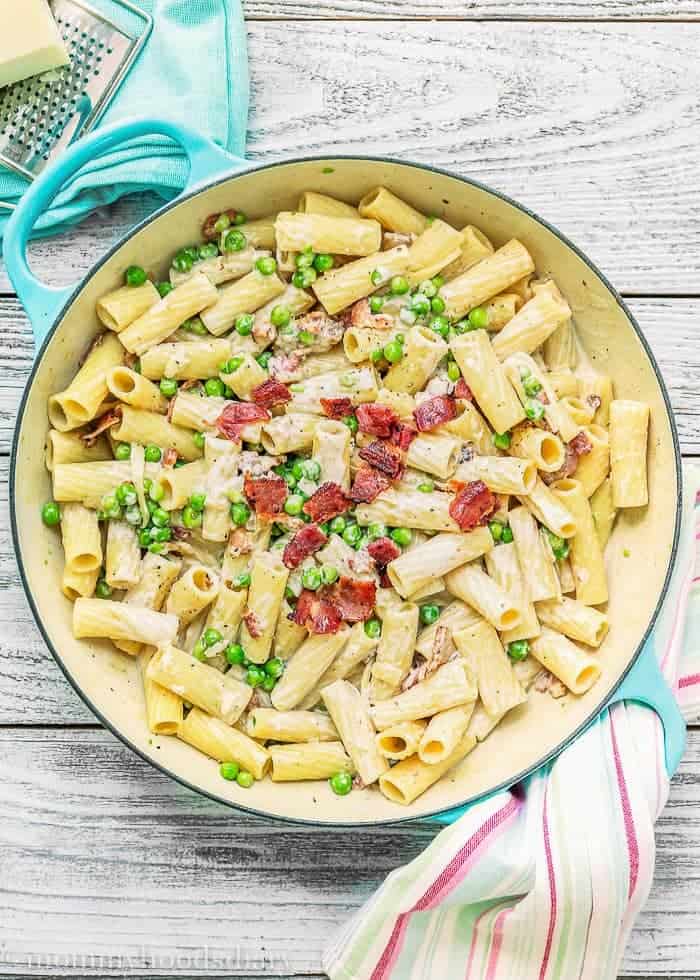 I'm getting back into the swing of things after a mini vacation. I can't wait to really get into the normal routine. This week we received a letter for my kid's preschool and just learned that the school will start on Sept 14. Are you kidding me? Why? Wasn't the summer break long enough? Come on! The kids are desperate to start the new preschool year. Every morning the first thing they ask is: Is the school open yet?.
Anyway…I needed to pout a bit!
With back-to-school around the corner – for some not for me – we all need ideas for easy no fuss weeknight meals. That is why I'm sharing this amazing One Pot Creamy Alfredo Rigatoni with Bacon and Peas recipe that my family ♡.
If you know me you know I love pasta and so does my family. This Creamy Alfredo Rigatoni with Bacon and Peas is a recipe you have to add to your weeknight recipes. It is a quick and tasty recipe that you and your family will love. The combination between the Alfredo sauce, the bacon and the peas is simply perfect. Even though you'll only be in the kitchen cooking for a short amount of time, everyone in your house is going to think you took hours making this dish.
This recipe is certainly not one of those light type dish, but with all these peas it all balances out, right?
Just comfort food at its finest!!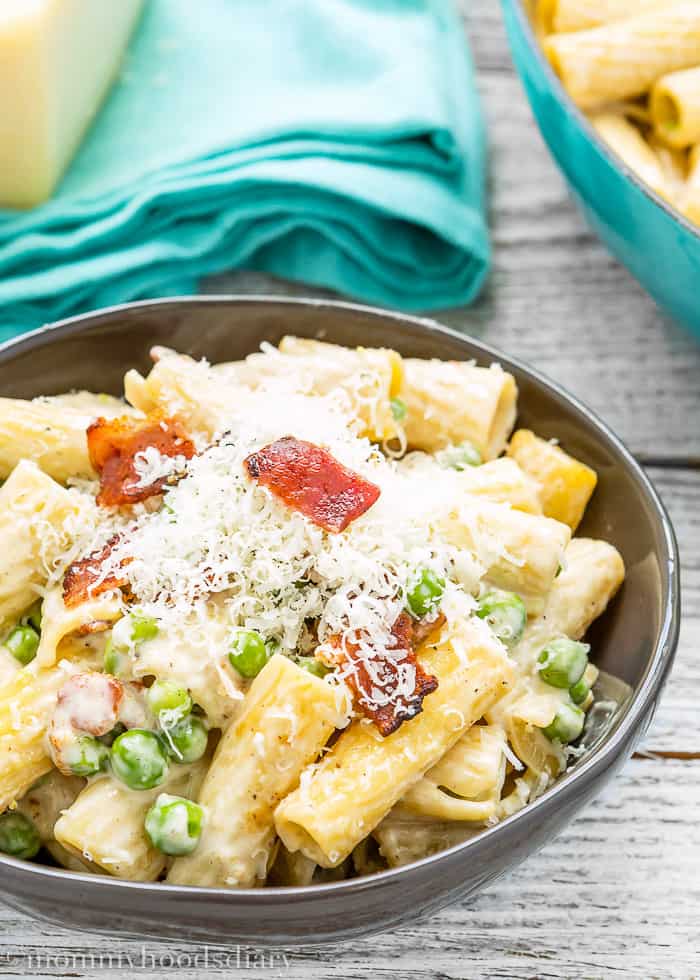 Another reason why I love this recipe is because it is an eggless recipe and that means my little princess is able to enjoy it as much as everyone else in the house. I have to say; I didn't know if she was going to give it a try but once she did she couldn't stop eating. Yes! Point for mommy!
This recipe will put a smile in your family's face – They will be more than satisfied and you'll be the hero after a long day at work or school. The best part of all is that at the end you will only have one pot to clean – Hint: One pot 😉 – What can be better than that? Happy and full bellies, and easy to clean kitchen. Win Win Win!!!
Happy week ☺…

Ingredients
6

slices

sliced bacon

coarsely chopped

2

cloves

garlic

minced

12

oz

dried rigatoni pasta

2

cups

chicken broth

2

cup

water

1/2

teaspoon

salt

1/4

teaspoon

freshly ground black pepper

2

cup

frozen peas

1

cup

heavy cream

1

cup

aged Asiago cheese

shredded (you can also use parmesan)

4

oz

Mascarpone cheese

optional, see notes
Instructions
In a large deep skillet cook the 6 slices bacon until crisp over medium heat. Remove some of the bacon from skillet and drain on paper towel for garnishing at the end.

Stir in garlic to the skillet; cook and stir for 30 seconds more. Add pasta, broth, the water, salt, and pepper, mix to combine. Bring to boiling; reduce heat to low. Simmer, covered, for 10 to 15 minutes or until pasta is tender.

Stir in peas, heavy cream, Asiago (or Parmesan), and Mascarpone cheese, if using; stir to combine. Cook about 3 -5 minutes more, or until the sauce has thickened.

Top with the reserve crumbled bacon and more shredded cheese . Serve immediately.
Recipe Notes:
You can use cream cheese instead of Mascarpone.
⭐️ RATE THIS RECIPE ⭐️
Do you have any questions? Ask me! I am happy to help 🙂