Have you ever wondered what can you use to replace eggs in a recipe? Well, keep reading and find out my favorite egg substitutes after six years of experimenting with eggless cooking and baking. Plus, some cool tips on how to organize and stock up your pantry to be eggless friendly.
This post has been sponsored by Rubbermaid. All thoughts and opinions are my own.
---
What can I use in place of eggs in a recipe??
I have been asked so many times this question but the answer is not simple!
The truth is that eggs play different roles: they act as a binder and leavener, also add moisture, flavor, and color.
There are a number of things that can be used to replace eggs, but you have to take into consideration the purpose that the eggs serve in the recipe.
So, when I decided to write this post I immediately knew it was time to tidy and organize my pantry, which is obviously a LONG overdue task, in order to make sure I was remembering all the ingredients that I've used over the years. And besides, one of my New Year's resolutions was to get organized.
This is how my pantry looked after 2 years of procrastination…No judging, please!
After a few hours and some great Rubbermaid® BRILLIANCETM products…

Drumroll, please…This is my pantry now!!

What a makeover, right?
TIPS AND TRICK TO ORGANIZE YOUR EGGLESS PANTRY
Evaluate and Plan: throw out everything that is expired and plan how many containers and baskets you will need. I used clear containers for my most-used items, such flours, sugars, starches, etc. and baskets to group nuts, chocolates, dried fruits, snacks, kitchen tools, and sprinkles.
Divide Your Panty Shelves by Category: Divide your pantry into zones to keep your food organized and your life easier. Identify most-used items and categories that suit your lifestyle, i.e. baking supplies, canned food, pasta and grains, snacks, school lunches, condiments, etc.
Invest in Good Quality and Clear Containers: I used Rubbermaid® BRILLIANCE ™ products. I love them because they are clear and each piece also sports a modular design that allows me convenient stacking, saving me some much-needed space. Plus, they're 100% airtight and leak-proof.  You can find the Rubbermaid® BRILLIANCE ™ Pantry line at your local Meijer, Walmart, or Bed Bath & Beyond stores.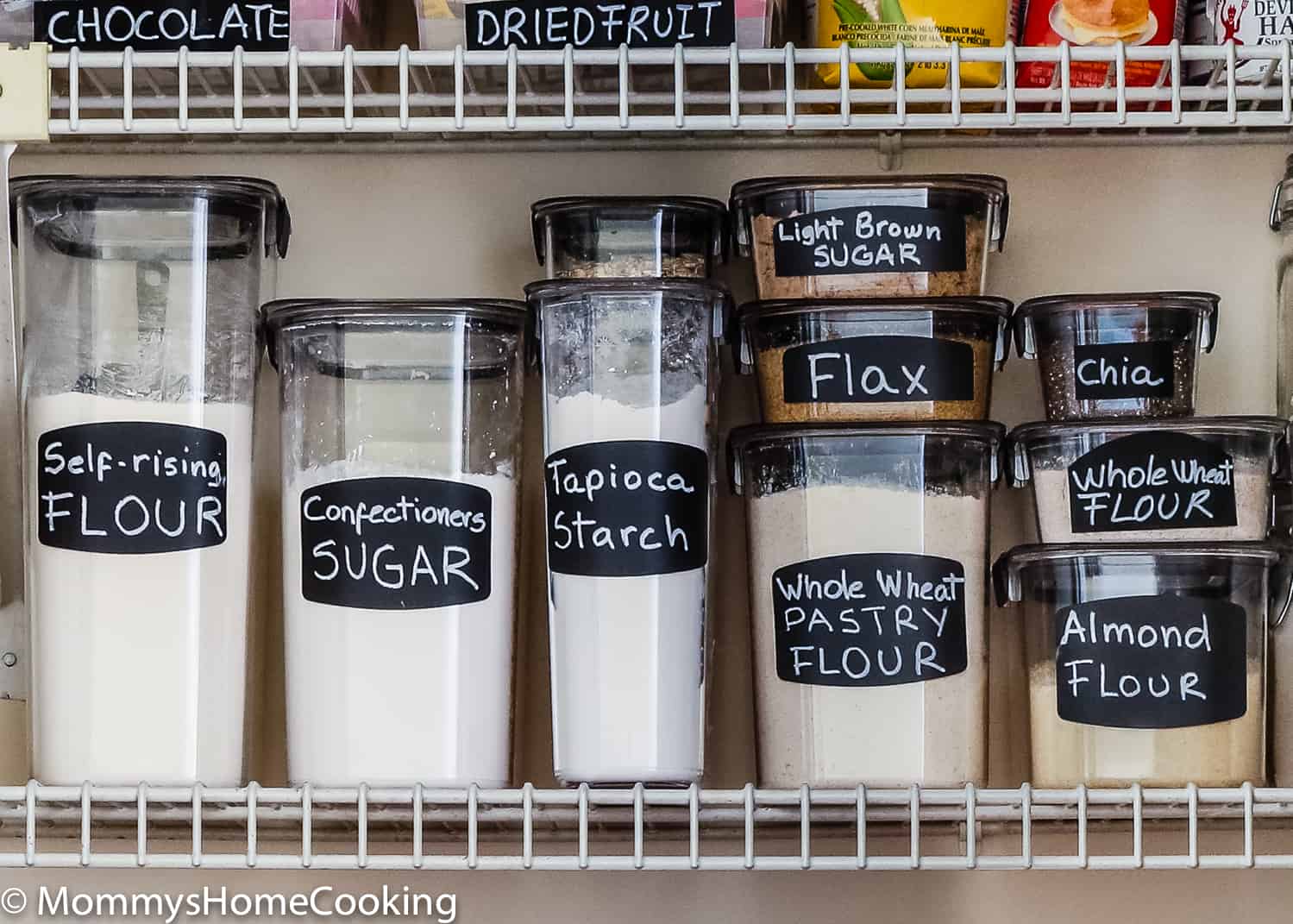 Utilize Baskets for Grouping Like Items Together: They are great to group items together easier. You can choose to group similar items together. Try storing snacks, nuts, dried fruits, or grains together. It will be much easier when you're trying to find something.
Put Eggless Children's Snacks on The Bottom Pantry Shelf: I make sure that ALL the snacks I buy are eggless. My kid's favorites are popcorn, cheese crackers, fruit snacks, and pretzels. I put them all in a big basket so they can easily access them.
Our pantry makeover has seriously made us (the whole family) SO happy! We are loving it and it functions SO much better than before.
Here is a list of my favorite items for Eggless Cooking and Baking!
Pantry Essentials for Eggless Cooking and Baking.
Self-Rising Flour: I use this flour for most of my baked goods since the baking powder and salt are already included, so it just makes it easier. Check out how I use self-rising flour for eggless baking in these recipes: Eggless Vanilla Cake and Eggless Vanilla Cupcakes.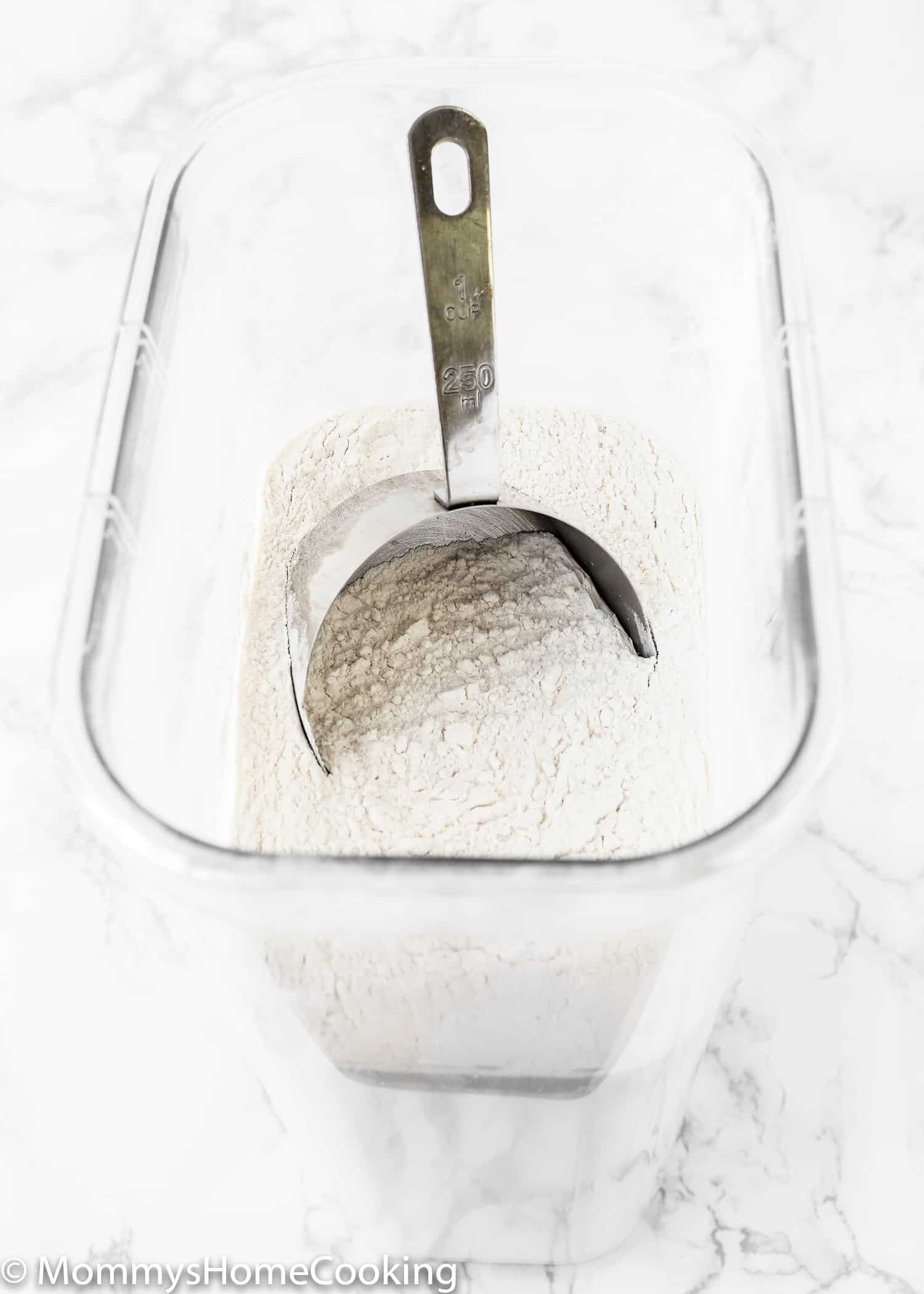 Baking Soda: This is a chemical leavener that works great and produces fluffy baked goods when mixed with an acid, such as vinegar, buttermilk, or lemon.
Baking Powder: I use this dry chemical leavening agent to make "fake eggs" mostly for cookie recipes. Check out how I use and make fake eggs in these recipes: Eggless Snickerdoodle and Eggless Chocolate Crinkles.
Flaxseed Meal: Mix 1 tablespoon of golden flaxseed meal + 3 tablespoons of water to replace 1 egg in recipes for bread, meatballs, meatloaf, and eggless cauliflower pizza crust. I don't like to use "flax eggs" for baked goods, like cake and cupcakes,  because it adds a rubbery texture.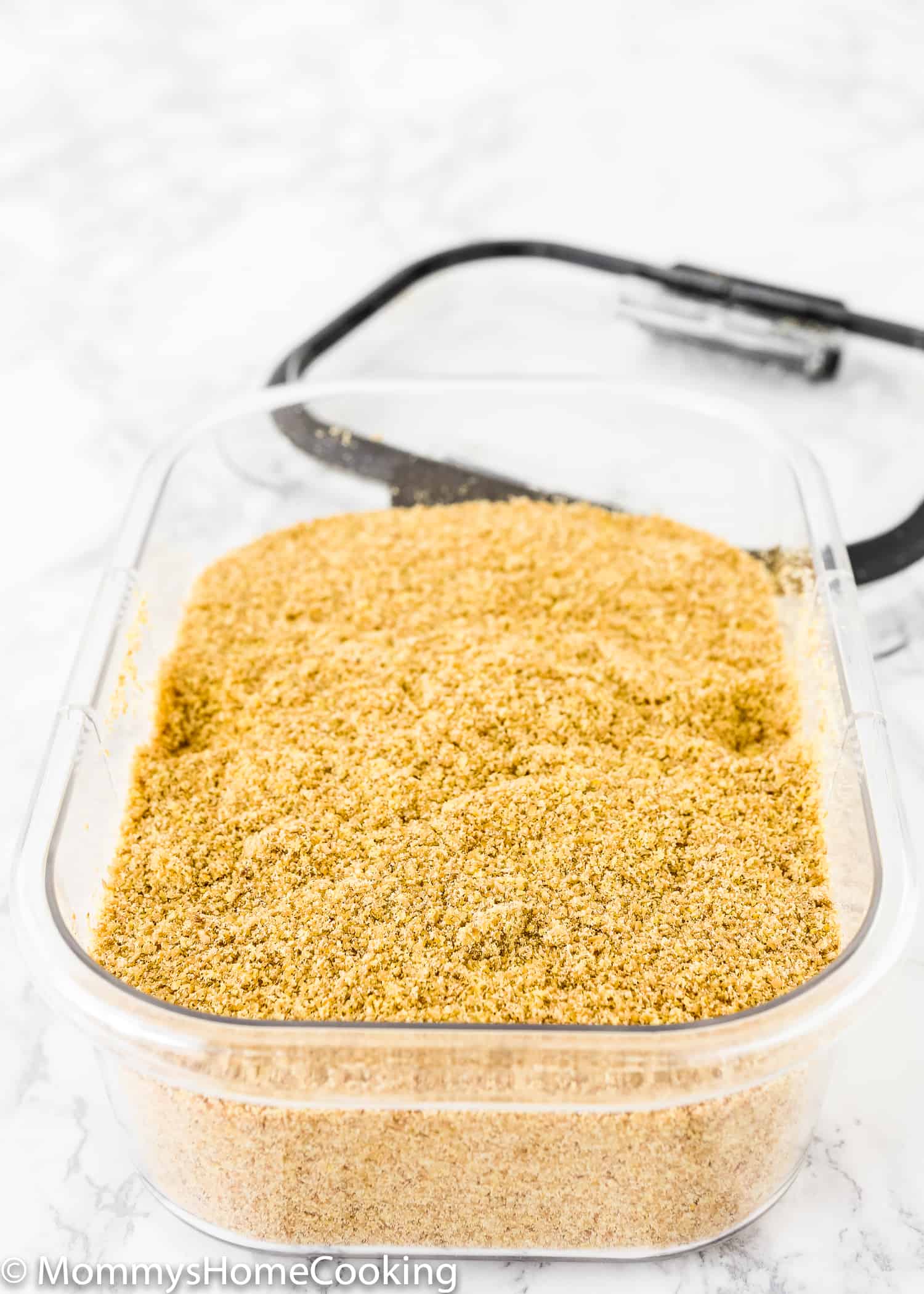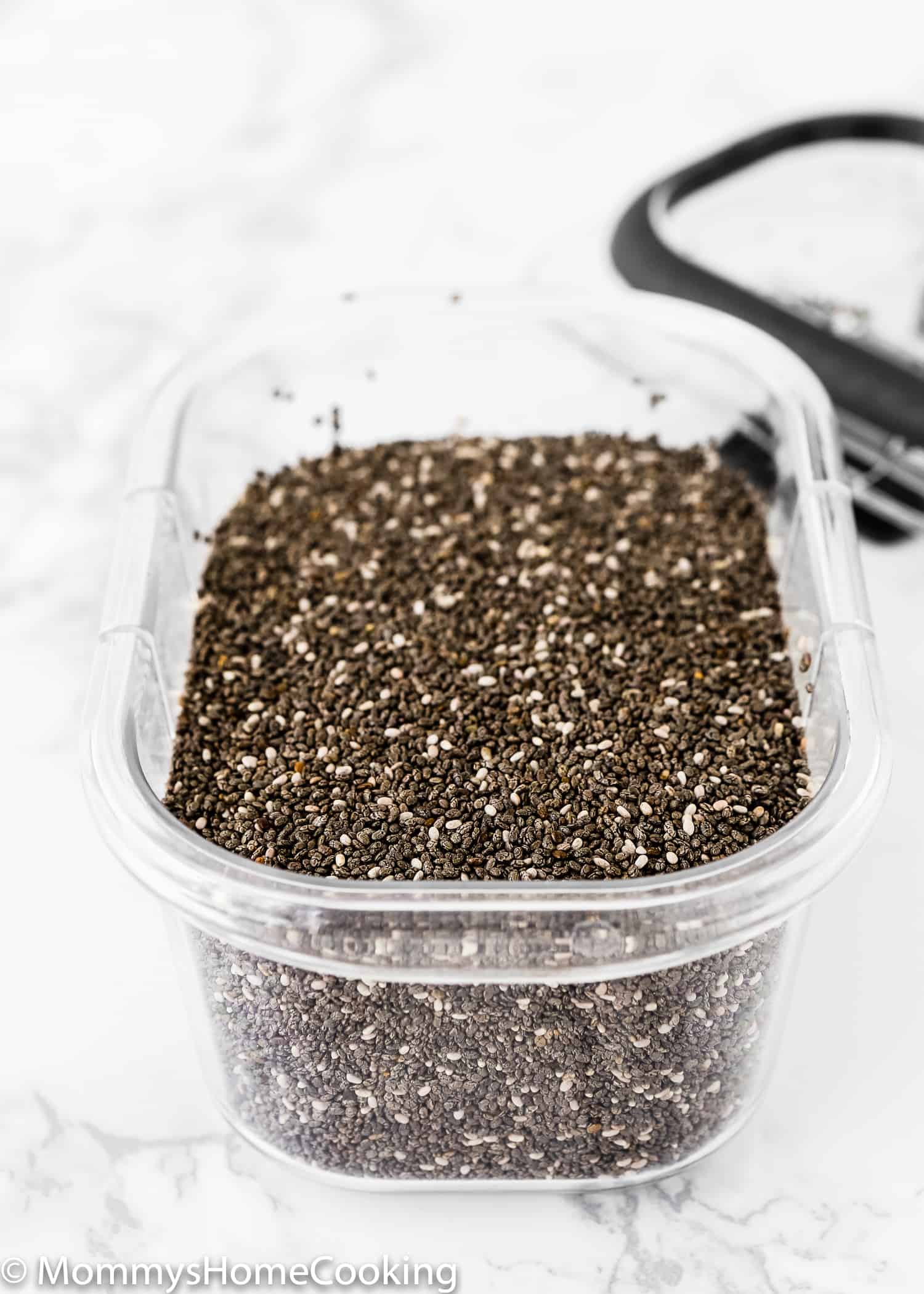 Starches: These work as a good binder. I always have handy cornstarch and tapioca starch. Mix 2 tablespoons starch + 3 tablespoons water to replace 1 regular egg. This mix is good to replace up to 2 eggs, in my opinion.  Check out how I use starches for eggless baking in these recipes: Eggless Pumpkin Pie and Eggless Dulce de Leche Cheesecake.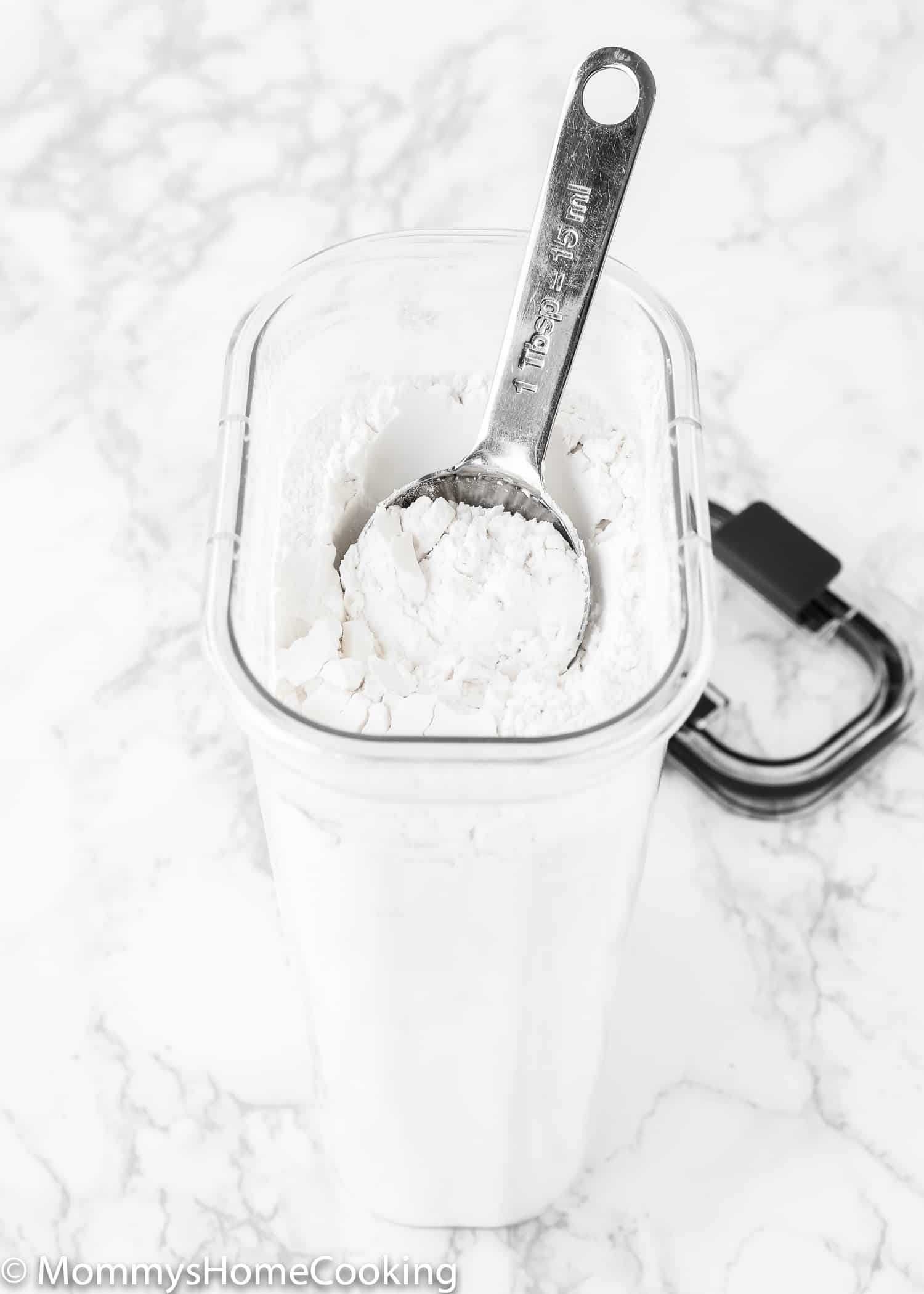 Aguafaba: Aguafaba is the liquid leftover from cooked chickpeas. It can be whipped to make mayo, meringues, mousse, pavlovas and marshmallow cream, macaroons and more. Or you can use the liquid "as is" as an egg binder to make croquette, meatballs, meatloaf, potato (or any other vegetable) cakes.  3 tablespoons of aguafaba equal 1 egg. Learn how to make the most amazing mayonnaise with aguafaba.
Vinegar: Keep it handy to add when making cakes and cupcakes.
Sweetened Condensed Milk: Condensed milk can also be used as an egg replacement in cakes, muffins and sweet bread. ¼ cup condensed milk can be used in place of 1 egg. If you are using sweetened condensed milk, reduce the quantity of sugar called in the recipe by half.
Pumpkin Pure: Pumpkin puree has a strong flavor and color, so it's better to use when making pumpkin bread or muffins. ¼ cup pumpkin puree will replace 1 egg.
Unflavored Gelatin: I use unflavored gelatin in no-bake desserts, such as cheesecake, panna cotta and others.
Applesauce: Use ¼ cup of applesauce to replace 1 egg. This works best for muffins, sweet bread and some brownie recipes, such my Best Egg Free Fudgy Brownies and Eggless Red Velvet Brownies.
Fridge Essentials for Eggless Cooking and Baking.
Buttermilk: I use buttermilk in all my eggless recipes. It's great to make pancakes, waffles, cake, cupcakes and much more.
Cream Cheese: Cream cheese can be a great substitute in chocolate chip and sugar cookies. Use 3 oz of cream cheese to replace 1 egg. Check out my Sugar Cookies and Chocolate Chip Cookies.
Yogurt: Use ¼ cup to replace 1 egg. I like to use full-fat Greek yogurt to replace eggs in cake and brownie mix boxes.
Bananas: Bananas add moisture and act as a binder. Use ½ ripe banana to replace 1 egg. Best for muffins and sweet bread.
It took me five years to figure out this eggless cooking and baking thing out, and I'm still learning and testing, but I really hope that this list, and my recipes, help you to make all kinds of yummy recipes for your loved ones.
I would LOVE to hear your feedback!! What are your favorites egg substitutes?
Happy Cooking!!!
Love what you see? Subscribe to Mommy's Home Cooking so you'll never miss a recipe! Follow along on Instagram, Pinterest, Google+, Twitter, and Facebook for more fun!