Have you ever wondered what can you use to replace eggs in a recipe? Well, keep reading and find out my favorite egg substitutes after six years of experimenting with eggless cooking and baking. 
My Favorite egg substitutes
What can I use in place of eggs in a recipe??
I have been asked so many times this question but the answer is not simple!
The truth is that eggs play different roles: they act as a binder and leavener, also add moisture, flavor, and color.
There are a number of things that can be used to replace eggs, but you have to take into consideration the purpose that the eggs serve in the recipe.
Here is a list of my favorite Pantry Essentials for Eggless Cooking and Baking!
Pantry Essentials for Eggless Cooking and Baking.
Self-Rising Flour: I use this flour for most of my baked goods since the baking powder and salt are already included, so it just makes it easier. Check out how I use self-rising flour for eggless baking in these recipes: Eggless Vanilla Cake and Eggless Vanilla Cupcakes.
You don't have self-rising flour? NO problem!!
You can use all-purpose flour, just make sure to add 1 teaspoon of baking powder + a pinch of salt per cup of flour called in the recipe.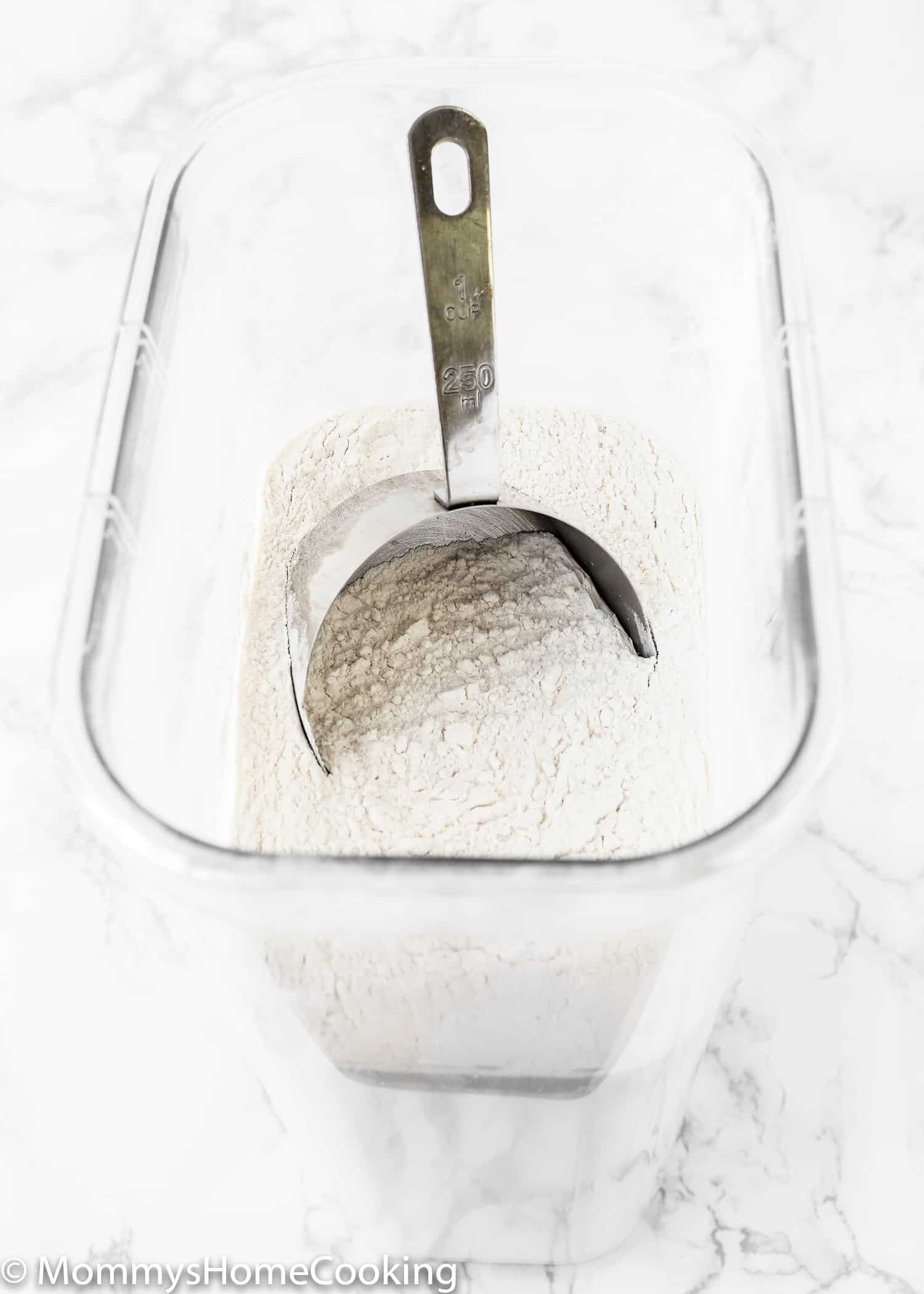 Baking Soda: This is a chemical leavener that works great and produces fluffy baked goods when mixed with an acid, such as vinegar, buttermilk, or lemon.
Baking Powder: I use this dry chemical leavening agent to make "fake eggs" mostly for cookie recipes. Check out how I use and make fake eggs in these recipes: Eggless Snickerdoodle and Eggless Chocolate Crinkles.
Flaxseed Meal: Mix 1 tablespoon of golden flaxseed meal + 3 tablespoons of water to replace 1 egg in recipes for bread, meatballs, meatloaf, and eggless cauliflower pizza crust. I don't like to use "flax eggs" for baked goods, like cake and cupcakes,  because it adds a rubbery texture.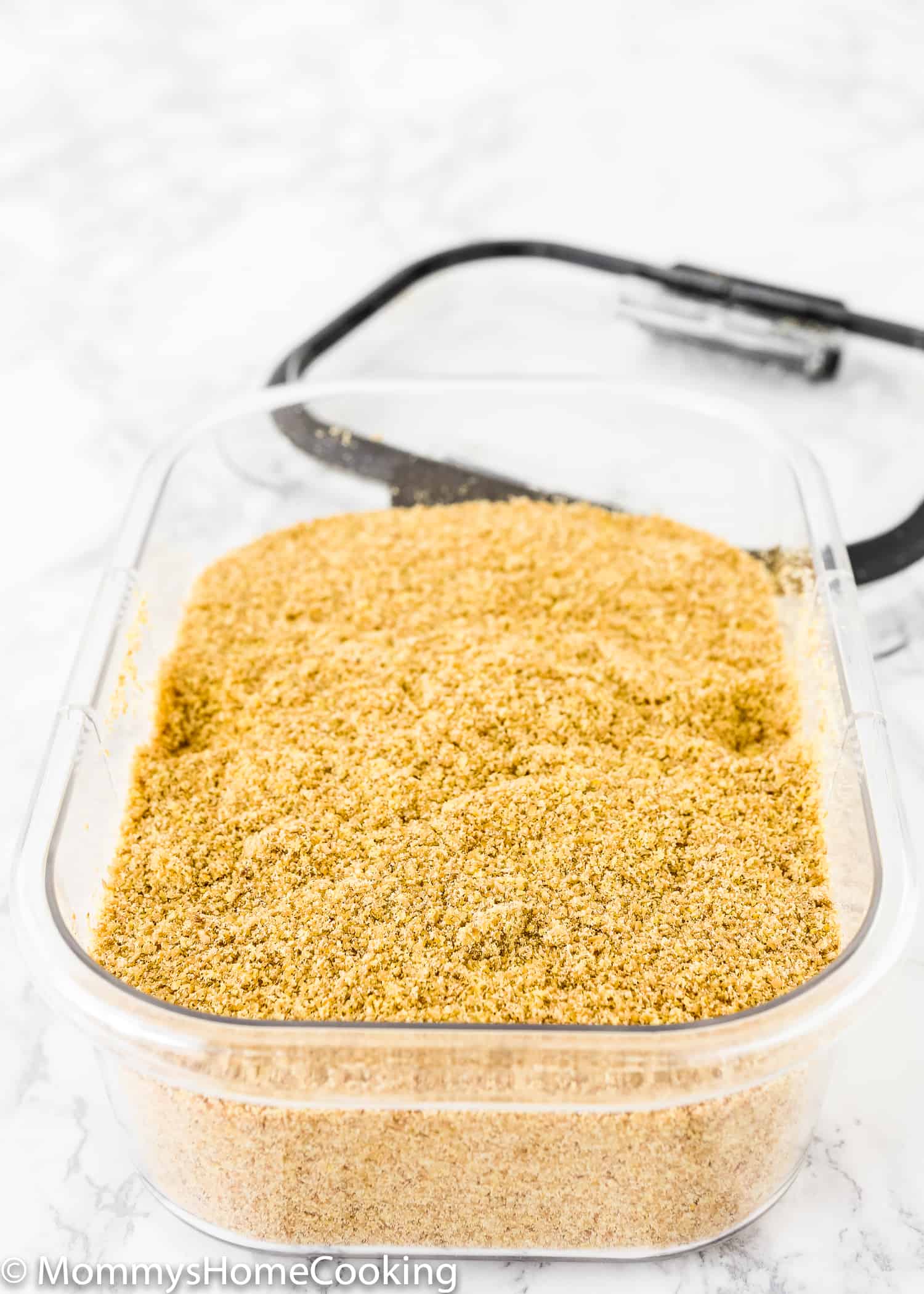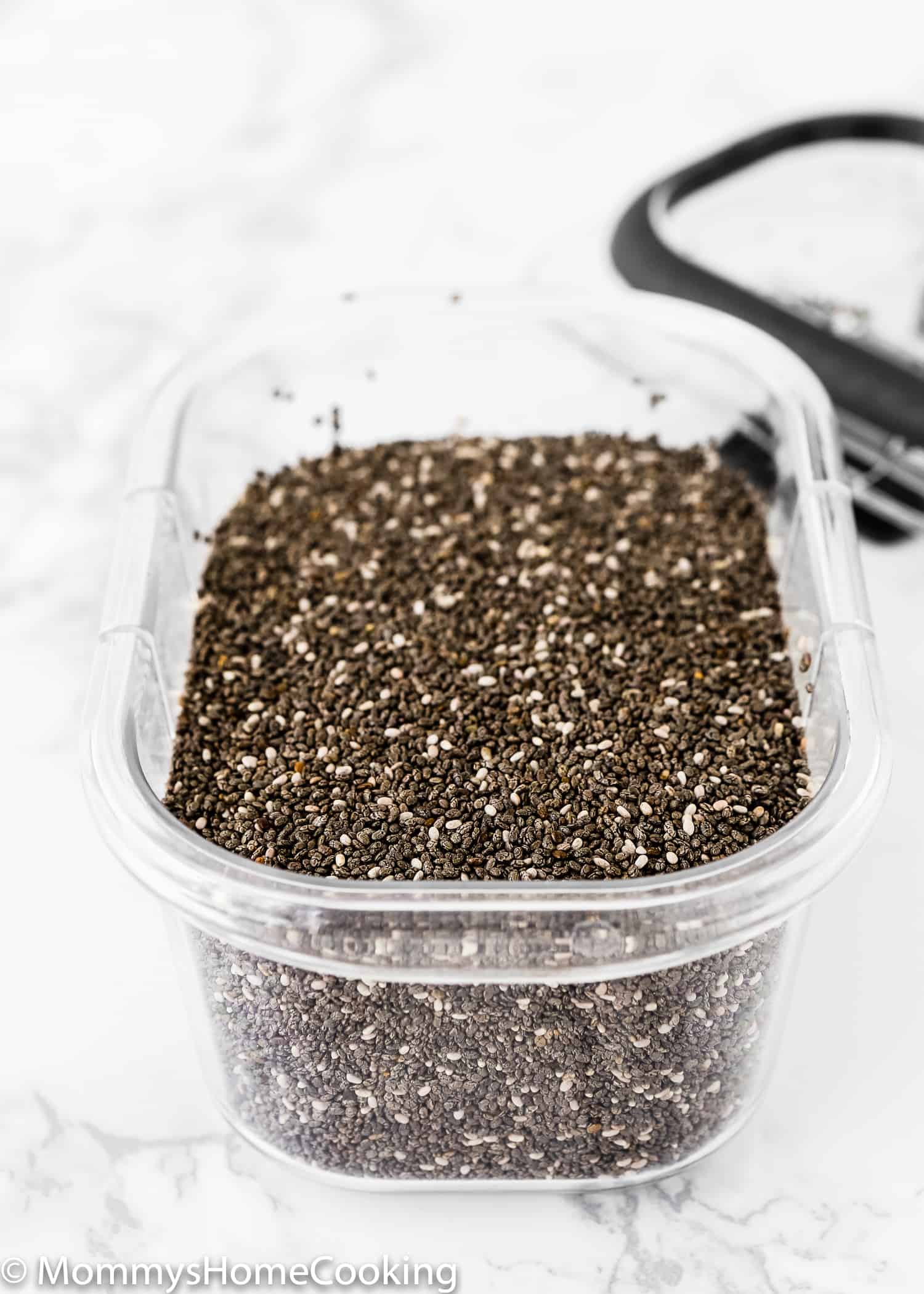 Starches: These work as a good binder. I always have handy cornstarch and tapioca starch. Mix 2 tablespoons starch + 3 tablespoons water to replace 1 regular egg. This mix is good to replace up to 2 eggs, in my opinion.  Check out how I use starches for eggless baking in these recipes: Eggless Pumpkin Pie and Eggless Dulce de Leche Cheesecake.
Black Salt: Black salt or kala namak is a type of rock salt, a salty, and pungent-smelling condiment used in South Asia. Although it is called black salt, its color is not black, it has a purple-ish to pink-ish color. Due to its sulfur content, it tastes and smells as hard-boiled egg yolks. This salt is used in many vegan/eggless recipes to mimic the flavor of the eggs. I use it in recipes where eggs are the main ingredient, such as French Toast and Pastry Cream.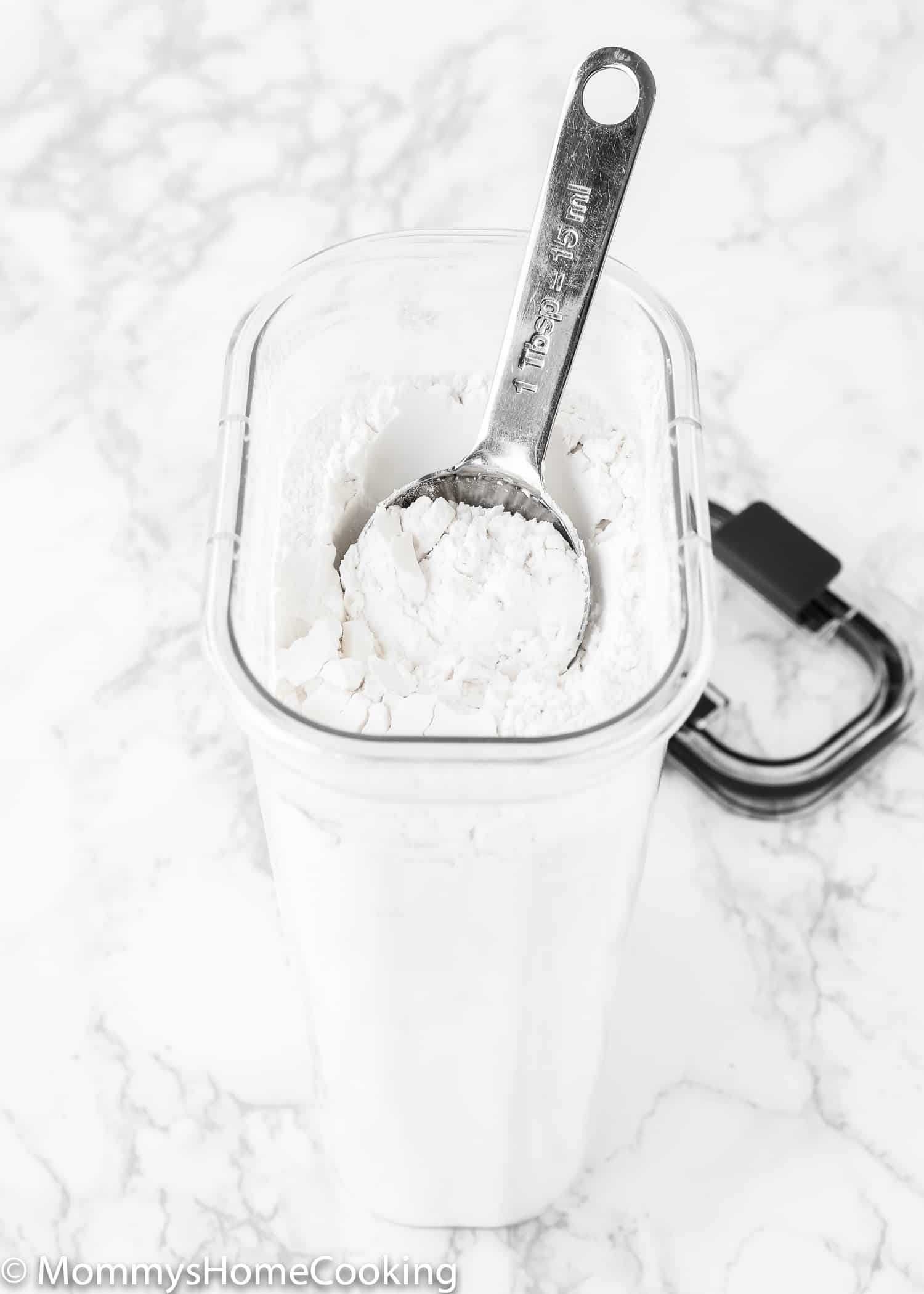 Aguafaba: Aguafaba is the liquid leftover from cooked chickpeas. It can be whipped to make mayo, meringues, mousse, pavlovas and marshmallow cream, macaroons and more. Or you can use the liquid "as is" as an egg binder to make croquette, meatballs, meatloaf, potato (or any other vegetable) cakes.  3 tablespoons of aguafaba equal 1 egg. Learn how to make the most amazing mayonnaise with aguafaba.
Vinegar: Keep it handy to add when making cakes and cupcakes. Apple cider vinegar is my fave, but regular white vinegar will work fine too.
Sweetened Condensed Milk: Condensed milk can also be used as an egg replacement in cakes, muffins and sweet bread. ¼ cup condensed milk can be used in place of 1 egg. If you are using sweetened condensed milk, reduce the quantity of sugar called in the recipe by half.
Pumpkin Pure: Pumpkin puree has a strong flavor and color, so it's better to use when making pumpkin bread or muffins. ¼ cup pumpkin puree will replace 1 egg.
Unflavored Gelatin: I use unflavored gelatin in no-bake desserts, such as cheesecake, panna cotta and others.
Applesauce: Use ¼ cup of applesauce to replace 1 egg. This works best for muffins, sweet bread and some brownie recipes, such my Best Egg Free Fudgy Brownies and Eggless Red Velvet Brownies.
Fridge Essentials for Eggless Cooking and Baking.
You don't have Buttermilk? NO problem!!
To make 1 cup of buttermilk combine 1 cup of whole milk and 1 tablespoon of apple cider vinegar, white vinegar, or lemon juice. Let the mixture stand at room temperature for 5 to 8 minutes. When it is ready, the milk will be slightly thickened and you will see small curdled bits.
Cream Cheese: Cream cheese can be a great substitute in chocolate chip and sugar cookies. Use 3 oz of cream cheese to replace 1 egg. Check out my Sugar Cookies and Chocolate Chip Cookies.
Yogurt: Use ¼ cup to replace 1 egg. I like to use full-fat plain regular yogurt to replace eggs in cake and brownie mix boxes.
Bananas: Bananas add moisture and act as a binder. Use ½ ripe banana to replace 1 egg. Best for muffins and sweet bread.
It took me seven years to figure out this eggless cooking and baking thing out, and I'm still learning and testing, but I really hope that this list, and my recipes, help you to make all kinds of yummy recipes for your loved ones.
I would LOVE to hear your feedback!! What are your favorites egg substitutes?

Love what you see? Subscribe to Mommy's Home Cooking so you'll never miss a recipe! Follow along on Instagram, Pinterest, Twitter, and Facebook for more fun! 
* This post contains affiliate links, thank you for the support in keeping Mommy's Home Cooking up and running!
Disclosure: This post has been sponsored by Rubbermaid. All thoughts and opinions are my own.