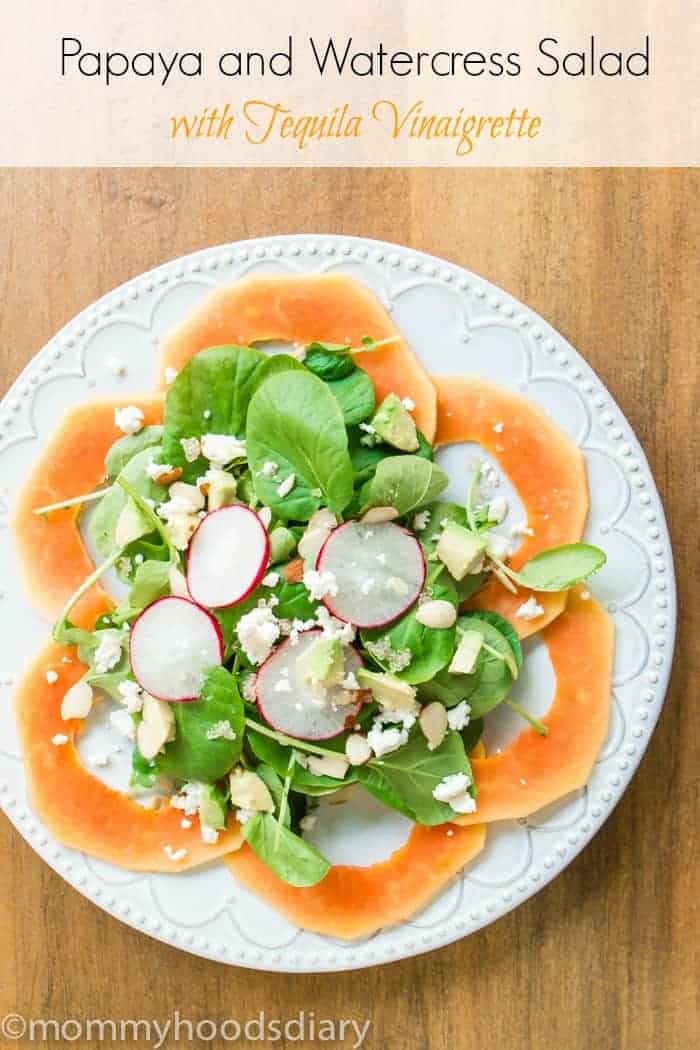 When I decided to make a salad with papaya the truth is that I had no idea how it would be. But now, I can say it is a true delight.
This Papaya and Watercress Salad with Tequila Vinaigrette recipe was a very important project for me, as it would be the first time one of my recipes would appear in a print magazine. I was ecstatic. As the recipe would go on Qué Rica Vida May-June edition, this had to be refreshing, colorful and very summery.
The papaya, in Venezuela is called "Lechoza", and watercress are some of my dad's favorite ingredients. Although, I think he never ate them combined in a salad… so he was my inspiration!. A special recipe like this needed an equally special vinaigrette, so use Tequila. This was just one more incentive to make my husband eat it.
I invite you to make it … I'm sure you will be pleasantly surprised!
Ingredients
1 small ripe papaya
1 bunch watercress
2 radishes, washed and thinly sliced
1/2 cup avocado, cut into small cubes
1/4 cup sliced toasted almonds
1 tablespoon finger lime pulp
1/2 cup queso fresco, crumble
1/2 cup olive oil
2 tablespoons lime juice
2 tablespoons tequila
2 tablespoons agave nectar
Salt and pepper to taste
To view full recipe go to Qué Rica Vida