Peppercorn and Garlic Pork Tenderloin with Ricotta Herb Polenta – A delicious, quick, and easy dinner on the table in 30 minutes or less.
I'm very excited to share this wonderful recipe with you today!
I know very well that when you come home from work – or worst when you have been working from home all day long – all tired and your brain is F.R.I.E.D. you need a comforting meal, one where you don't have to slave over. Well… I've got a fabulous weeknight dinner idea for you!
I must say this was a totally delicious dinner and fairly easy to put together after a busy workday. Smithfield®'s Marinate Pork line is amazing. Just throw it in the oven and … voila! A delicious, perfectly seasoned home-cooked meal ready to enjoy in 30 minutes or less.
When I went to Walmart to get my Smithfield® Marinate Pork the Peppercorn & Garlic Pork Tenderloin was the one who caught my eye. As you might know, I love cooking with garlic and this combination sounded just right for us. Let me tell you… I was not disappointed! The seasoning was perfect. Not too salty. The texture and taste felt like 100% fresh pork.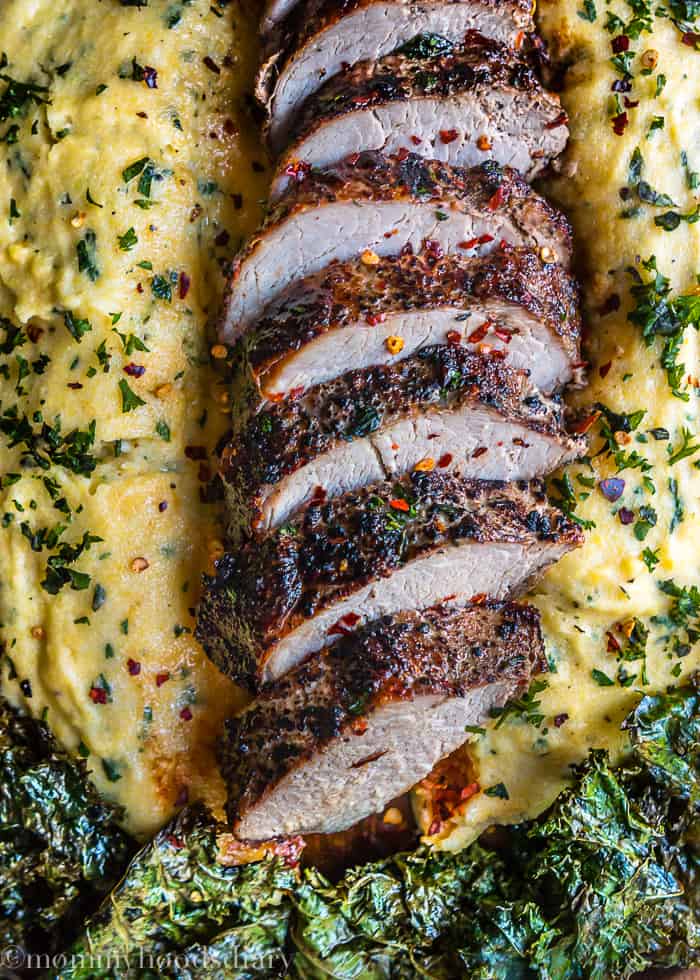 To accompany this scrumptious main dish I made Ricotta and Herb Polenta. I have been falling in love with this easy-to-make side dish. Polenta is very common in a lot of cuisines. Although in olden times you had to spend hours soaking and stirring to get a creamy polenta, now you can do it in just minutes. Seriously. Just minutes. It can be served hot or cool. Slice it up and grill the pieces; or fry. You can also make chips (recipe coming soon) Either way; it's quick, tasty, and perfect as a side for any dish.
I also made Kale Chips for the first time ever. I know … I'm a little behind here. People have been doing this for years. But it's never too late… right? Super good. Loved them. They barely made it to dinnertime. I couldn't stop eating them hahaha.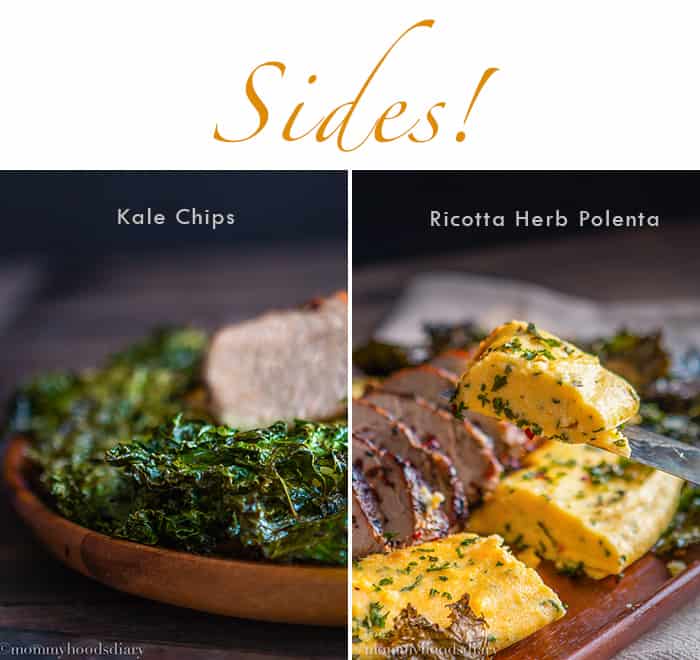 This was a terrific dinner. All the flavors went together wonderfully.

Peppercorn and Garlic Pork Tenderloin with Ricotta Herb Polenta
Ingredients
1

Smithfield® Peppercorn & Garlic Pork Tenderloin

2

tablespoons

of olive oil

optional

Crushed red pepper flakes

optional

For the Polenta:

3

cups

of chicken broth

1

cup

of instant polenta

3

tablespoons

of unsalted butter

Salt and pepper to taste

1/2

cup

of Parmesan cheese

grated

1/2

cup

of ricotta cheese

I used whole milk

1

leaves

handful of basil

minced

1

leaves

handful of parsley

minced
Instructions
Cook Smithfield® Pork tenderloin following the cooking instructions on the package. I added olive oil to the pork 5 minutes before removing from oven because a noticed it was a little to dry to my taste. Let it rest for 5 minutes before cutting and sprinkled with crushed red pepper flakes.

In a large saucepan over medium heat add the chicken broth; bring to a boil. Gradually add the polenta while continually whisking to prevent lumps. Cover the pot and cook for 2 -3 minutes, stirring now and then.

Reduce heat to low and add the butter, salt, and pepper. Once they are incorporated, gradually add the cheeses and mix until creamy, 1 – 2 minutes. Add herbs and mix.

Serve as is, or let it set and cut into slices.
Did you make this recipe? I want to see your yummy photos!
Tag @mommyshomecooking on Instagram and hashtag it #mommyshomecooking or Join my Private Facebook Group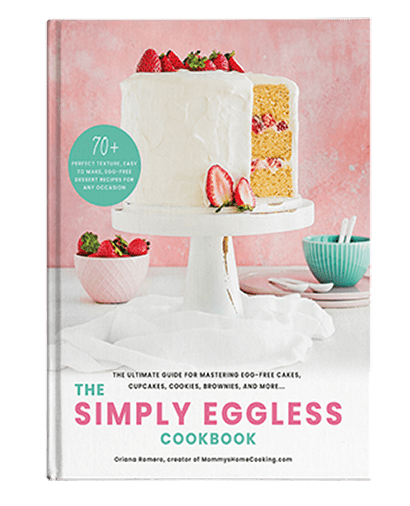 The Ultimate Guide to Eggless Baking!
Includes more than 70 easy-to-make recipes along with full-color photos, detailed instructions, and helpful tips for spectacular results.
Order Now!

Don't forget to print this coupon to get a even better deal (while supplies last). For more recipes ideas visit Smithfield and follow them on Facebook.
Disclosure: This post is part of a social shopper marketing insight campaign with Pollinate Media Group® and Smithfield®, but all my opinions are my own.