We do believe! We do believe! We do believe!
As a kid, I remember watching Peter Pan movie so many times that I could even repeat many quotes by heart. Of course, we're talking Video Home System (VHS) format. It was the 70's. I loved the "boy who wouldn't grow up", with all his bragging and careless personality.
On the other hand, the only Peter Pan my kids knew was the one that occasionally appears in Jake and the Never Land Pirates so when my family and I got invited to Peter Pan 360 I was very excited.
When we got to the teahther I was a tittle nervous because that was going to be the first time of the kids in a show like that. What if they get bored? What if they want to go in the middle of the play? It wasn't the case at all. They had a blast. The show was spectacular! There was singing, dancing, and even beautiful acrobatics, which kept them entertained for the whole 2 hours of the show.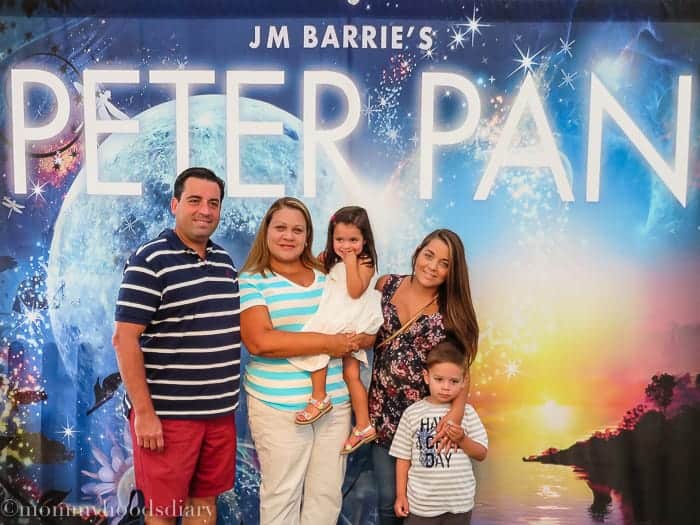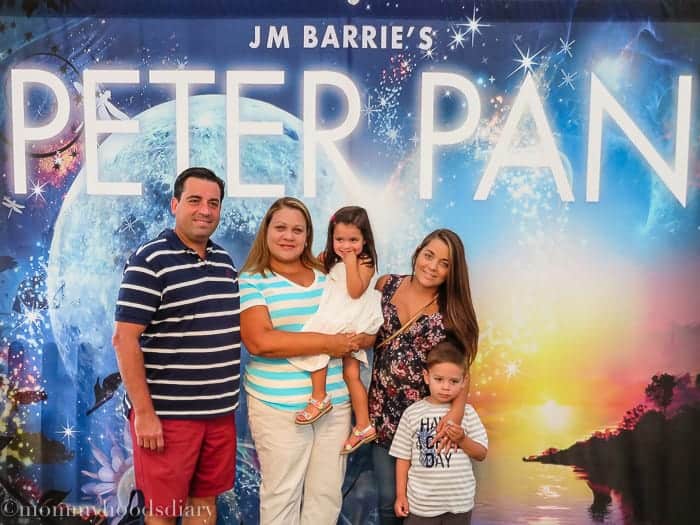 The show was creative. The musical performances were also wonderful and catchy for the young ones to clap along. The props, such as the ship and crocodile, were extraordinarily well constructed.
About Peter Pan:

This remarkable and beautiful production premiered in London's Kensington Gardens, the original home of Peter Pan. Seen by more than 750,000 theatregoers worldwide to date, Peter Pan – The Boy Who Wouldn't Grow Up was created by Scottish novelist and playwright J.M. Barrie. One night, Peter flies into the London nursery of the Darling children, Wendy, John and Michael, teaches them to fly and leads them to the magical Neverland, "second to the right and straight on till morning," where they live with Tinker Bell, the Lost Boys and meet the notorious Captain Hook. The tale of PETER PAN has been adapted many times, including a Walt Disney animated film, a Broadway musical, and an Emmy Award-winning TV special. However, it was not until this production, presented by Threesixty entertainment, that PETER PAN was performed in London's Kensington Gardens, where Barrie was first inspired to create the character and where the original statue of Peter Pan has stood since 1912.
The Threesixty Theatre made Peter Pan magical, something I've never seen before – It made us go WOW! At some point we really thought we were really flying.
About PETER PAN in the Threesixty Theatre:
The world's first fully 360-degree projected backdrop for live theatrical performance
The largest surround CGI (computer-generated imagery) venue in the world
12 projectors, delivering 360-degree projection
10 million pixels
15,000 square feet of CGI
400 square miles of virtual London were rendered
100 computers took four weeks to create the images (it would have taken 8 years for a single computer to render)
Tinkerbell really surprised us! She wasn't the sweet fairy like we believe her to be. She was kind of sassy and a bit intimidating. She tended to hiss and scream a lot. My little 3-year-old daughter said: "Mami Tinkerbell is having a bad day!"
In our opinion, Captain Hook definitely stole the show. Although I was a bit mortified when killed two characters with his hook. Thank goodness, it was so fast that my children didn't realize what was going on.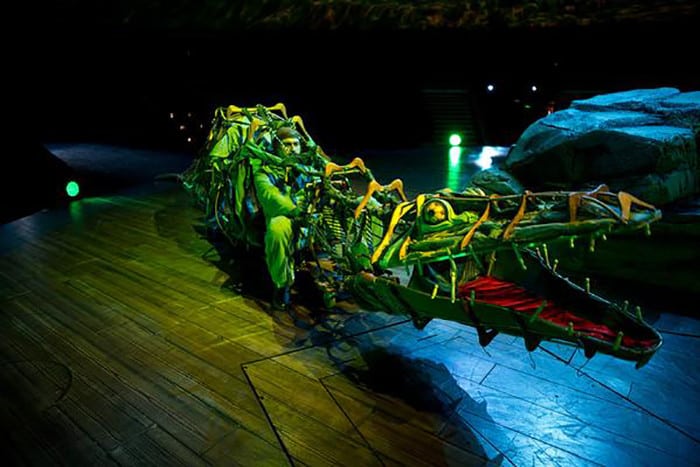 The crocodile puppet was amazing! It roars into the audience from stage… My little boy loved it!
Overall, this show is great for all ages! The 360 panoramic projection is colorful and imaginative. I recommend this play for everyone, even if you aren't a big theatre person.
For more information about PETER PAN in the Threesixty Theatre, please visit peterpan360.com. Follow the hashtags #PeterPan360 and #NeverGrowUp on Facebook and Twitter for more details.
Disclosure: This is a sponsored post. However,  I was invited to see Peter Pan 360 at Tyson's Corner, free of charge. The reviews and/or opinions on this blog are my own opinions and were not edited by others. Photos courtesy of Center Stage Marketing.