This Pumpkin Monkey Bread is DELICIOUS and super easy to make!! The dough can be made ahead. Perfect for a quick breakfast, snack, or even dessert.

Wow … It's almost Thanksgiving!! Can you believe it?
It's also cooler. Temperatures in my area have been near 30 degrees, in the morning and night, during the day they go up a bit but you can still feel that winter is coming.
That is why, when  I discovered this recipe it made a lot of sense to me.
In those cold days, I love drinking a hot cup of coffee, or tea, or chocolate, along with a delicious piece of sweet bread.
This Pumpkin Monkey Bread exceeded my expectations. It's D.E.L.I.C.I O.U.S!!
I will not lie. At first, when I saw that I had to make the dough from scratch, I panic a little… Okay! A lot.
My previous experiences trying to make bread had not worked. Also, the original recipe used a bread making machine, which I don't have. But let me tell you…it could not have been easier! I just put all the dough ingredients in my Mixer and it worked perfectly.
I prepare the dough the night before and refrigerate overnight. Then in the morning, I rolled it out into a thin rectangle. I'd say about 1/4 of an inch thick and formed balls, as shown in this photo.
I added chocolate and peanut butter chips but my husband said it was not necessary since the bread itself tastes so good, all the additions are unneeded.
Anyway… I love it and I planning to make it a lot during the winter.
Love what you see? Subscribe to Mommy's Home Cooking so you'll never miss a recipe! Follow along on Instagram, Pinterest, Google+, Twitter, and Facebook for more fun! 
????When you make this recipe, be sure to snap a photo and hashtag it #MommysHomeCooking. I'd love to see what you cook!
Pumpkin Monkey Bread
Ingredients
Dough:
1/2

cup

whole milk,

warm

1

(3/4 oz) envelop of yeast

1/2

cup

pumpkin puree

3

tablespoons

butter,

soften

1/4

cup

sugar

3 1/2

bread flour
Also:
1/2

cup

butter,

melt

3

cups

sugar

3

tablespoon

pumpkin spice

1

cup

chocolate chips

(optional)

1

cup

peanut butter chips

(optional)
Instructions
Dissolve yeast in warm milk and let rest for 5 10 min. Transfer this mixture to the bowl of your mixer. Add the remaining ingredients listed under dough in the exact same order. Mix at low speed for 10 minutes using the dough hook.

Transfer to a lightly oiled bowl, cover with a damp towel and refrigerate overnight.

Next morning, roll the dough out into a thin rectangle 1/4 of an inch thick.

Preheat oven to 350º F. Spray 6-cup (9-inch) fluted tube cake pan or angel food (tube) cake pan with cooking spray.

In a medium bowl mix the sugar and pumpkin spice. Set aside.

With a pizza cutter cut rectangles (1 x 1/2 inch). Shape rectangles into balls.

Dip each ball into melted butter and then roll it over sugar mixture. Place it in the prepared pan. Repeat the same procedure until you finish all the dough.

If you decide to put the chocolate and peanut butter chips spread them between the layers.

Bake for 40 minutes or until golden brown. Cool in pan 15 minutes. Place a plate upside down over pan; turn plate and pan over. Remove pan. Serve warm.
You have not to let the dough sit overnight. You can make it the same day and let it sit for 2-3 hours until doubled in size.
Adapted from Kanela y Limón
Nutrition
Calories:
564
kcal
Carbohydrates:
89
g
Protein:
5
g
Fat:
22
g
Saturated Fat:
14
g
Cholesterol:
40
mg
Sodium:
164
mg
Potassium:
53
mg
Fiber:
1
g
Sugar:
84
g
Vitamin A:
2355
IU
Vitamin C:
1.1
mg
Calcium:
54
mg
Iron:
1.2
mg
Did you make this recipe? I want to see your yummy photos!
Tag @mommyshomecooking on Instagram and hashtag it #mommyshomecooking or Join my Private Facebook Group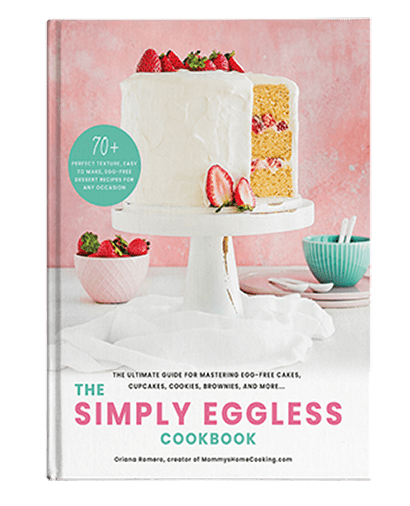 The Ultimate Guide to Eggless Baking!
Includes more than 70 easy-to-make recipes along with full-color photos, detailed instructions, and helpful tips for spectacular results.
Order Now!