Quinoa Breakfast Bowl – The perfect way to start your day off and stay full until lunchtime. Did I mention that it's also delicious and healthy?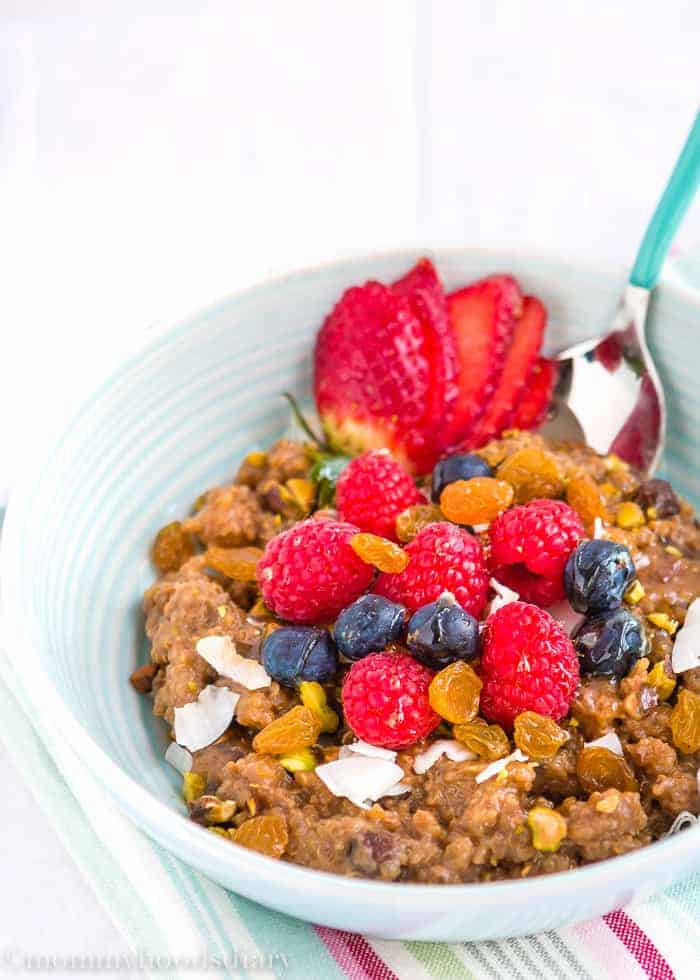 January is looming! With the brief holiday season coming to an end you'll probably be quite curious about what the New Year will bring. Well, for me, it will bring mass quantities of salads, beans, and ancient grains.
Certainly, I'll receive 2015 with a few pounds heavier, a little less healthy, and with lower energy than ever before. I don't know exactly how many extra pounds I have put on, because I have been afraid to step on the scale. What I do know is that my jeans are about to explode and the button is about to pop off and possibly kill someone!
So I'm done with holiday eating and I'm more than ready for life to get back to its normal routine.
It's very well known that the best way to start the day is with a nutritious breakfast. I know that some times that could be challenging. At least for me, It's hard enough getting the kids out of bed in time for school, much less finding time to make a "healthy and nutritious" breakfast.
What is why I absolutely LOVE this Quinoa Breakfast Bowl!!!
The quinoa porridge is only the 50 percent of the experience. What you decided to put on top is also very important. This time, I'm using fresh berries, coconuts flakes, pistachios, and California raisins. But you can make endless varieties depending on season and preference.
Adding raisins to this recipe is a great way to satisfy my sweet tooth. Plus, they are zero fat, no cholesterol and no added sugar.
This delicious Quinoa Breakfast Bowl is satisfying, packed with protein and keeps me full all morning. You can prepare it ahead of time. Actually, I like to double the recipe and it's enough for 4 or 5 days. I eat mine warn, but you can also eat it cold if you like.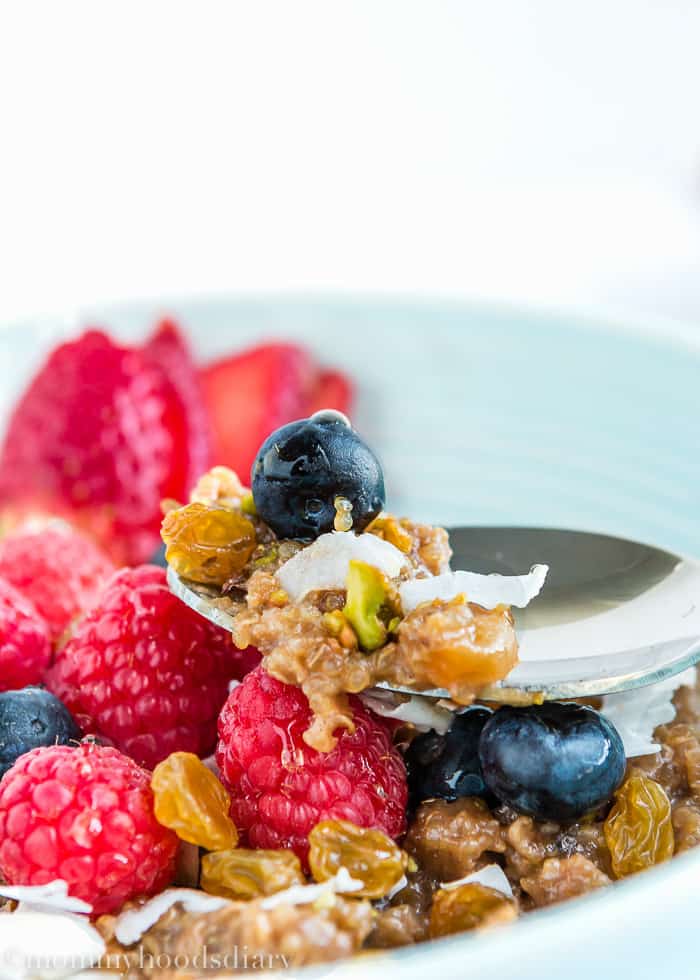 Busy mornings? No problem! Make a batch of these on a Sunday and spoon into clean glass jars. Add toppings, cover with a lid, and place in the fridge… Voila! You have a healthy to-go breakfast for the next days.
I find that if I start my day with a healthy decision, it more likely that I stay in the same path of making good food choices the rest of the day. And this Quinoa Breakfast Bowl is truly a breakfast for champions.
Wish you all a very Happy New Year 2015!!!!
Quinoa Breakfast Bowl
Ingredients
1/2

cup

of quinoa

1 1/2

cups

water

1/2

cup

coconut milk

1

cup

California raisins (natural or golden

I used both)

1

tablespoon

coconut sugar

or more to taste

1

teaspoon

ground cinnamon

1

pinch ground nutmeg

1

cloves

pinch ground

Toppings:

Fresh berries

Coconut flakes

Raisins

Pistachios
Instructions
Rinse quinoa under running water, rubbing them together with your fingers to ensure you wash off all the unpleasant-tasting coating. Drain.

In a medium saucepan, over medium heat, combine quinoa, water, coconut milk and raisins. Bring to a boil; then reduce heat to low and simmer for 15 minutes, or until most of the liquid has evaporated and quinoa has started to soften.

Add coconut sugar, cinnamon, nutmeg, and cloves; mix to combine. Cover and cook an additional five minutes, adding water if necessary, or until quinoa is soft and fully cooked.

Serve warm, if desired, topped with fresh berries, coconut flakes, raisins, and pistachios. Drizzle with honey.
If you like it sweeter you can add some more coconut sugar, agave or maple.
Did you make this recipe? I want to see your yummy photos!
Tag @mommyshomecooking on Instagram and hashtag it #mommyshomecooking or Join my Private Facebook Group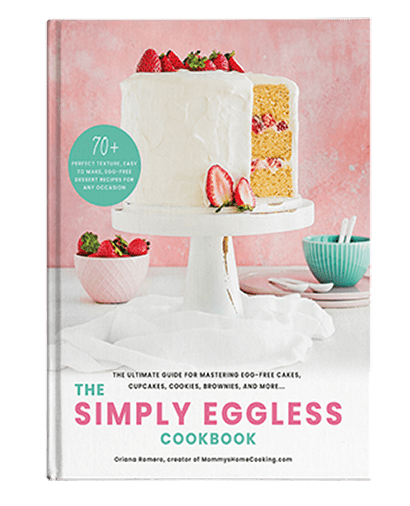 The Ultimate Guide to Eggless Baking!
Includes more than 70 easy-to-make recipes along with full-color photos, detailed instructions, and helpful tips for spectacular results.
Order Now!
For more information about all‐natural, no‐sugar-added California raisins and for recipe inspiration, please visit Love Your Raisins site , or get social with them at Facebook , Pinterest , or Twitter.
Disclosure: I worked together with the California Raisin Marketing Board to create this recipe and was compensated for my time. The opinions below are mine and mine alone and do not represent those of the California Raisin Marketing Board.