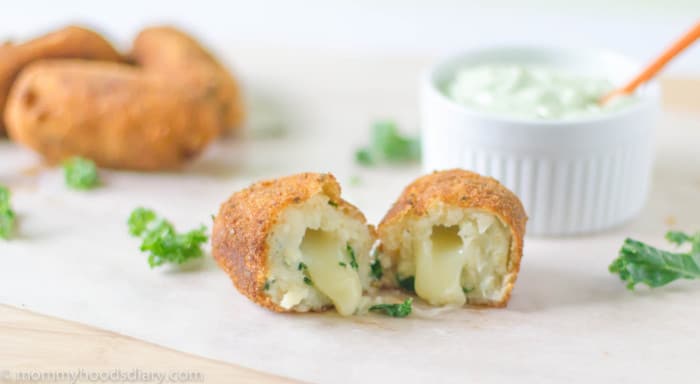 It has been an eventful week! Thank goodness we had the extra day to rest. Although, I could use a few extra hours in my day to do everything I need to, I always try to make time to prepare something new for my family, even though Matthew could eat chicken nuggets and mac and cheese every day of his life. For me it's one more opportunity to practice my most recent passion: Photography. I confess that I am a complete novice… but I'm really enjoying it!!
BTW they seem to enjoy the time when mommy cooks as well… Aren't they the cutest helpers ever?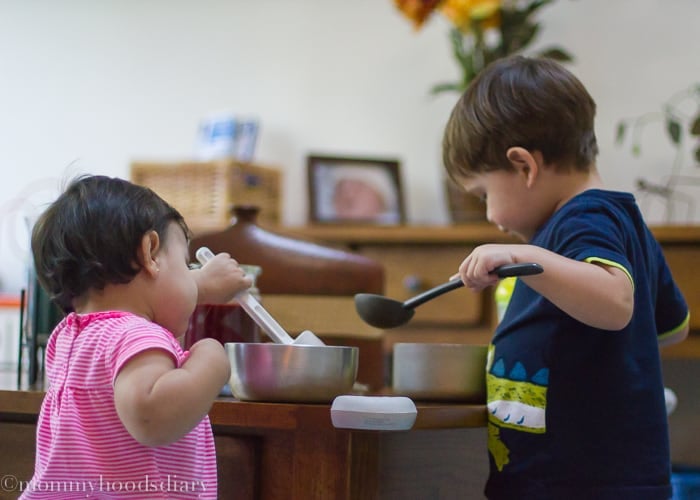 This recipe features one of my favorite ingredients: Potatoes.
Like Matthew with chicken nuggets, I could eat potatoes every day of my life!
To start take 5 medium potatoes, wash, peel and cut them into pieces. Cook them in a pot over medium heat, with enough water and a teaspoon of salt, until fork tender.
This is how your mixture will look like after you incorporate all the ingredients.
Shape your croquettes in any form you want. In this occasion, I decided to make cylindrical croquettes so it'd be easier to put the piece of cheese in the center.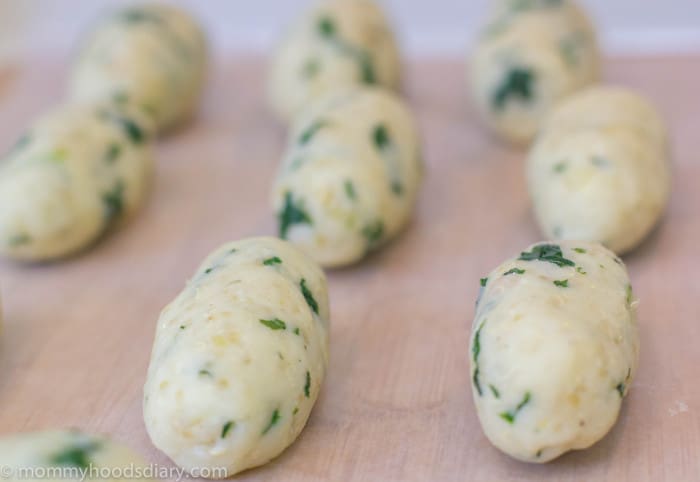 Refrigerate them for two hours, this way the coquettes will have firmer consistency and it'd be easier to dip them into the egg and bread crumbs.
Fry them until golden brown and enjoy… They are delicious!!
Quinoa, Kale & Cheese Croquettes
Print
Pin
Rate
Total:
2
hours
30
minutes
Ingredients
1

tablespoon

of olive oil

1/2

cup

of onion

finely chopped

2

cloves

of garlic

finely chopped

2

cups

of fresh kale

finely chopped

1

cup

of quinoa

cooked

1/2

cup

of parmesan cheese

grated

1

teaspoons

ground cumin

1/8

teaspoon

black pepper

a pinch

5

medium potatoes

boiled, peeled and mashed

3

Mozzarella strings

cut into three

2

cups

of corn oil for frying

1

egg

beaten

1

cup

of bread crumbs
Instructions
In a frying pan heat one tablespoon olive oil over medium heat. Add onion and garlic and sauté until soft. Add kale and cook for 5 minutes or until slightly wilt. Remove from heat and put the mixture into a large bowl.

Add quinoa, parmesan, cumin, black pepper to the garlic and kale and mix well. Toss in the potatoes and mix thoroughly. Let it cool.

Divide the mixture into 9 equal portions.

Take a portion of mixture and shape by hand into a ball, and then flatten carefully. Place a piece of mozzarella in the center and mold the potato mixture into a log shape, folding the sides to enclose the filling. Place the croquette on a large platter and repeat the process until all of the croquettes have been formed. Cover the platter with plastic wrap and refrigerate for 2 hours.

Fill a large, heavy bottom pot with corn oil (about 2 inches). Heat until the oil reaches 300ºF.

Dip the croquettes into the beaten egg, then roll through bread crumbs.

Fry each croquette for about 4 minutes, flipping gently till done on both sides. Do not overcrowd the pot.