Don't you get tired of cooking the salmon always in the same way?
I do! I really really like salmon but I lack creativity when it comes to cooking it. I'd like to prepare salmon at least once a week. Victoria loves it. Matthew, not so much. But between threats and bribes, he eats it. I refer to Salmon as the "Pink Chicken". If I mention fish, there would not be a way that he opens his mouth to eat it. You know, part of the job!
The other day, I was browsing one of my favorite pages and I found a delicious way to prepare salmon. What's so fantastic about this recipe is that you can use the salmon leftover from another recipe. The original recipe uses leek, I used asparagus, but basically, you can add the vegetable you like the most.
Another great addition to this recipe is that it has cheese. I am a cheese lover, I can eat any kind at any time. On this occasion, I used queso fresco, but I invite you to unleash your imagination and add another type or do a combination of several … Delicious!
Did you notice my beautiful pie dish?
I bought it at a spectacular online store I found a few weeks ago. Billie Design, the official GreenGate dealer, is a store where you can find the most beautiful little things for your home. I'm in love with all their products. Thank goodness they are not located closer to me, otherwise, I would be bankrupt. Michelle is the owner of the store and she is a sweetheart! You can email her at any time and she will answer you promptly. She'll guide you through the purchase process and she will look for the cheapest shipping options.
I use GreenGate products as props for my photograph all the time. You can see some of them in my recipes of Vanilla Cookies Egg Free and Gingerbread Apricot Scones.
Do not forget to enter the giveaway located beneath the recipe!
This is not an eggless recipe! I used to make this recipe before my daughter was diagnosed with egg and nuts allergies. If you're looking for eggless recipes, click here to browse.
Salmon and Asparagus Phyllo Pie
Ingredients
2

tablespoons

olive oil

1/2

cup

yellow onion,

finely chopped

1

tablespoon

chopped garlic

2

cups

asparagus,

trimmed and cut into pieces (remember to discard the woody stem ends from each spear)

Salt and pepper

to taste

2

-

8oz salmon fillets,

cooked

1

cup

queso fresco,

crumbled

1

tablespoon

lemon zest

3

eggs,

beaten

1/2

cup

heavy cream

20

sheets of phyllo pastry,

thawed

Olive oil cooking spray
Instructions
Preheat the oven to 350º F. Spray with olive oil a 9 inches pie dish. Set aside.

In sauté pan over medium heat, heat the oil. When the oil is hot, add the onions. Saute for 2 minutes. Stir in the garlic and sauté for 30 sec; constantly stirring, so the garlic does not burn.

Add asparagus and mix until combine. Season the mixture with salt and pepper. Cover and let cook for 10 minutes or until the asparagus are tender. Remove from the heat and leave aside to cool.

Flake the salmon into the cooled mixture. Add queso fresco, lemon zest, eggs, and heavy cream. Season the mixture with salt and pepper and stir well to combine.

Layer 5 sheets of phyllo over the base of the prepared dish pie; lightly spray each sheet with olive oil as you place them on the dish. Make sure you fully cover the base. Overlap the rest of the sheets, one at a time, and let them hang over the edge of the pan as you layer; lightly spray each sheet with olive oil as you place them on the dish.

Add the salmon filling and distribute evenly.

Fold in the overhanging phyllo until fully cover the filling. Spray the top with olive oil.

Bake for 40 minutes or until golden brown.
Did you make this recipe? I want to see your yummy photos!
Tag @mommyshomecooking on Instagram and hashtag it #mommyshomecooking or Join my Private Facebook Group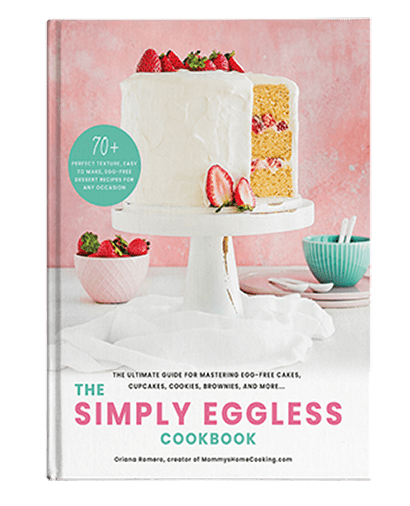 The Ultimate Guide to Eggless Baking!
Includes more than 70 easy-to-make recipes along with full-color photos, detailed instructions, and helpful tips for spectacular results.
Order Now!