This Salted Caramel Apple and Cheese Danish is the perfect way to enjoy one of the best gifts of the fall season, Apples!!!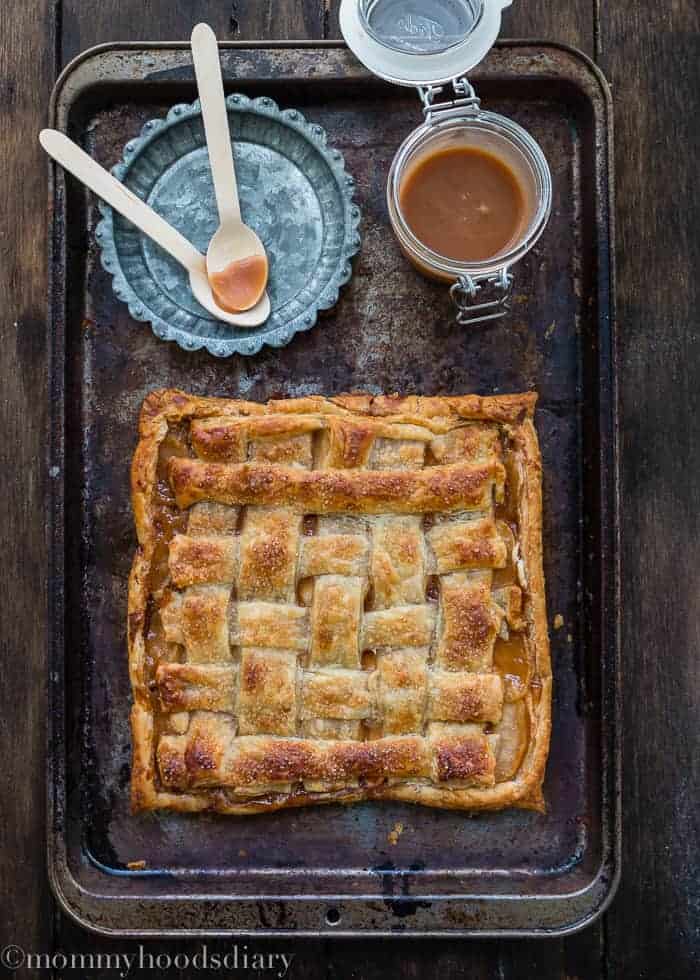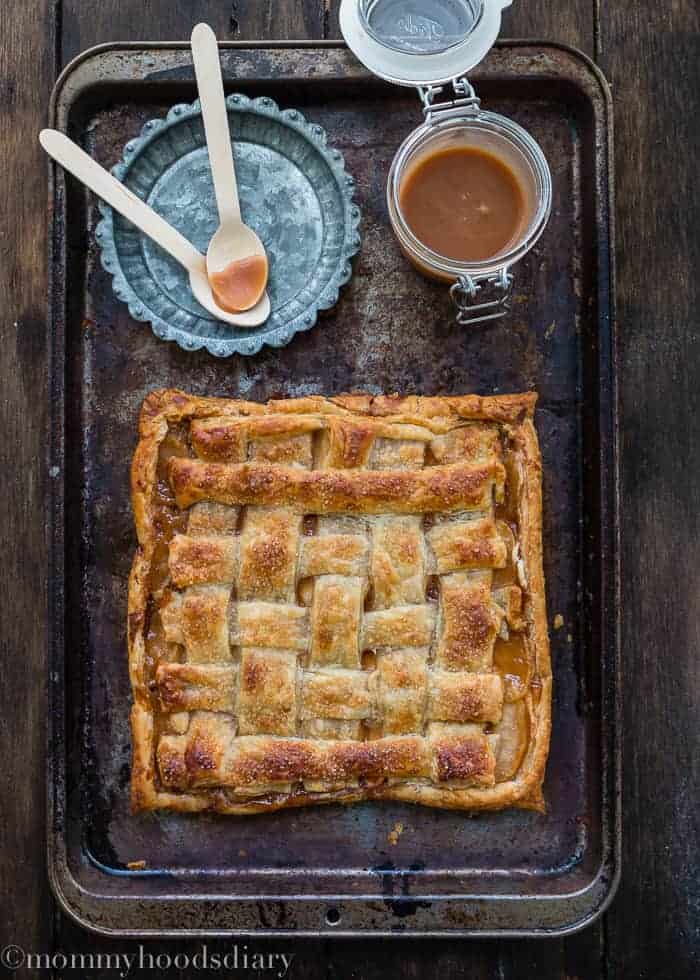 This is what happens when you go apple picking and end up with explosion of apples in your kitchen. No kidding. Like 234 of them. Ok… I am exaggerating, but lots of apples. We have been eating them in any way possible. This Salted Caramel Apples with Cheese Danish was our favorite.
It was our first time picking apples. My husband and I grow up in a tropical-kind-of-weather country, Venezuela. Having said this, we had picked coconuts, mangos, guavas, papayas, etc.… but not apples. Since we have a new country to call home we want to created new family traditions, preserving the old ones as far as we can, of course. This is  so important to us. That way we feel like we give our family a sense of unity and closeness.
So… Off we went to pick apples for first time ever!
We visit Hollin Farm, just a 30 minute, or so, drive away. It's a wonderful small apple orchard. Nice place to take kids for apple picking. The ambiance was lovely. No too crowded. And the weather was perfect that day!
We had a blast. It was a really fun experience. The kids were trilled to walk along the apple trees line and pick their own apples. Matthew felt like he was an expert farmer. He even taught Vicky how to pick apples. He said: roll the apple upwards off the branch and give a little twist. How the heck he knew that? don't ask me! They could reach many of the apples on the lower branches, but still needed some help for those higher up.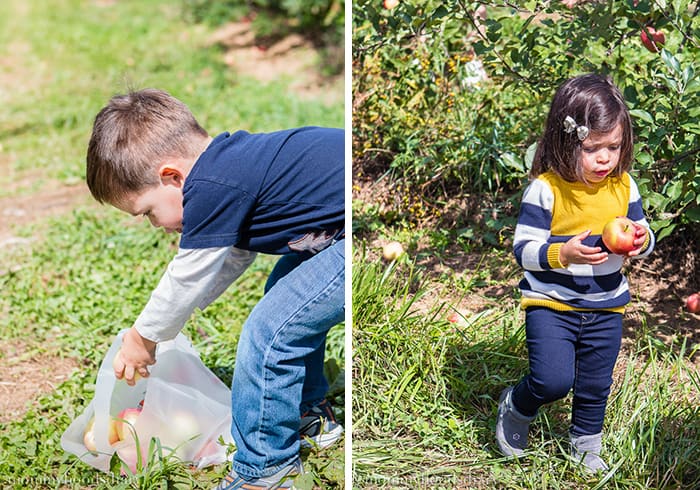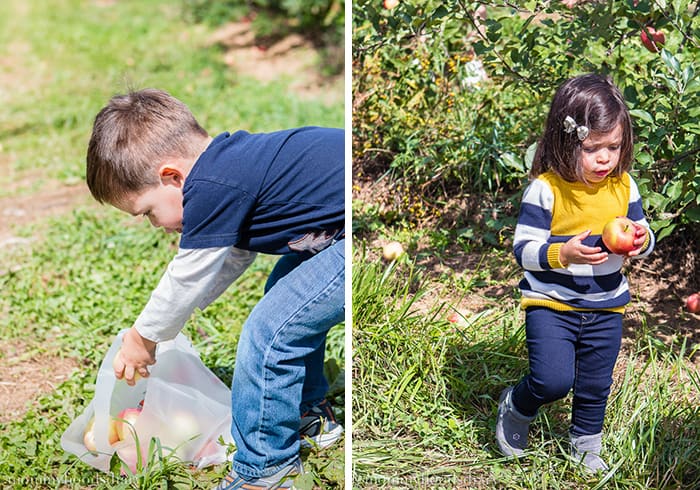 After a very busy morning picking apples we took a break from the harvest to enjoy the view and eat delicious homemade ice cream. It was then, when we realized that there was a pumpkin path as well.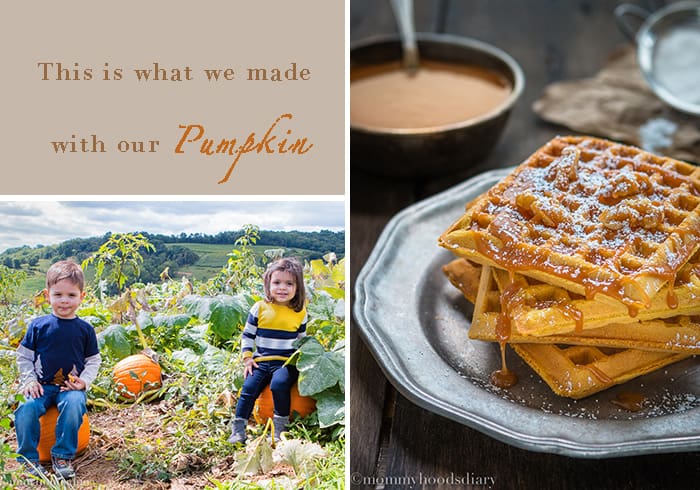 We loved spending time as family and without a doubt we have a new tradition!
Back to the recipe now.
This buttery flaky pastry with rich cream cheese filling, apples and salted caramel was a tasty way to celebrate fall. It was very easy to make, and love the fact that I was able to develop an egg – free version. Most of the danish recipes I saw online has eggs in it. It's sweet, but with the perfect amount of salt to balance it. I am telling you, it's a heavenly dessert.
You can't stop with just one portion, absolutely delicious!
I had a super special helper for this shoot!! Love her so much =)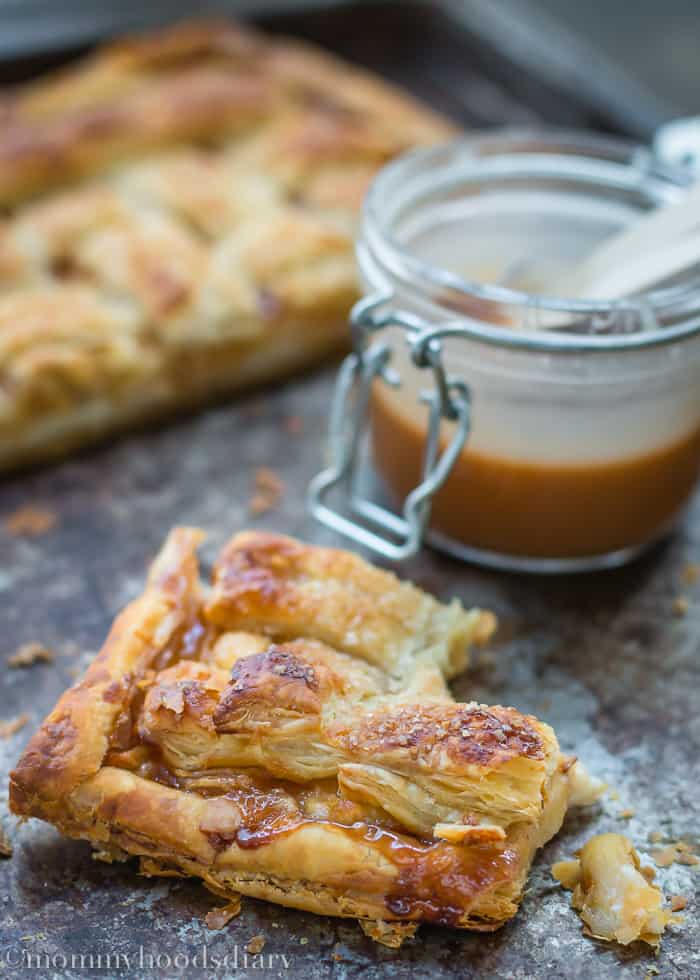 Connect with me via Pinterest and Instagram, and have a peek into my kitchen and my every day life!

Salted Caramel Apple and Cheese Danish
Ingredients
2

sheets of frozen puff pastry

thawed

3

tablespoons

of butter

2

lb

of apples

peeled, cored and thinly sliced (I used honeycrisp)

1

cup

of sugar

divided

2

tablespoons

of all-purpose flour + 3 tablespoons for the cream cheese filling

1

teaspoon

of ground cinnamon

1

pinch of nutmeg

8

oz

of cream cheese

softened

1

teaspoon

vanilla extract

1

cup

of salted caramel sauce

Milk

2 -3

tablespoon

of coarse sugar
Instructions
Preheat oven to 375º F. Line a baking sheet with parchment paper; set aside.

On a floured surface, unfold one pastry sheet. Place pastry on the baking sheet. With a sharp knife, lightly score pastry dough 1 inch in from the edges to mark a rectangle. Using a fork, poke dough inside the markings.

[img src="http://mommyshomecooking.com/wp-content/uploads/2014/10/puff-pastry1.jpg" width="605" height="400" class="aligncenter size-full" title="puff-pastry1"]

Bake until golden, about 12- 15 minutes. Cool on a wire rack. Slightly press down with your hands the inside to make room to place the filling. Reserve.

Meanwhile, melt butter in a large skillet over medium heat. Cook apples until crisp-tender, about 8 minutes, stirring occasionally. In a small bowl, combine 1/2 cup of sugar, 2 tablespoon of flour, cinnamon, and the nutmeg. Sprinkle over apples and mix until incorporated. Cook for 2 minutes more; set aside.

Beat with an electric mixer on medium speed the cream cheese, 1/2 cup of sugar, 3 tablespoon of flour and vanilla until smooth.

Carefully spread cream cheese mixture over baked pastry. Spoon apple mixture over cream cheese mixture. Drizzle with salted caramel sauce.

On a lightly floured surface, unfold the remaining pastry sheet. With a sharp knife or a pizza cutter cut the pastry sheet into 5 equal size strips. Then cut them in half. You will end up with 10 strips. Weave a lattice pattern over the filling with the pastry strips (see notes bellow). Trim any excess pastry. Lightly press edges of top pastry to edges of bottom pastry.

Lightly brush pastry with milk. Sprinkle coarse sugar over pastry.

Bake for 35 to 40 minutes or until pastry is slightly puffed and golden brown. Cool on wire rack.

Serve slightly warm.
Recipe Notes
* For no complications just place the second pastry sheet over the apple mixture. Lightly press edges and cut a few slits in pastry to allow stem to escape.br]
Store any leftovers in the refrigerator and warm before eating if desired.
To learn how to make salted caramel [click here.br]
Recipe adapted from [Better Homes and Gardens
Lattice pattern: Lay 5 strips of dough over parchment paper. Starting in the center, weave 1 new strip under and over the strips. Weave a second strip, this time weaving over then under. Repeat, weaving strips across. Return to center, and repeat with remaining dough strips to form a lattice pattern.