Sautéed Kale with Bacon and Almonds – So simple, so easy, and so delicious. This dish is so full of flavor you even forget you're eating kale!
After a much needed break, I am back with a light and delicious side recipe. Yes…you read right! Light. I don't know about you guys but after so many days eating without any moderation, I felt the urge to make something in the "healthy and light" side.
Let's talk about your Thanksgiving celebration! Are you all still stuffed? I swear, my stomach has not shrunk to its normal size yet. We had a wonderful and intimate Thanksgiving. Full of food, of course! I made prosciutto and cheese stuffed turkey breast, potato gratin, roasted asparagus and orange-cranberry sauce. Everything was delicious but the most important thing is that we got to spend a great time as a family. So many things to be thankful for… Thanks God!!!
Okay… the recipe!
It's super quick to prepare and very tasty! The best part is that this recipe is bursting with nutrients. The slightly wilted bitter greens are well-balanced with the bacon and lemon, and the crunchiness from the almonds it's just the icing on the cake.
I hope I didn't mess up my "healthy" recipe adding bacon, did I? Nah…It still looks pretty healthy to me. As usual, I tried to find creative and delicious ways to add more vegetables to our meals and bacon sounded like the perfect addition to get my husband eating it.
With the leftover – I make a puff pastry roll and added Monterey Jack Cheese. It was so good. I will share the recipe soon.
Sautéed Kale with Bacon and Almonds
Ingredients
3-4

pieces

strips of bacon

cut into small

1

cup

of onion

diced

3-4

cloves

of garlic

finely chopped

1

lb

of kale

tough stems removed, leaves rinsed well and left damp, coarsely chopped

Salt and pepper to taste

1/2

cup

of water

1

tablespoon

of fresh lemon juice

1

cup

of almonds

sliced

1

tablespoon

of crushed red pepper

optional
Instructions
In a large skillet over medium high heat cook the bacon until crisp. Remove from skillet with a slotted spoon and drain on paper towels. Drain off all but 2 tablespoons of fat from the skillet.

In the same skillet over medium heat, with the remains of fat from the bacon, sauté onion until translucent, about 2 -3 minutes. Add garlic and let cook for 1 minute, stir constantly. Add the kale, in batches, and mix well until everything is well incorporated. Season with salt and pepper to taste and mix. Add water, cover and cook for 5 minutes. Uncover and cook for 8 minutes, or until kale is tender.

Remove from heat and add the lemon juice and the cooked bacon. Mix to combine.

Transfer to a serving platter and sprinkle with almonds and red pepper flakes, if desired.

Serve and enjoy!
If you want you can substitute bacon for pancetta.
Did you make this recipe? I want to see your yummy photos!
Tag @mommyshomecooking on Instagram and hashtag it #mommyshomecooking or Join my Private Facebook Group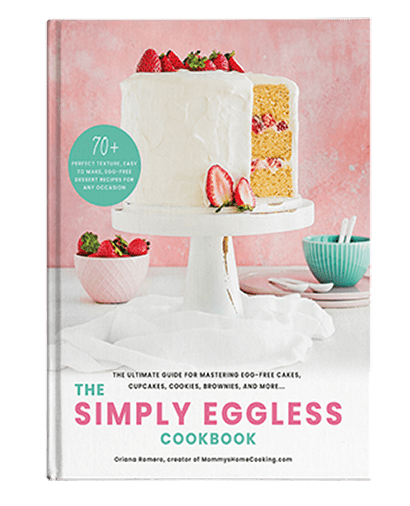 The Ultimate Guide to Eggless Baking!
Includes more than 70 easy-to-make recipes along with full-color photos, detailed instructions, and helpful tips for spectacular results.
Order Now!
To see this recipe in Spanish visit Tri-State Ford Voces