Skinny Oat Arepas are the perfect way to satisfy your cravings without the guilt! Easy to make, tasty and full of goodness.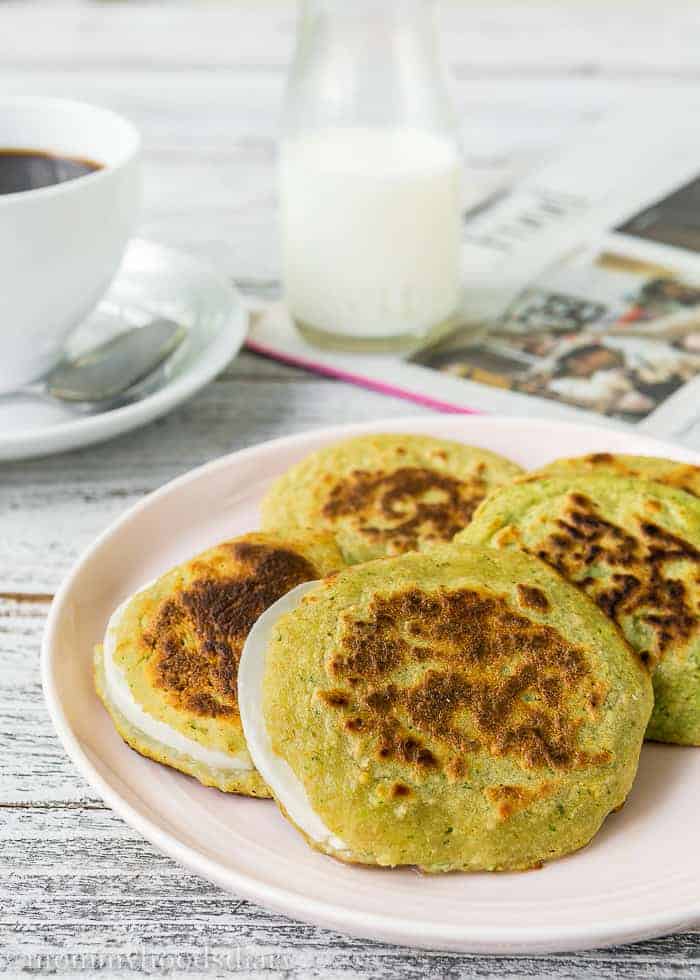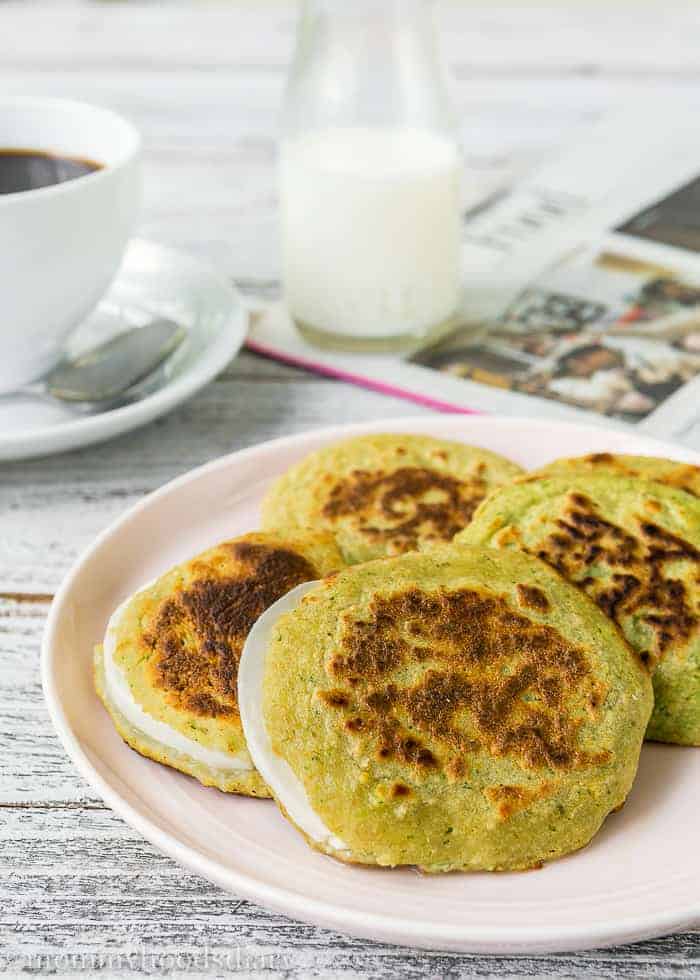 Lately, I've been reading all kinds of arepa recipes that are floating around the internet. They are called "arepa fit", and they're basically a lightened up version of the classical arepa. If you know me a little, you know that I Love my arepas, so I decided to make my own version using oats. I have to say that this is not something I invented, I been hearing about the oat arepas for a long time, I just hadn't tried them yet.
I confess that I wasn't thrilled to make this recipe. In my book, arepas are perfect the way they are… why mess with perfection? But on the other hand, I understand the importance of incorporate good-for-us ingredients in our diet. So a couple of months ago I thought: What the heck let's give it a try!
I'm glad I did!! We really like them.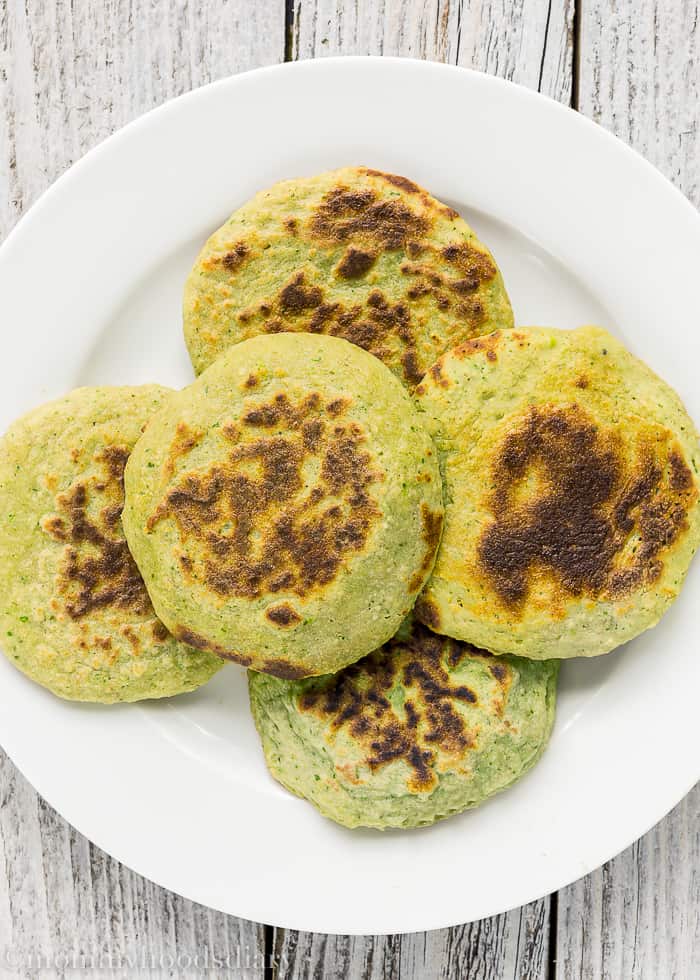 I am not going to lie, they're not like the traditional arepa, but they're a great option if you're watching what you eat. I make them quite often because it's the only way my boy eat oats. And since everything is perfectly blended in the blender, it gives me a chance to add/hide one or two vegetables. He has no idea what is in it, and for him, It's kind of fun because sometimes the arepas are orange (carrots), yellow (yellow pepper or squash), purple (purple cauliflower or beets), green (cilantro, spinach, green pepper, or kale), or even has polka dots (quinoa or chia seeds). Even though my youngest daughter is not a big arepa fan, I'm working on an eggless version for her. Hopefully, the purple version will motivate her to at least try. She loves purple.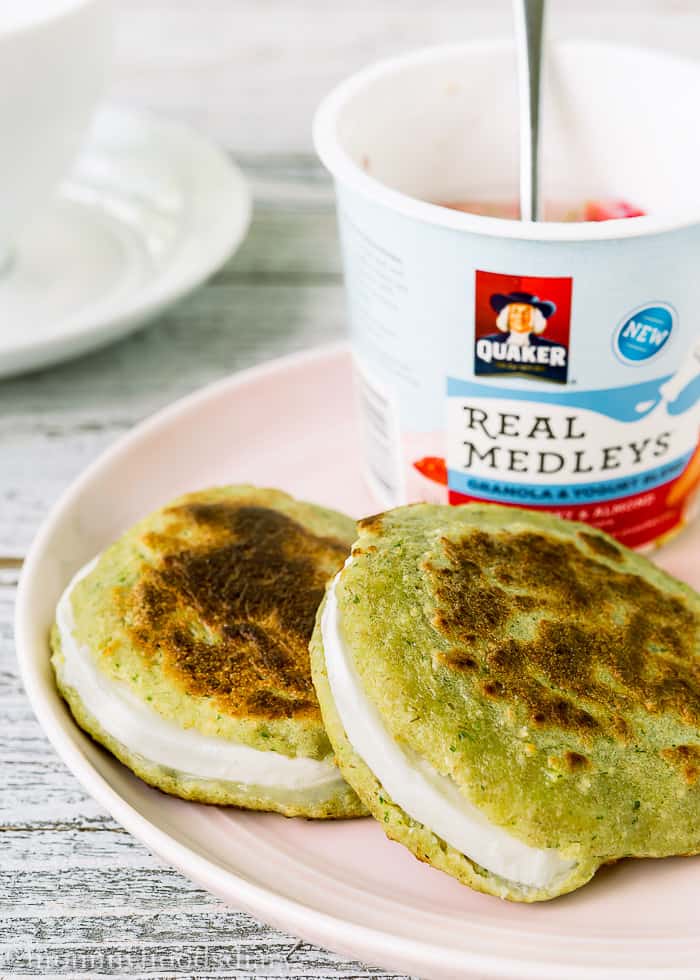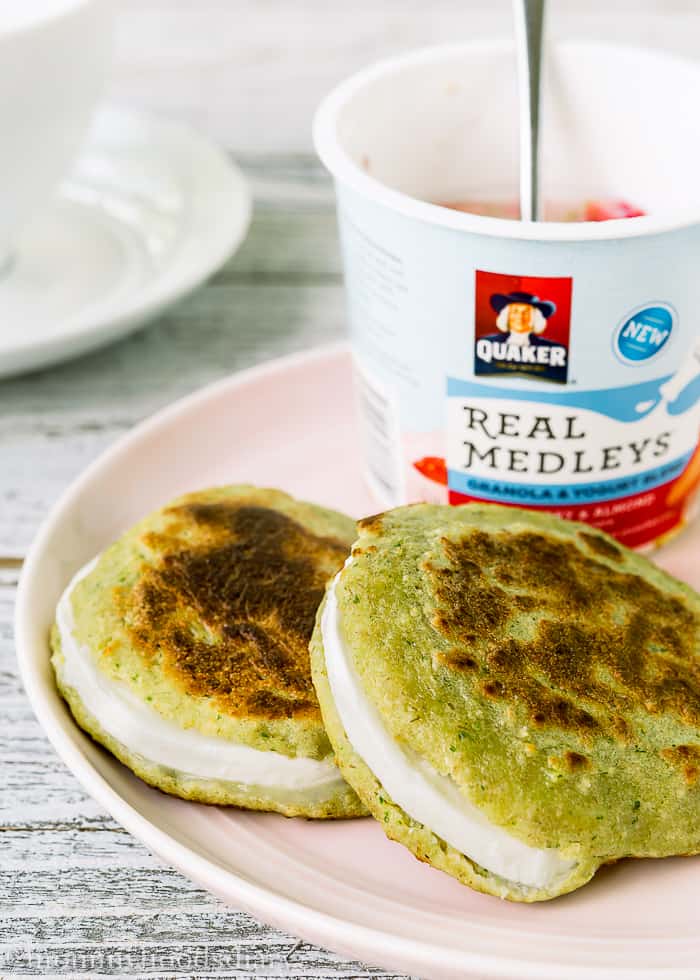 There are two arepas on the photo, but just one would be more than enough to make you feel satisfied, full and ready to start your day. Even more, if they are accompanied by a delicious NEW Quaker® Real Medleys® Yogurt Cups.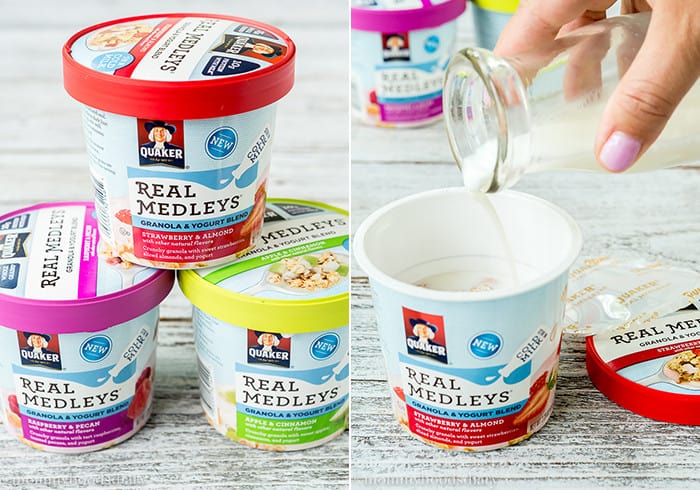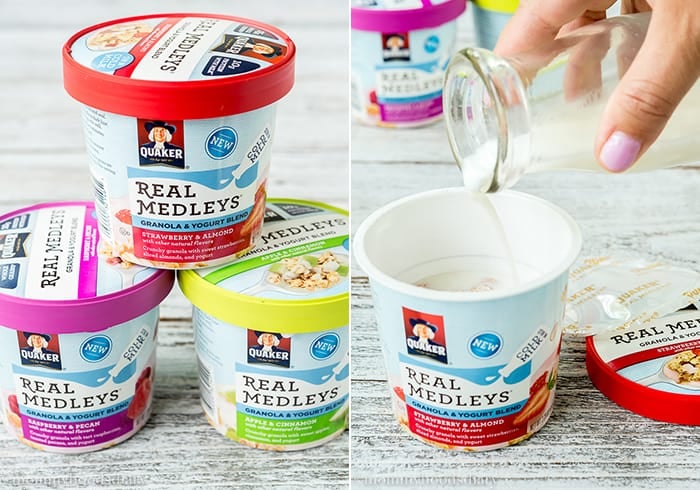 Real Medleys is a delicious blend of yogurt and multigrain granola with real fruit and crunchy nuts. I never saw anything like this before. It's the first shelf-stable convergence of granola, fruit, and yogurt – all in a single serve cup!
You just have to add COLD milk, stir, and let rest for a couple of minutes. It is very convenient and satisfying, with 25 grams of whole grains and 10 grams of protein. It comes in three flavors. Crunchy. Cool. Yum.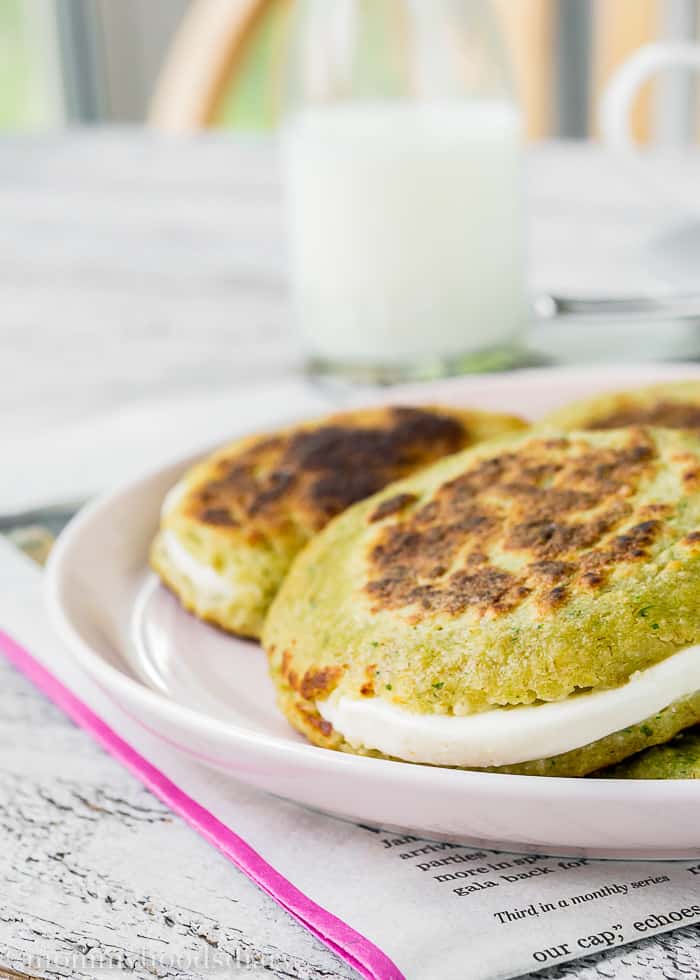 I stuffed my skinny oat arepas with mozzarella cheese, but you can fill them with whatever your heart desires: any type of cheese, ham, turkey, chicken, beef, tuna, eggs, beans, etc. Black beans and queso fresco is my favorite! YUM.
Here you have!! A good-for-you and a super complete way to start your day right.
Enjoy!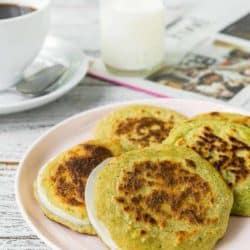 Skinny Oat Arepas
Skinny Oat Arepas are the perfect way to satisfy your cravings without the guilt! Easy to make, tasty and full of goodness.
Ingredients
2

cups

Quaker® Oats Quick 1-minute

1 1/2

cup

milk

( I used low fat)

1/2

cup

egg whites

1

teaspoon

salt

1

tablespoon

butter,

melted

1/4

cup

Harina P.A.N. flour

(pre-cooked white corn flour)

1

teaspoon

baking powder

1/2

cup

cilantro and/or spinach leaves

(optional)
Instructions
Place all ingredients in a blender and blend until everything is well incorporated. Transfer the mixture to a bowl and let stand for 5 minutes.

Heat small skillet over medium-low heat. Add 1/4 cup of dough into the skillet. If necessary, use the back of a spoon to shape it into a circle. Cover and cook for 2 -3 minutes. Uncover, flip and cook the other side, for about 2 more minutes, or until the arepa is golden brown and a crust forms on both sides. Repeat until you finish all the dough.

Split each arepa in half and fill them with whatever you like: cheese, ham, egg, beans, chicken, beef, tuna, etc.

Serve immediately.
To keep the arepas hot while cooking the rest put them in an oven at 325º F.
Harina P.A.N. Flour can be found in the international foods aisle of your local store or in any Latino store.
You can use spinach instead of cilantro.
Nutrition
Calories:
109
kcal
Carbohydrates:
15
g
Protein:
5
g
Fat:
4
g
Saturated Fat:
2
g
Polyunsaturated Fat:
1
g
Monounsaturated Fat:
1
g
Trans Fat:
1
g
Cholesterol:
7
mg
Sodium:
323
mg
Potassium:
142
mg
Fiber:
2
g
Sugar:
2
g
Vitamin A:
241
IU
Vitamin C:
1
mg
Calcium:
79
mg
Iron:
1
mg
Did you make this recipe? I want to see your yummy photos!
Tag @mommyshomecooking on Instagram and hashtag it #mommyshomecooking or Join my Private Facebook Group
This shop has been compensated by Collective Bias, Inc. and its advertiser. All opinions are mine alone. #QuakerRealMedleys #CollectiveBias