Spinach and Cheese Hand Pies – These delicious and flaky little hand pies are the perfect idea for parties, breakfast, or an afternoon snack.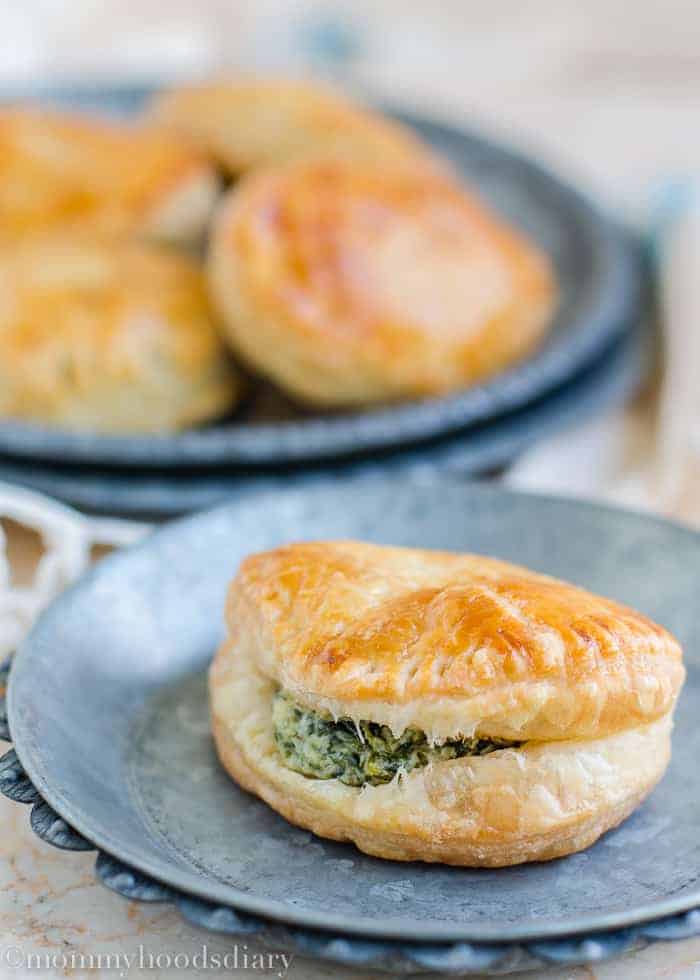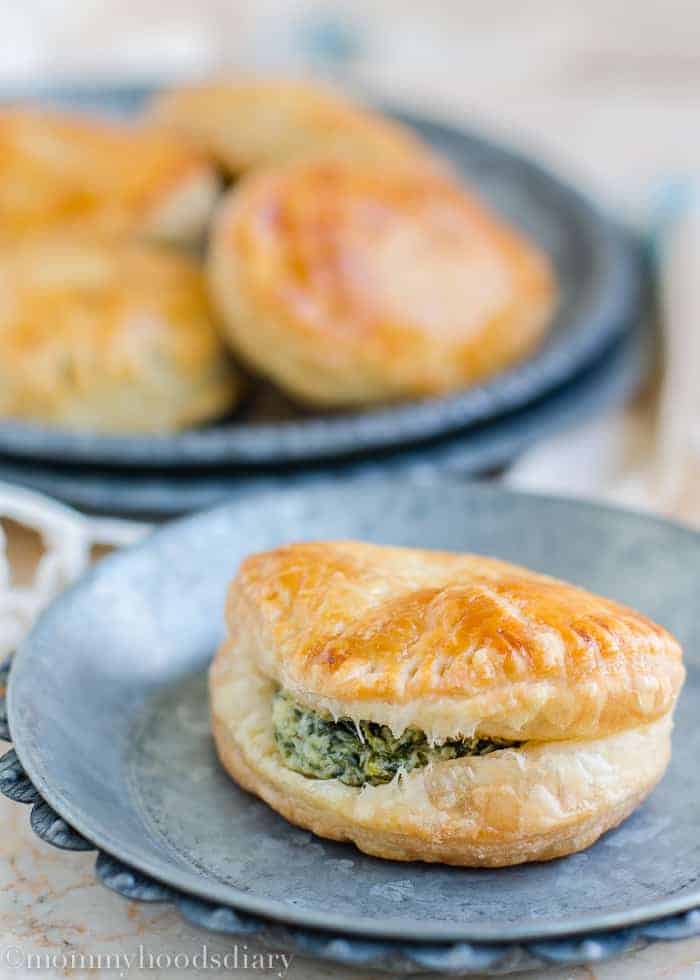 This is one of the recipes that I do without any planning. This was me just trying to imitate something I've eaten before, and for some strange reason I was craving them. This is exactly what happened with the Spinach and Cheese Hand Pies.
As I have mentioned before, in Venezuela there are a vast array of bakeries. They sell everything you can imagine. Empanadas and hand pies filled (pastelitos) with all sorts of fillings, cookies, pastry, desserts, etc. That is something that we don't have in our city, possibly in big cities like New York I could find something similar, but not here. In Miami, due to the large number of Venezuelans who live there, you can find Venezuelan-type bakeries, where they sell all these mouth-watering treats. Every time I visit Miami it's a MUST.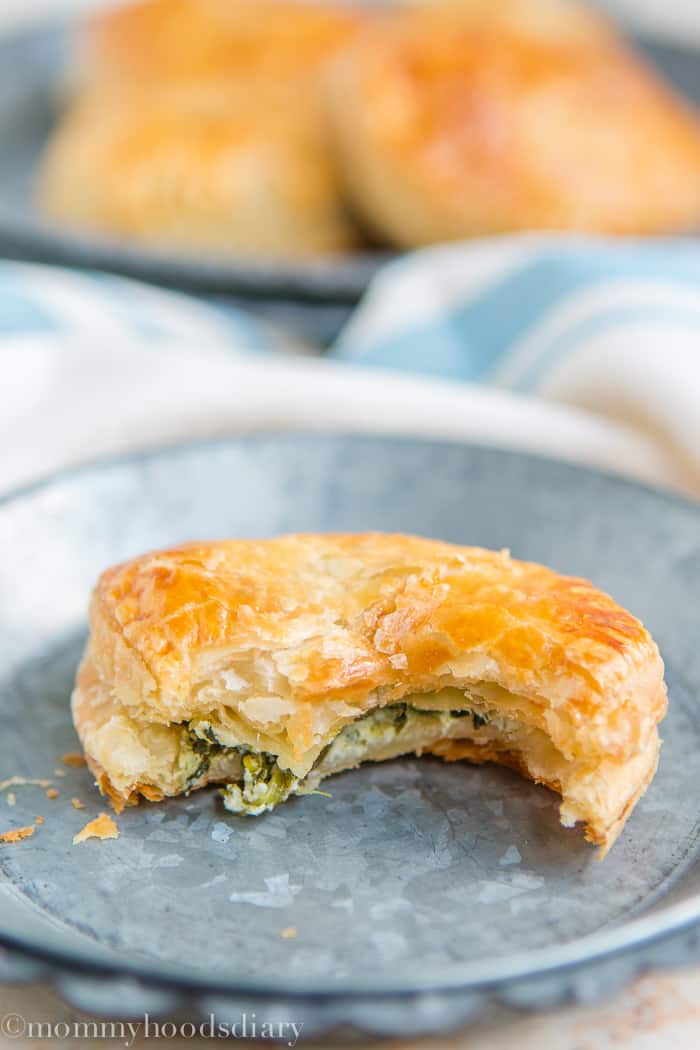 One of my favorites hand pies is the one stuffed with spinach and cheese. I love the combination of flavors. My recipe turned out very good. They were flaky and buttery, as they suppose to be, and I felt – for a moment – that was sitting in a Venezuelan bakery eating a delicious breakfast. The only thing I was lacking was my latte (café con leche) with LOTS of foam.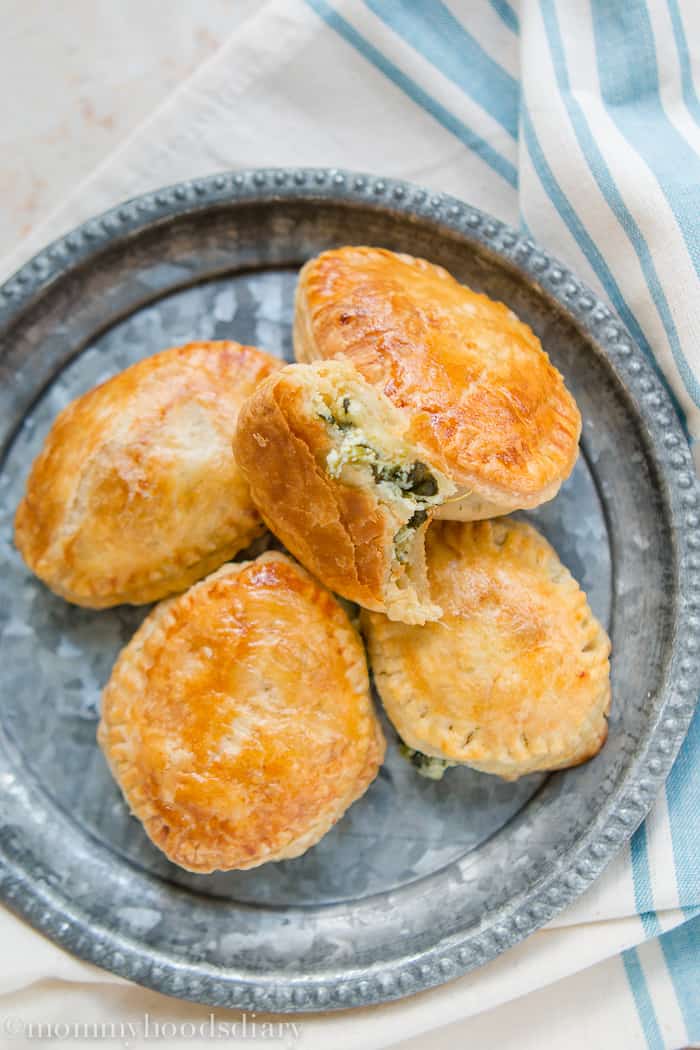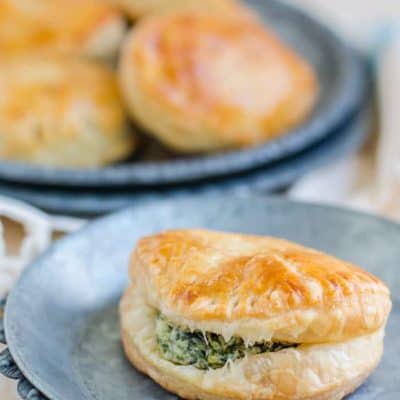 Spinach and Cheese Hand Pies
Ingredients
1

tablespoon

of olive oil

1/2

medium onion

finely chopped

1

cloves

of garlic

finely chopped

3/4

cups

ricotta cheese

1/2

cup

shredded mozzarella cheese

1/4

cup

cream cheese

at room temperature

1/4

cup

grated Parmesan cheese

1/2

teaspoon

Italian herbs

1/8

teaspoon

pepper

5

oz

frozen spinach

thawed and squeezed (half package)

2

sheets of puff pastry

thawed

1

egg

slightly beaten

1

teaspoon

water
Instructions
In a small saucepan over medium heat add the olive oil. Sauté the onion for 3 minutes. Add garlic and sauté for one more minute. Reserve.

In a large bowl, combine the ricotta, mozzarella cheese, cream cheese, Parmesan cheese, Italian herbs and pepper; mix well until smooth. Add onion mixture and spinach. I did this step with the electric mixer, it's faster, less work and the texture will be smoother.

Preheat oven to 350º F and line a cookie sheet with parchment paper.

Roll out the puff pastry carefully. Using a cookie cutter or a cup cut 3.5 inch circles from the puff pastry. I got around 10 rounds out of each sheet.

Mix egg and water in a small bowl

Brush each pastry round with egg wash. Top each round with a spoonful of the spinach mixture. Cover it with another round of pastry then crimp the sides with a fork.

Place the puffs on the baking sheet and brush with the egg wash.

Bake for 15 - 20 minutes until golden brown and puffed.

Remove from the oven and allow cooling slightly.
Recipe Notes
Do not to overload each round with filling as it can burst open when baking.