Disclosure: This is a compensated campaign in collaboration with Kikkoman and Latina Bloggers Connect.
Stuffed Black Bean Burger – You won't miss the meat…this recipe is simply pure bliss!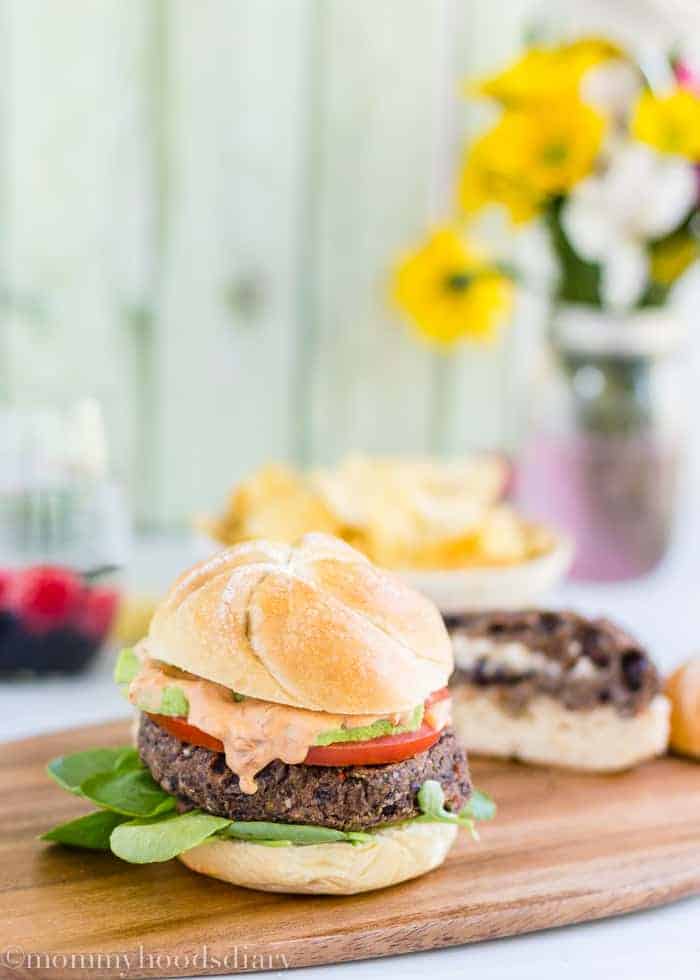 It's amazing that we are already halfway through the summer. The time has passed very quickly. There are still so many things I want to do, but sometimes I feel like I have to start taking the fall clothes out. What a pressure! I have even seen displays for Christmas decorations … can you believe it?
 So we have to take advantage of this last month we have left and make the most of it! For that reason, when Kikkoman invited me to participate in the campaign #KikkomanSabor I immediately thought: Yay … another excuse to use my grill!!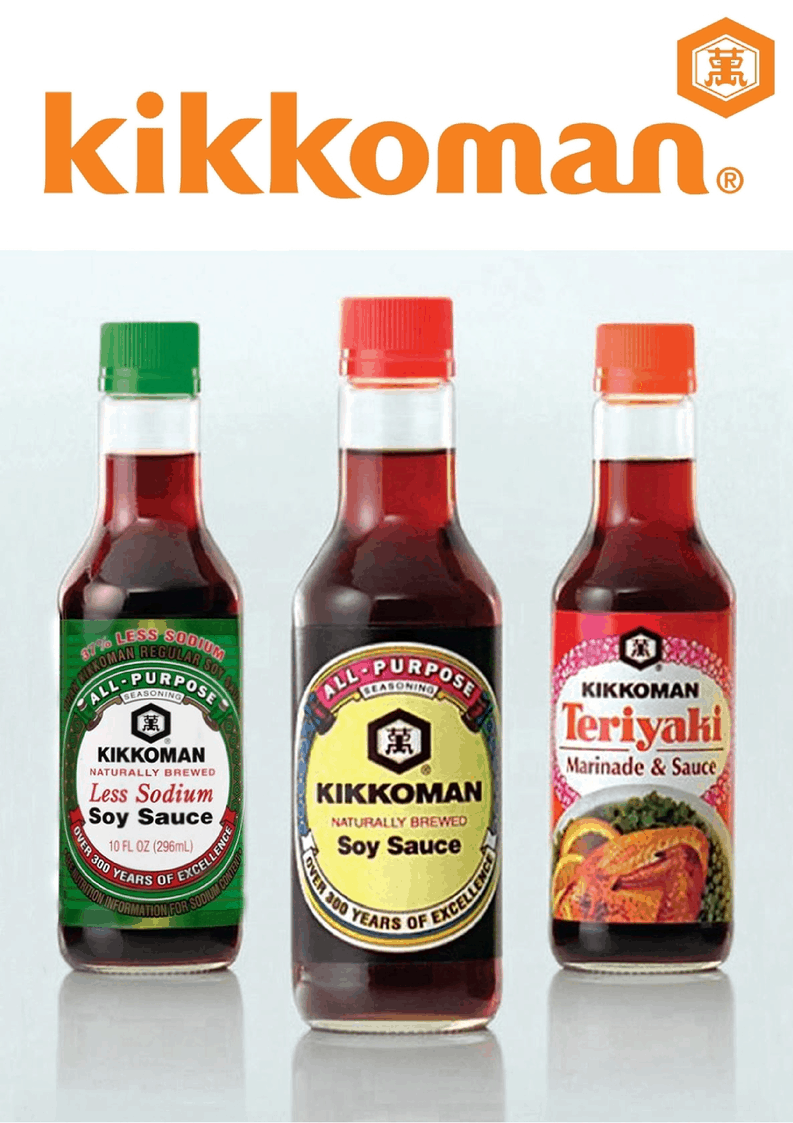 About Kikkoman:

Kikkoman was started by a woman in a time when women didn't start companies. The company has been passed down for generations and remains as a family business to this day. Kikkoman's growth has been inspired and guided by a family creed, a set of 16 articles passed down for nineteen generations. This creed speaks to the core values that have enabled Kikkoman to survive and thrive for more than 300 years.
This Black Bean Burgers stuffed with cheese recipe that I am sharing with you guys today is perfect for the summer. They're not only great for this time of the year, but these burgers are also different and super delicious.
If you're like me, at this point of the summer, you probably have already prepared several versions of the traditional burger patties; made with beef or chicken. Well this recipe of black bean burgers will bring a different touch to your summer table.
I had made black beans meatballs and burgers before, but adding soy sauce to my original recipe was a great idea. Seriously exquisite! This is simple ingredient served to intensify the flavors of the beans and vegetables. We often think that soy sauce is just a condiment for Asian food, but the truth is that Kikkoman soy sauce is a versatile ingredient that can be used to cook different types of meals.
Did you know that if you use 1/2 teaspoon of Kikkoman Soy Sauce instead of 1/2 teaspoon table salt, the sodium content of the recipe is reduced by 1000 mg?  I didn't know!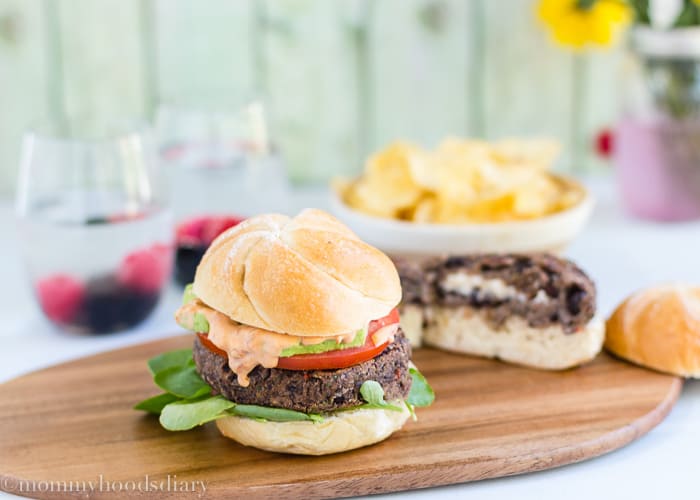 Now let's talk a little more about this burger.
My whole family loved this version of  bean burger. Even my husband, who is not a fan of change, especially when it comes to the traditional foods; his exact words were: They're fantastic! When planning this recipe I was imagining a healthy version, then I entered the cheese and chipotle mayonnaise to the equation. But even so they are still healthier than the typical burger, right?
Hmmmmm
I'd say:…YES!
Healthy or not I promise you'll love them… Try them!
Stuffed Black Bean Burger
Ingredients
1/2

cup

of cream cheese

1/2

cup

of Monterey Jack cheese with jalapeno shredded

3

cups

of black beans

rinsed and divided

1

egg

lightly beaten

1/2

cup

of onion

chopped

2

clove

of garlic

peeled

1

jalapeño

chopped (seeded and deveined)

1

small red sweet pepper

chopped (seeded and deveined)

1

small yellow sweet pepper

chopped (seeded and deveined)

1

pinch of ground black pepper

1/8

teaspoon

kosher salt

1

tablespoon

Kikkoman soy sauce

1/2

cup

of fresh cilantro leaves

1/2

cup

of Italian-style bread crumbs

in

Oil spray

2

cups

of greens of your choice

I used watercress

1

tomato

sliced

1

avocado

sliced

Chipotle mayo
Instructions
In a small bowl combine cream cheese and Monterey jack cheese. Set aside.

Place in a food processor 2 cups black beans, egg, onion, garlic, jalapeno, sweet peppers, pepper, salt, soy sauce and cilantro, processed at medium speed until all ingredients are well combined.

Transfer the mixture to a medium bowl and add the remaining cup of black beans and bread crumbs. Mix using a wooden spoon.

Divide and form the mixture into 12 equal patties. Place 1 tablespoon of the cream cheese mixture onto 6 of the patties, and then top with the remaining 6 plain patties. Completely pinch sides closed to seal in the mixture and reform patties.

Heat grill to medium-high heat. Spray or brush the grill first with a little bit of oil will prevent burgers from sticking.

Cook the patties for about 3 - 5 minutes per side. You'll know you are ready when the surface of this lightly browned. These patties are mighty fragile so be careful when turning. After cooked the patties will set up nicely for you.

Assemble burgers on buns with greens, tomato, and avocado. Top it with chipotle mayo. Enjoy!
Did you make this recipe? I want to see your yummy photos!
Tag @mommyshomecooking on Instagram and hashtag it #mommyshomecooking or Join my Private Facebook Group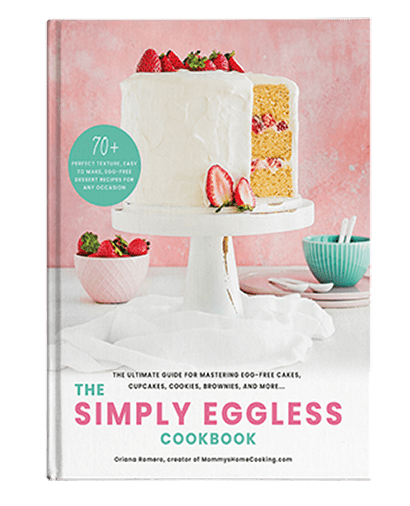 The Ultimate Guide to Eggless Baking!
Includes more than 70 easy-to-make recipes along with full-color photos, detailed instructions, and helpful tips for spectacular results.
Order Now!