This Potato-and-Onion Frittata, a.k.a Tortilla Española, is Spain's classic tapa. It is such a simple and versatile meal – great for breakfast, lunch, or dinner.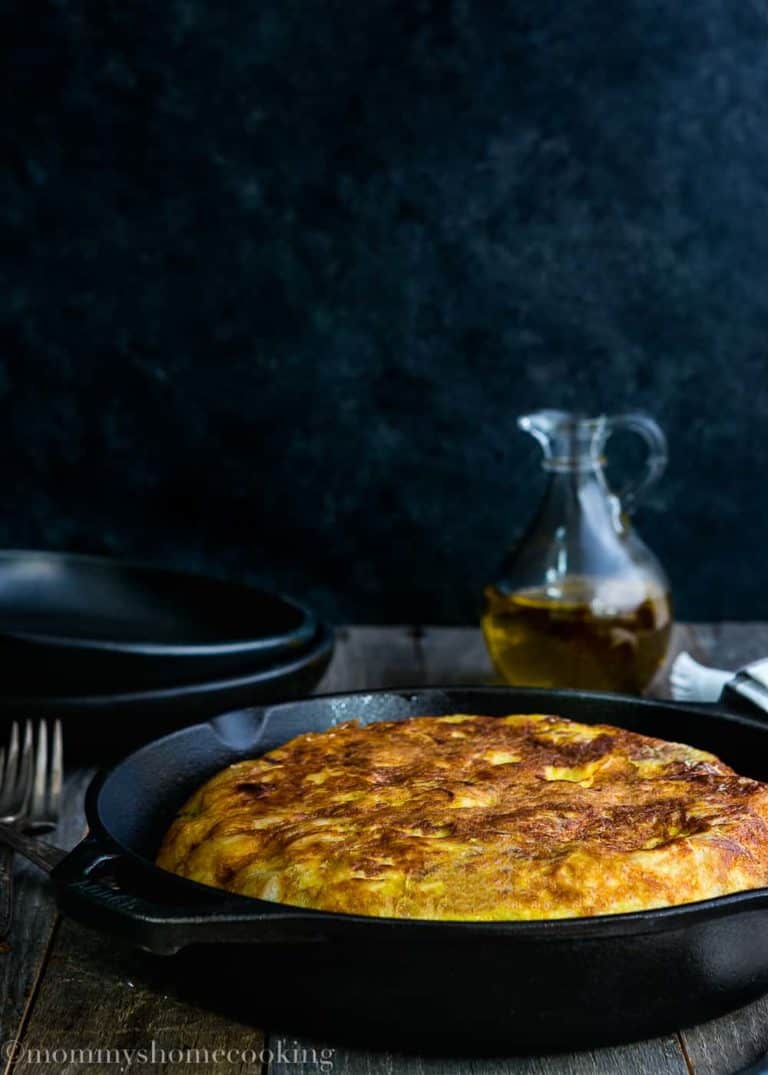 Hey guys! Have your ever tried the traditional Tortilla Española? If you're unfamiliar, Tortilla Española, in my opinion, is the most famous Spanish tapa. It's a satisfying meal on its own; you can also serve it as a part of a spread with other delicious tapas, such as chorizo, jamón serrano, cheese, olives and garlic mushrooms. It tastes amazing whether served warm, or at room temperature. And it makes an excellent breakfast, lunch, or dinner. For sure, it's a crowd-pleaser.
Tortilla Española is a dish I learned to make from my mom. I make it all the time at home for dinner. My husband LOVES it, especially on the next day. And of course, I did not lose the opportunity to mastering this recipe on my mom's last visit.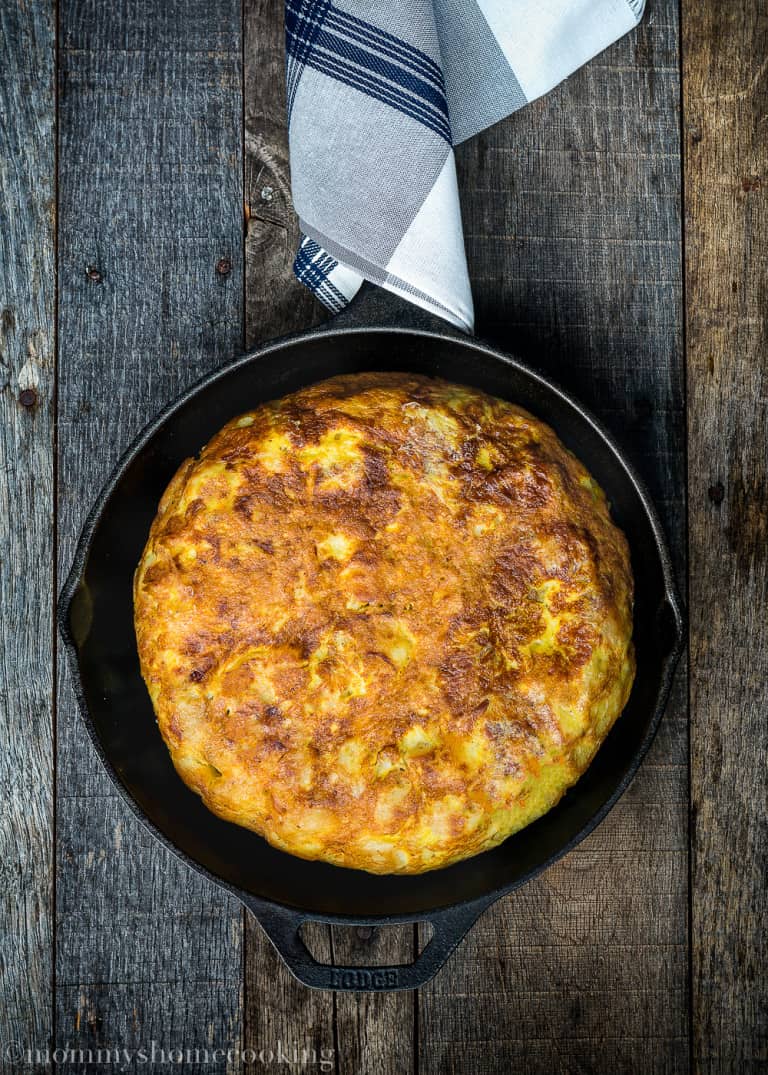 According to my mom there are two secrets for her famous and super delicious tortilla:
The potatoes and onions have to be cooked in a generous amount of olive oil over low heat. It's more like poaching, not frying. This will make the tortilla creamy.
Whipping the egg whites vigorously until the mixture is frothy will help to end up with light and fluffy tortilla.
Also keep in mind that the skillet or pan must be deep enough to contain all the potatoes. I like to use a skillet with sloping sides to give the tortilla its shape, which is round. You can also create this shape tucking the edges under, with a spatula, after flipping it.
I wanted to crank things up a notch by adding McCormick freshly ground black pepper … the perfect touch! McCormick spices never fail me, for that reason they are an essential ingredient in most of my recipes.
Taste the glorious tortilla Española for yourself, and see why this dish is one of our all time favorites.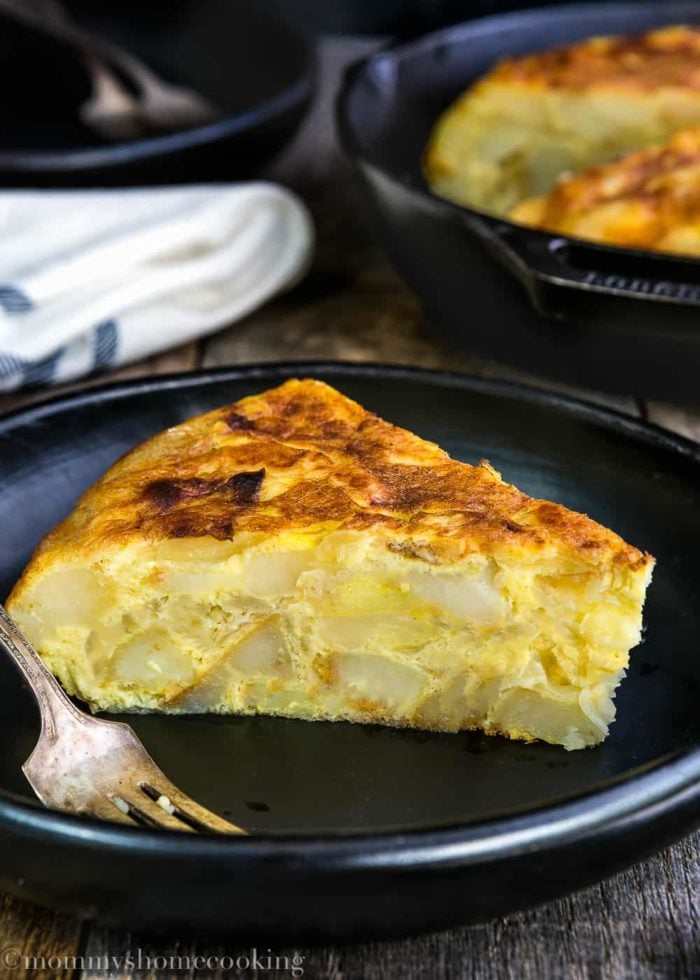 Love what you see? Subscribe to Mommy's Home Cooking so you'll never miss a recipe! Follow along on Instagram, Pinterest, Google+, Twitter, and Facebook for more fun! 
If you make this recipe, be sure to snap a photo and hashtag it #MommysHomeCooking. I'd love to see what you cook!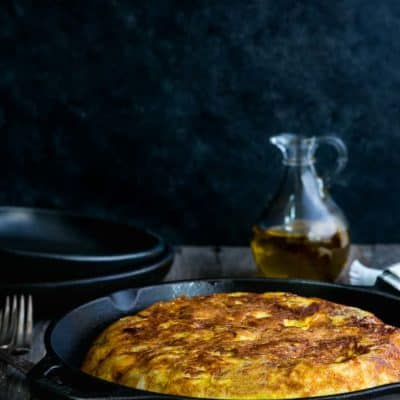 Tortilla Española
Ingredients
2

cups

extra virgin oil olive

8

inch

medium potatoes

peeled and cut into ¾ pieces

2

small onions

halved and thinly sliced

2

teaspoons

salt

separate

McCormick freshly ground black pepper

to taste

7

eggs

separated
Instructions
Heat the oil in a medium (9 inch) nonstick skillet over medium low heat. Cook potatoes, turning occasionally, until soft, about 10-15 minutes. Add onion and mix until incorporated. Add 1 teaspoon of salt and black pepper to taste; cook until onion is translucent and fragrant, and the potatoes are lightly golden, about 5 minutes. Remove carefully the potatoes from the skillet and place on a large plate. Remove the oil from the skillet, leaving only 2 to 3 tablespoons of oil to cook the tortilla.

In a large bowl add the eggs white and whisk vigorously until the mixture is frothy and increased in size, about 3 minutes. Stir in egg yolks, and the remaining teaspoon of salt; mix until incorporated. Add potatoes with onion and mix.

Slightly heat the oil in the skillet over low heat. Add the eggs and potatoes mixture. Cover and cook for 10-15 minutes, or until the tortilla is almost set. Check that the tortilla is cooked on the bottom and not sticking to skillet. Invert tortilla using a large plate, then slide it back into the skillet and cook the other side for 5 -8 minutes, or until fully cooked.

Cut the tortilla and serve warm or at room temperature.
For more recipes like this, visit www.McCormick.com/Espanol,
Disclosure: This is a sponsored post in partnership with McCormick®. However, all opinions expressed are my own as always.  Thank you, though, for supporting them and the other brands which help make this site possible.