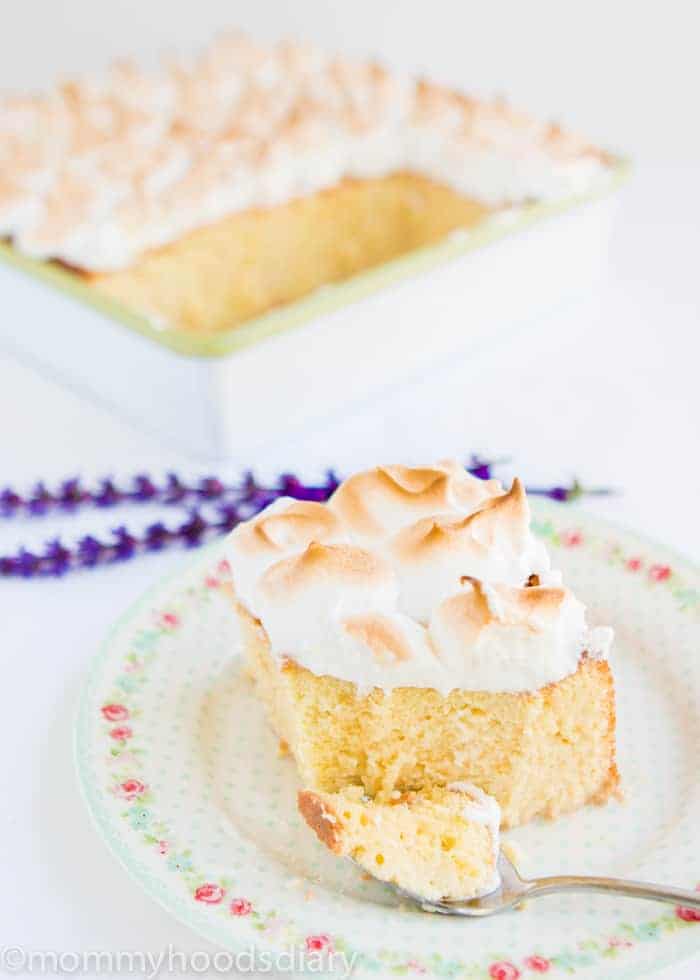 It has been a long week, sick kids, lots of work, mountains of laundry, etc. Well, not more complaining. It's Friday… YAY!! Even though, that does not mean the laundry will magically disappear (yikes!).
Today, as a Friday treat, we are going to indulge our sweet tooth, and what better way that with a Tres Leches Cake.
This is my all-time FAVORITE dessert. This recipe was passed on to me by my sister, the family expert on sweets. Every time we have a major event that requires a spectacular cake, like Victoria's Baptism or Matthew's birthday, my sister connects via Skype and we do the recipe together. Have I ever mentioned how difficult it is to have family so far? I think so! It is really hard but thank goodness for modern technology that unites us and shortens distances… OKAY! That sounded like a commercial but I promise this is not a paid post hahaha.
Back to sweet business! This cake is AMAZING, so sweet, creamy and smooth, you won't believe it. It's very easy to make. Every time I have to bring in my food contribution to a potluck this is my first choice. Everyone knows I'll bring a Tres Leches, and they love it!
I used to make this cake in a 13 inch baking dish, but in this occasion I used a 9×9 square pan, just because I wanted to show off my beautiful new enamel baker (this is consequence of my prop addiction). It came out a bit thick for my taste. This is just a personal preference. The taste and texture was perfect.
Enjoy!!!!

Tres Leches Cake
Ingredients
9

eggs

separated

1 1/2

cups

sugar + 1 tablespoon

1

tablespoon

vanilla extract

1 1/2

cup

flour

1

cup

whole milk

1

can sweetened condensed milk

14oz

1

can evaporated milk

12oz

Merengue:

1

cup

+ 2 tablespoons sugar

1/4

cup

water

4

egg whites

1/2

teaspoon

cream tartar

Pinch of salt
Instructions
Preheat oven to 350° F. Spray a 13 inches baking pan with baking spray. Reserve.

With an electric mixer on high speed beat the egg whites until stiff. Reserve.

In another bowl beat the egg yolks and 1 1/2 cups sugar for 5-8 minutes, or until the mixture is pale yellow color. Add vanilla and beat until incorporated. Gradually add flour and continue mixing until you have a homogeneous mixture. The mixture will look a bit thick, do not worry, it supposed to be like that.

With a spatula fold in the egg whites to the cake mixture.

Pour the mixture into the baking pan and bake for about 30 minutes, or until you insert a wooden toothpick in the center of the cake and it comes out clean. Remove from oven and let cool for 5 minutes.

In a small bowl mix whole milk with 1 tablespoon sugar.

Using a fork poke all over the top of the cake.Pour the milk and sugar mixture evenly over the top of the cake.

Mix condensed milk, evaporated milk and table cream; mix until well incorporated. Add this mixture evenly over the cake. Cover and refrigerate while you prepare the meringue.

Prepare the Meringue: In a small saucepan over medium heat add the sugar and water. Mix with a spoon and cook until it reaches a temperature of 248º F.

Beat the egg whites with an electric mixer on medium speed until soft peaks, add the cream tartar, salt and 2 tablespoons of sugar. Reduce speed to low and pour hot syrup from side of bowl in a slow and steady stream. Increase speed to high and continue beating until stiff peaks and the mixture is cool and bright.

Turn on the broil for your oven and place the top rack in the middle.

Cover cake with meringue. Bake for 3 minutes; or until the meringue is lightly browned. In this step you must be careful because the meringue can burn very quickly. To avoid accidents I do it with the oven door open.

Refrigerate cake until serving time.