These Venezuelan Bollos Pelones are delicious and easy to make. Cornmeal dumplings stuffed with a tasty meat mixture, and then served with a delicious tomato sauce. This dish takes Venezuelan comfort food to a whole new level!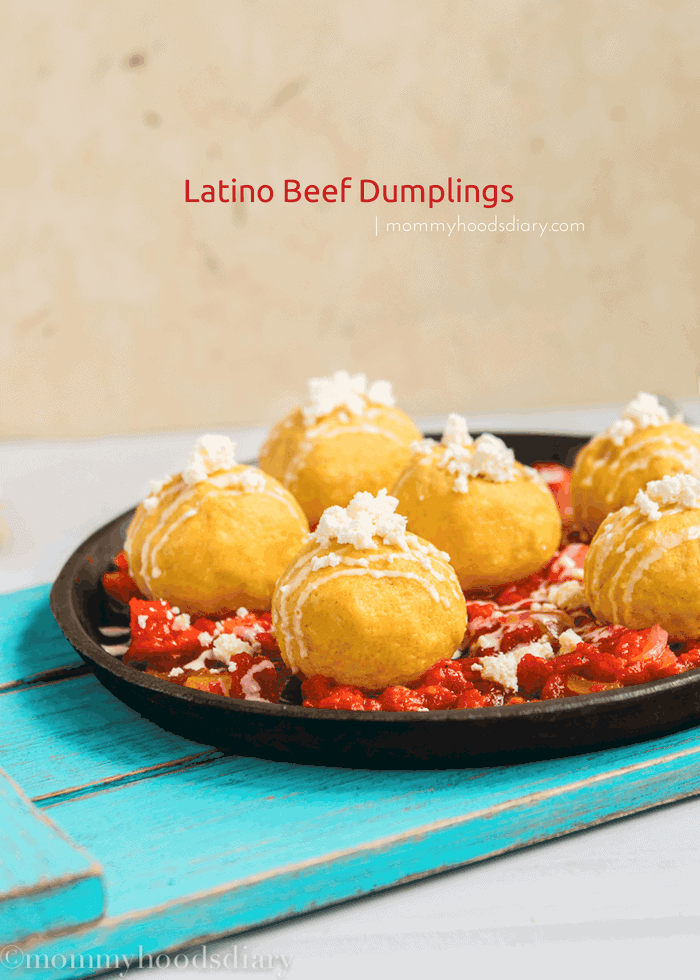 The first time I ate these Venezuelan Bollos Pelones was at a friend's house. Her mother-in-law, who is a veteran cook, prepared them for breakfast. She did everything in 30 minutes… amazing! For us, it was definitely a different but delicious breakfast. To be honest this was the first and only time I ate them until I had the idea of making them myself.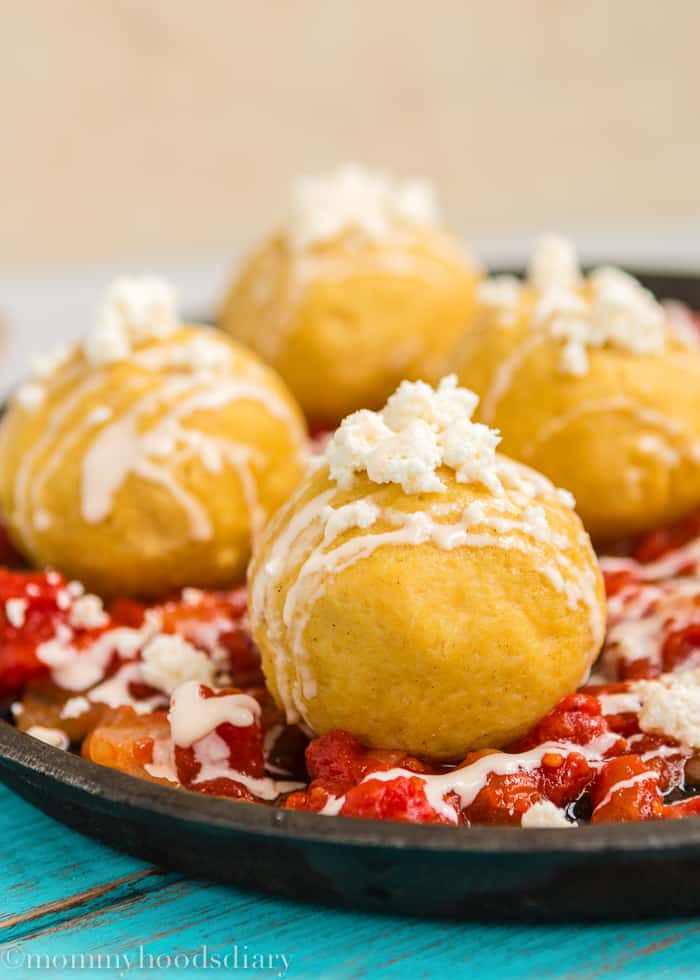 Bollos Pelones (Latino Beef Dumplings) is a popular dish in Venezuela. The translation of "bollos pelones" it's something like HAIRLESS BUNS LOL. Seriously! Anyways. This dish is delicious. You can prepare them ahead of time and warm them up the day that you want to eat them. They are an excellent choice for breakfast, lunch, or dinner. Back home you can find them in different versions, stuffed with shredded beef, chicken, pork, and even shark.
At first, I was a little intimidated because the process looked a bit complicated. But in the end, there was no complication. I prepared the sauce and stuffing the day before and I stored them in the refrigerator. The day that I planned to serve them I only prepared the dough, which is very easy, and I formed the balls. They are cooked in a blink, just ten minutes.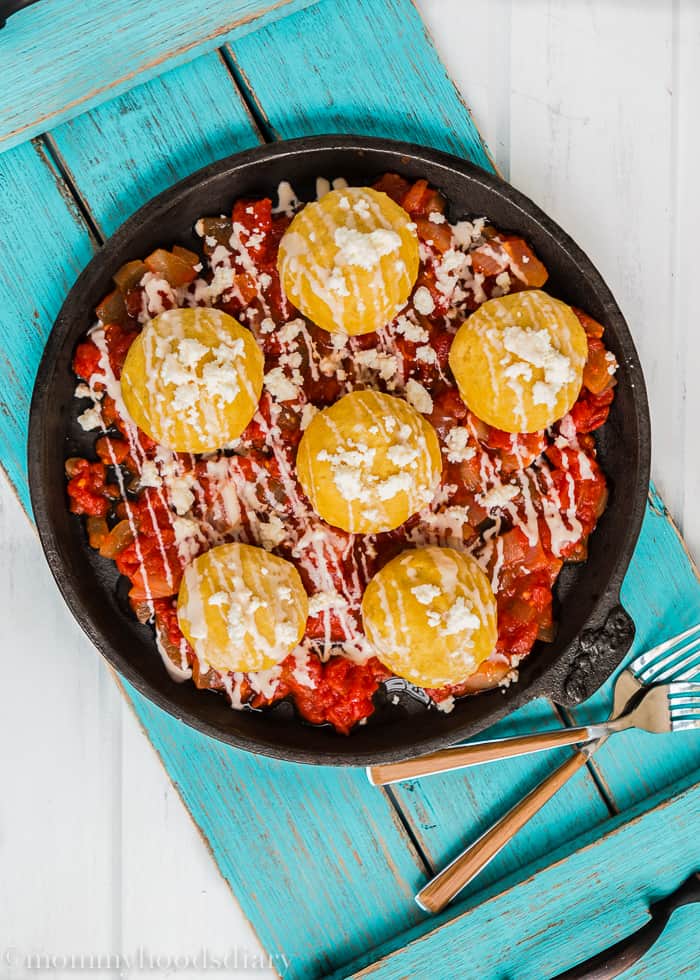 The filling has a special touch that's given by the olives and capers. I have also heard of people that put raisins in it, but I decided not to add them this time. I will surely add them next time.
These Venezuelan Beef Dumplings were a total success. We all loved them. They will, for sure, be on our menu more often from now on.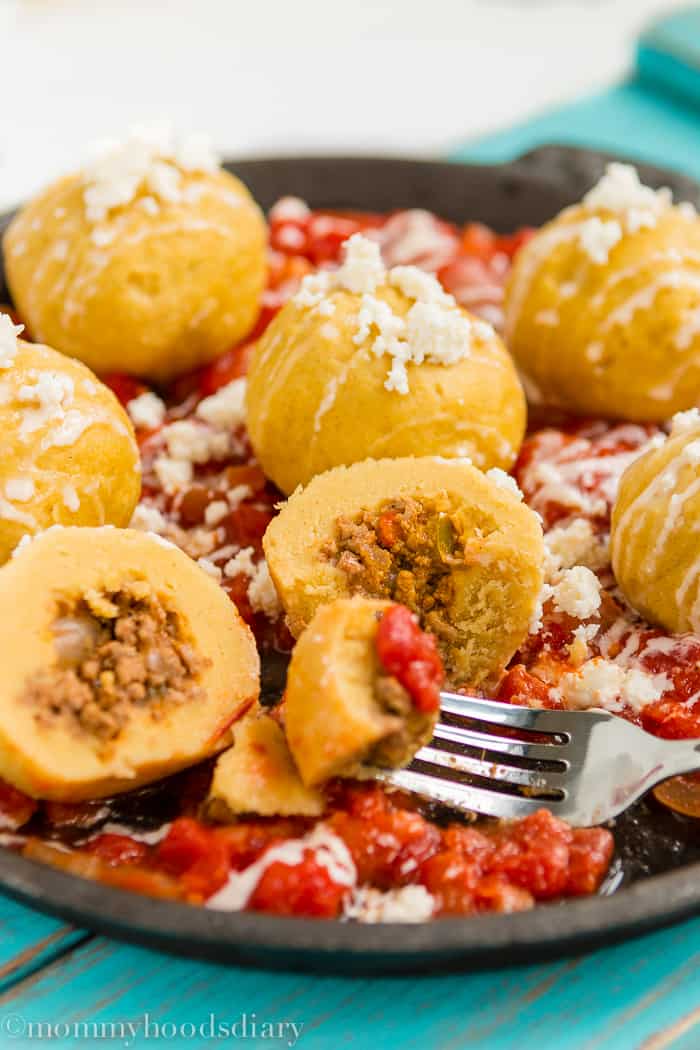 Esta receta esta disponible en Español, Bollos Pelones Venezolanos.
More Recipes You'll Love!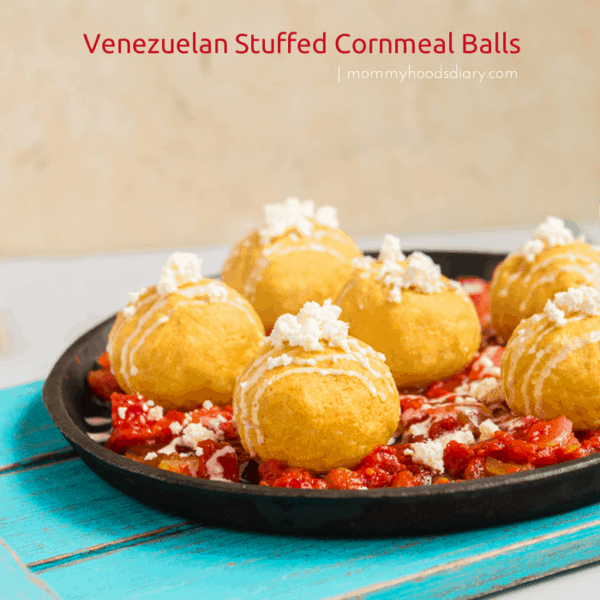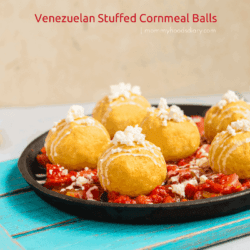 Venezuelan Bollos Pelones
This authentic and delicious Venezuelan dish takes comfort food to a whole new level!
Ingredients
Stuffing:
2

tablespoons

of corn oil

1

cup

of onion,

finely chopped

3

clove

of garlic,

minced

1/2

cup

of green bell pepper,

diced

1/2

cup

of leeks,

sliced (white and pale-green parts only)

1/4

cup

of scallions,

sliced

1

lb

ground beef

Salt and pepper to taste

2

tablespoons

of tomato paste

4

tablespoons

sweet red wine

(I used Marsala)

23 -25

green olives stuffed with red pepper,

sliced

3

tablespoons

of capers,

drained
Sauce:
2

tablespoons

of corn oil

2

cups

of onion,

chopped into small pieces

1

can (28 oz) of diced tomatoes

Salt and pepper to taste
Dough:
2 1/2

cups

of chicken broth,

warm

3

cups

Harina PAN

2

tablespoons

of corn oil

8

oz

of queso fresco or queso para rallar,

crumble (opcional),
Instructions
Prepare the filling:
Heat the oil In a medium saucepan over medium-high. Saute the onion until translucent. Add the garlic, pepper, leeks, and scallions; cook 5 minutes. Stir in ground beef. Using a wooden spoon break the meat and season with salt and pepper to taste. Cook until it's no pink, about 5 minutes. Add the tomato paste, wine, olives, and capers; mix well until everything is well combined. Adjust salt and pepper, if necessary. Reduce heat to low and simmer for 10-15 minutes, or until most of the liquid has evaporated. Remove from heat and set aside.
Prepare the sauce:
In a small saucepan add the corn oil. Saute onion until transparent; about 3 minutes. Add the diced tomatoes and season with salt and pepper to taste. Cover and simmer for 20-25 minutes. Remove from heat and set aside.
Prepare the dough:
Mix chicken broth and Harina PAN until has no lumps. Let stand for 5 minutes then add the corn oil and knead until smooth. Divide the dough into 14 equal-size balls. Set aside.
Assemble:
Take a ball of dough and make a hole in the center with your finger, big enough to place the filling. Add 1-2 teaspoons of the filling. Close bringing the edges together carefully with your fingers. Re-form into a ball again. Repeat until all the dough is finish.
Cook:
Fill a large pot halfway with water. Bring it to boil over medium heat high heat. At first boil reduce the heat to low. Place the stuffed dumplings in the hot water and cook about ten minutes. You'll know when they ready because they'll float. With a slotted spoon transfer them to a serving dish.

Top with tomato sauce and fresh cheese (queso fresco), if desired, and serve immediately.
You can make the stuffing and the sauce the day before.
The stuffing should not be too juicy because it could soften too much the dough and could fall apart when cooking.
If you want you can substitute beef for ground chicken or turkey for a lighter version.
Nutrition
Calories:
301
kcal
Carbohydrates:
24
g
Protein:
12
g
Fat:
17
g
Saturated Fat:
5
g
Polyunsaturated Fat:
3
g
Monounsaturated Fat:
8
g
Trans Fat:
1
g
Cholesterol:
34
mg
Sodium:
366
mg
Potassium:
309
mg
Fiber:
3
g
Sugar:
3
g
Vitamin A:
261
IU
Vitamin C:
11
mg
Calcium:
148
mg
Iron:
1
mg
Did you make this recipe? I want to see your yummy photos!
Tag @mommyshomecooking on Instagram and hashtag it #mommyshomecooking or Join my Private Facebook Group