Venezuelan Empanadas have a crisp crust and tender inner texture. The ULTIMATE finger food…perfect for any occasion!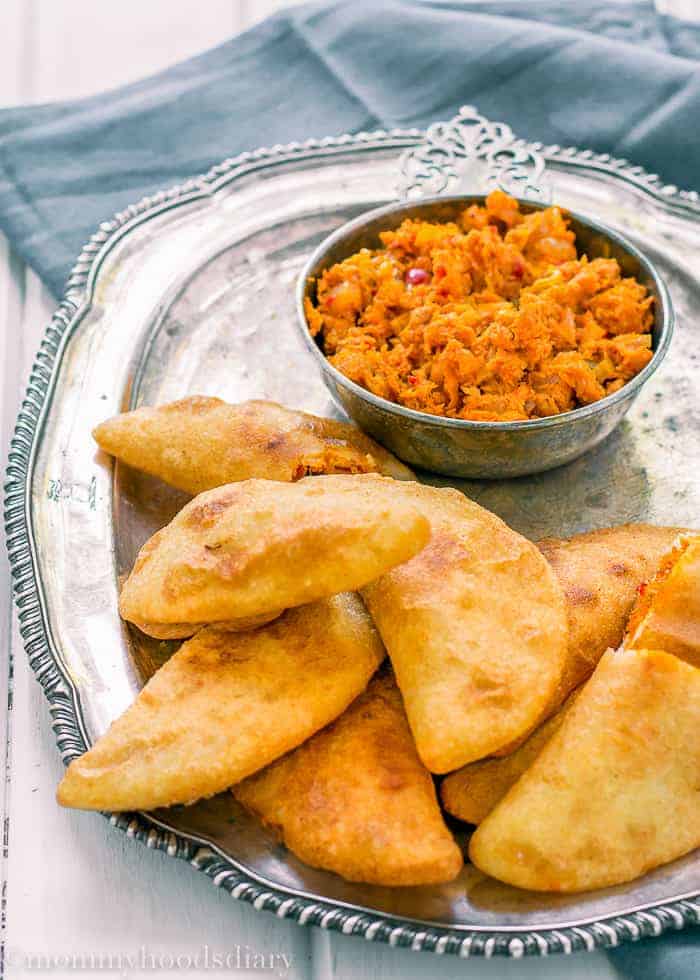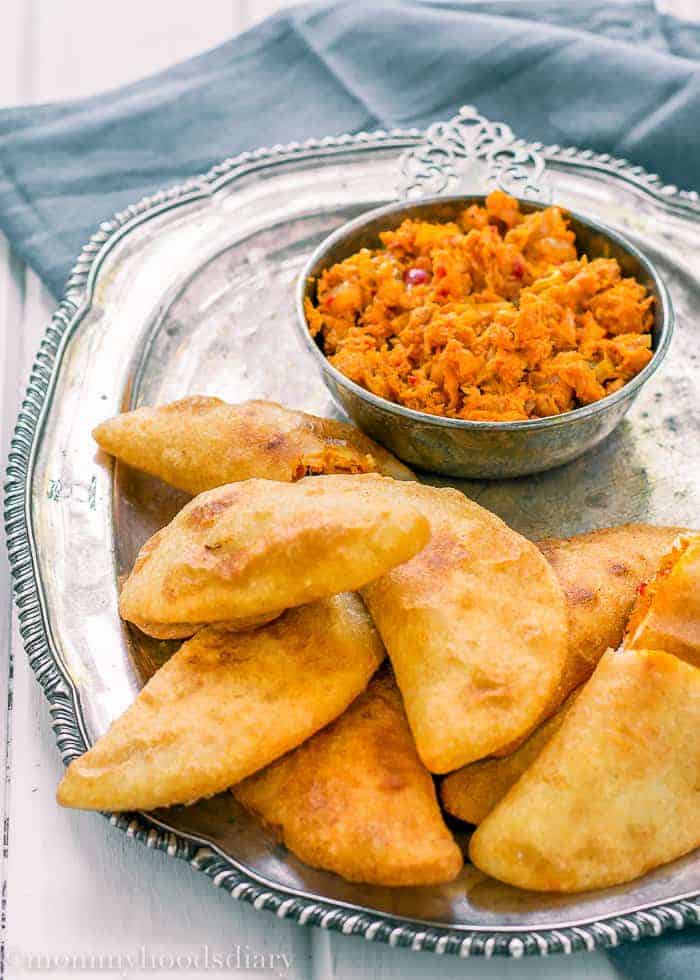 Hi my friends! Did you miss me?
It's been almost a week since my last post, and I've been feeling pretty guilty about it.
These past couple of months have been kind of stressful. Meeting some huge deadlines this past month was hard. I don't mean to complain, though! I am very grateful because I love what I do. I've just been spreading myself a little thin these days.
On the really bright side, Summer is in full swing around here; kids are out of school. The weather is fabulous. We already took our first dip into the pool. I know it's not "officially" summer, but let's pretend it is.
So for me, Summer = Beach = Empanadas de Cazón.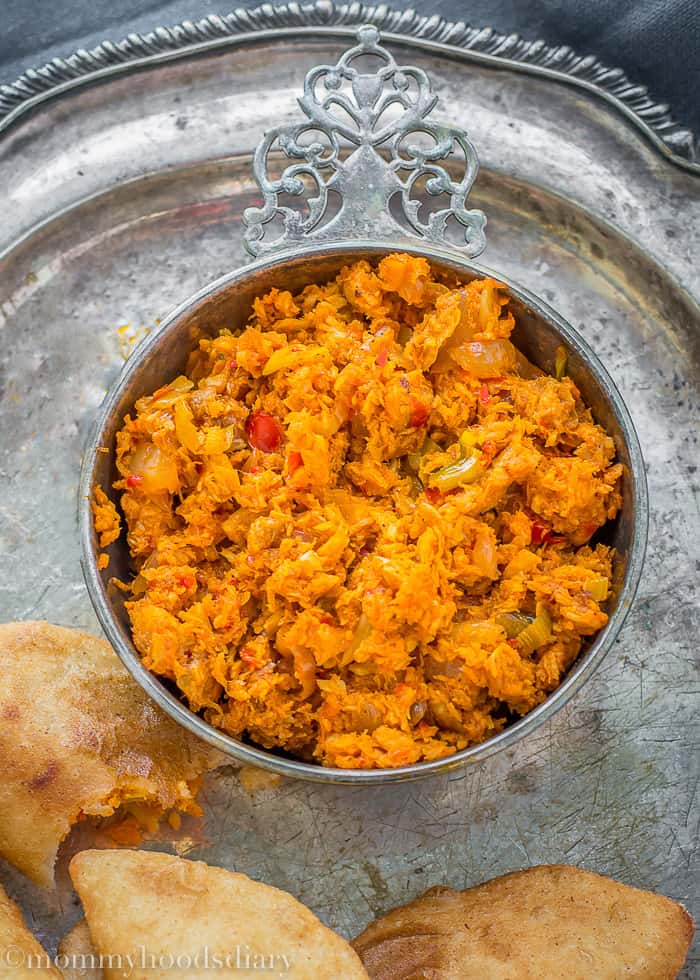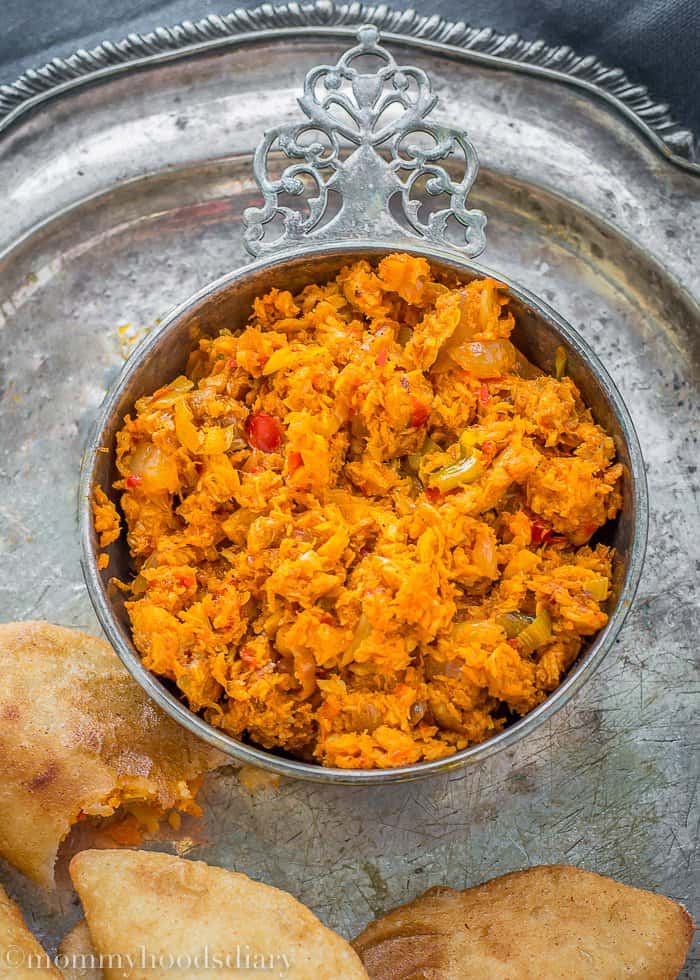 Here is the thing: when you go to the beach in Venezuela you can find, along the way, multiple mini-vendors on the side of the road (literally) selling empanadas. All kinds of empanadas: cheese, chicken, beef, beans, cazon, etc. In my book, going to the beach and not eating empanadas is unacceptable. My husband would never eat an empanada, under those circumstances, actually, he never did, he needs to see the sanitary permit hanging out at the front door. But that wasn't a big deal for me; they were irresistible and delicious, plus I LOVE street food!
My favorites empanadas always were, hands down, without a doubt, no question about it, empanadas de cazón! In case you are wondering Cazón is In case you are wondering Cazón is
In case you are wondering, Cazón is a small shark, it might sound like an adventurous option, but believe me… they are to die for!
Apparently, Cazón is not available in the United States, so since we moved here, I have been looking for a good substitute. I tried dogfish, cod, etc… and the final result always was very disappointing. I almost lost hope until the mother of my daughter's friend, also Venezuelan, told me that she uses shark steaks.
TADA…the perfect Cazón filling for empanadas!!!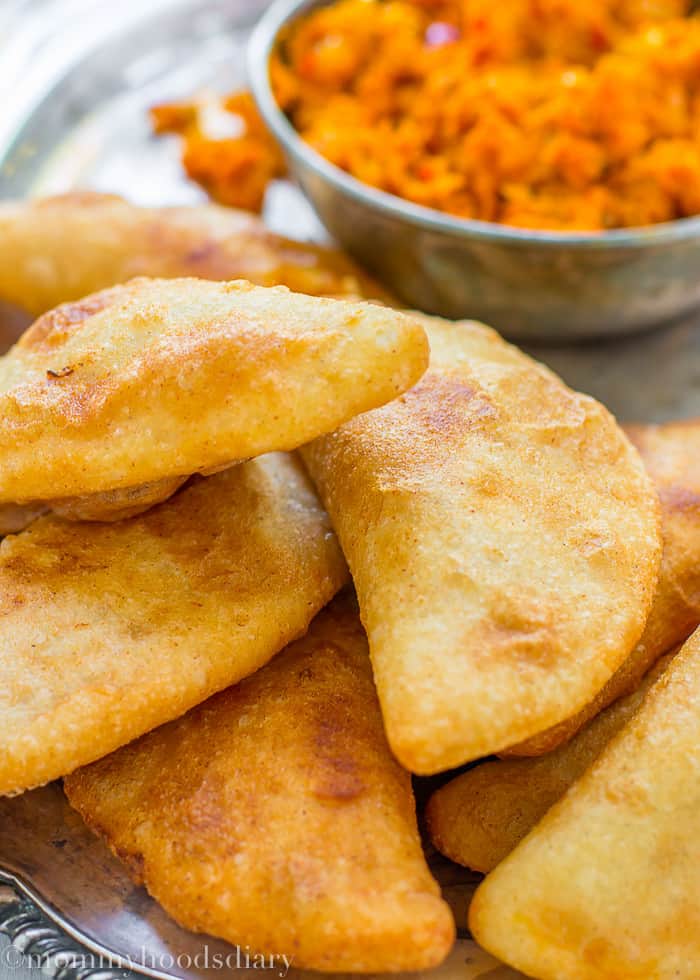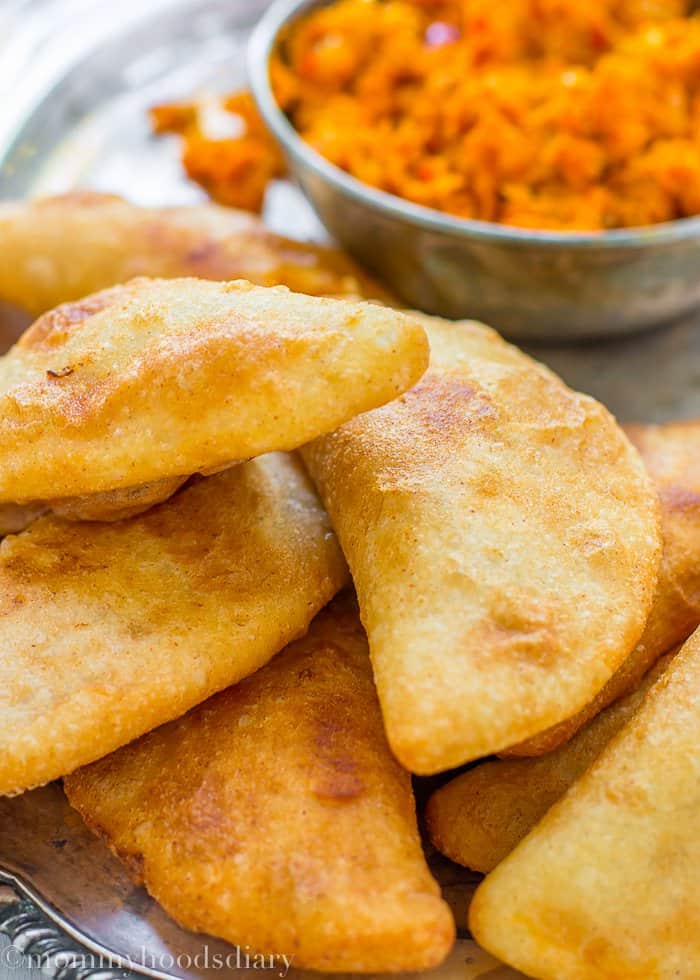 Most Latin-American countries have their own version of empanadas, but Venezuelan empanadas are the best. Well… okay! I might be a little biased, but seriously they are delicious. Basically, a Venezuelan empanada is made with corn dough, then stuffed with anything you can imagine (chicken, meat, cheeses, Cazón/shark), and then deep-fried. Admittedly, I am not big on deep frying things at home. I do, however, make an exception when it comes to empanadas.
The corn dough has a wonderful texture. It also soaks up less grease than fried empanadas made with flour dough.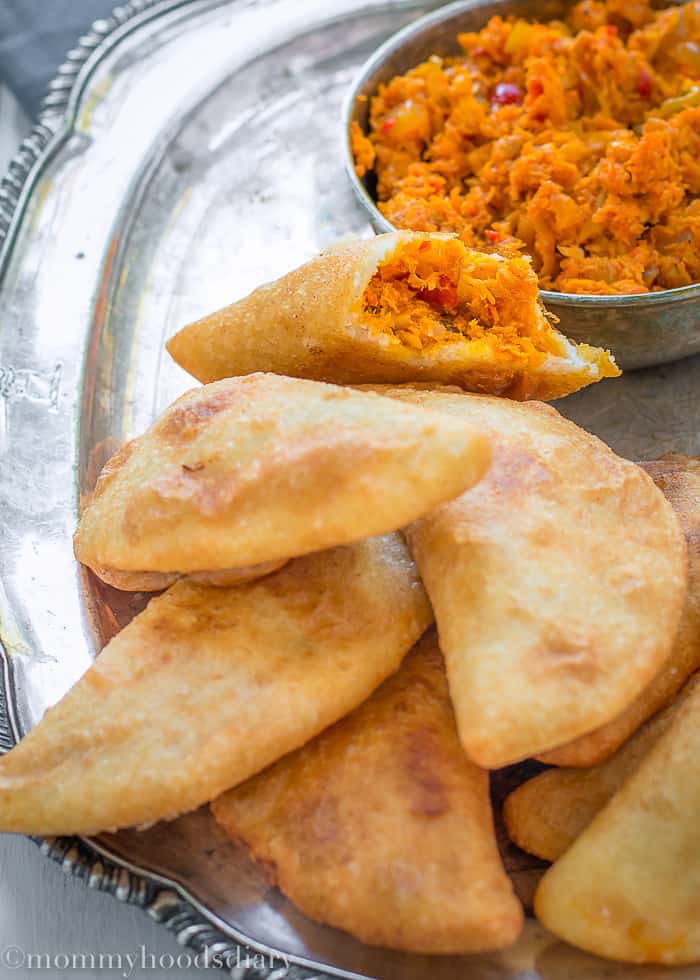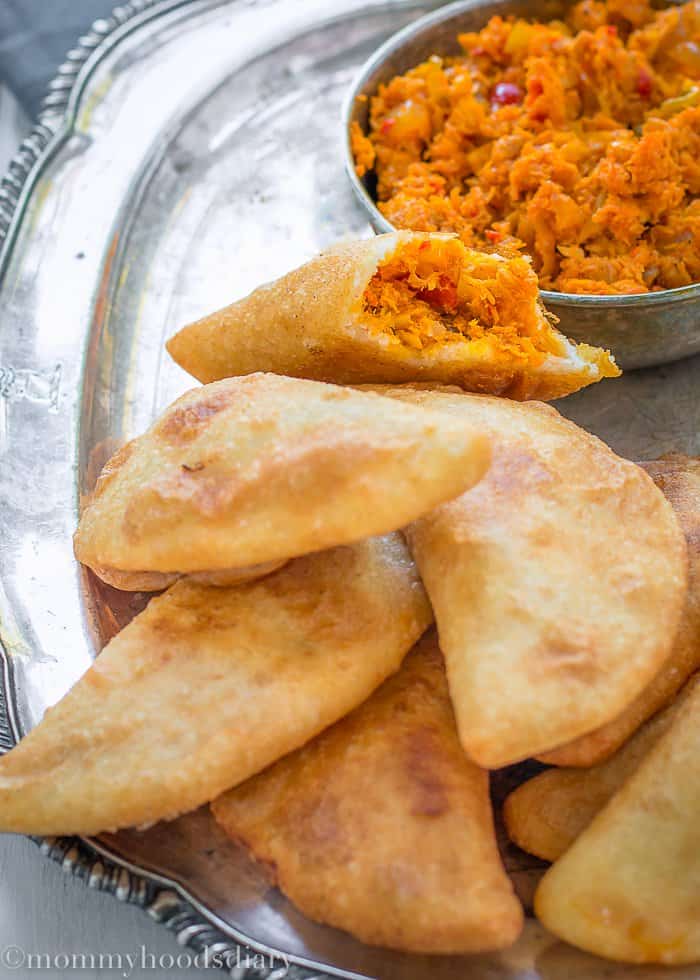 Of course, when eating empanadas, we cannot forget about another element: THE SAUCE!! The crisp crust and tender inner texture of corn empanadas is the perfect excuse to invite additional condiments. Try my cilantro mojo or the traditional Venezuelan avocado sauce: Guasacaca.
Now, go and make some empanadas yourself! You can use my dough recipe and fill them with whatever your heart desires.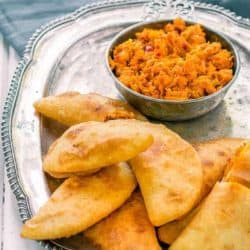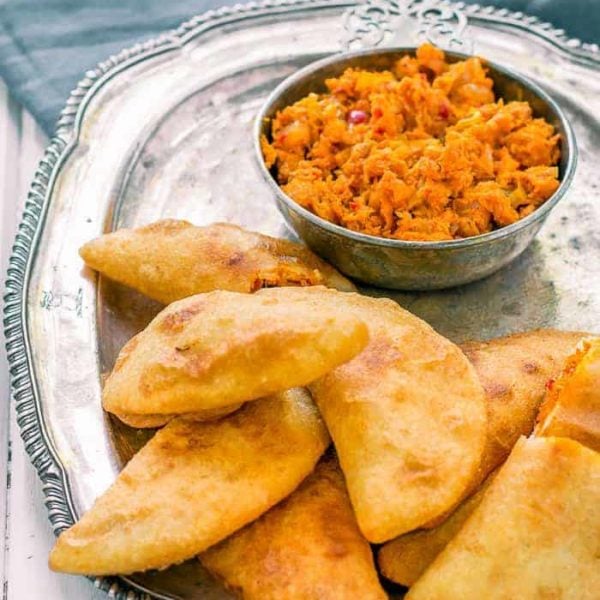 Venezuelan Cazon Empanadas
Venezuelan Empanadas have a crisp crust and tender inner texture. The ULTIMATE finger food…perfect for any occasion!
Ingredients
Cazon Filling:
4

Shark steaks

(see notes)

1

bay leaf

3

tablespoons

achiote oil (onoto,

annatto) (see notes)

1

cup

onion,

finely diced

1/2

cup

green bell pepper,

cut into small cubes

1

cup

small sweet pepper,

cut into small cubes

1

cup

leeks,

cleaned, and sliced (white and light green parts only)

1/2

cup

green onion,

cleaned and sliced

3

garlic gloves,

minced

1

teaspoon

cumin

Salt and pepper to taste
Dough:
2

cups

water

1

teaspoon

salt

2

tablespoons

sugar

1 1/2

cups

Harina P.A.N

(pre-cooked white maize meal)

1/4

cup

all purpose flour

1

teaspoon

baking powder

Oil to fry

(I use corn oil)
Instructions
Make the filling:
Place the shark steaks, bay leaf, and 1 tablespoon salt in a saucepan and cover with water. Bring to a boil over medium heat. Reduce to a simmer, cover and cook until the fish is cooked about 15 minutes. Transfer the fish to a bowl and shred with a fork (be careful to remove the skin and/or bones). Set aside.

Heat the oil in a large skillet over medium-high heat. Add the onion, bell pepper, sweet peppers, leeks, green onions, and garlic; cook until the onion is translucent, about 3 minutes. Stir in the cumin. Add the shark, mix well, and season with salt and pepper to taste. Cook over medium-low heat for about 10 minutes.
Make the dough:
Wash your hands. In a medium bowl add water, salt, and sugar. Mix until the salt and sugar are dissolved.

Mix Harina P.A.N, flour, and baking powder in a bowl

Slowly add dry ingredients to the water and mix/incorporate with your hands, making circular movements and breaking with your finger the lumps that may form. Let rest 5 minutes to thicken. The dough should be firm enough holds its shape without cracking when molded. If it is too soft add a little more of harina P.A.N; if too hard add a little more water.
Form the empanadas:
Divide the mixture into 8 equal portions and form into little balls. Flatten each ball between two sheets of plastic until it is approximately 8 inches (see notes). Put some of the cazon filling in the center of the empanada, about 1-2 tablespoons. Using the plastic sheet, carefully fold over the dough into a semicircle. Trim into a half-moon shape with a knife or press down with the round edge of a bowl.
Fry the empanadas:
Heat enough oil in a skillet until a deep-fry thermometer registers 350º F. Fry the empanadas in batches until golden, about 4 minutes per side. Transfer to a paper-towel-lined baking sheet; keep warm in the oven at 300º F.

Serve hot.
I buy the shark steak at my local Asian market.
To make annatto oil just heat 1 cup of oil (I use corn oil) in a small heavy saucepan over medium heat. Add the 1/2 cup of annatto seeds and cook, stirring constantly, until the oil becomes a rich, orange-red color, about 5 minutes. Do not overcook or it will have a disagreeable flavor. Remove from the heat and allow to cool. Strain the oil into a jar; discarding the seeds. Keep covered in the refrigerator.
To flatten the dough many people use a tortilla press, which they say it's pretty convenient, but I don't have one so I do it with my hands and it works perfectly.
Nutrition
Calories:
206
kcal
Carbohydrates:
29
g
Protein:
15
g
Fat:
4
g
Saturated Fat:
1
g
Polyunsaturated Fat:
1
g
Monounsaturated Fat:
1
g
Cholesterol:
29
mg
Sodium:
398
mg
Potassium:
283
mg
Fiber:
3
g
Sugar:
6
g
Vitamin A:
1003
IU
Vitamin C:
36
mg
Calcium:
103
mg
Iron:
2
mg
Did you make this recipe? I want to see your yummy photos!
Tag @mommyshomecooking on Instagram and hashtag it #mommyshomecooking or Join my Private Facebook Group