Discover these Venezuelan Ham Crescents, or Cachitos, how we call these them in Venezuela. Either way, they are DELICIOUS!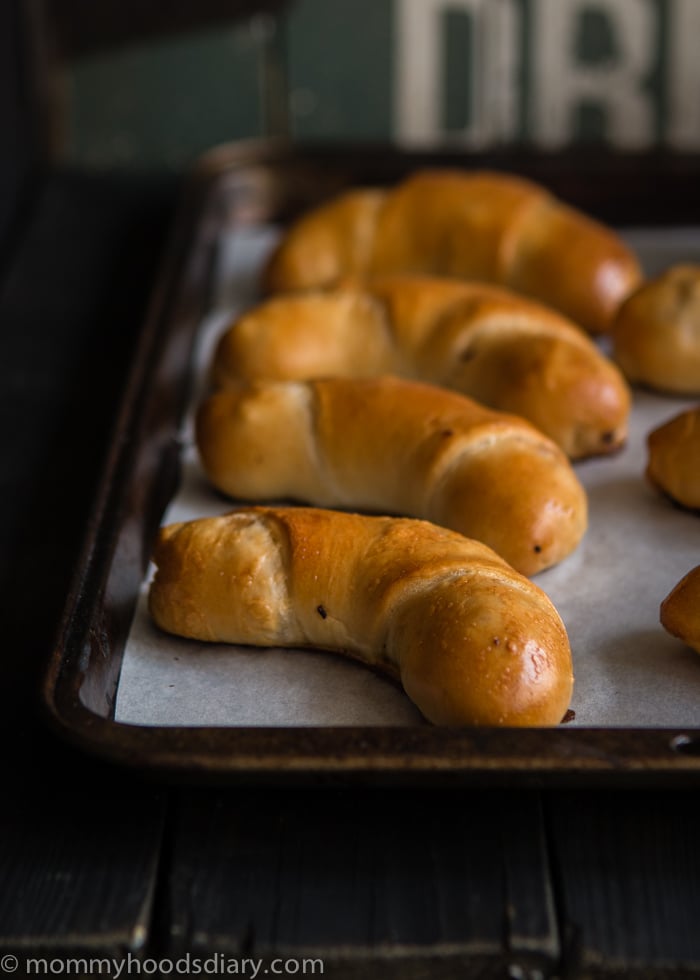 Back home I was not a fan of "Cachitos"! But as the saying goes: You do not know what you have until you lose it and thank goodness for this recipe. By the way, Cachitos is how we called these delicious Ham Crescents in Venezuela.
I must confess that this was totally accidental. I was trying to make pretzels, and when my daughter tried them she told me: "mami this dough taste like "cachito". So I cut some ham I had and rolled them as a cachito and BAM! She was totally right. They are not just cachito but the best cachitos ever.
Back home there is a bakery on every corner (I think ive mentioned it before). And when I say every corner I mean it literally.  Every corner! … So the smell of freshly baked bread is something I grew up with and I love it.
I remember how every Sunday morning my husband used to go out to buy breakfast at our closest bakery in Venezuela. He would come back home with empanadas, pastries, fresh bread … you know everything very light hahaha.
That was a perfect breakfast for us and also it was a great way to start our day. However, cachitos were never my first choice when it came to breakfast. Looking back, I realize that what I did not like was the kind of ham they used to make the cachitos. It was a very fatty type of ham. With this homemade version I can say that the cachitos have a new fan. Of course, I always accompanied them with a delicious "café con leche".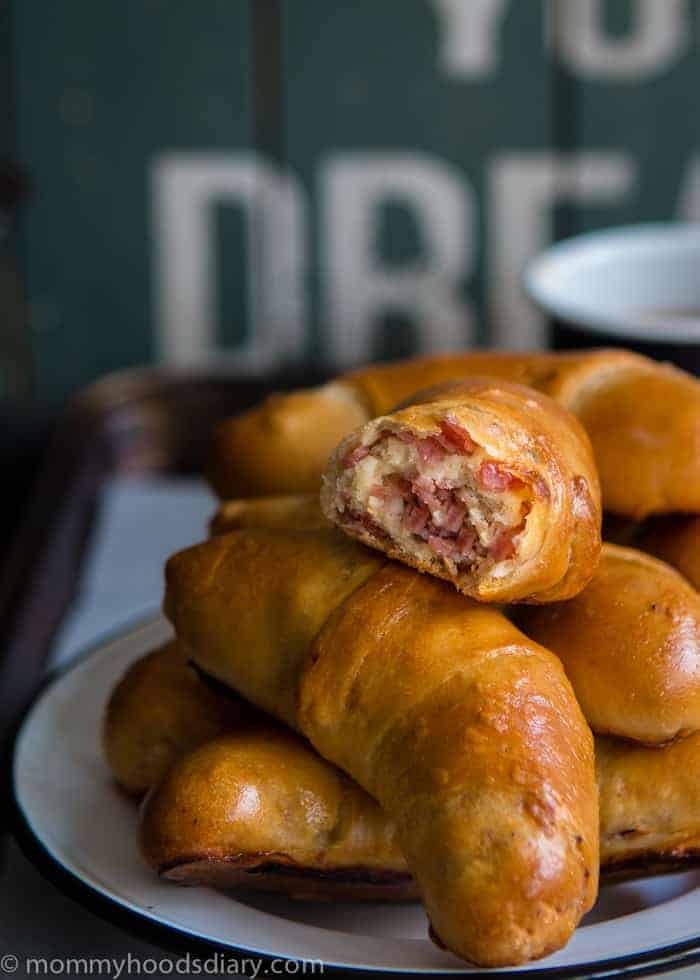 Venezuelan Ham Crescents
Ingredients
1

oz

package active dry yeast

1/4

1

cup

warm water

110 degrees

2

tablespoons

granulated sugar

2

tablespoons

light-brown sugar

1

tablespoons

vegetable or corn oil

1

teaspoon

salt

1 1/2

cups

bread flour

1 1/4

cups

all-purpose flour + more for dusting

1

lb

of lean ham

finely chopped (I used low sodium ham)

4

tablespoon

of butter

melted
Instructions
In the bowl of an electric stand mixer, combine yeast, 1 cup warm water, and 1/2 tablespoon granulated sugar; whisk to dissolve and allow to rest 8-10 minutes.

With whisk attachment, turn on the mixer and mix in remaining granulated sugar, brown sugar, oil and salt. Slowly add in bread flour and mix on low speed until incorporated.

Switch to the hook attachment and slowly add in all-purpose flour. Knead mixture on low speed until smooth and elastic.

Transfer to a lightly buttered bowl, cover with plastic wrap and allow to rest in a warm place until doubled in size, about 2 hours.

In a small bowl slightly mix egg and water. Set aside.

Punch dough down and divide into 2 equal parts. Form them into balls. On a floured surface roll each part into a 15 to 16 inch round, using a rolling pin. Using a pastry wheel cutter cut the round into 6 equals triangles (like slicing a pizza).

Place 4-6 tablespoon of ham all over the triangle triangle. Fold the corners over the ham. Start rolling each triangle into crescents, starting from the outside edge of the triangle. Once rolled, slightly curve the edges and place on the baking tray . Repeat with the rest of the triangles.

%http://mommyshomecooking.com/wp-content/uploads/2014/03/Cachitos-Step-by-Step-700x373.jpg

Preheat the oven to 375º F. Bake for 20 – 25 minutes until puffed and golden brown. Remove from oven and using a cooking brush coat each crescent with melted butter.

Let them cool on a wire rack few minutes before serving.