Venezuelan Napoleon – this is a delicious and beautiful looking recipe! For its delicate multiple layers are also known as mille-feuilles or milhojas — means thousand leaves.
As you know my love for desserts always beats my intentions of being on a strict diet, and this time was no different.
Today I bring you the recipe for Venezuelan Napoleon or Milhojas, a well-known dessert in my country and which can be found in all bakeries, and in several versions. The most popular are those filled with pastry cream, but there are also some milhojas stuffed with whipped cream and fruit or dulce de leche.
This dessert is one of my favorites. Every time I see them, they scream my name … So who can resist, right?.. They are a little hard to eat, because when you bite on one side the cream comes out the other side … But who cares when they taste so good!
I'm pleasantly surprised with how easy it was to make this delicious dessert. I thought the pastry cream was hard to make but the truth is that it is not. I've always liked this custard, which reminds me of another Venezuelan delicious dessert called "Bombas" (balloons), and yes! It is in my to-do list lol…. Well, the pastry cream is so tasty that you can eat it all by itself.
These Venezuelan Napoleons disappeared the same day I made them. Every body loved them! Fortunately, I tried them as soon as I was done taking the picture. Otherwise, I never would  have tried them.
This sweet recipe is the perfect combination of textures and flavors. The puff pastry layers were perfect; golden and crispy.
Try them!
Venezuelan Napoleon
Ingredients
2

sheet puff pastry

thawed (if frozen)

2

tablespoons

light corn syrup

Confectioners' sugar

for dusting the top

Pastry Cream:

2

cups

milk

1

vanilla bean

2/3

cup

sugar

4 1/2

tablespoons

cornstarch

4

egg yolks
Instructions
Preheat the oven to 375º F. Line a baking sheet with parchment paper

Unfold the puff pastry carefully and cut out the desired shape using a sharp knife or cookie cutter. I used 3.5 inches rounds.

Place the cut out pastry on the prepared baking sheet. Prick the dough all over with a fork. Cover with another Silpat or parchment sheet on top and place another baking sheet on top to prevent the dough from puffing too much.

Bake for about 25 minutes. Check for doneness, and extend the baking period as required. The pastry is ready when it's almost cooked through and turns a rich golden brown.

Remove the pastry from the oven and brush the top with corn syrup; this will help to keep them crisp. Return the pastry to the oven and bake, uncovered for an additional 3 - 5 minutes. Once the syrup caramelizes, remove from the oven and allow cooling completely on a wire rack.

Prepare the pastry cream:

In a saucepan put the milk with the vanilla pod and seeds. Bring to a boil, remove from heat and put aside.

In a bowl mix the sugar, egg yolks and cornstarch. Mix everything until perfectly combined.

Add hot milk slowly, stirring constantly.

Cook over low heat, stirring constantly, until thickened. Cover with plastic wrap, pressing it directly onto the surface of the pastry cream to prevent forming a skin on the surface. Refrigerate until chilled.

Assemble:

Take one layer of caramelized puff pastry and spread pastry cream over the top. Place another layer of puff pastry on top of the filling. Add more pastry cream. Then add the last layer of pastry.

Allow to chill in the fridge for a couple of hours. Sprinkle liberally with confectioners' sugar and serve.
Did you make this recipe? I want to see your yummy photos!
Tag @mommyshomecooking on Instagram and hashtag it #mommyshomecooking or Join my Private Facebook Group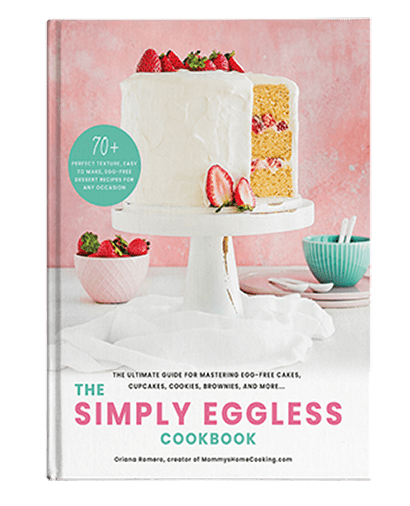 The Ultimate Guide to Eggless Baking!
Includes more than 70 easy-to-make recipes along with full-color photos, detailed instructions, and helpful tips for spectacular results.
Order Now!