Venezuelan Traditional Ham Bread – This incredibly delicious bread filled with ham, olives, and raisins is the perfect addition to your holiday table.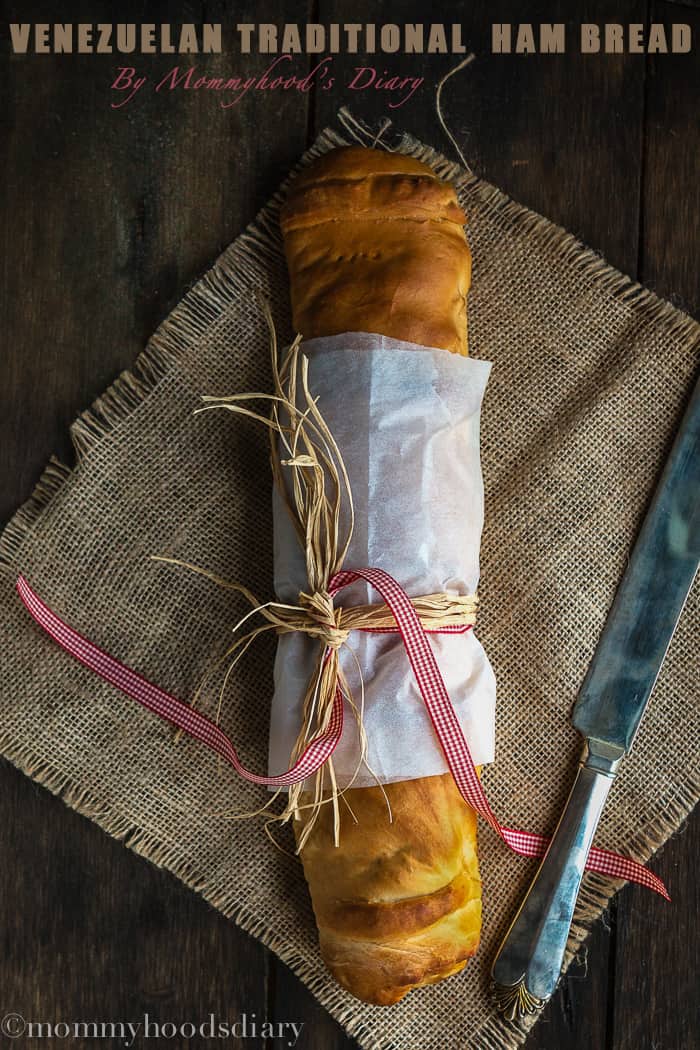 I can't believe it's only 4 days until Christmas!!! Oh. My. God.
Are you ready? I mean like shopping done, meals planned, house cleaned, hair, mani & pedi done?
I am not so ready!!
Every year, I promise myself that this is not going to happen again. That I am going to be organized and blah, blah, blah… Well, Today December 20th I have to report that I have not bought any presents yet. When I say any I mean ANY. So this weekend is going to be very busy.
The good thing is that I don't have to worry about the food since we eat the same every year as part of a family tradition and honoring my husband's Portuguese roots. The menu is very simple and delicious. However, a Venezuelan touch can never be missing in our Christmas table so a Venezuelan traditional ham bread is always present.
Ham bread, or as we call it "Pan de Jamón", is a staple in Venezuelan Christmas tables. It filled with ham, raisins and green olives; ingredients that give this bread its distinctive blend of savory and sweet flavors. I'm telling you…it's like a gift from heaven!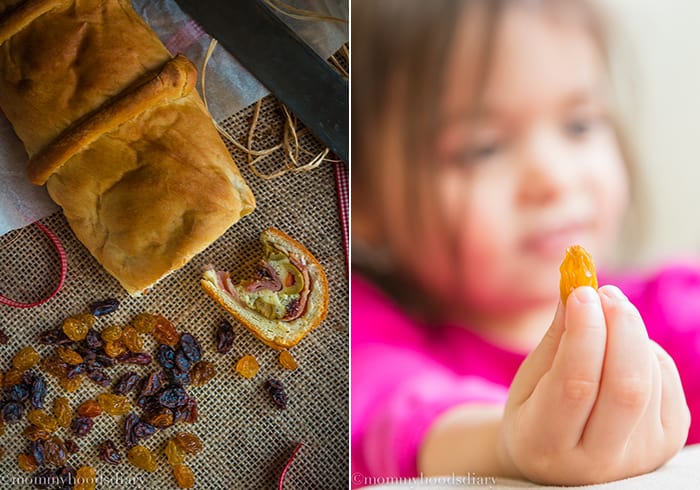 To fill my ham bread I used natural and golden California Raisins. California Raisins are an all-natural, dried-by-the-sun fruit you can feel good about feeding your family –especially during the holidays. Raisins are a great way to add extra nutrition to your holiday dishes. They are a great value, too! According to the USDA, raisins are the most economical dried fruit.
As you can see I'm not the only one who love raisins. Vicky helped me to make this bread, and especially tasting the quality of the raisins LOL.
There are many ham bread recipes around the web. Some of them are very complicated. I don't like complicated recipes, especially during the holidays when most of us already have a lot to handle.
This recipe is very easy to make. The dough is slightly sweet and rises very well. Without any doubt my favorite homemade dough for ham bread.
But… there is even an easier way to make it! Using store-bought frozen bread dough. Yeap!. You can save tons of time. I have done it many times and the result is good. Not wonderful like the homemade version, but good enough. You just have to make sure to thaw the dough correctly.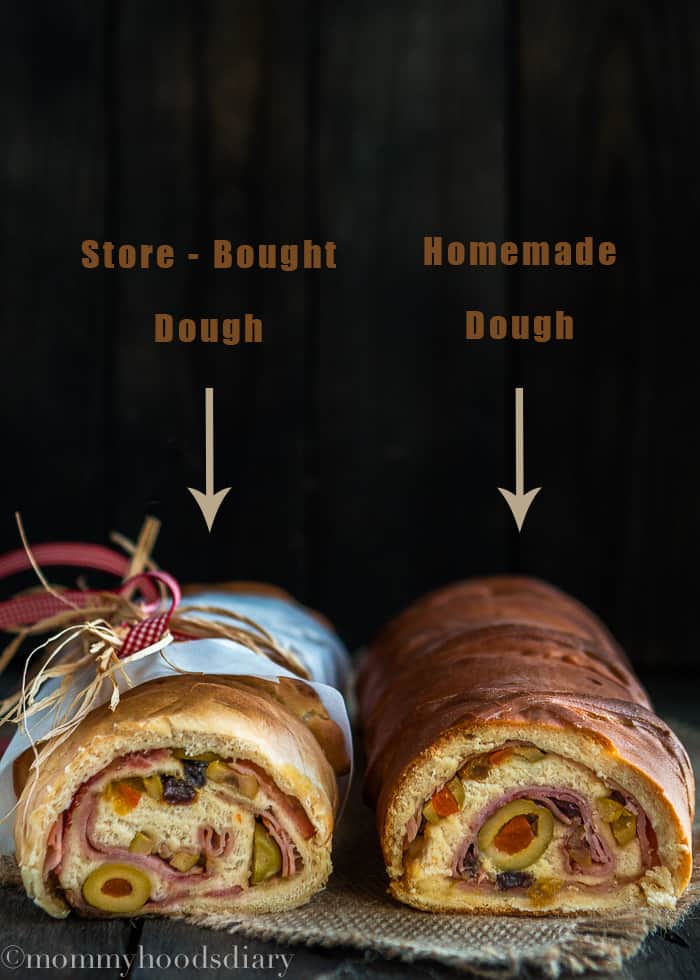 Wish me luck with my last minute holiday shopping! I will probably need it.
Love what you see? Subscribe to Mommy's Home Cooking so you'll never miss a recipe! Follow along on Instagram, Pinterest, Google+, Twitter, and Facebook for more fun! 
If you make this recipe, be sure to snap a photo and hashtag it #MommysHomeCooking. I'd love to see what you cook!
Venezuelan Traditional Ham Bread
Servings
:
12
portions (1 pan de jamon)
Ingredients
For the dough:
2 1/2

oz

milk

2 1/2

oz

water

1/2

teaspoon

salt

2

tablespoons

butter,

melted

1

tablespoon

sugar

1

egg

(for eggless version see notes)

2

cups

+ 1 tablespoon bread flour

1

teaspoon

instant yeast

(about 3 gr.)
Filling:
2

cups

pimiento-stuffed green olives,

drained and sliced

1

lb

ham

(I use low fat)

1 1/2

cups

raisins

1/4

cup

papelon syrup

(see notes)

1

tablespoon

butter,

melted
Instructions
Line a baking tray with lightly greased parchment paper.

Place milk, water, salt, butter, sugar, and egg in a small food processor, or a blender, and process until combined.

Add flour and yeast into the bowl of a stand mixer fitted with the hook (bread paddle) attachment. Make a well in the center and add the milk mixture to the well; mix on medium speed until incorporated. Increase the speed to medium-high and mix until the dough forms a ball and pulls away from the sides of the bowl, about 8 - 10 minutes. The dough should be elastic but not sticky, if too sticky add a little more flour, about a tablespoon at the time.

Place the dough in a lightly greased bowl, cover, and let it rise for 60 minutes until it's nearly doubled in bulk.

Place the dough on a lightly floured surface and form a ball. Then, roll it into a 15"L x 13"W rectangle, about 1/2 inch thick.

Line the dough with the ham slices, slightly overlapping each piece and covering the entire surface of the dough.

Sprinkle the raisins and sliced olives on top of the ham, scattering them evenly throughout. Drizzle with papelon syrup.

Firmly roll it up like a Swiss roll.

Transfer the roll, seam-side down, to the prepared sheet. Poke with a fork, all the way through (until reach the baking tray) 4 times along the bread.Put a warm damp towel, loosely on top of the bread, place it in a warm and humid area in your kitchen and let it sit for 60 minutes.

Preheat oven to 350º F.

Bake for 40 – 45 minutes, or until golden brown. Remove the bread from the oven, and while is still hot brush with melted butter.

Let the bread cool for 15 – 20 minutes before serving.
Recipe Notes
You can substitute 1 regular egg for 1 flax egg. Just mix 1 tablespoon golden flax meal and 3 tablespoons cold water. Let it rest for 10 minutes. 
Papelon is also known as piloncillo, panela, or rapadura, it's unprocessed cane sugar sold in hard, flat discs or cones in most groceries stores. Look in the international aisle.
To make papelon syrup combine in a small saucepan 3/4 cup shredded papelon and 2 - 3 tablespoons of water, mix and let it simmer until thickened.
When using store-bought dough I buy Bridgford Frozen White Ready-Dough. It comes in a red plastic bag ( 3 loaves) and It can be found in the frozen product aisle.
For better results preheat the oven for at least 20 - 30 minutes before baking the bread.
Disclosure: I worked together with the California Raisin Marketing Board to create this recipe and was compensated for my time. The opinions below are mine and mine alone and do not represent those of the California Raisin Marketing Board.