White Chocolate Covered Oreos – A simple and delicious treat for Valentine's Day!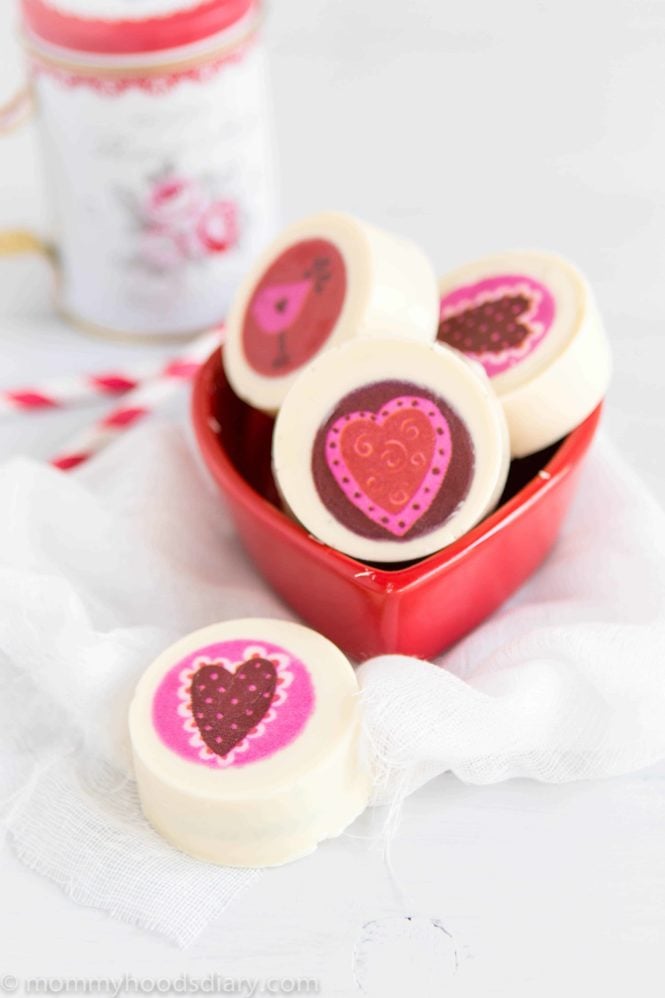 Don't freak out! You still have time to make something special for Valentine's Day! These white chocolate covered Oreos will do the trick.
Seriously! Who doesn't like Oreos? At home, we always have a big discussion on how to eat them, but beyond that we all love them (BTW, the right way is to twisted apart; eat the cream, and then the cookie LOL).
A lot of times I make things harder for myself thinking about what recipes to prepare; especially when it comes to dessert. It turns out that the simplest things can make super tasty stuff without spending hours in the kitchen.
I prepared these delicious cookies for my son's valentine school party. Too bad we're expecting a snowstorm and his school will most likely be closed tomorrow… Oh boy… I guess we will have to sacrifice ourselves and eat them all at home!
Ingredients
8

Oreos

11

oz

white chocolate

3

tablespoon

of cacao butter

optional but recommended

Decorative sugar paper
Instructions
Place chocolate and cacao butter in a microwave-safe medium bowl. Run the microwave for 20 sec. Stir. Run it again for 20 more sec. Stir. Return it to the microwave and repeat until small lumps remain, remove and continue to stir to complete melting. Don't set more that 20-seconds at the time to prevent scorching.

Cut circle from the sheet of sugar paper, same size of the mold cavities, and place them in the mold base (facing down).

Pour a tablespoon of melt chocolate over the paper until completely cover it. Place one oreo cookie on top, and finish to cover the cookie with more chocolate. Carefully, bang the mold over the counter to help to distribute the chocolate evenly.

Place the mold in the refrigerate to cool for 30 minutes. When the chocolate is set unmold the cookies and enjoy.
Recipe Notes:
I used this mold.
When I bought (online) the sugar paper it looked beautiful. The truth is that they didn't t look like I expected, but that does not change the fact that the cookies are delicious.
⭐️ RATE THIS RECIPE ⭐️
Do you have any questions? Ask me! I am happy to help 🙂