Welcome to My Eggless Kitchen
Meet the Mommy
I'm Oriana! A mommy of three wonderful children, happy wife, picture taker, recipe creator, writer, and mastermind behind Mommy's Home Cooking. I'm really happy that you're here!
New to Mommy's Home Cooking? Let's get started!
Are you in the right place?
On Mommy's Home Cooking, you will find hundreds of eggless recipes that are made from scratch and are either inspired by my favorites or have been passed down to me. In addition to recipes, you will also find tons of helpful tips and tricks, step-by-step photos, and video tutorials. My goal is for my blog to encourage you to grow as a home cook and learn to bake and cook eggless recipes with confidence.
Our youngest daughter, Victoria, was diagnosed with a severe egg allergy in 2013. Victoria was too young to realize what was going on, but I took it hard. I promised myself that she would never let her feel sidelined or limited by her condition.
And so, my adventures of cooking and baking without eggs began.
Baking without eggs can be frustrating at first, but don't worry! I've got you covered.
Throughout the years, I have developed many delicious eggless recipes and I hope they will prove useful to your family as they did for mine.
Oriana's Eggless Recipes Are:
Fully tested and picky-eater approved.
Made with simple ingredients.
Easy to follow
Full of tips and tricks for getting great results every time.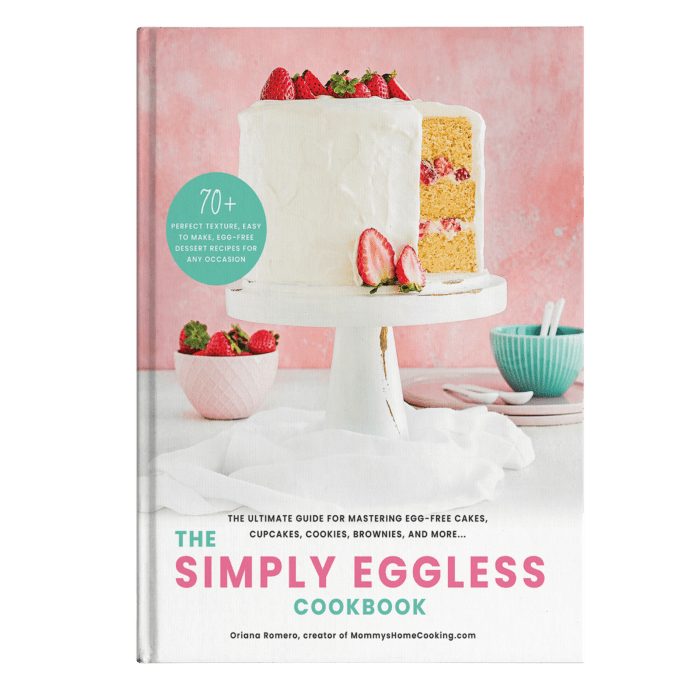 The Ultimate Guide To Eggless Baking!
Simply Eggless Cookbook includes more than 70 easy-to-make recipes along with full-color photos, detailed instructions, and helpful tips for spectacular results. Oh, how sweet it is.
My years of test eggless baking and my knowledge of the art and science of baking eggless desserts will help bakers of every level make the most of this book.
These are THE BEST EGGLESS DESSERT RECIPES I have ever baked. I can't wait for you to have them in your hands!
Whether you're looking for a multi-layer cake to impress a crowd, a simple dessert to serve with coffee or tea, or cookies to bring to your kid's class, Simply Eggless includes all these and more.
Frequently Asked Questions
You've asked, and I've answered! Read on for a handful of answers to the most frequently asked questions I get asked over and over again.
Shop Our Favorites
Visit our shop to find my kitchen favorites, key eggless ingredients and exclusive merchandise
Join Mommy's Home Cooking Community to stay up-to-date on the latest recipes, see behind the scenes, share your creations, and be part of the good the bad and the ugly of cooking and baking without eggs.