Confession time: I haven't always known what I was doing or even what I was supposed to be doing when it came to stacking and decorating a layer cake.
I am not a professional cake decorator, I do like to make cakes for my friends and family when I can, and through the years, I have learned a thing or two about cake decorating from other bakers.
All my share of cake disasters paid off, and I feel like I can safely say that I know how to stack and decorate a layer cake.
So even if you are not an experienced cake decorator, you can still decorate an impressive cake.
This easy tutorial on How to Stack A Layer Cake is perfect for beginners.
Let's get started!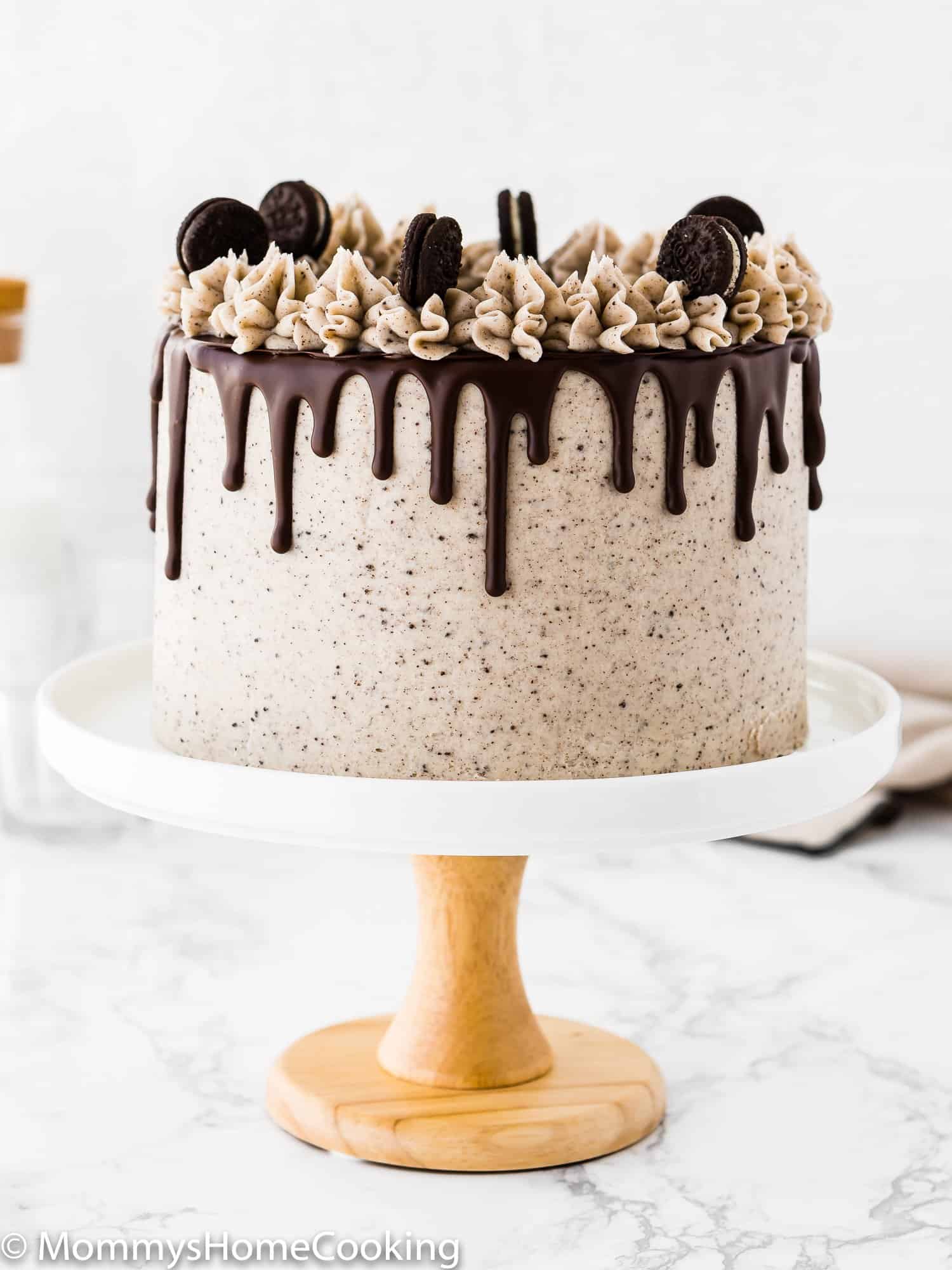 Before You Start!
1 – Make Sure All Your Layers Are the Same Height
Use a cake cutter or a long serrated knife to level off the cake tops. Cut around the edges of the cake, and start at the lowest part of the dome. I recommend making little cuts around the cake, increasing towards the center, until the top releases itself.
2 – Frosting Consistency Is Key
Having the right frosting consistency can be crucial to the success of your cake or cupcakes!
If it's too thin, your cake and frosting won't hold together well. If too thick, it won't be easy to spread.
The frosting has the right consistency when it can be easily spread across a cake and piped into decorations that hold their shape. To test and make sure you've got the right consistency, tap a rubber spatula against the frosting; if nothing sticks, it's too thick. If my rubber spatula is coated in frosting and it's fairly sticky, it's too thin.
The consistency of your frosting buttercream should be smooth, silky, and easily spreadable.
PRO TIP: Before you pipe buttercream onto a cake, give it a final whip JUST before using it. Buttercream loses its beautiful consistency pretty fast.
My Go-To Frosting/Buttercream Recipes:
In my cookbook, The Simply Eggless Cookbook, you can find many, many frosting recipes, including Eggless Swiss Meringue Buttercream.
3 – Decide Beforehand How Much Frosting You Are Going To Add Between Layers
One cup of frosting is my go-to amount for an 8-in cake. It's wise to use less on that 6-in cakes. You can either spread or pipe the frosting onto the cake. I like to use a piping bag, so I know I am getting even amounts of frosting between the layers.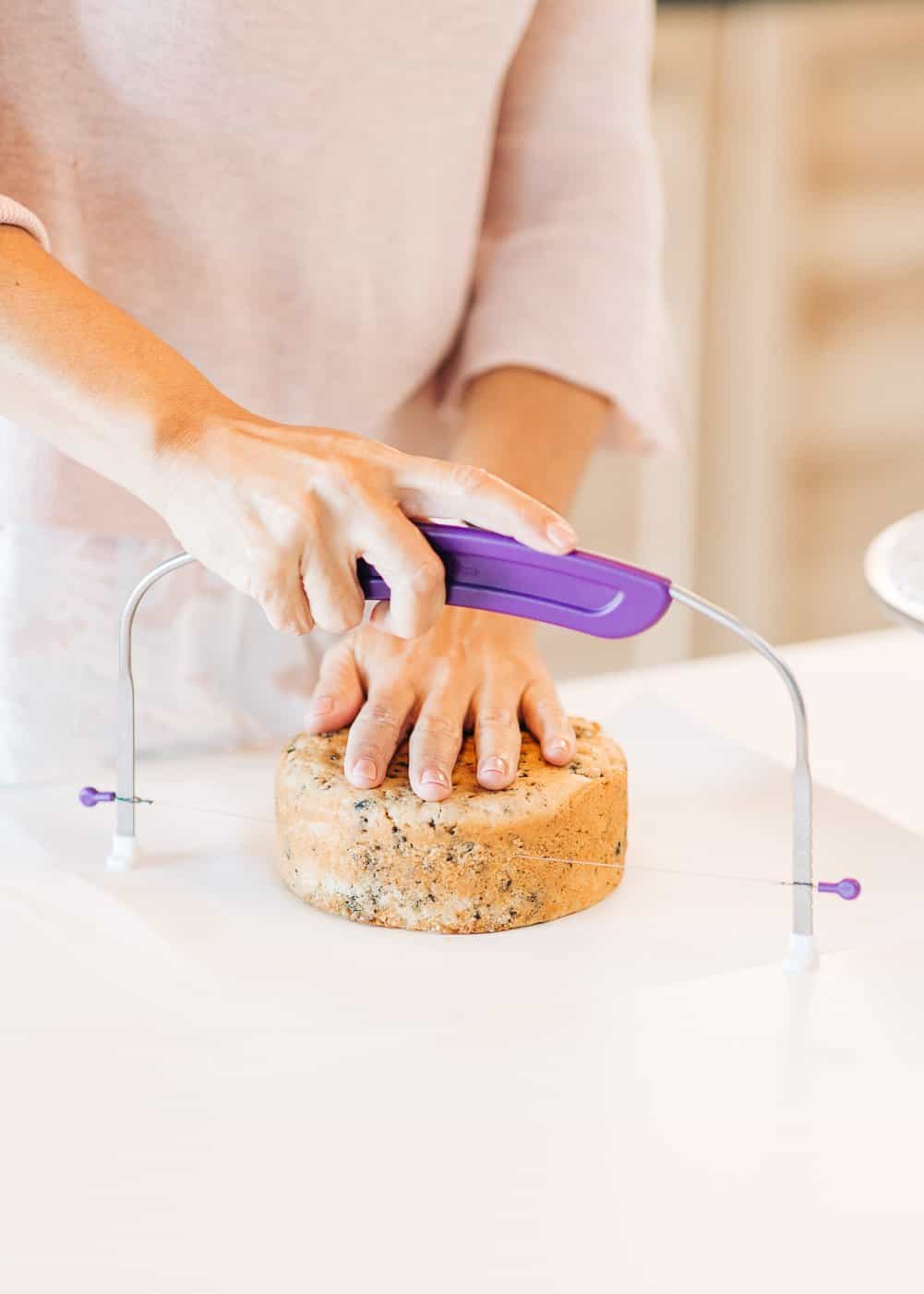 Equipment You'll Need to Decorate a Layered Cake
CAKE CUTTER or SERRATED KNIFE: To level off the cakes.
PARCHMENT PAPER: I like to line the edges of a cake platter with four parchment paper strips to keep the platter clean.
CAKE TURNTABLE: This makes the process easier but is not indispensable. If you have a cake stand that you can easily turn as you work, that could work too; all it really takes is patience.
CARDBOARD CAKE ROUND:

It is easy to transport or move the cake if you assemble it on cardboard, but they're optional.

PIPING BAG: I use them to pipe the frosting onto the cake.
ICING SMOOTHER: Also known as a cake scraper is a must-have. A cake scraper is a tool used to smooth out the sides of the cake.
ICING SPATULAS: Ideally, one straight and one offset. The straight spatula is used for the sides of the cake, and the offset spatula is for the center and top of the cake.
How To Stack A Layer Cake For Beginners Step-by-Step
1 – Prepare Your Work Surface
Spread a dab of buttercream onto the middle of a cake board, plate, or stand; this will help to hold your cake in place.
2 – Place Your First Layer On Your Cake Board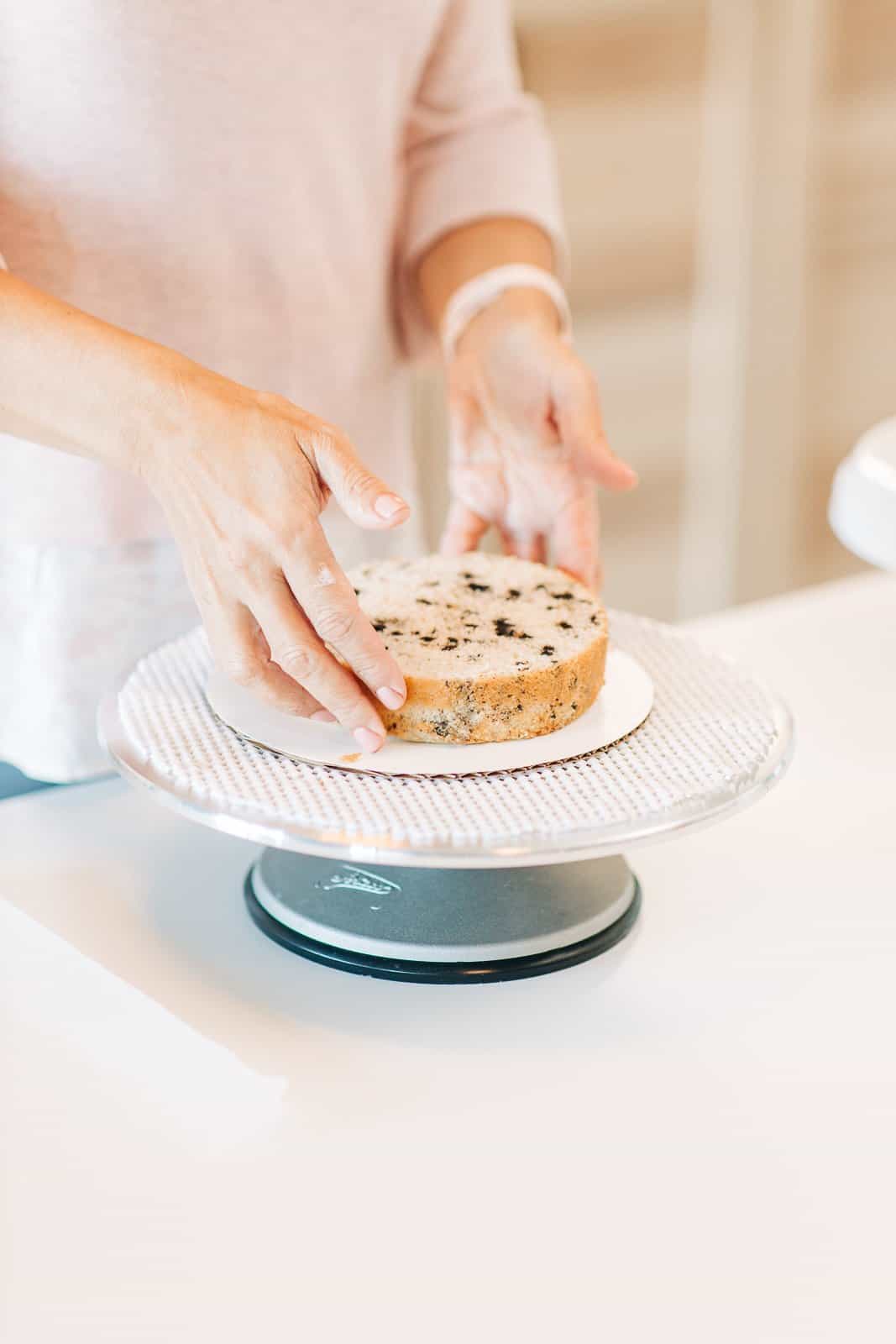 3 – Filling And Stacking
Spread or pipe the frosting onto the cake layer; using the spatula, or a knife, work from the middle of the cake to the outside, spreading the frosting evenly all around.
Stack cake layer #2 on top and add frosting. Repeat with remaining cake layers. Ensure that the last cake layer is upside down so that the bottom of the cake, which is flatter, is now the top.
Once you've stacked and filled all your cake layers, your cake should look something like below.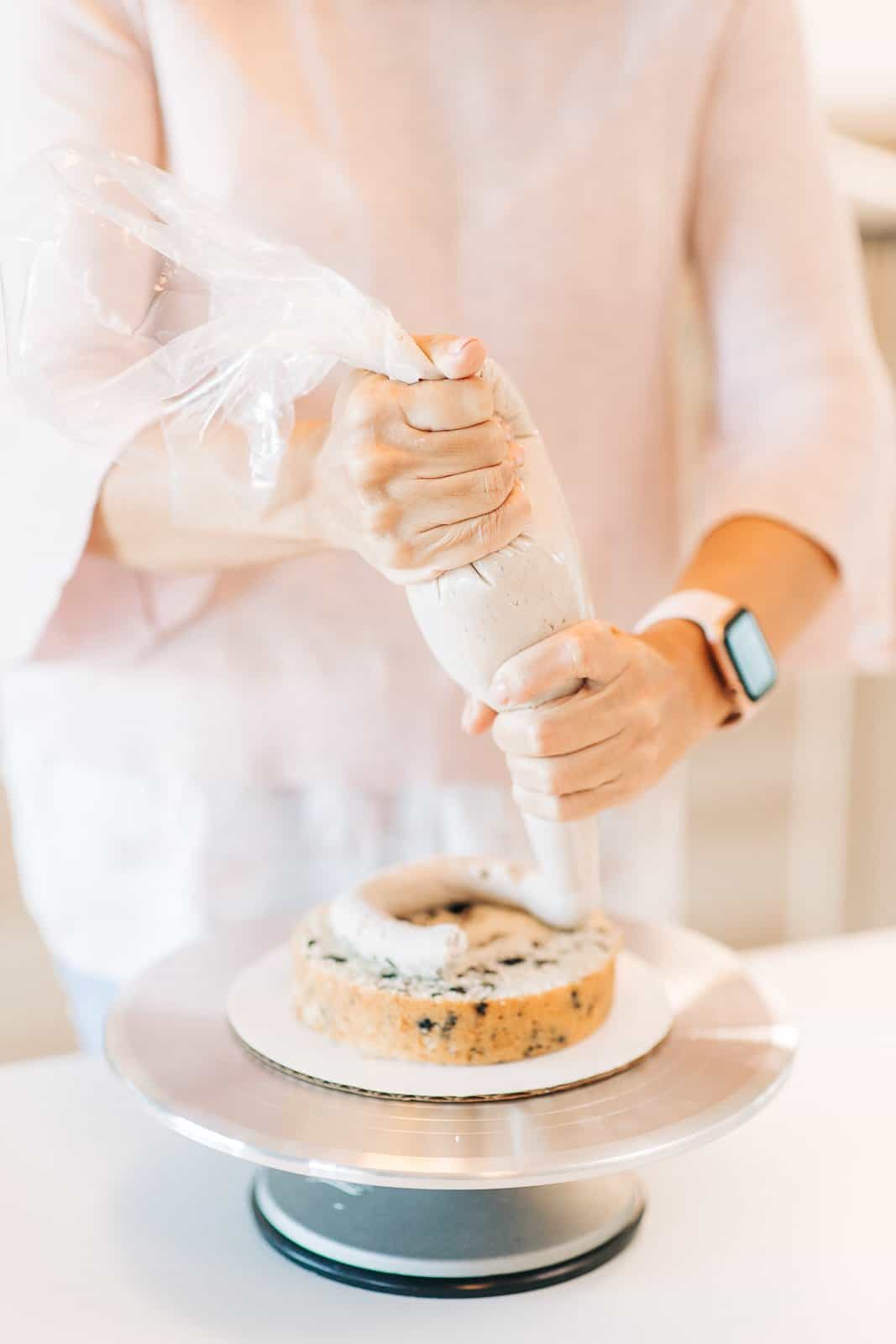 4 – Crumb Coat
Crumb Coat Or Not Crumb Coat … That Is the Question!
Using a crumb coat when frosting a cake is a common practice in baking and cake decorating, and it's generally recommended. A crumb coat is a thin layer of frosting applied to the cake before the final layer of frosting. Its main purpose is to seal in the crumbs and create a smooth base for the final layer of frosting. Whether or not you use a crumb coat depends on the desired outcome and your personal preference.
To apply a crumb coat, simply use an offset spatula or knife to spread a thin coat of frosting over the sides and top of the cake. Try to get it as even as possible, covering the whole cake. Then chill the cake for 10 to 15 minutes to let the crumb coat set before applying the top coat of frosting.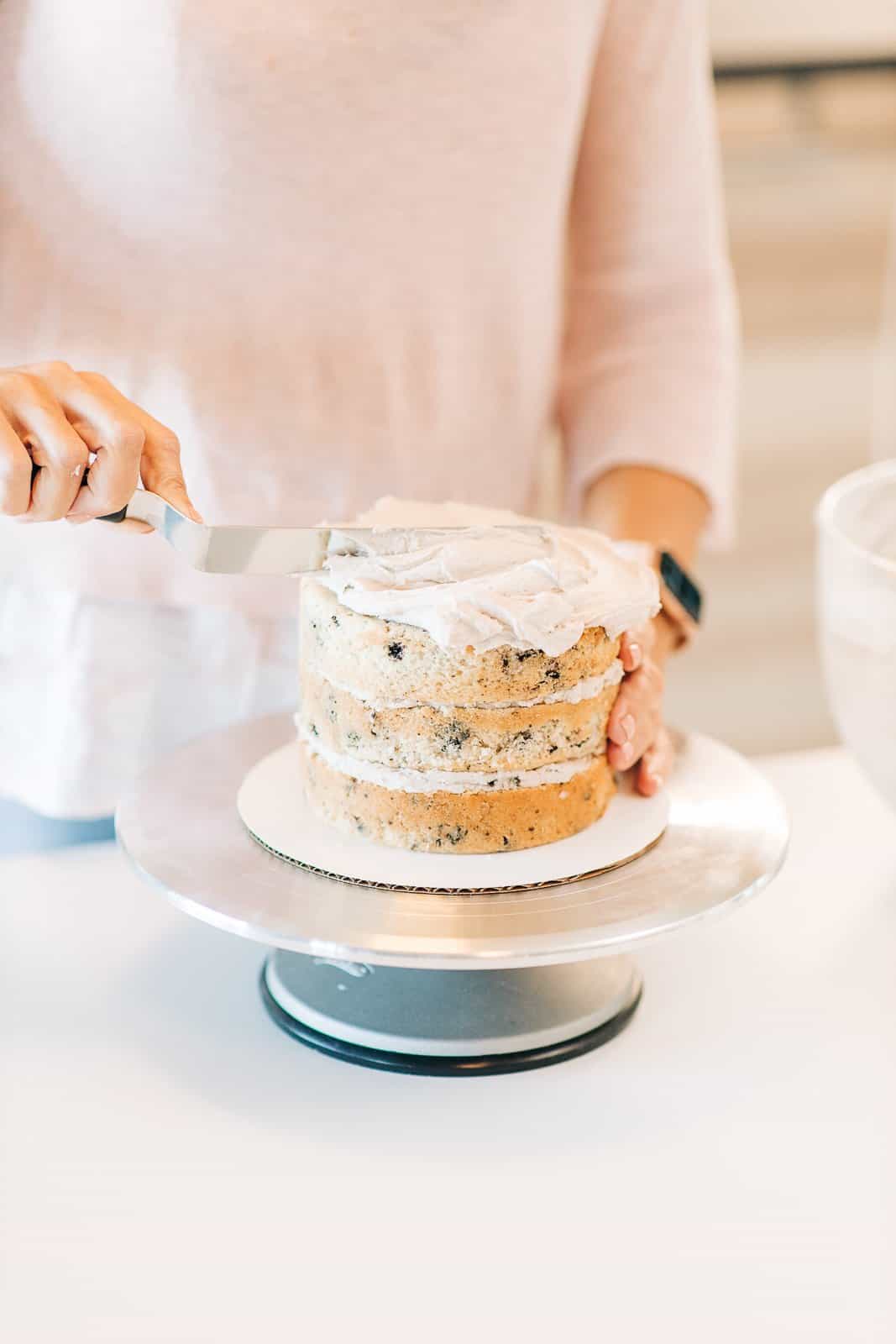 5 – Finish It Up!
Once the crumb-coated cake is chilled, you can apply your final layer of buttercream and smooth it out. The world is your oyster at this point! You can add a single color of buttercream and smooth it out, do an ombré, stripes, waves, ruffles, or whatever you like!
If you want your cake's frosting to be smooth, spread about 1 1/2 cups of buttercream evenly over the cake's top and sides. Then smooth the cake's top and sides with the edge of an icing smoother or offset spatula. You can fill in the gaps with more frosting if needed, just keep working the sides until you are happy with it.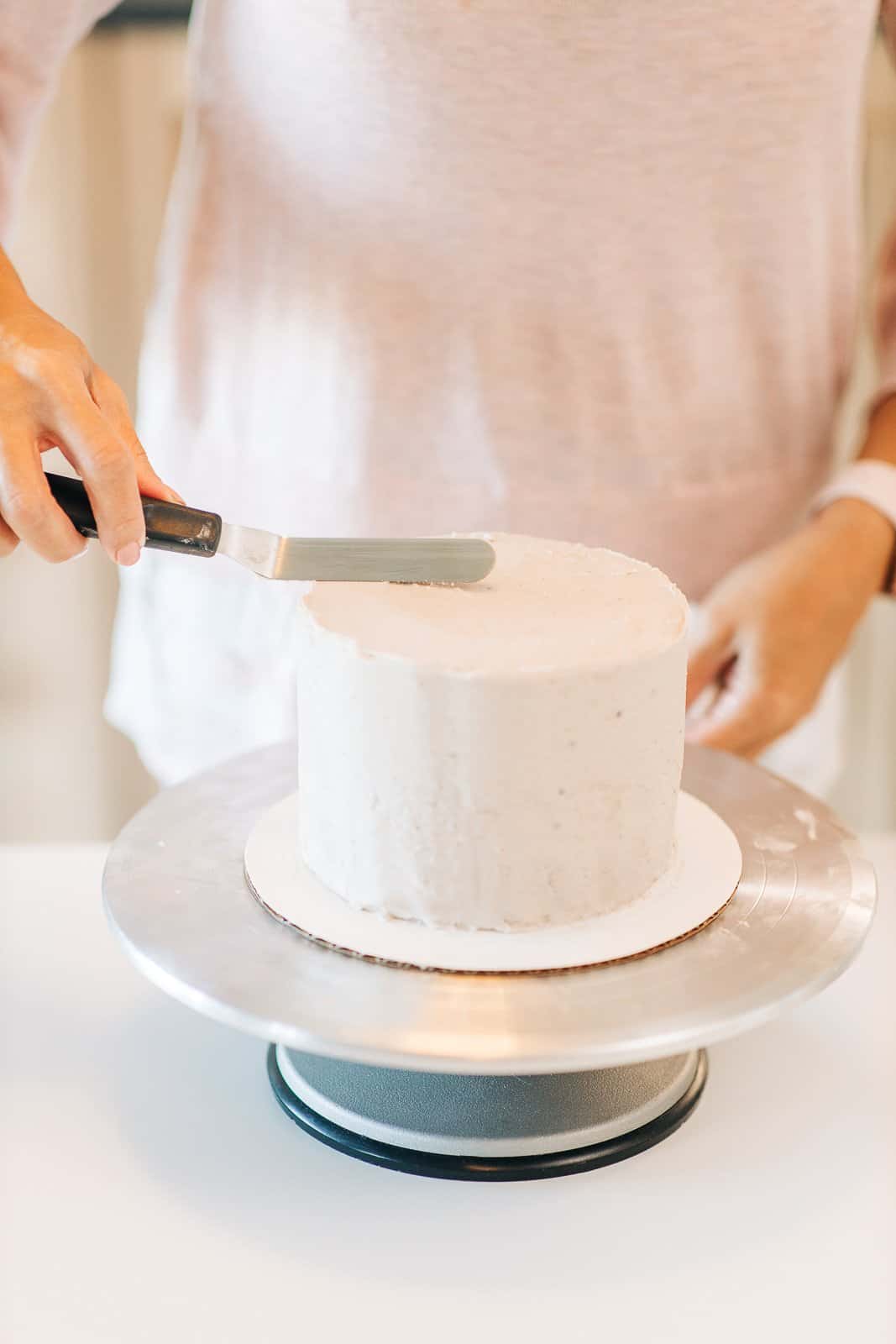 6 – Add Decorations
Add as many swirls, petals, dollops, roses, etc. on the top of the cake as you like.
Pipe on a decorative buttercream rim.
Throw some sprinkles on top and the sides.
Add a drip of ganache or candy melt.
Border the bottom part and/or sides of the cake with nuts, pretzels, or candy.
Top your cake with cookies or fresh fruit in a fun pattern.
The possibilities are endless!!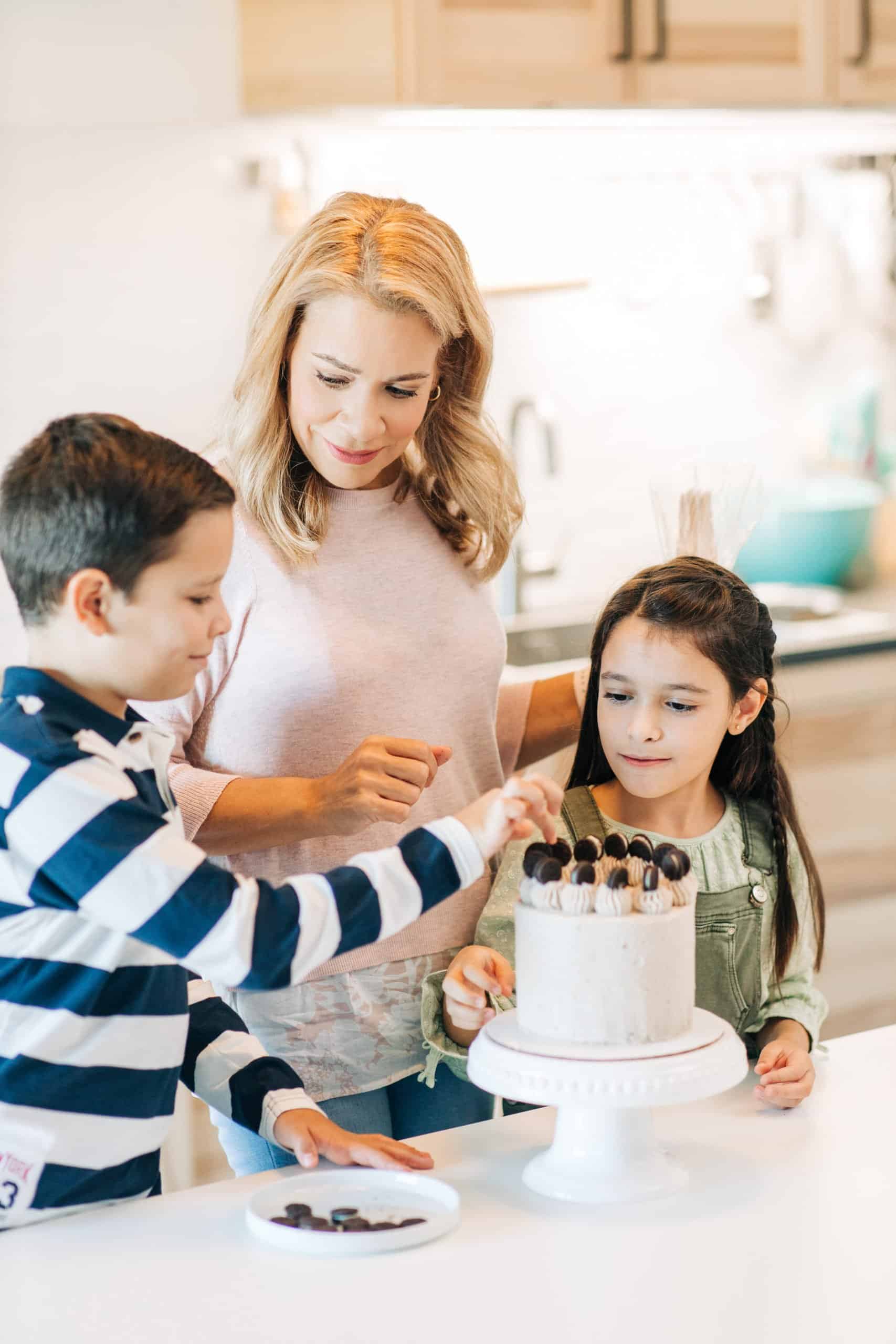 Helpful Tips To Stack A Layer Cake
Spread a dab of buttercream onto the cake board; this will hold your cake in place.
Before you pipe buttercream onto a cake, give it a final whip JUST before using it. Buttercream loses its beautiful consistency pretty quickly, especially if it's meringue-based, like Swiss and Italian frostings.
If you're going to fill the cake with lemon curd, ganache fresh fruits, or something gooey, then make sure to pipe a thick ring of buttercream around the edges of each layer to contain it. If the cake feels unstable and soft, you will definitely need to chill it.
Place the top layer upside-down on the last layer of the filling.
↓↓You can find these cake recipes and more in my cookbook, The Simply Eggless Cookbook ↓↓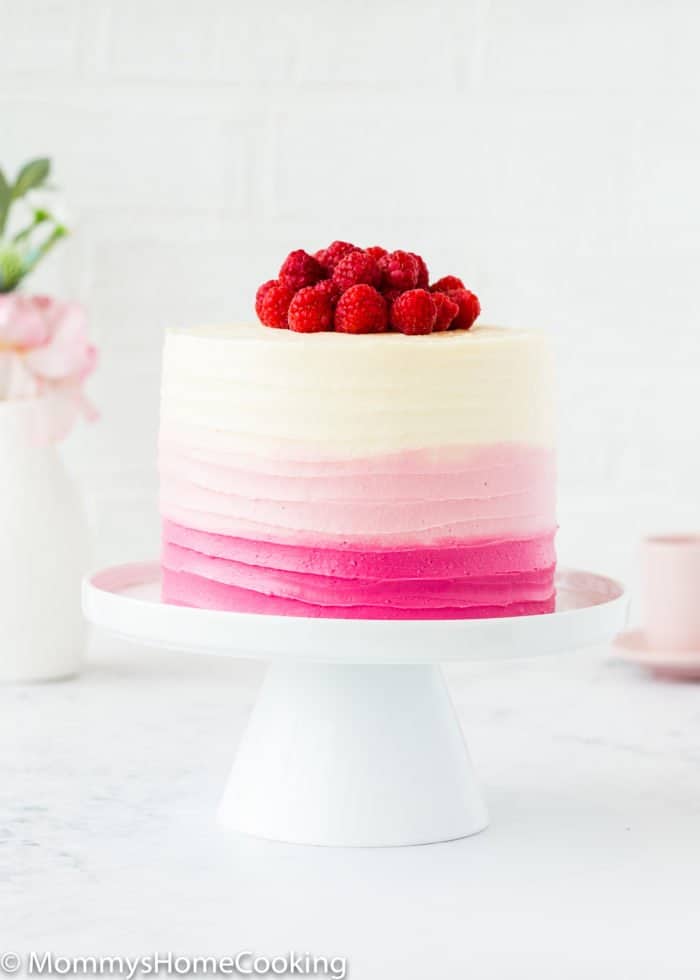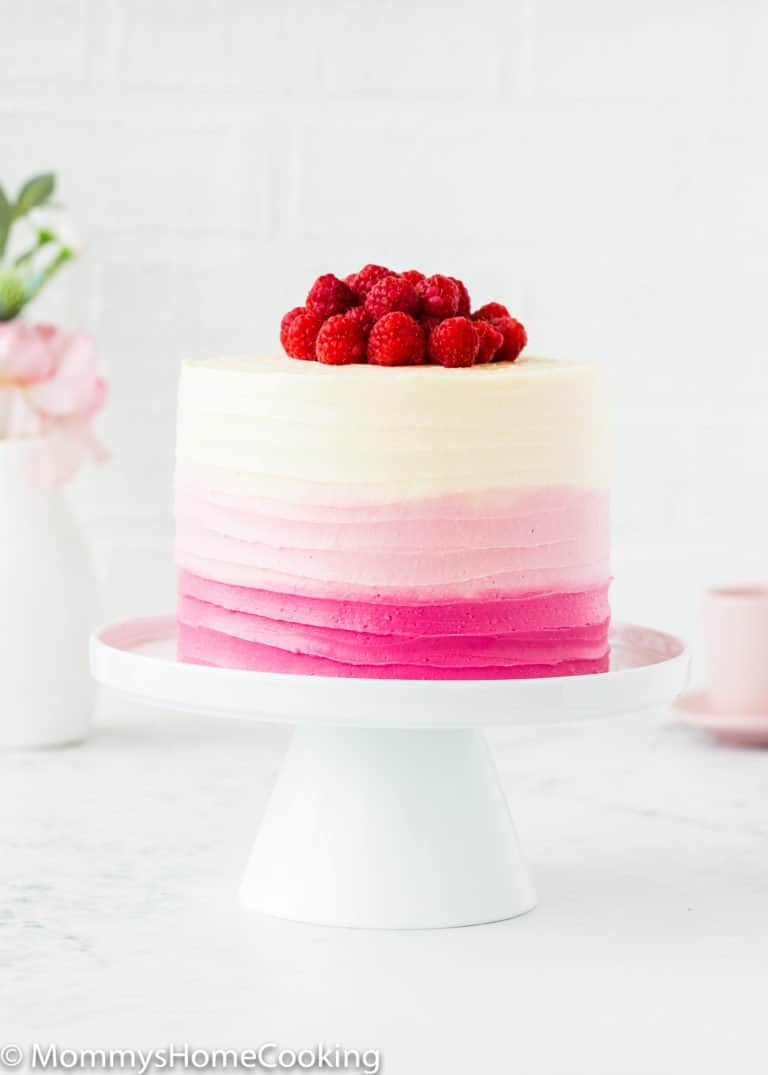 Frequently Asked Questions
What is a crumb coat?
The crumb coat is simply a thin layer of frosting applied outside of a cake to seal the cake layers and trap errant crumbs.
Do I need to crumb coat my cake?
Crumb-coating a cake is not always necessary but can turn your cake's presentation from "meh" to "spectacular." To be honest, I rarely crumb coat my cakes, especially because I mostly make cakes for my family and friends, but a crumb coat is recommended when your goal is a perfectly frosted creation.
There is definitely no right or wrong way to make and decorate cakes; this is just how I do it.
If you have any other tips and/or tricks on decorating a cake, please leave them in the comments! I would love to hear from any other cake lovers out there.