This is my staple recipe for golden and buttery Eggless Waffles! They're perfectly crispy on the outside and fluffy on the inside. This recipe has no eggs…and you won't even notice a difference!
Happy Friday! This has been a short but very busy week. First at all, our little guy started Kindergarten … YAY!! We're all so excited.  After expending a great Labor Day weekend, we woke up very early Tuesday morning because I wanted to take some "First Day of Kindergarten" photos. It was a stressful day for me. I had all kind of "what-if" thoughts, but thanks goodness everything turned out well. Matthew loved his teachers, school, classmates, etc.
I just can't help myself… I need  to share a photo from the BIG day!!
Yesterday, we also met Victoria's new teacher. It was a huge relief that she knew about Vicky's egg allergy. She even came up with a few ideas to keep her safe during snack time and birthday celebrations. As I have mentioned before, egg allergy can be a very difficult and complicated because eggs are found in so many foods. We have come a long way since the day Vicky was diagnosed, but today I can proudly say that I can make almost everything without eggs.
Through all these years, I have bought so many cookbooks specialized in food allergies recipes, but I couldn't say I loved them. Most egg-free recipes out there end up having a very yucky texture, or a funny taste, this is why I'm so proud of the eggless recipes I have developed. They're VERY close, in taste and texture, to their counterpart with eggs. Plus, I use mostly pantry staples so you don't have to run to your nearest gourmet/healthy store to get the ingredients.
And for the many of you that have been sending me emails asking me about my long-awaited eggless e-cookbook I have good news… it will be out in early November! Just in time for the holidays. If you want to subscribe to my eggless recipes list click here.
While that time arrives… meet my Eggless Waffles!!! ⇓⇓⇓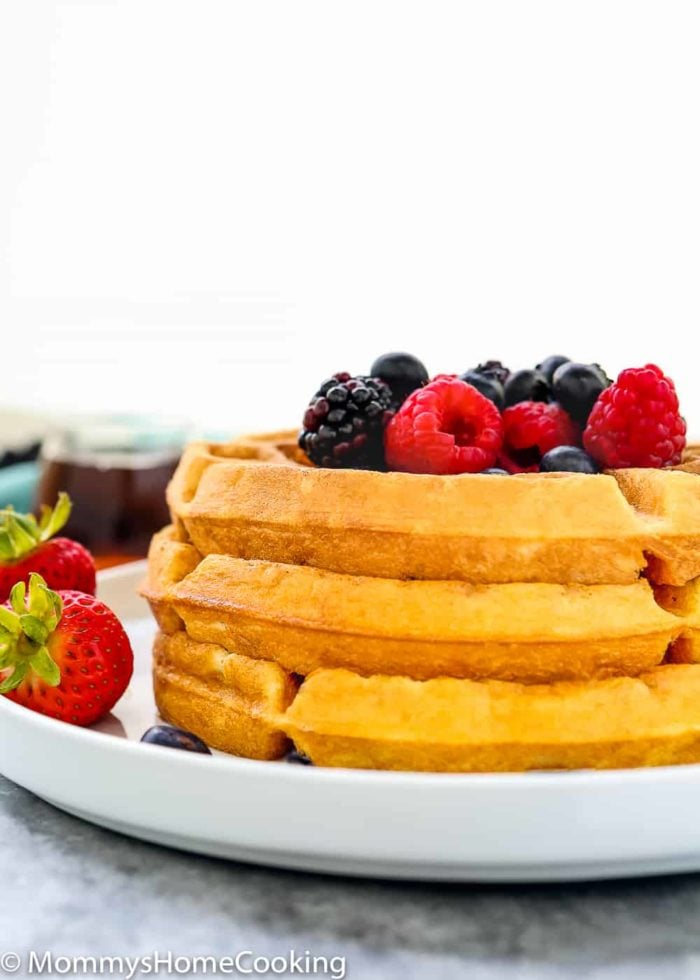 I can't believe I haven't shared this Eggless Waffles recipe with you before!! These waffles are a staple around our house. I make them so often that I can almost do it with my eyes closed.
These waffles have such a rich, buttery flavor! They are Golden, slightly crispy edges, fluffy on the inside. Top these with some butter, maple syrup and some fresh berries, but I'm telling you… they're also amazing without any topping.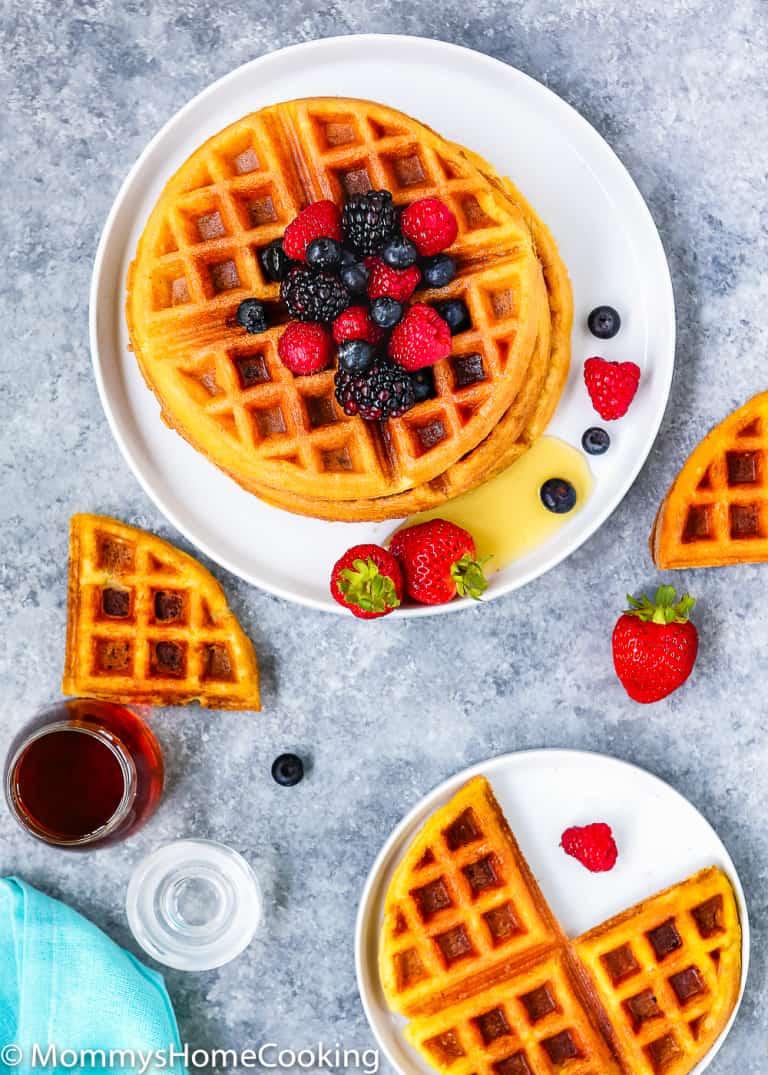 Nothing beats freshly made waffles, but if you have a crazy busy life like me these waffles are freezer friendly.
How to freeze and reheat waffles:
This is what I do: I wrap the cooled waffles in wax paper and then stack them all in a gallon-size freezer bag. Make sure to squeeze out as much air as possible in order to prevent freezer burn. When ready to eat, I remove the number of waffles I need from the freezer, let them stand at room temperature for 5 -10 minutes, and then reheat in the toaster oven until warmed through and crisp.
Love what you see? Subscribe to Mommy's Home Cooking so you'll never miss a recipe! Follow along on Instagram, Pinterest, Google+, Twitter, and Facebook for more fun! 
If you make this recipe, be sure to snap a photo and hashtag it #MommysHomeCooking. I'd love to see what you cook!


Eggless Oatmeal Breakfast Cookies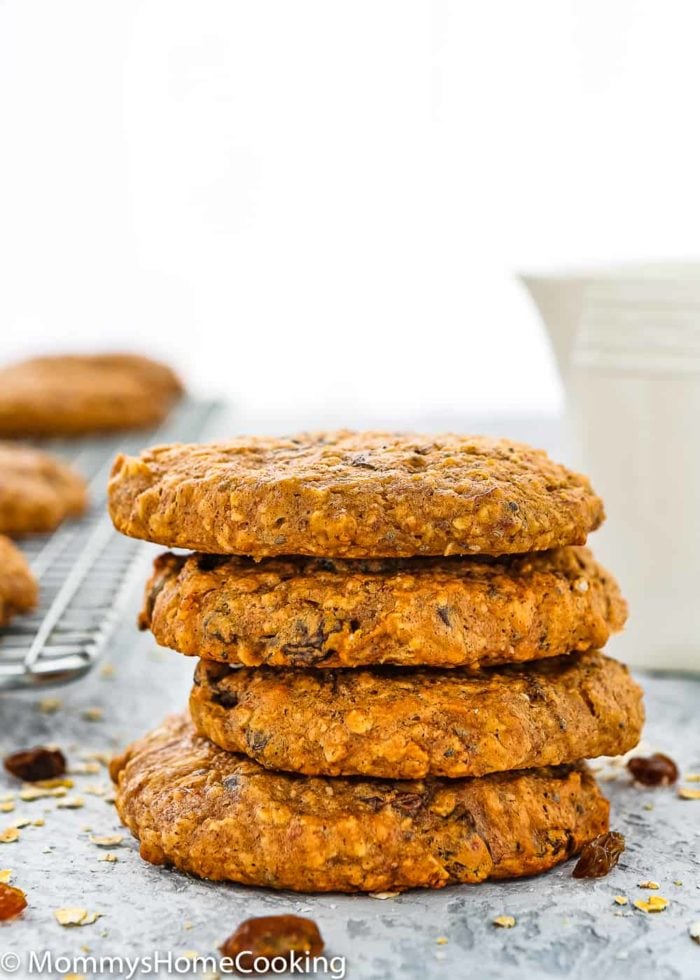 Eggless Baked Apple Oatmeal Muffins
Eggless Orange Blueberry Corn Bread
* This post contains affiliate links, thank you for the support in keeping Mommy's Home Cooking up and running!