Estas Rosquillas de Chocolate Sin Huevo son la forma perfecta para celebrar la llegada de la primavera… ¡Una verdadera delicia!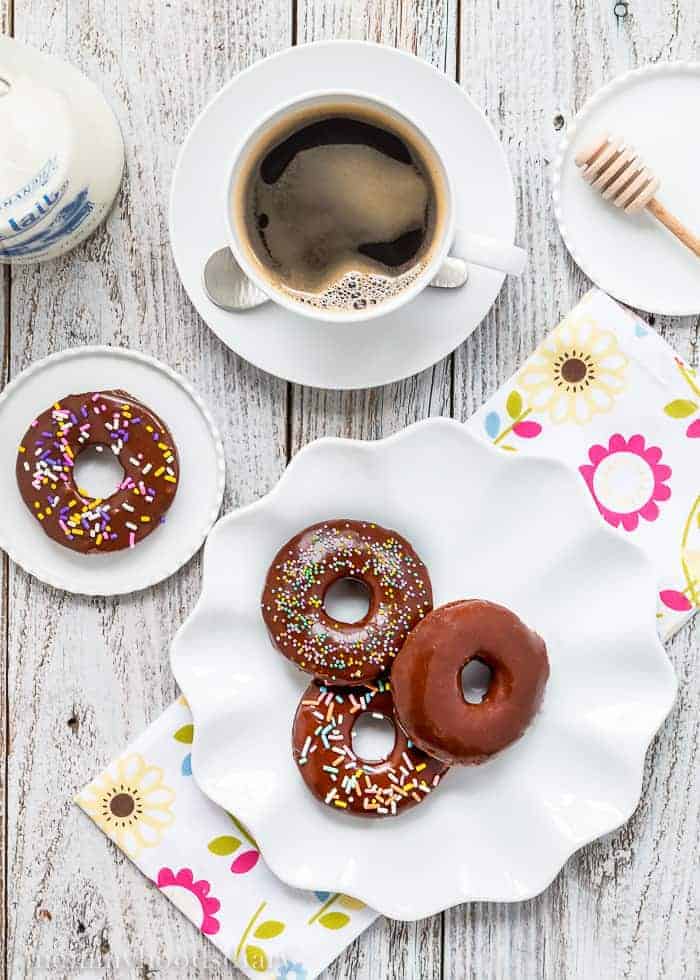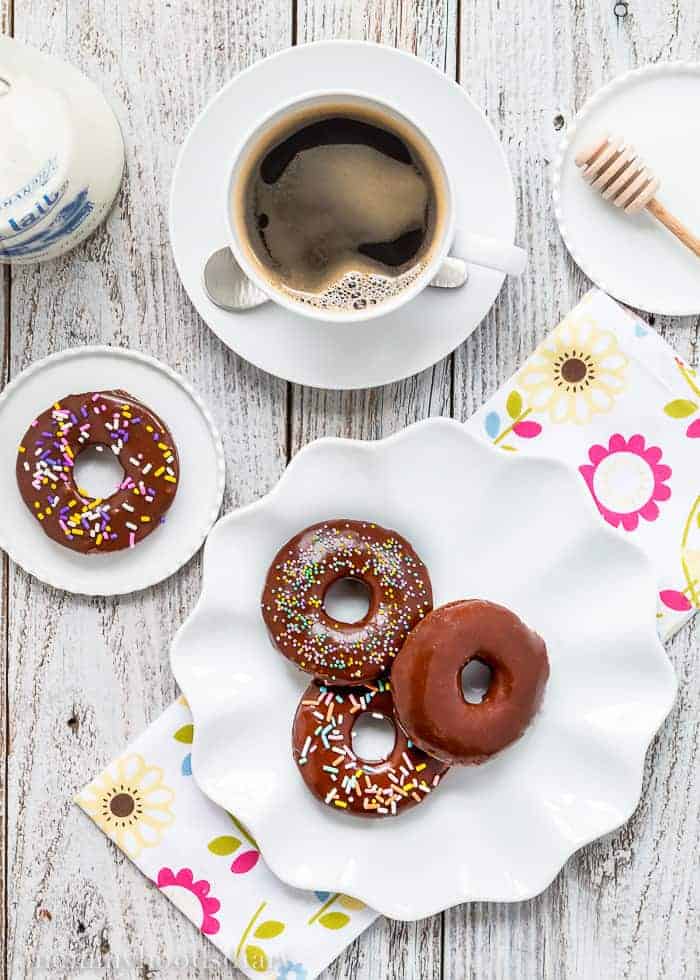 For the recipe in English, check Eggless Chocolate Donuts.
Tenia algún tiempo sin escribir en Español, pero cuando prepare estas rosquillas de chocolate supe inmediatamente que serian la excusa perfecta.
En solo unos días estaremos celebrando el día Pascua, o como lo llaman en mi país Venezuela, la Semana Santa. Para muchos de nosotros la llegada de la Pascua significa la terminación de la época de cuaresma. En mi caso, por tradición, durante estos 40 días restrinjo el consumo de ciertos alimentos, como carnes rojas, debidas artificiales, y trato de reducir el consumo de azúcar. Léase bien que escribí "trato" jajaja. Para una amante de los dulces, y en especial del chocolate, esta es una tarea bastante difícil. Pero la intensión es lo que cuenta, ¿verdad?.
Estas rosquillas de chocolate son la forma perfecta de terminar la cuaresma, recibir la llegada de la primavera y ¡celebrar la Pascua!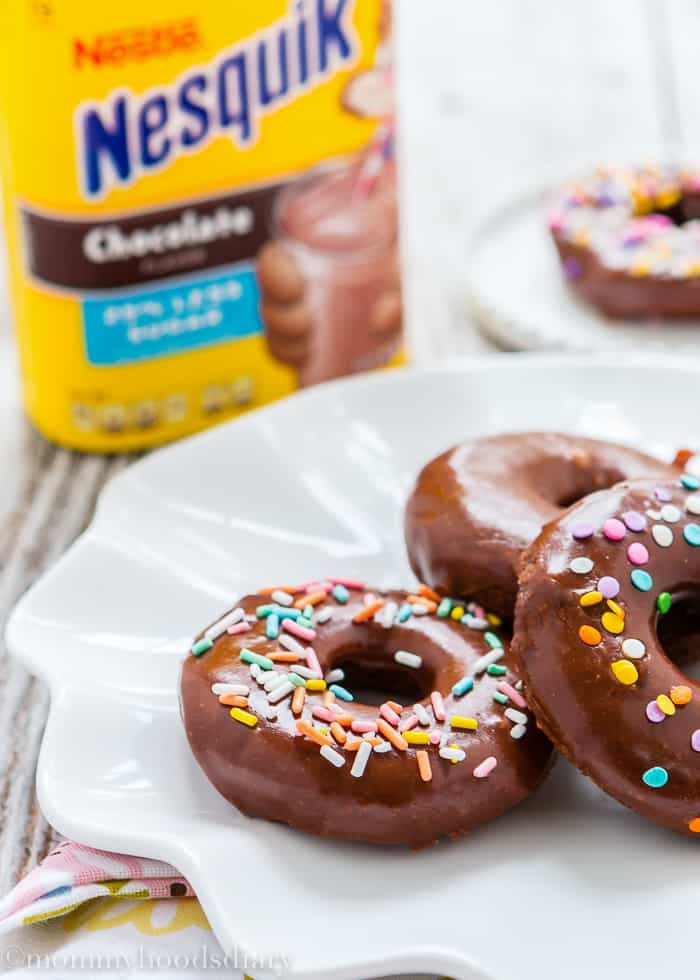 La verdad es que no hay palabras suficientes para describir lo ricas que son estas rosquillas, las cuales están cargadas de doble chocolate ya que les agregue el cacao en polvo tradicional y Nesquik de chocolate.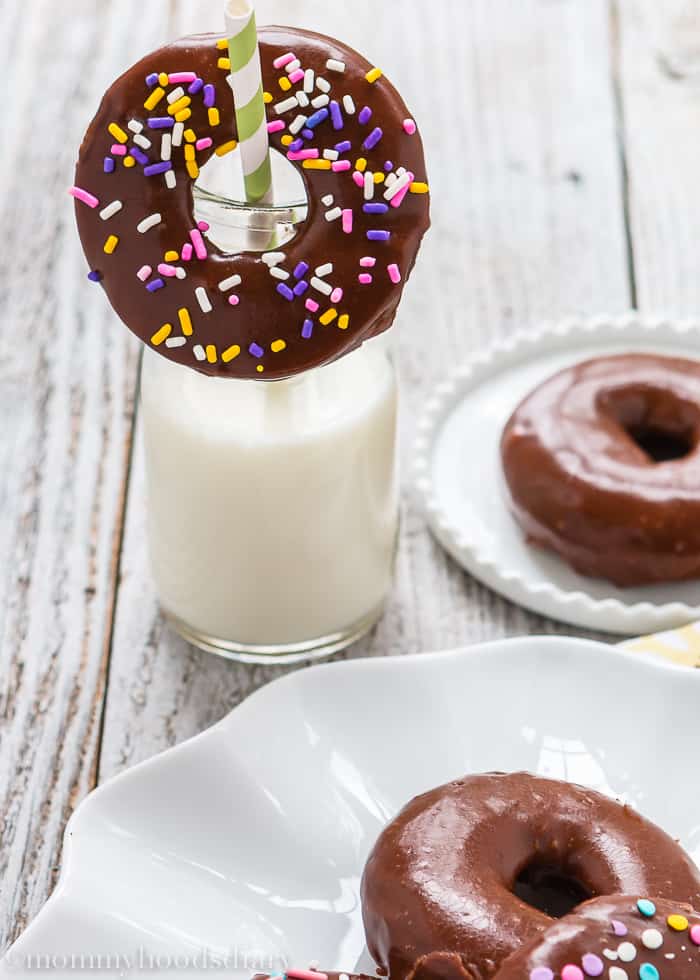 Esta fue la primera vez para mi que agregue Nesquik como ingrediente en una receta. Para mi Nesquik siempre fue el polvo de chocolate que tornaba la leche regular en algo irresistible. Pero eso la cambio. Ya que comprobé que agregando Nesquik a esta receta no solamente le dio un sabor muy especial, sino que también contribuye a darles un extra de nutrición, ya que esta fortificado con calcio, vitamina C y otras vitaminas esenciales.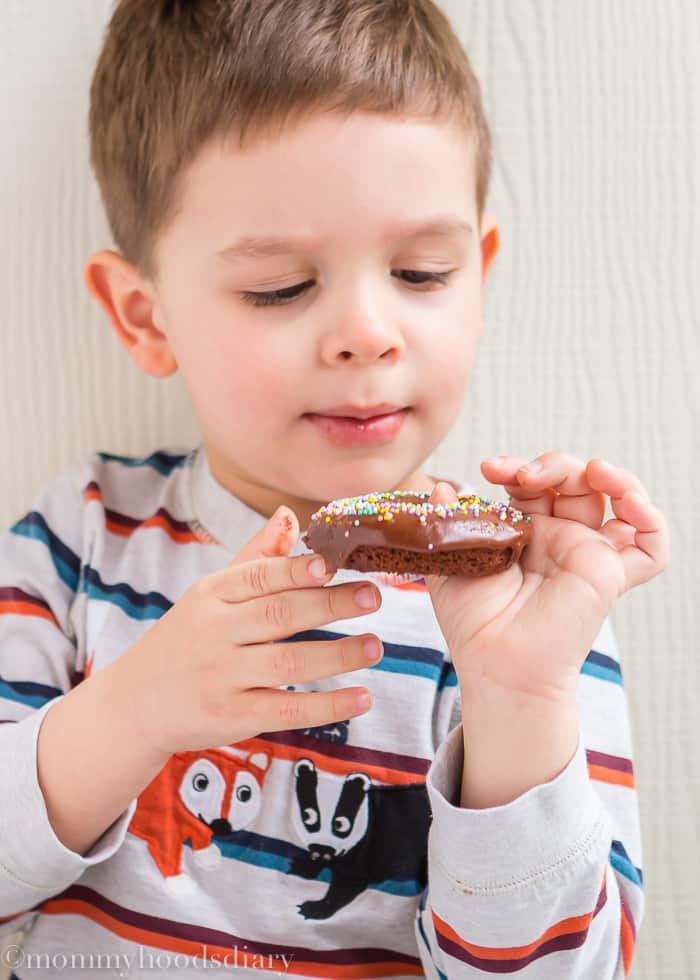 Como ya saben yo trato de cocinar sin huevo debido a la alergia de mi hija Vicky. Algunas veces esto puede ser un verdadero reto, especialmente cuando preparo postres horneados. Pero para una mamá motivada nada es imposible y estas rosquillas son el ejemplo perfecto.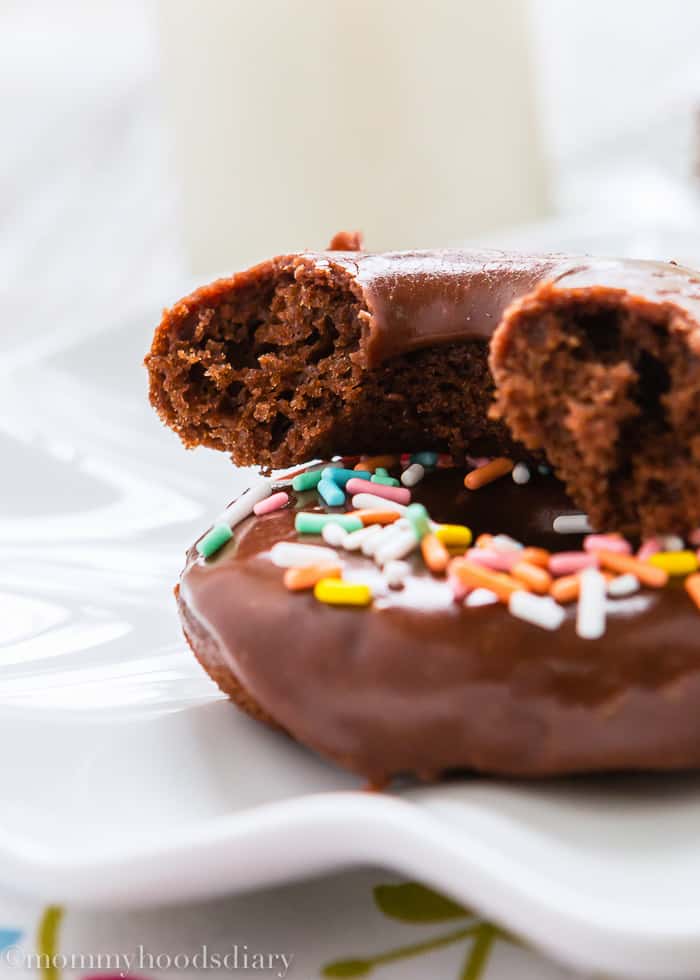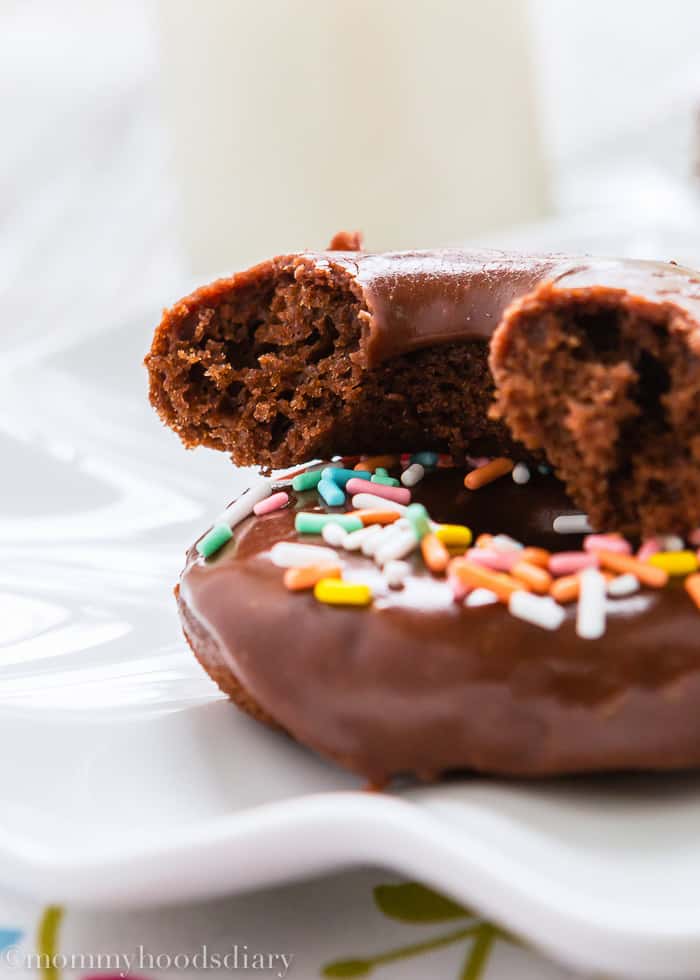 Las rosquillas fueron un total éxito en la fiesta de Pascua del preescolar de mi hija. Tanto así que las maestras ya me pidieron la receta. Lo mejor de todo es que son horneadas, lo ayuda a cortar calorías y es sentimiento de culpabilidad si te comes más de una. Te aseguro que una no será suficiente.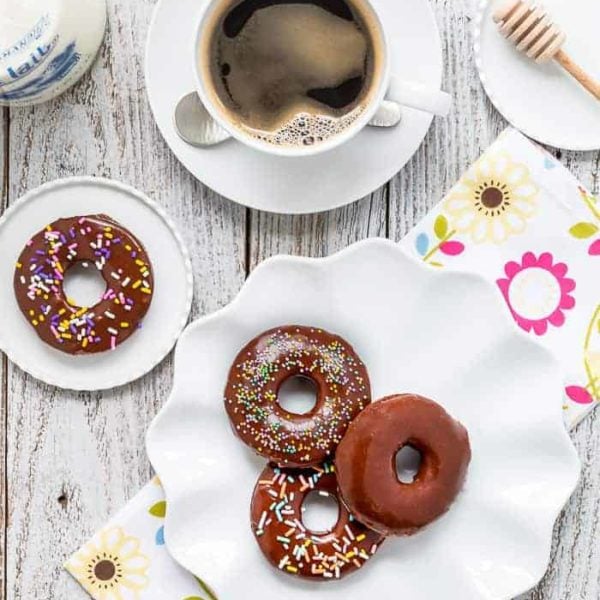 Rosquillas de Chocolate para Pascua Sin Huevo
Estas Rosquillas de Chocolate Sin Huevo son la forma perfecta para celebrar la llegada de la primavera… ¡Una verdadera delicia!
Ingredients 
1 1/2

+2 cucharadas harina de trigo para todo uso

3/4

taza de azúcar

1/3

taza de Nesquik Chocolate en polvo

1/3

taza cacao en polvo sin azúcar

4

cucharaditas de polvo de hornear

1 1/2

taza de leche

1/4

taza de yogurt griego sin sabor

3

cucharadas de aceite vegetal

1

cucharadita de extracto de vainilla

2

tazas de glaseado de chocolate

Chispas de colores primaverales para decorar
Glaseado:
1/2

taza mantequilla sin sal

1/4

taza de leche

1

cucharada de jarabe de maíz

2

cucharaditas extracto de vainilla

4

oz

de chispas chocolate semi dulce

1 3/4

tazas de azúcar en polvo

tamizada
Instructions 
Precalienta el horno a 320º F. Rocía con aerosol antiadherente un molde para rosquillas. Reserva.

Combina en un tazón mediano la harina, azúcar, Nesquik, cacao y polvo de hornear.

Mezcla en otro tazón la leche, yogurt, aceite y extracto de vainilla.

Agrega los ingredientes líquidos a la mezcla de ingredientes secos. Mezcla hasta combinar. No mezcles más de lo necesario o las roquillas saldrán duras.

Llena las cavidades del molde, hasta 2/3 de su capacidad, con la mezcla. Es posible que tengas que hornear varias tantas dependiendo del molde que tengas.

Hornea por 10 – 12 minutos, o hasta que un palillo de madera insertado en el centro de la rosquilla salga limpio. Deja enfriar en el molde. Cuando estén completamente frías sumerge las rosquillas en el glaseado de chocolate caliente. Coloca en una rejilla de alambre y rocía con chispas de colores.

Glaseado: Coloca la mantequilla, leche, jarabe de maíz y vainilla en una olla pequeña a fuego medio, mezclando ocasionalmente. Al primer hervor retira del fuego y agrega el chocolate; mezcla hasta que esté completamente derretido. Agrega el azúcar en polvo y mezcla vigorosamente hasta que no tenga grumos.
Nutrition
Calories:
264
kcal
Carbohydrates:
41
g
Protein:
2
g
Fat:
12
g
Saturated Fat:
5
g
Polyunsaturated Fat:
2
g
Monounsaturated Fat:
4
g
Trans Fat:
1
g
Cholesterol:
12
mg
Sodium:
134
mg
Potassium:
132
mg
Fiber:
1
g
Sugar:
37
g
Vitamin A:
150
IU
Calcium:
84
mg
Iron:
1
mg
Did you make this recipe? I want to see your yummy photos!
Tag @mommyshomecooking on Instagram and hashtag it #mommyshomecooking or Join my Private Facebook Group