This Slow Cooker Oxtail Stew is hearty, mouthwatering and incredibly tender! Yes, Oxtail!! Are you intrigued? Keep reading to see how you can turn this underrated cut of meat in the most delicious beef stew ever.
Melt-in-your-mouth beef loaded with potatoes, carrots, and peas, all smothered in an incredibly tasty stew broth, this Slow Cooker Oxtail Stew is a comforting, delicious meal any day of the week.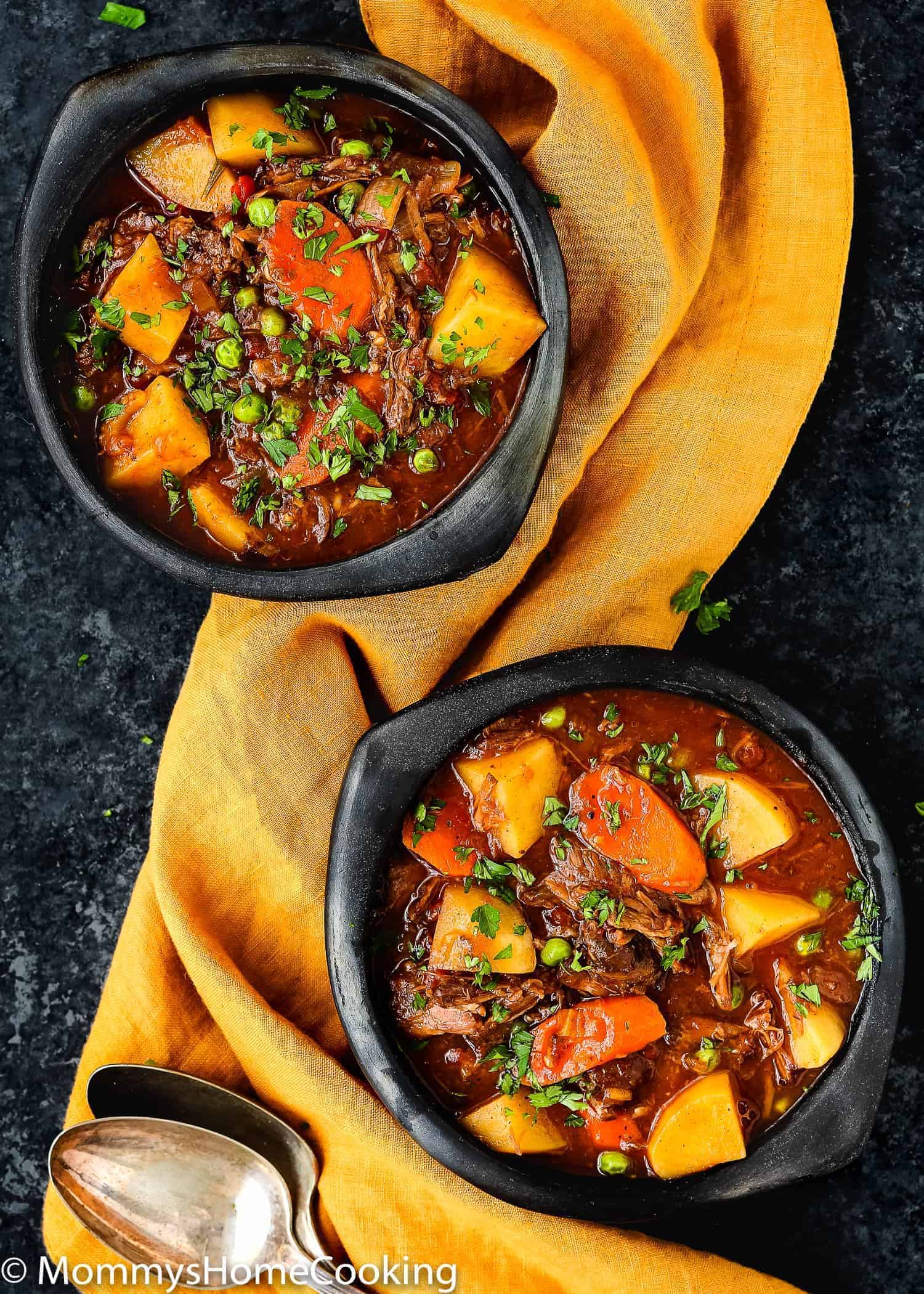 This is a sponsored post written by me on behalf of Rumba Meats. All opinions are entirely my own.
---
I don't know about you guys, but this Monday calls for an extra dose of comfort. Luckily, this Slow Cooker Oxtail Stew recipe fits the comfort food bill big time.
I mean… it's a big pot of tender beef stew loaded with potatoes, carrots, and peas, all smothered in an incredibly tasty stew broth.
Believe me…
Few meals are as comforting as this.
Have you ever had oxtails?
Oxtail is nothing more than the tails of beef cattle.
I know, oxtail doesn't sound like something you want to be eating and most people haven't even heard of them. But let me tell you that this underrated cut of meat is great to make soups and stews. It's as meaty and rich as short ribs.
Back in the day, oxtail was a "throwaway" meat, but it's not the case anymore! Now, it is one of the higher priced cuts of meat as more and more people are discovering how delicious it is.
This Slow Cooker Oxtail Stew is hearty, mouthwatering and incredibly tender!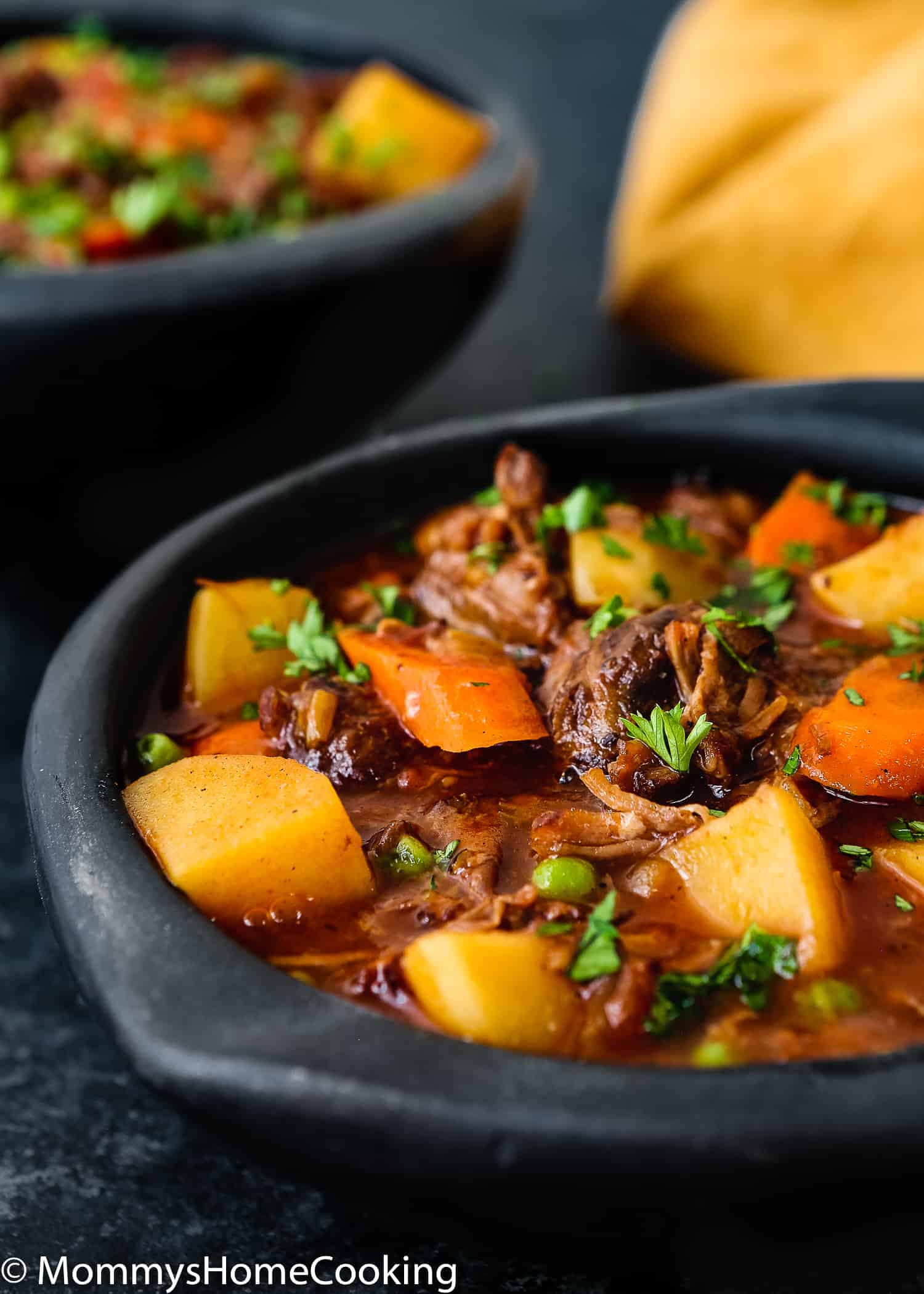 Rumba® meats offer the freshest, highest-quality variety meats for treasured traditional dishes from around the globe and the culinary world's most cutting-edge creations.
All products come conveniently packed, which I love, to ensure freshness and quality. If you want to find retailers in your area click here. I bought the Rumba Meats Oxtails at my local Giant – BTW,  take advantage of Giant $2 off digital coupon.
Many oxtail recipes are popular traditional dishes in South America. For example, in Venezuela, we use it to make soup: "Sopa de Rabo" and stews "Rabo Guisado". Today, I'm sharing my tweaked version of the traditional Venezuelan stew recipe but adapted to the busy lifestyle most of us have these days.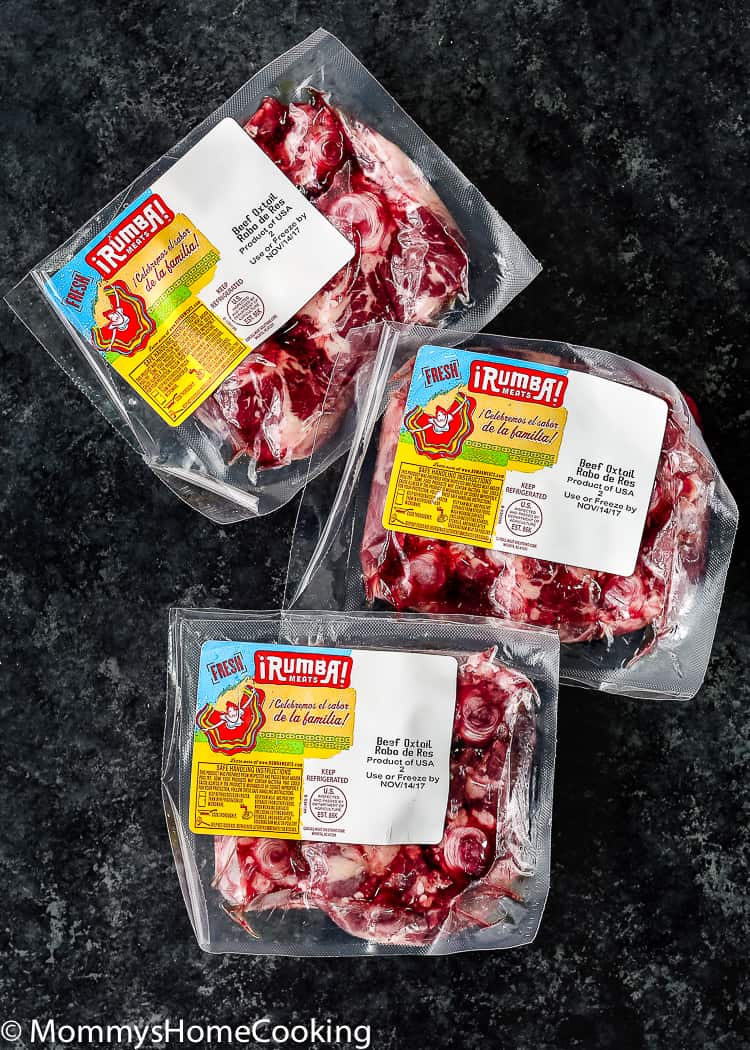 The dish starts out with browning pieces of oxtail. Then, place them in the slow cooker and cook until tender. The next step is to strip the meat and discard the excess fat. And then add some veggies and wait until the slow cooker do its magic.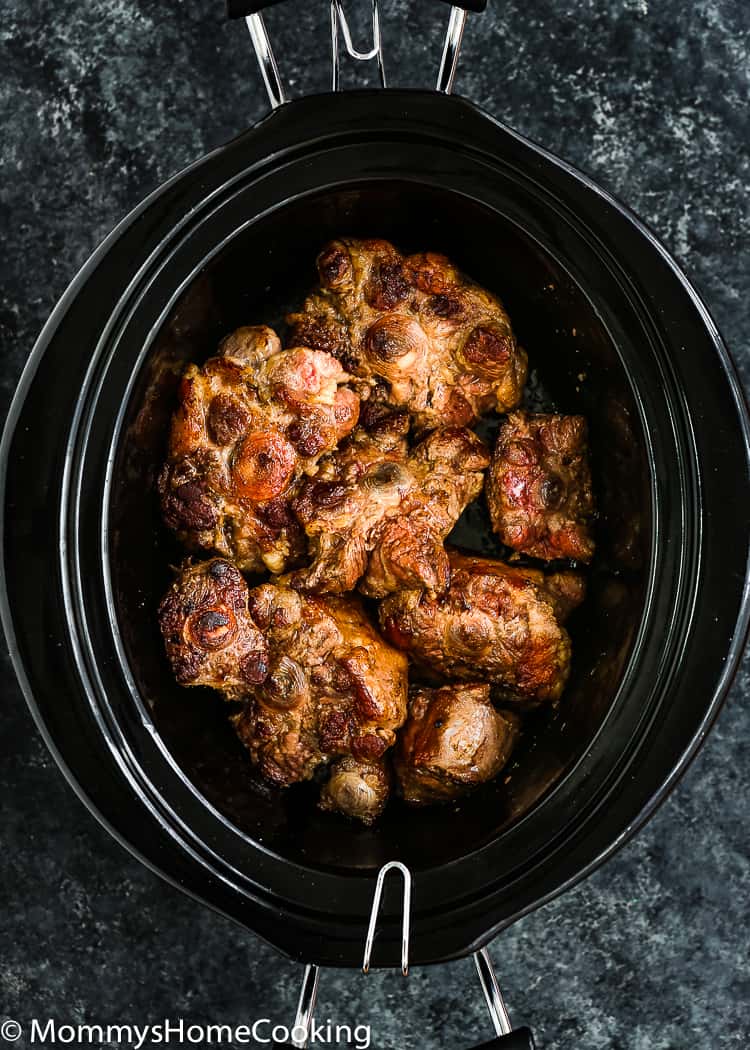 I love to make this recipe on a Sunday. I set my slow cooker Saturday night, then Sunday morning, after breakfast, I finish the stew. It doesn't require anything all that difficult for the rest of the cook time so I can go on with my rest of my day, and at the end of the day, my family have a hearty and warm meal to enjoy.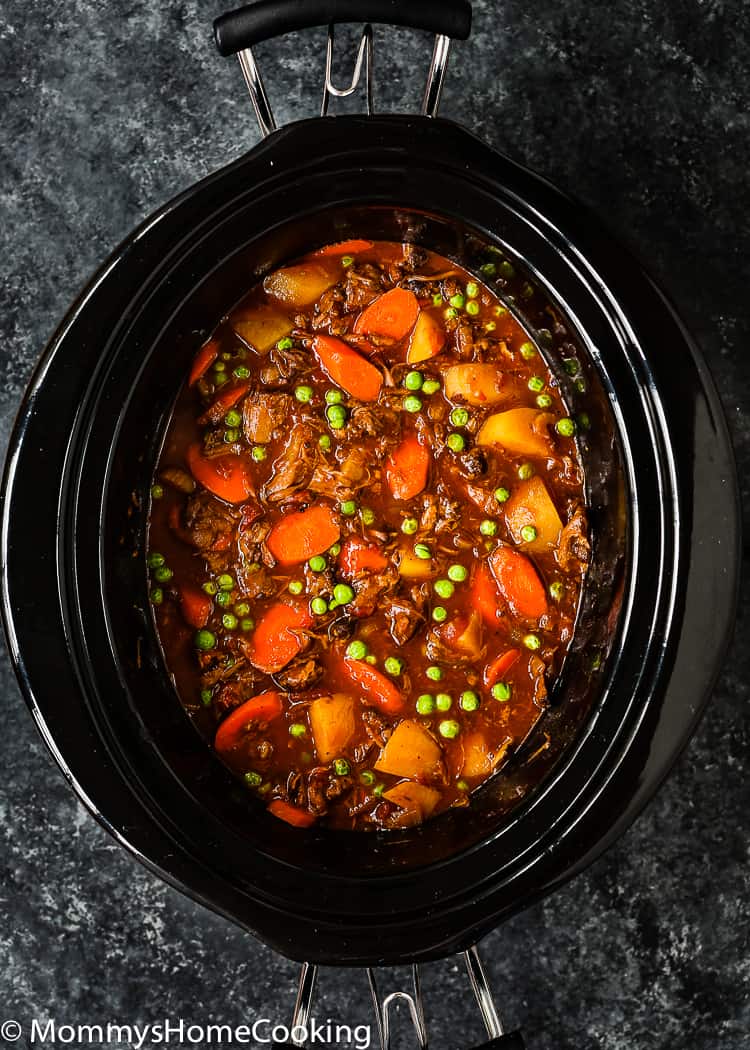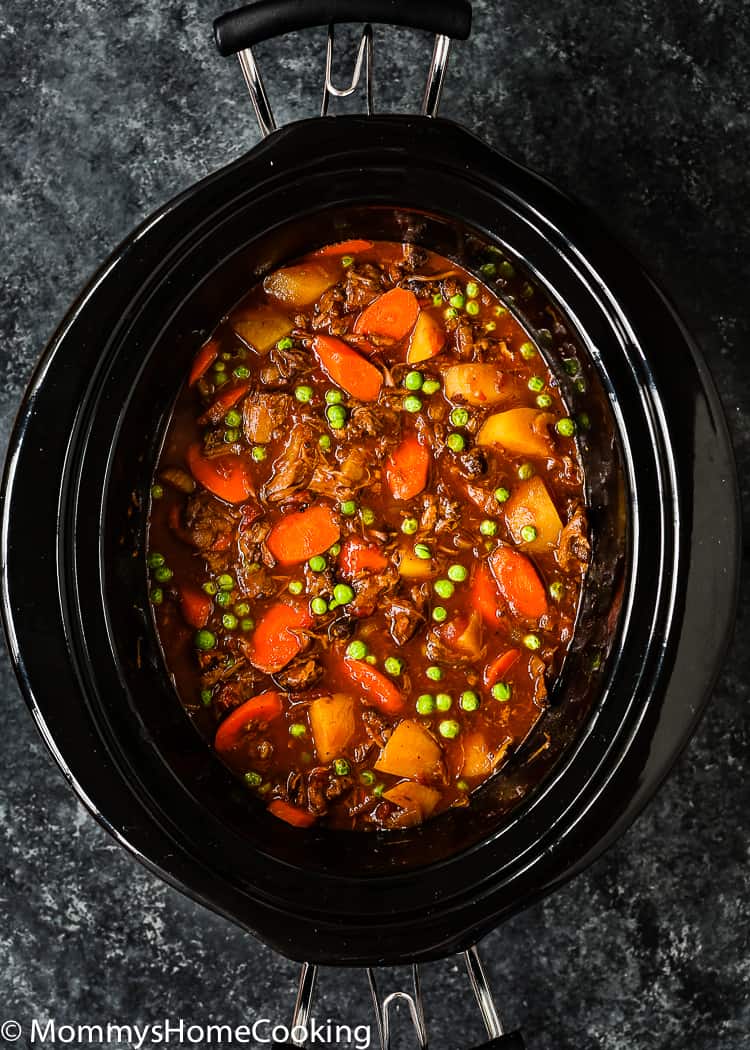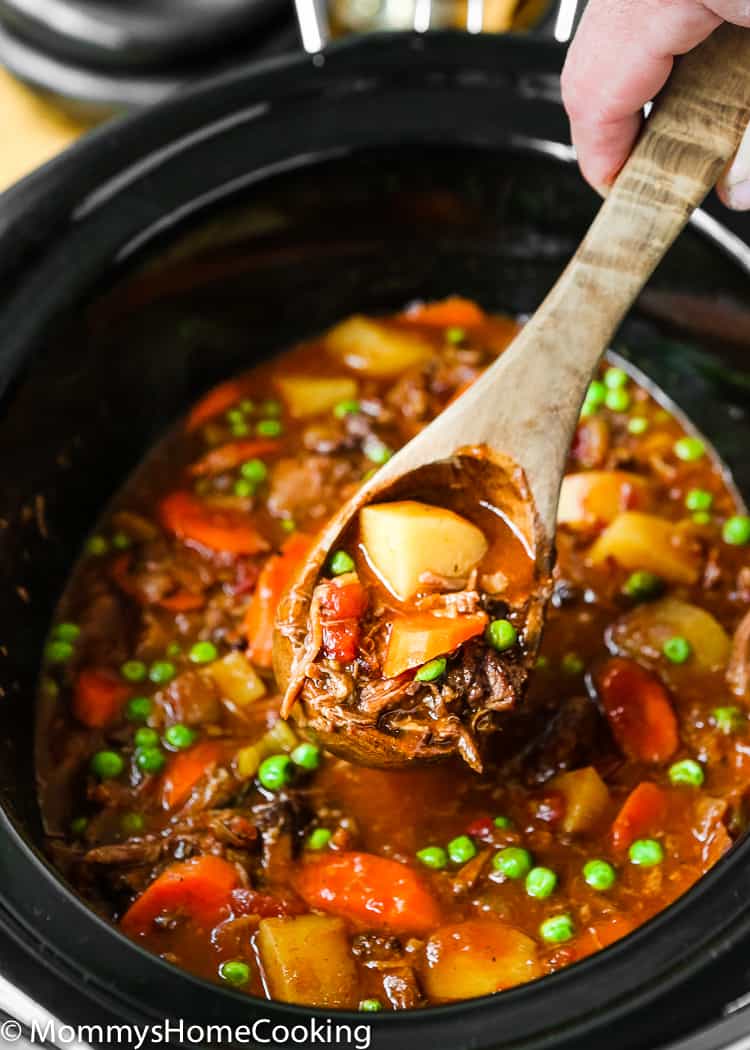 LOOKING FOR MORE SLOW COOKER RECIPES?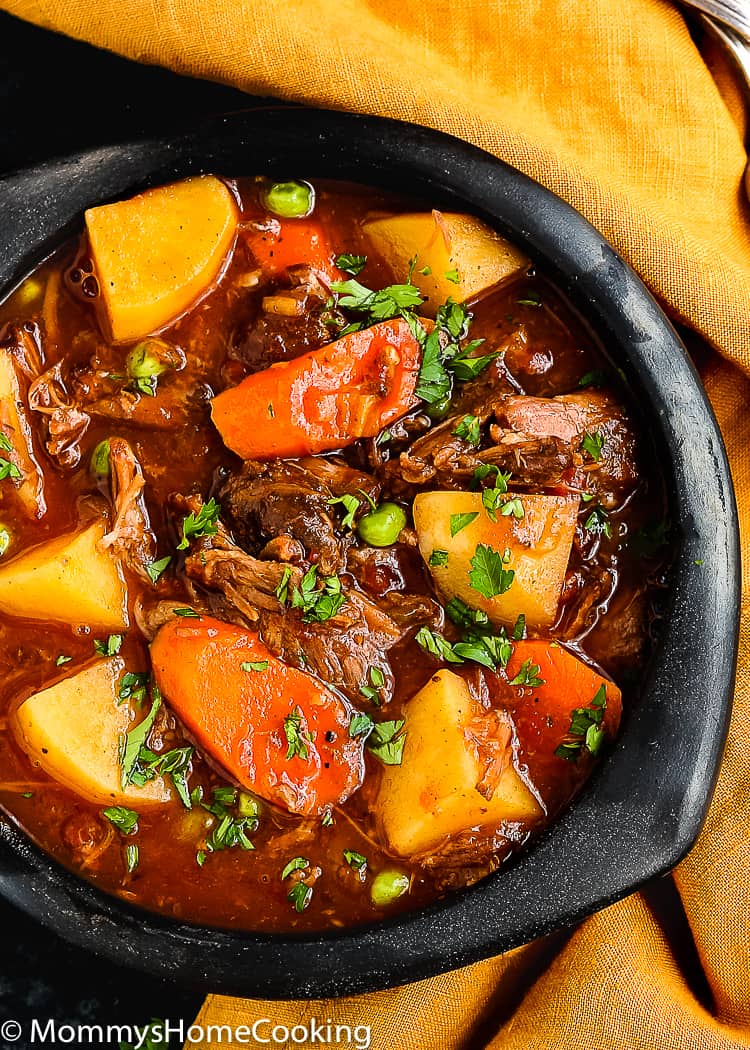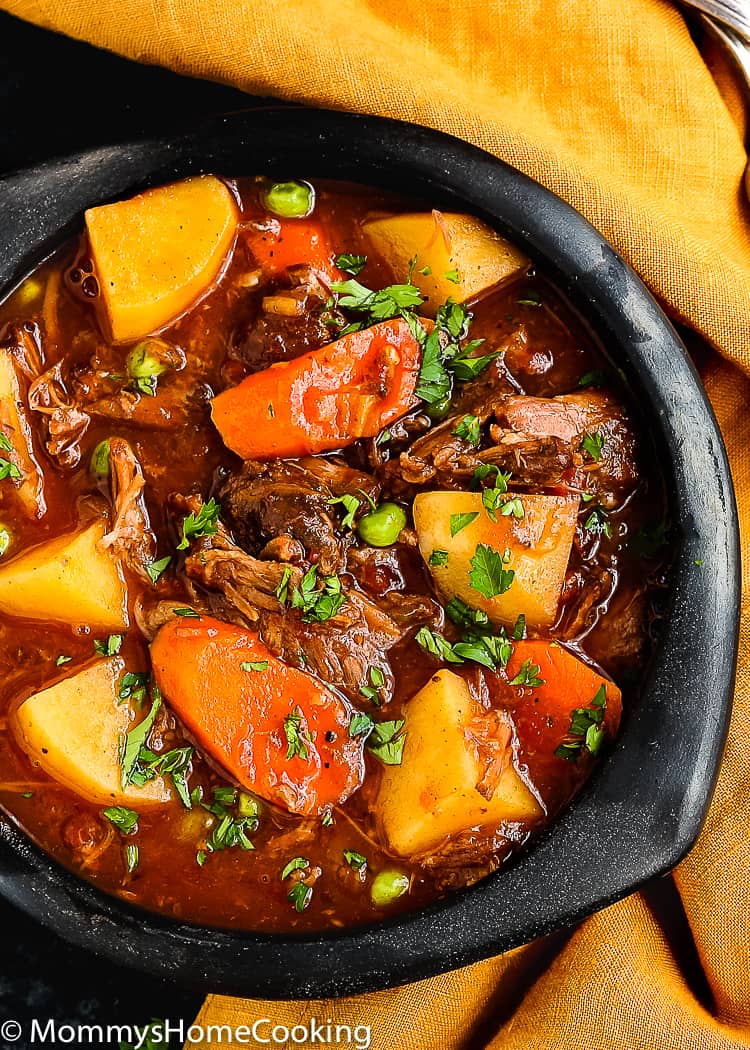 There is nothing better than a big bowl of hearty beef stew to take the chill off during these cold winter months!
Serve this comforting stew with some crusty bread to soak up all the flavorful beefy broth.
Happy Cooking!!!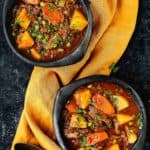 Slow Cooker Oxtail Stew
Ingredients
2

tablespoons

olive oil

Salt and black pepper to taste

4

– 5 lb Rumba Meat Oxtail

(about 3 packages)

2

medium leeks

1

onion,

chopped

6

garlic cloves,

chopped

1

cup

red wine

1

can (400 gr) plum tomatoes

5

tablespoons

tomato paste

3

cups

beef or chicken stock

(I usually use chicken when making stew)

1

tablespoon

Worcestershire sauce

2

sprigs of fresh thyme

2

sprigs of fresh rosemary

2

bay leaves

2

sticks of celery,

sliced

4

medium carrots,

sliced

3

medium potatoes,

peeled and chopped

¼

cup

all-purpose flour

1

cup

frozen peas

Fresh chopped parsley to garnish

(optional)
Instructions
In a large skillet, heat the oil over medium-high heat.

Salt and pepper the oxtail and add to the skillet and sear on each side for 2-3 minutes.

Transfer beef to the slow cooker.

Add leeks, onion, garlic, red wine, plum tomatoes, tomato paste, beef stock, Worcestershire sauce, thyme, rosemary and bay leaves.

Cover and cook on low for 4 hours or high for 2 hours, or until the meat falls away from the bone.

Remove oxtail from the slow cooker. Strip the meat from the bones and return to the pan, discarding the bones and excess fat. Reserve meat.

Pass the stew broth through a fat separator.

Returned stew broth and meat to the slow cooker. Add celery, carrots, and potatoes. Cover and cook on high for 2 1/2 hours, or until vegetables are fork tender. Taste and add more salt and pepper if necessary.

In a small bowl, whisk together flour and 1/2 cup stew broth. Stir in flour mixture into the slow cooker along with the frozen peas. Cover and cook on high heat for additional 30 minutes, or until thickened.

Serve immediately, garnished with parsley, if desired.
Recipe Notes
You can totally let the oxtail cook (step 5) overnight on low cooking mode. Then finish the stew the next day. 

---
Love what you see? Subscribe to Mommy's Home Cooking so you'll never miss a recipe! Follow along on Instagram, Pinterest, Google+, Twitter, and Facebook for more fun! 
????When you make this recipe, be sure to snap a photo and hashtag it #MommysHomeCooking. I'd love to see what you cook!
* This post contains affiliate links, thank you for the support in keeping Mommy's Home Cooking up and running!