These Easy Eggless Halloween Soft Sugar Cookies are perfect to delight your children and get in the spooky Halloween spirit all at once. They are rich, buttery, and easy to make.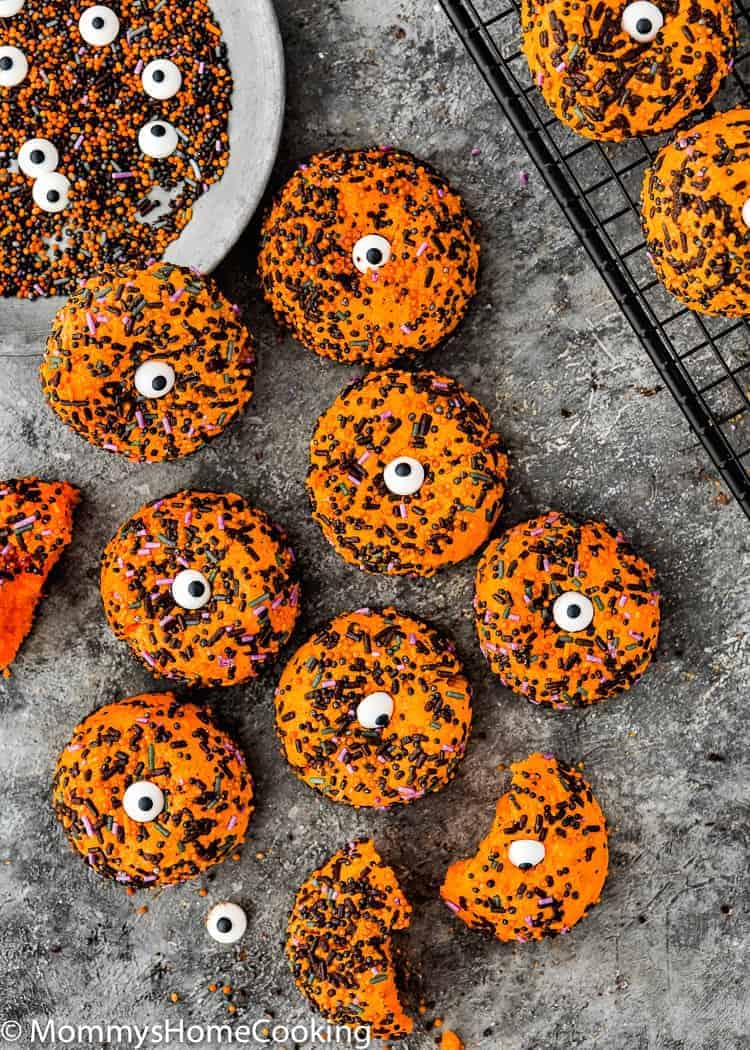 Eggless Halloween Soft Sugar Cookies Recipe
Halloween 2020 will truly be one to remember!
I don't know yet if we'll go trick or treat and to be honest, my kids are not much excited. But I refuse to let our love for the fun, fright, and delight of Halloween fade away.
These Easy Eggless Halloween Soft Sugar Cookies are the easiest and most fun way to satisfy your sweet tooth and get in the Halloween spirit.
They are:
Easy to make,
with the simple ingredients,
rich, buttery,
and totally irresistible!
Oh, and they also just so happen to be utterly adorable and super fun to make!
So let's unleash our Halloween inspiration! Get your children in the kitchen to bake a batch of these eggless scary cookies.  
EGGLESS HALLOWEEN COOKIES INGREDIENTS:
You'll need:
All-purpose flour
Cornstarch
Baking powder
Salt
Unsalted butter
Granulated sugar
Cream cheese
Pure vanilla extract
Orange soft gel paste food color (or any other color you prefer)
Halloween sprinkles
Candy eyes (optional)
Please check the recipe card at the bottom of the post for exact quantities and detailed instructions (scroll down).
HOW TO MAKE EGGLESS HALLOWEEN
COOKIES:
You're going to start mixing the dry in a medium bowl.
Then cream your butter and sugar until pale in color. Make sure the butter is softened. That's the key to make your cookies fluffy. Then add cream cheese and vanilla.
Add the flour, baking soda, and salt. Mix until just combine.
Add food coloring, is using, and mix until well incorporated. Do not over mix.
Form cookie dough into balls and roll them in Halloween sprinkles until completely covered.
Bake! If desired, press 1 or 2 candy eyes into the freshly baked cookies.
Please check the recipe card at the bottom of the post for exact quantities and detailed instructions (scroll down).
TIPS TO MAKE EGGLESS COOKIES:
Make sure the butter is softened, but not too soft.
Measure the ingredients properly! A kitchen scale is always the best option, in my opinion, but if you don't have a kitchen scale be sure to use a measuring cup made for dry ingredients (NOT a liquid measuring cup), and a liquid measuring cup for liquid ingredients. Also, do NOT dip a measuring cup directly into the flour bin or you can compact it and get up to 25% more flour, instead use a spoon to scoop the flour into the measuring cup and then use a knife (straight-edged) to level the flour across the measuring cup.
Don't over mix your cookie dough or you will end up with a dense cookie.
Chill the dough for 30 minutes before baking, this gives the dough a chance to firm up a little and allows them to bake much better.
For evenly sized cookies (better for baking) use a small spring-loaded ice cream scoop to spoon out the dough.
Bake the cookies until they are JUST golden around the outside. The cookies might still look a little raw in the center, but once they cool, they will be perfect. Let the cookies cool on the baking sheets for just around 2 -3 minutes. If you leave the cookies on the baking sheets for too long, they will continue cooking and they will be hard.
STORE:
Store cookies in an airtight container for up to 5 days at room temperature.
FREEZE: 
You can freeze this cookie dough for up to 3 months. Just roll them into balls, and freeze. When ready to use, allow to thaw overnight in the refrigerator, then bake as directed.
If you want o baked the frozen cookie dough just let them over the counter until you preheat the oven, then place the balls on a baking sheet and bake for couple extra minutes longer than the recipe directs.

---
Love what you see? Subscribe to Mommy's Home Cooking so you'll never miss a recipe! Follow along on Instagram, Pinterest, Twitter, and Facebook for more fun!
When you make this recipe, be sure to snap a photo and hashtag it #MommysHomeCooking. I'd love to see what you cook!
* This post contains affiliate links, thank you for the support in keeping Mommy's Home Cooking up and running!