Disclosure: I am a member of the La Lechera Team and help spread the word about La Lechera. As a team member, I receive product and incentives in exchange for participating in brand related activities and spreading the word about La Lechera.
Discover this delicious Easy No-Bake Venezuelan Bienmesabe!! Ladyfingers soaked in rum syrup and laced with coconut cream. A perfect dessert for just about any occasion!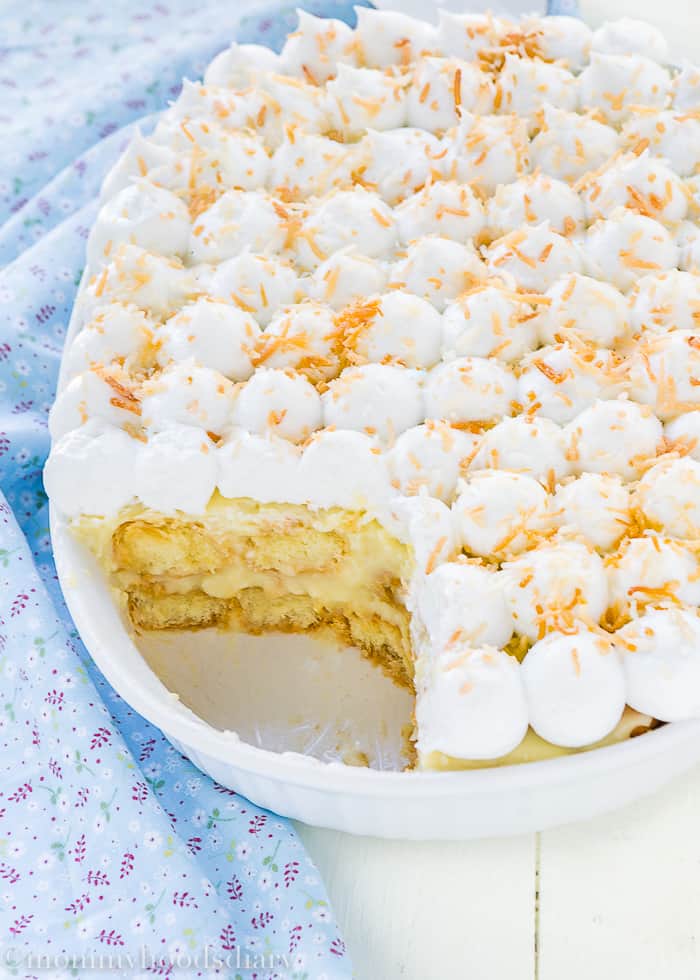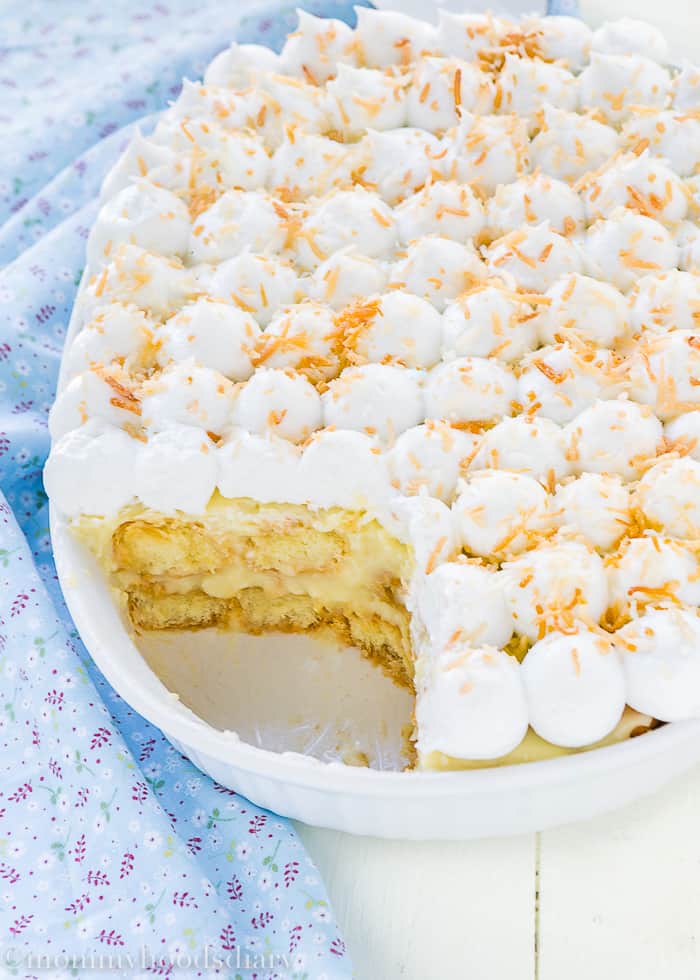 This, my friends, is my favorite dessert of all time.
Bienmesabe!!
Bienmesabe is a traditional Venezuelan dessert made with sliced cake, layered with coconut cream and topped with meringue. If you are wondering, the name translates to "tastes good to me". And believe me …  it lives up to its name!!
I used to think this dessert was something I could only get at nice Venezuelan restaurants. I mean, years ago it wasn't so easy to get canned coconut milk. Which meant that the only option was to extract the milk directly from the coconut. Have you ever tried to open a coconut without a machete? I have… it's no easy task!!
Anyways…
Meet my crazy-delicious Easy No-Bake Venezuelan Bienmesabe!!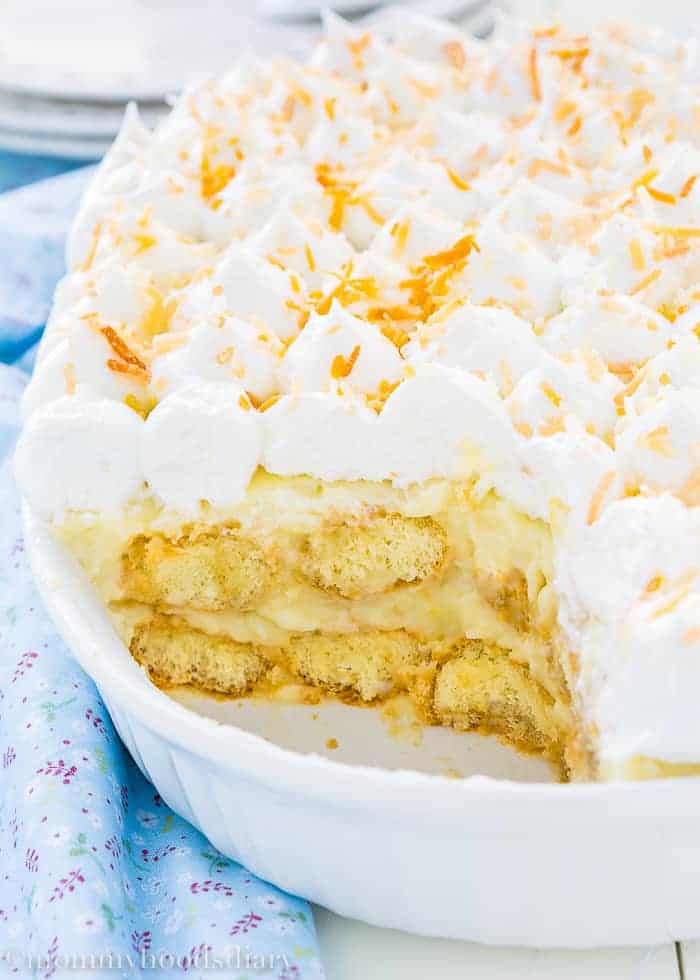 I chose to make a no-bake version. You know I love a fast and easy recipe. Instead of using sliced cake I decided to cut time in the kitchen and I used ladyfingers.
This recipe is quick and easy to make, because it's a no-bake recipe! It's tremendously rich, sweet, and moist. And its delicious coco-nutty cream is to die for. It's made mainly with coconut milk and La Lechera sweetened condensed milk – a marriage made in heaven – among a few other ingredients. As always, La Lechera added the perfect amount of sweetness to this decadent dessert, which reminds me the Bienmesabe I used to eat back home.
You can also make a single-serving sized portion, like this cutie down here ↓↓↓
My favorite thing about making Biemesabe in a Jar is that they are portable! I have a confession to make: My naughty self kind of wants to sneak them into the movie theater [evil laugh?] And now that it feels like Summer has finally arrived it's time to start thinking of outdoors activities, like picnics. These To-Go-Bienmesabes would be AWESOME for a picnic. But seriously, make sure to give your ladyfingers a thorough soaking of syrup before layering in the jars and follow the same instruction as the full pan version.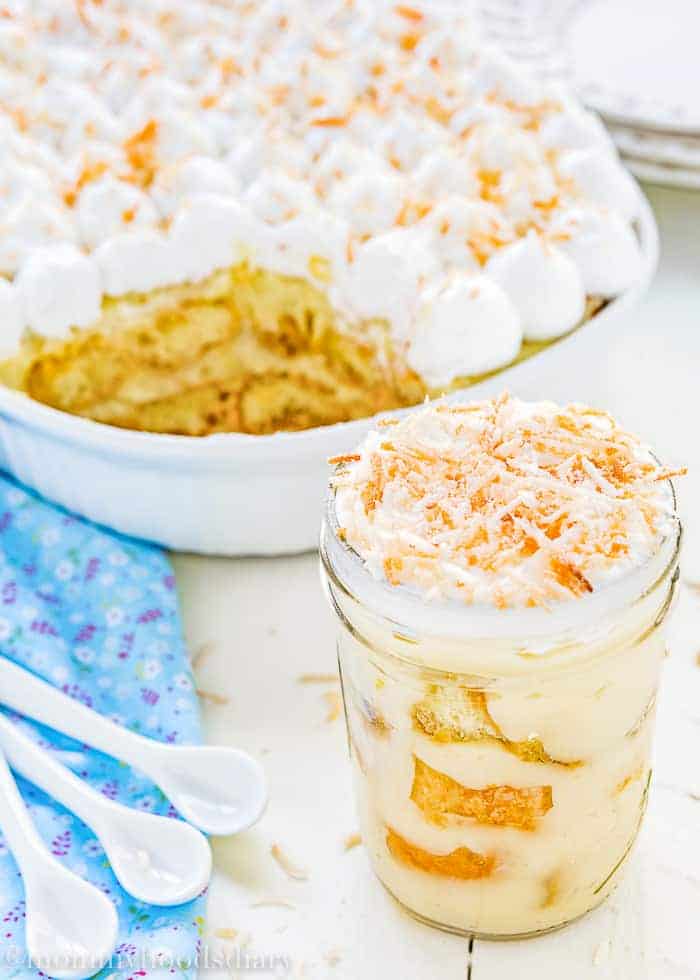 Love what you see? Subscribe to Mommyhood's Diary so you'll never miss a recipe! Follow along on Instagram, Pinterest, Google+, Twitter, and Facebook for more fun!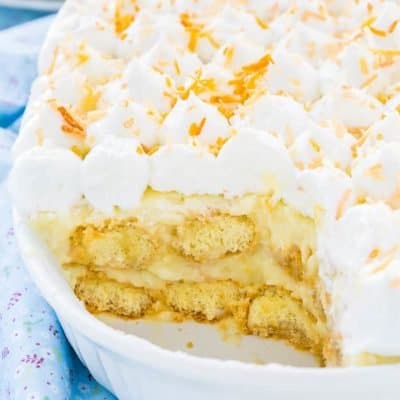 Easy No-Bake Venezuelan Bienmesabe
Ingredients
1

cup

water

1/2

cup

La Lechera sweetened condensed milk

1

pinch salt

6

tablespoons

corn starch

4

eggs

separated

1

cup

unsweetened shredded coconut

separated

2

cans coconut milk

3/4

cup

sugar

1

cinnamon stick

1

teaspoon

fresh lemon zest

Syrup:

1

cup

water

1

cups

sugar

1/4

cup

rum or Jerez

optional

Ladyfingers

see notes

Meringue to decorate

see notes
Instructions
Mix in a medium bowl water, La Lechera sweetened condensed milk, salt, corn starch, egg yolks, and shredded coconut. Reserve.

Add the coconut milk, 3/4 cup sugar, cinnamon stick and lemon zest to a medium saucepan over medium heat. Bring to a boil, stirring occasionally. Add in the liquid mixture, in a slow steady stream, stirring constantly. Bring to boil again, reduce heat to low, and cook for 5 minutes. Remove pan from heat and let it cool.

Prepare the syrup: In a small saucepan, combine sugar and the water over medium-high heat. Cook, stirring, until the sugar dissolves. Continue cooking, without stirring, until mixture reaches a boil. Reduce heat to low, and simmer for 5 minutes. Remove pan from heat, and stir in rum or Jerez. Let cool to room temperature.

Assemble: Pour syrup into a shallow dish. Quickly dip each ladyfinger into the syrup, wetting both sides of cookie, but not soaking.

In an 8 by 10-inch pan add a thin and even layer of coconut mixture.

Arrange soaked ladyfingers close together in neat rows until the bottom of the pan is completely covered. Spread half of coconut mixture evenly on top. Then, add another layer of soaked ladyfingers. Top with remaining coconut mixture. Cover and refrigerate at least 2 hours.

Just before serving decorate with meringue, whipped cream, or roasted coconut, if desired.
Recipe Notes
The quantity of lady finger will depend on the size of your pan. I used a package of 24.
I decorated my Bienmesabe with meringue. I just beat the egg whites and 1/4 teaspoon of cream tartar with an electric mixer on medium speed until soft peaks form. Then added the 3/4 cup of sugar, gradually, while beating on high speed.