This Venezuelan Roasted Chicken is juicy, tender and so easy to make! Every single bite will be a flavor bomb explosion in your mouth.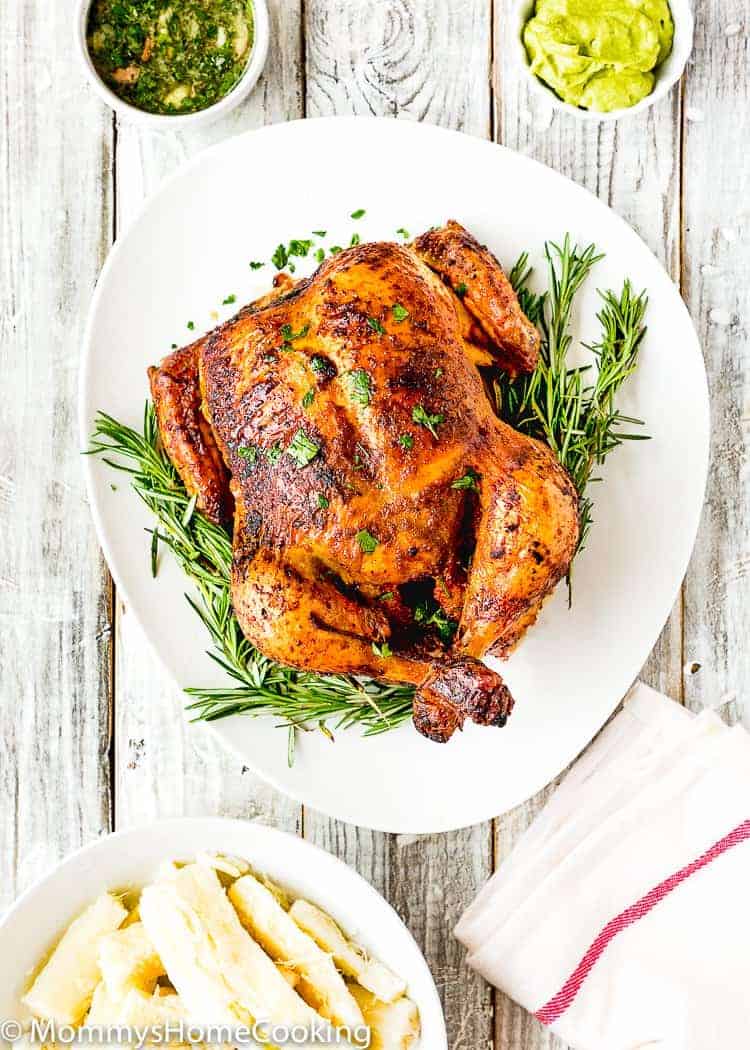 Venezuelan Roasted Chicken Recipe – Pollo a la Brasa Venezolano
This Venezuelan Roasted Chicken tastes just as good as it looks! It's zesty, garlicky and makes a perfect weeknight or weekend dinners.
I love that it delivers crispy skin, juicy meat and a nice dinner to go with my super popular yucca fries and guasacaca.
You will be blown away by how much you love the Venezuelan Roasted Chicken! It feeds a small crowd, looks impressive and tastes amazing.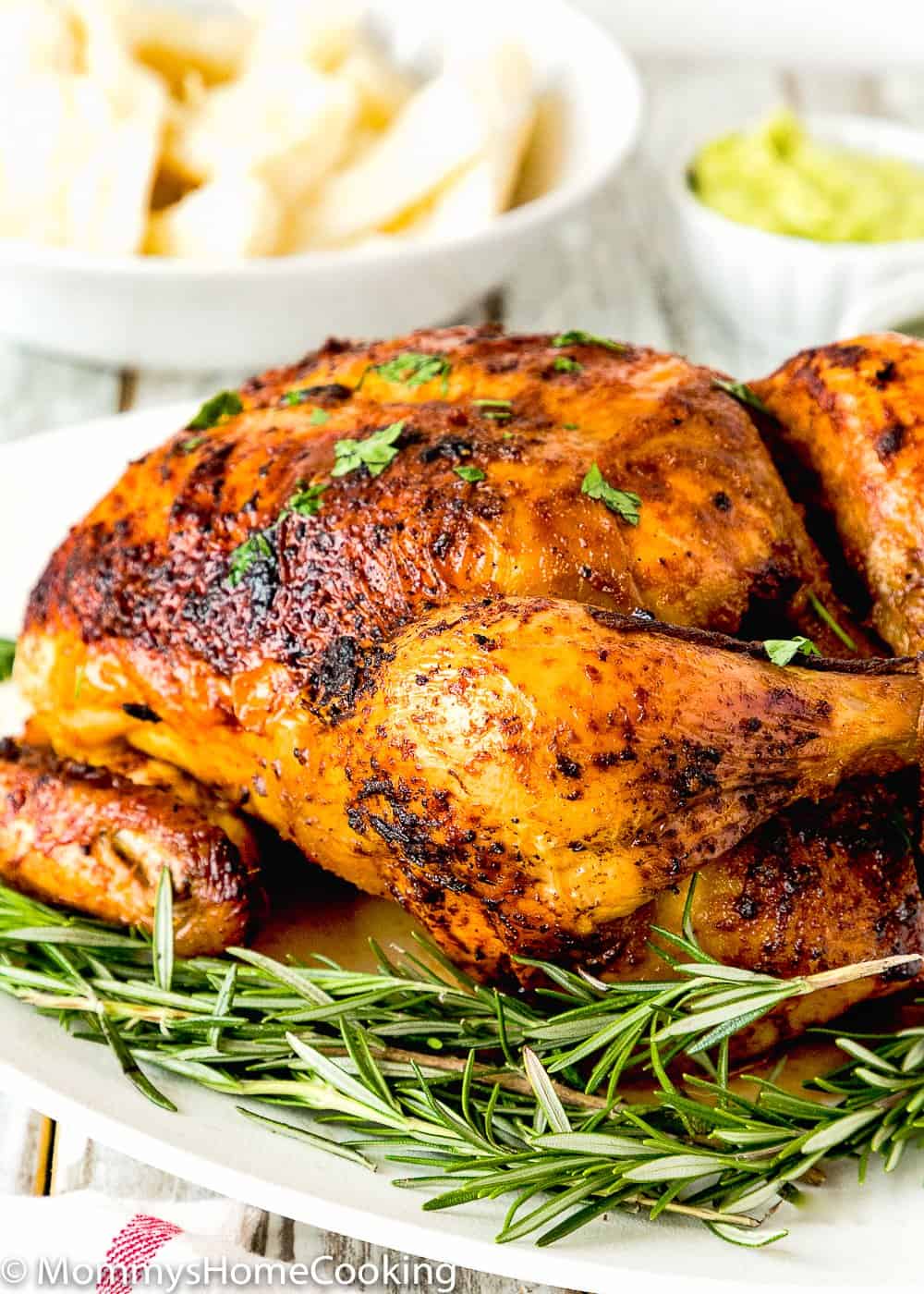 VENEZUELAN ROASTED CHICKEN INGREDIENTS
You'll need:
A whole chicken
Fresh lime juice
Vinegar
Canola or vegetable oil
Garlic cloves
Green bell pepper
Red onion
Salt and black pepper
Sweet paprika (pimento dulce)
Sugar
Cumin
Please check the recipe card at the bottom of the post for exact quantities and instructions (scroll down).
HOW TO MAKE ROASTED CHICKEN VENEZUELAN STYLE
Prepare the marinade.
Pat dry the chicken and place it in a gallon zip-top freezer bag.
Add the marinade to the chicken and refrigerate for at least 1 hour or up to overnight.
Place chicken in a roasting pan.
Roast.
Please check the recipe card at the bottom of the post for exact quantities and instructions (scroll down).
ROASTED CHICKEN INTERNAL TEMPERATURE
Roast the chicken until reaches an internal temperature of 165º F. This is the meat termomether I used while roasting in the oven.
CAN I MAKE THIS RECIPE IN THE AIR FRYER?
Yes! preheat the air fryer 350 for 5 minutes. Transfer the chicken to the air fryer basket breast-side up. Air fry about 25 minutes, until the top of the chicken is browned, then flip over, and cook 25 minutes, until golden and crisp and brown all over and it reaches an internal temperature of 165º F.
VENEZUELAN MOJO FOR ROASTED CHICKEN
Venezuelan chicken restaurants drizzle the chicken with a mojo, just before serving, that is SO refreshing and SO delicious.
I tried my best to replicate the mojo and I think I came very close!
This is what you'll need to make the mojo:
Vinegar
Fresh lime juice
Salt and black pepper
Dry oregano
Garlic
Fresh cilantro
It's super easy to make! You don't even need to peel the garlic, just crush them lightly with the flat of a knife and the heel of your hand. Then place all the ingredients in a small bowl and mix to combine.
You can make the mojo ahead since it get better with time!
WHAT TO SERVE WITH ROASTED CHICKEN?
The best way to complete this chicken is to add some yucca and guasacaca to the side. Of course, white rice, black bean, and plantains would be a wonderful combination too.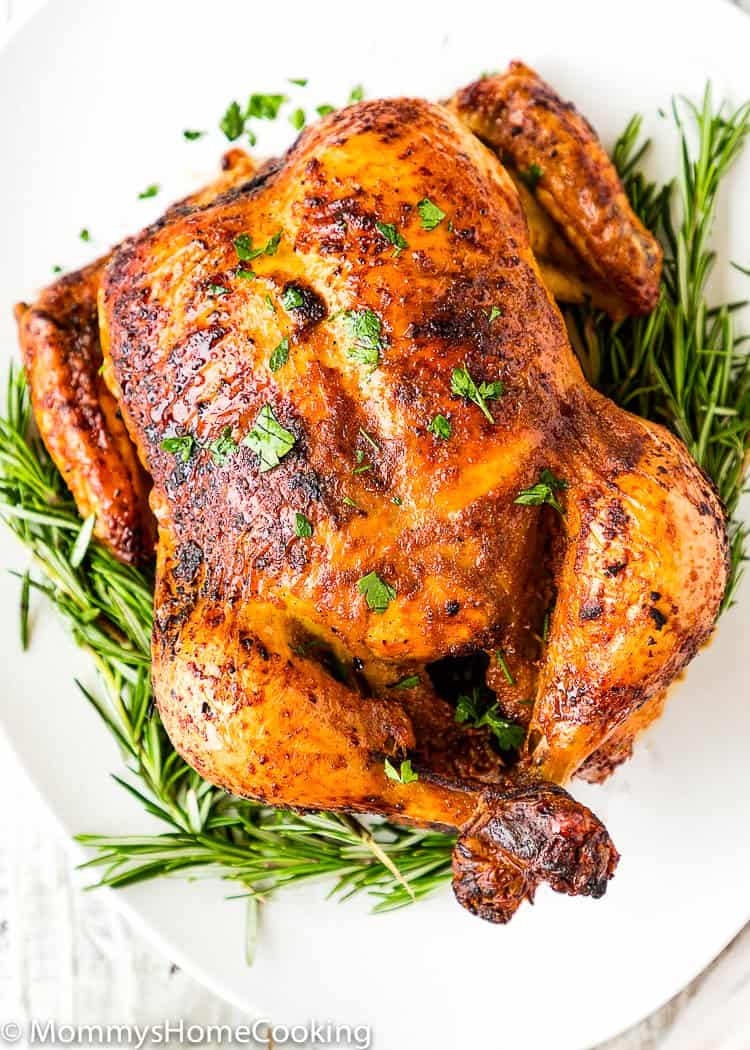 LOOKING FOR MORE VENEZUELAN RECIPES?

---
Love what you see? Subscribe to Mommy's Home Cooking so you'll never miss a recipe! Follow along on Instagram, Pinterest, Twitter, and Facebook for more fun!
When you make this recipe, be sure to snap a photo and hashtag it #MommysHomeCooking. I'd love to see what you cook!
* This post contains affiliate links, thank you for the support in keeping Mommy's Home Cooking up and running!