Eggless Venezuelan Tequeños are sticks of white cheese wrapped with a crunchy and slightly sweet dough, and then fried to golden perfection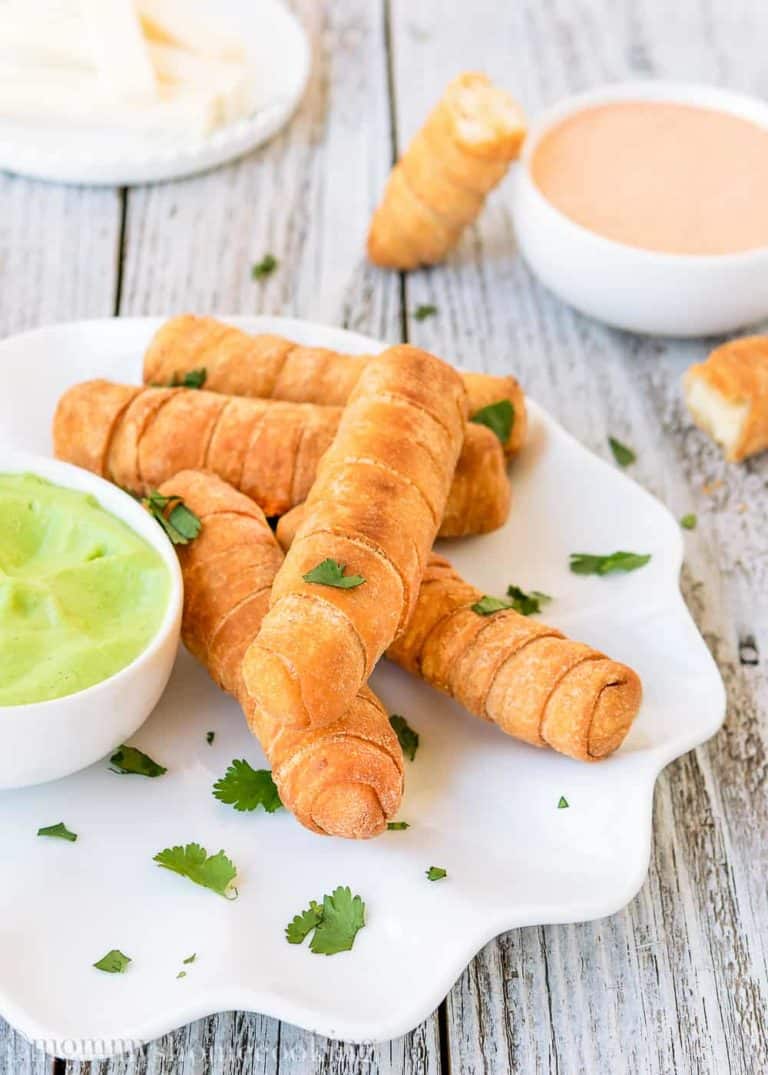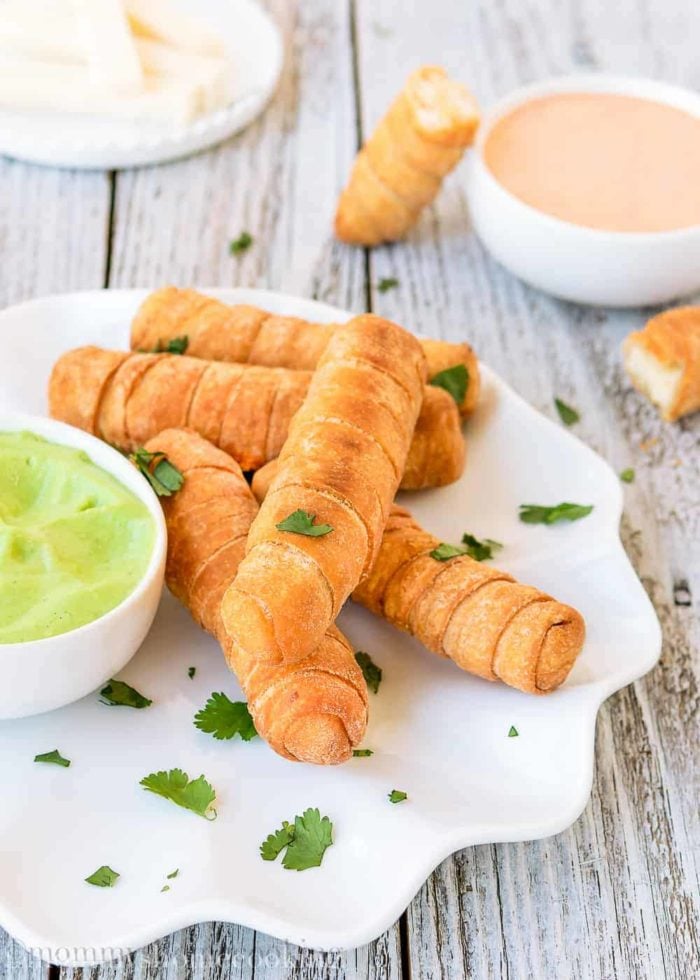 I am back from a wonderful family vacation. The kids had a blast. We went to the beach, Legoland and Disney. Yep…it was exhausting, but frankly, it was all worth it. We loved the beach, pools, kid's activities, and the parks. I will never forget the look on my kid's faces when they met Mickey for the first time ever. So, even though, I didn't unplug at 100% I feel recharged and ready to continue sharing delicious recipes!
Today, I am introducing to you these fabulous irresistible bites of heaven – Tequeños or Venezuelan Cheese Sticks. Some Venezuelans might want to kill me if they see I'm calling Tequeños cheese stick LOL. But in my opinion, it's the best way to describe them. They are a piece of cheese wrapped with a crunchy and slightly sweet dough. And as most delicious things, Tequeños are fried.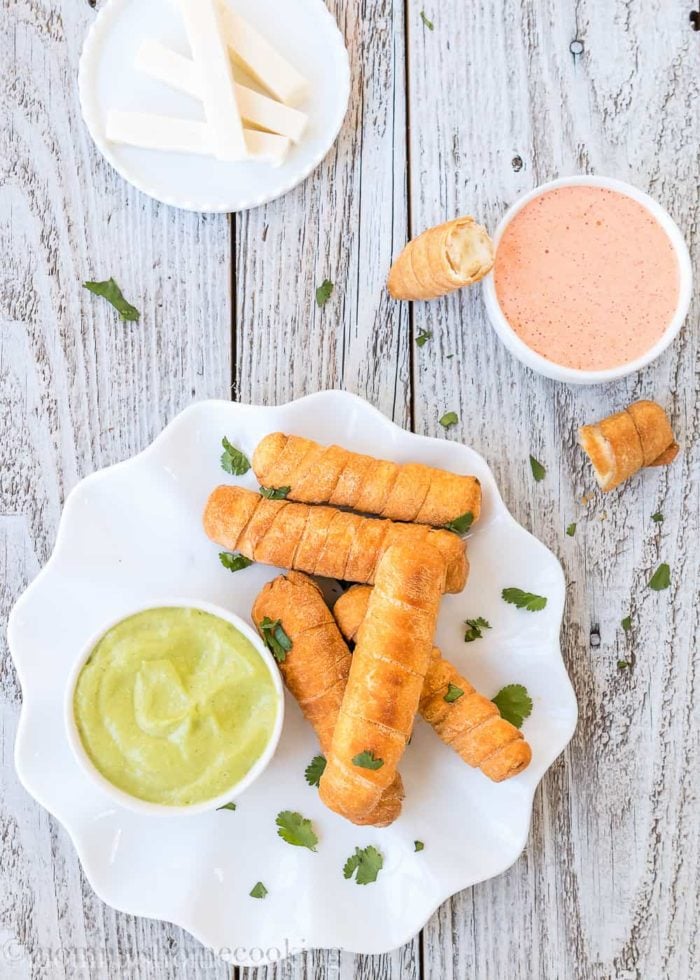 Back home they are a very popular snack food, party food, or even breakfast. No gathering or party is complete without Tequeños. You will even find them at the school's cafeterias and even bars. Everyone loves them – and what's not to love? Fried dough with cheese inside? OH YES!! They are typically served with a dipping sauce, like Guasacaca sauce, Pink sauce, or garlic sauce.
This Spicy Pink Sauce will knock your socks off!. It's creamy and wonderful. I made it with eggless mayo.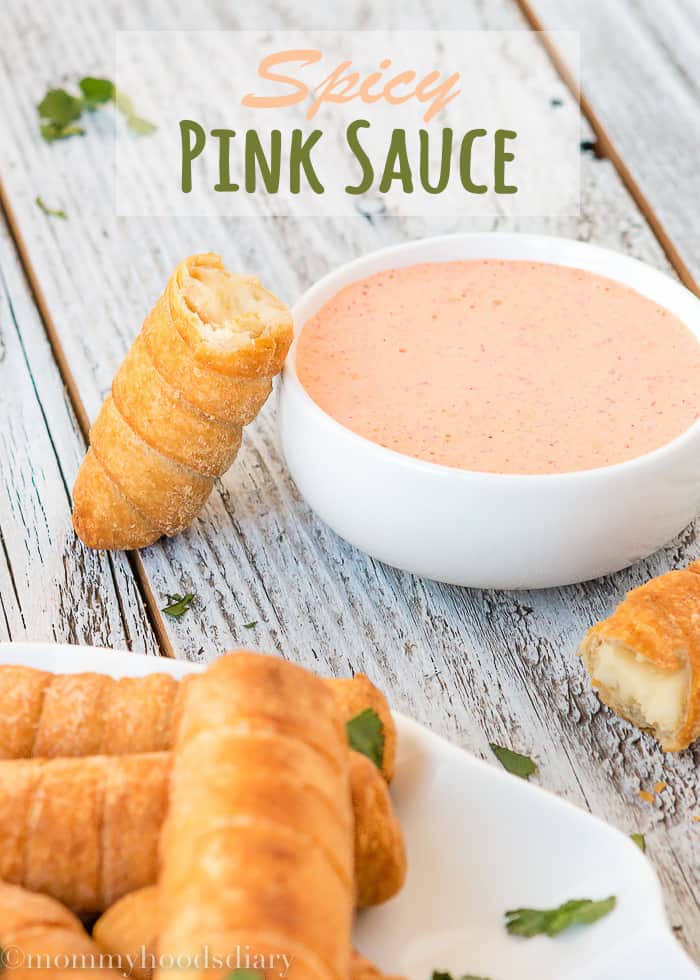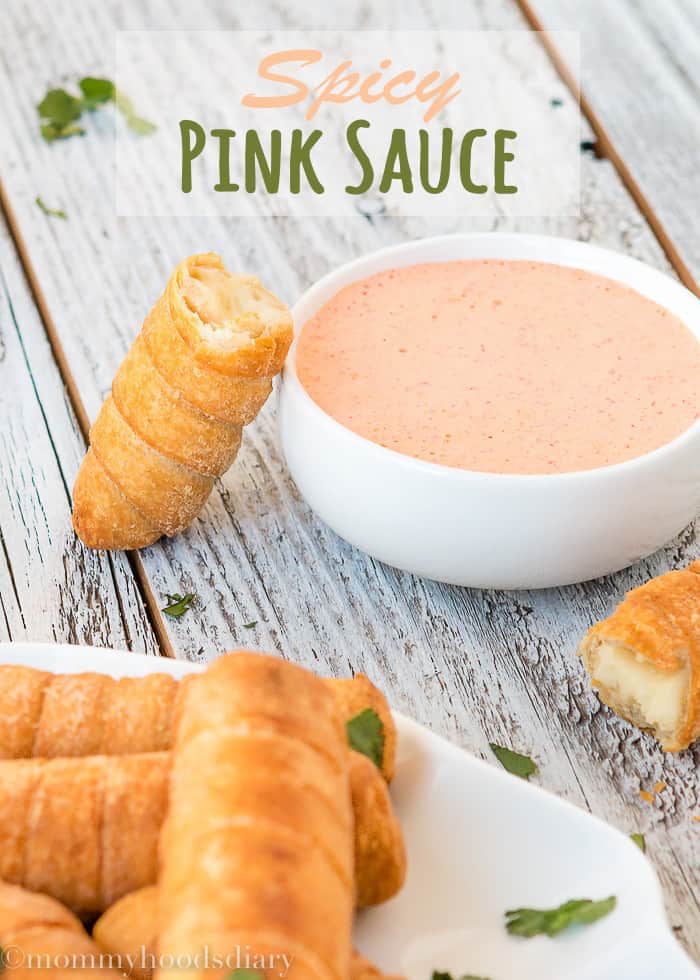 Most Venezuelan Tequeños recipe has eggs. But not this! And I promise you won't notice any difference. What I love more about this dough is that it's very easy to make, but also is great for make ahead and freeze, and when needing a quick fix, or friends unexpectedly showing up, you just have to quickly fry them.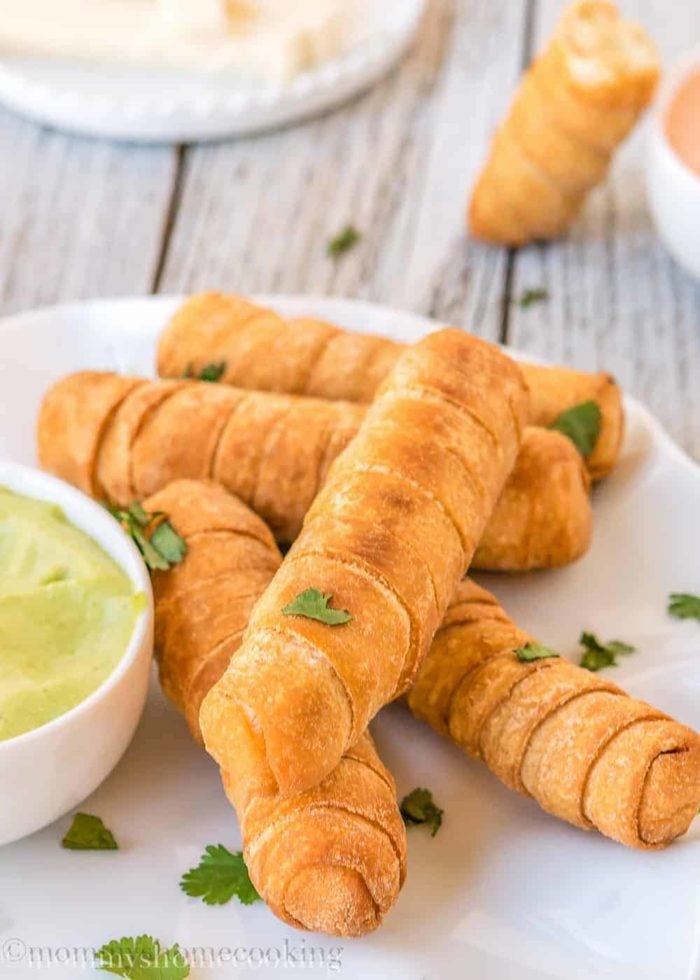 Since there are a lot of gatherings around this time of year I thought it would be perfect for me to share this Venezuelan recipe. The Tequeños are perfect as finger food, or appetizer They are easy to pick up, bite, and enjoy. But honestly, Venezuelans don't need excuses to eat them. For us, they are good any time of the year for breakfast, lunch, dinner, snack, or whatever.
Happy weekend!!!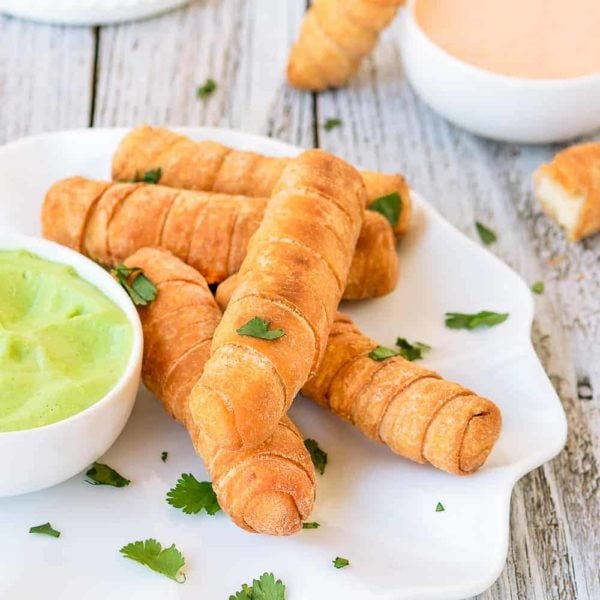 Venezuelan Tequeños
Ingredients
2

cups

all-purpose flour

1/2

teaspoon

salt

1/4

teaspoon

baking power

1/4

cup

water

1/4

cup

vegetable oil

1/4

cup

milk

1

tablespoon

brown sugar

1

(12 oz)

fresh white cheese for frying - Tropical queso de freir

(see note)

Vegetable oil for frying
Spice Pink Sauce
1

cup

mayonnaise

I used eggless mayo

1/3

cup

ketchup

1

tablespoon

lemon juice

1

teaspoon

worcestershire sauce

1

tablespoon

brandy or rum

1/2

teaspoon

cayenne pepper

or more for spicy lovers
Instructions
Place the flour, salt and baking powder into the bowl of a stand mixer with the hook attachment. Mix to combine, about 1 minute.

Add water, vegetable oil, milk, and brown sugar and "knead" the dough for 5 minutes, or until dough is smooth and starts to pull away from the sides of the bowl. Press dough into a disc, wrap tightly in plastic wrap, and rest in the refrigerator for 30 minutes.

Unwrap dough and place on a lightly floured surface. Knead with your hands until the dough is very smooth and elastic, about 2 -3 minutes. Add more flour over the surface, if necessary, and roll out into a 12 x 15-inch rectangle 1/8-inch thick. Cut off edges with a knife if necessary to make a perfect rectangle. Using a knife, or a pizza cutter, cut the dough into 1 inch wide strips lengthwise, so that you end up with 12 strips.

Cut the cheese block into 6 equal pieces, and then cut each piece in half lengthwise, you end up with 12 cheese sticks.

Take one strip of dough and cover the end of one cheese stick with dough. Continue to wrap dough around the stick in a spiral fashion, overlapping the edges, until you reach the other end. Cover the other end with dough and pinch edges close to fully seal. The cheese has to be completely covered with dough. Repeat with remaining cheese sticks.

Add 2-inches of oil to a skillet. Heat oil to 350°F over medium heat. When the oil is hot, cook the tequeños in batches, 2 -3 at the time, turning them with until all sides are golden brown. Remove tequeños to a plate lined with paper towels. Let cool for 1 minute, and serve immediately with guasacasa, garlic sauce, and/or spicy pink sauce.

To make the Spicy Pink Sauce just mix with a fork or wire whisk until smooth and creamy. If you like a sauce with more bite, add more cayenne pepper. This sauce will keep in the refrigerator for a couple of weeks.
You can find the fresh white cheese for frying at Walmart in the refrigerated section. It's called Tropical queso de freir.
Maintaining the temperature of the cooking oil at a steady 350 ºF throughout the frying process is important. If at any point the oil gets too hot, remove from heat until the temperature has lowered, otherwise, they tequeños won't cook properly.
If you do not have a stand mixer you can make the process of kneading by hand.
Looking for more Venezuelan recipes?
★ Did you make this recipe? Don't forget to give it a star rating below!
Please note that nutritional information is a rough estimate and it can vary depending on the products used.
Did you make this recipe? I want to see your yummy photos!
Tag @mommyshomecooking on Instagram and hashtag it #mommyshomecooking or Join my Private Facebook Group
The Ultimate Guide to Eggless Baking!
Includes more than 70 easy-to-make recipes along with full-color photos, detailed instructions, and helpful tips for spectacular results.
Pre-Order Now!