Sweet Eggless Orange Blueberry Corn Bread loaded with blueberries and sprinkled with almonds. The corn-citrus combination is so yummy and perfect for breakfast or snack time. Totally irresistible!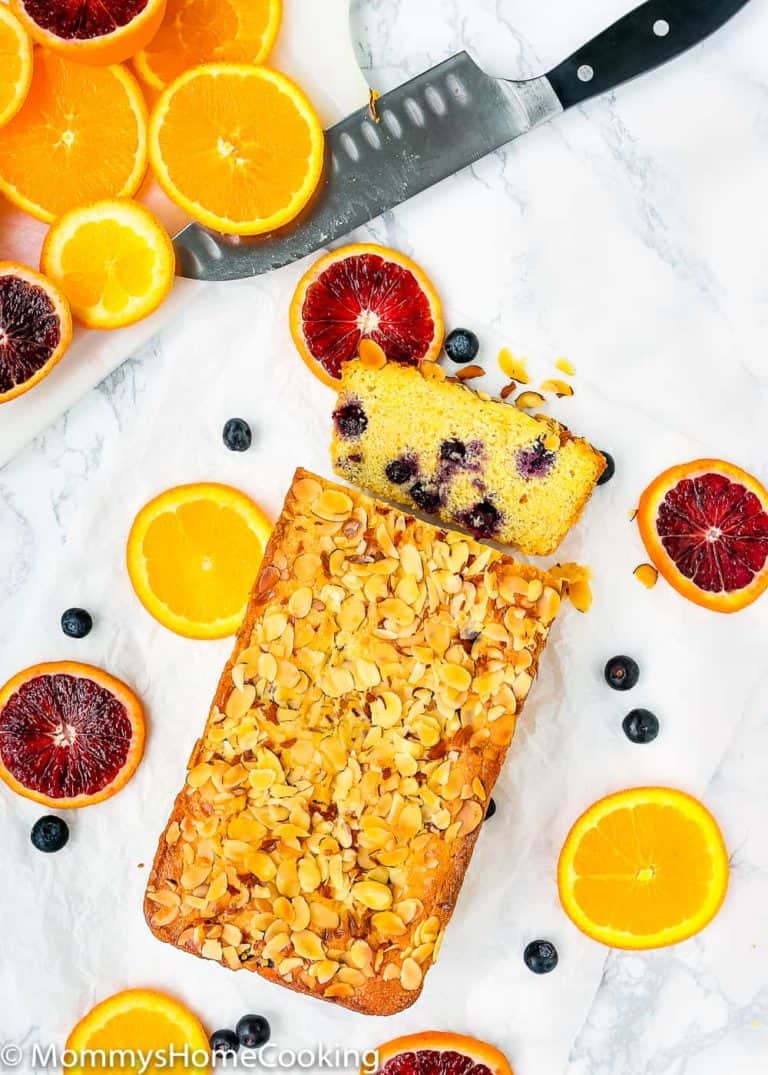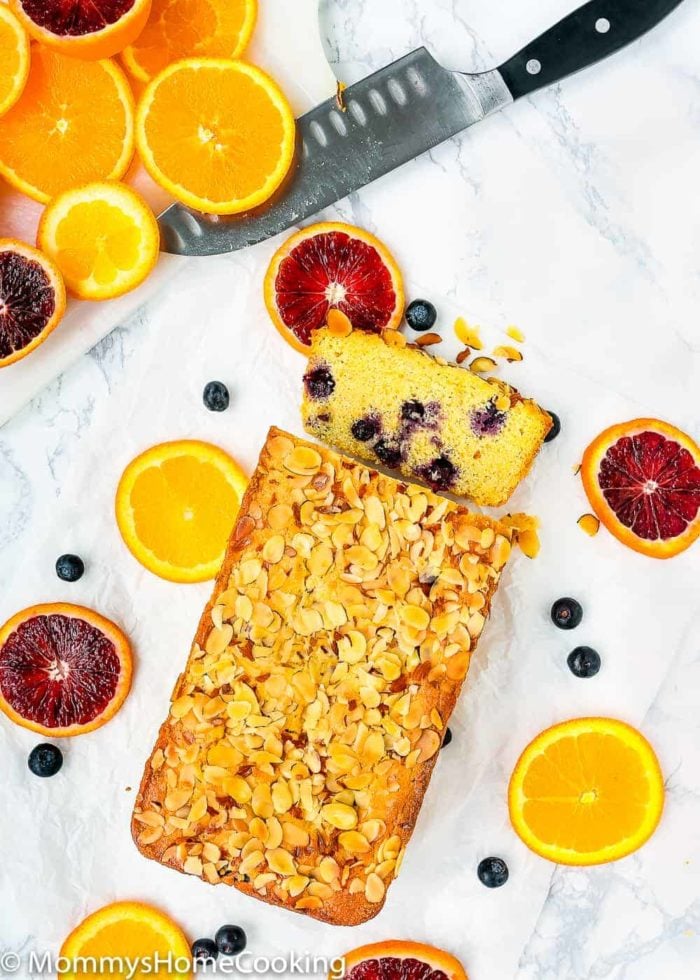 ---
Are you tired of the same old breakfast? If your answer is yes, you need this Eggless Orange Blueberry Corn Bread in your life.  It's nutritious, ridiculously moist, and mouthwatering. Can you imagine waking up to a delicious slice of this yummy bread?  Definitely a great reason to get out of bed.
Breakfast is always a challenge and I'm always looking for new recipes to try. When searching for ideas I want variety, but I also look for nutritious food to start the day. This time I wanted to make something a bit different so I decided to try a cornbread I saw in a BHG magazine. I adapted the original recipe to make it eggless and I loved how it turned out.
Meet my Eggless Orange Blueberry Corn Bread ⇓⇓⇓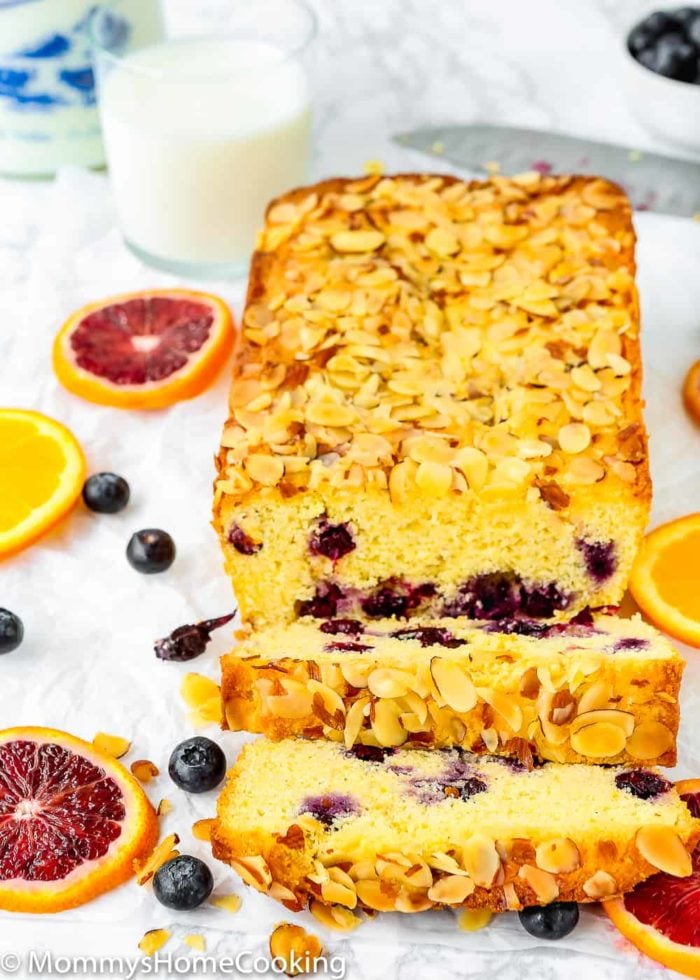 My kids really really really like milk. Since they wake up in the morning the first thing they ask for is a cup of warm milk. I love that they do because I know that It's important for kids to get protein at every meal, especially breakfast. Plus, studies show eating breakfast helps kids focus and concentrate at school. With 9 essential nutrients in each glass, milk is a simple, delicious and wholesome way to give my kids a natural source of high-quality protein – plus other nutrients they need.
So what better breakfast, or snack, that a slice of this fruity corn bread with a glass of milk?
It really is perfection!!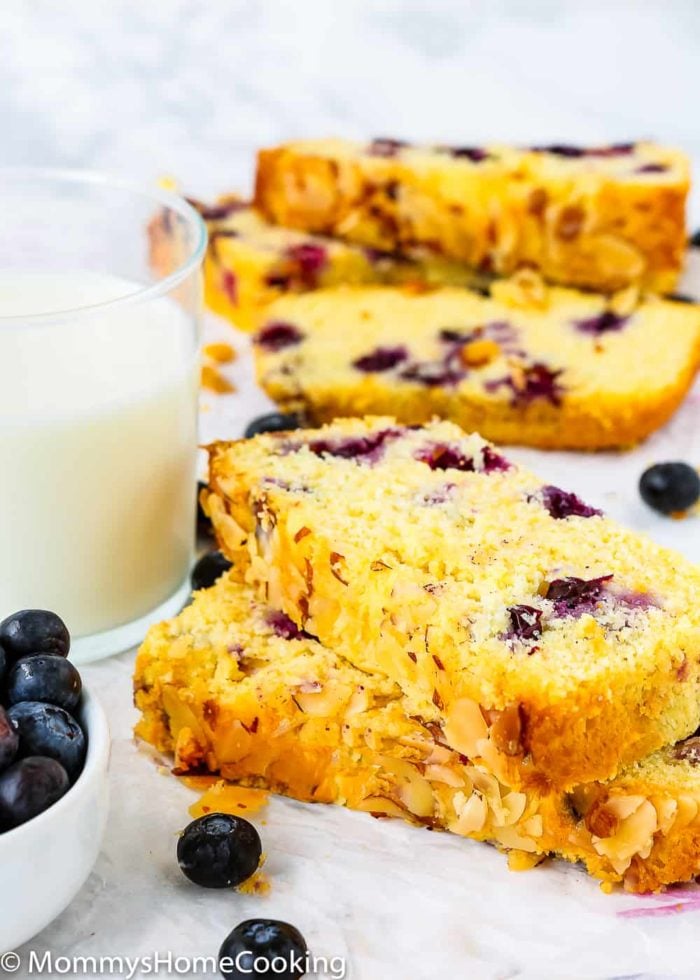 Milk life Lo Que Nos Hace Fuertes campaign introduces their latest milk advocate, a classically trained chef, certified nutritionist and sought-after spokeswoman who runs her own high-end catering business, Chef LaLa.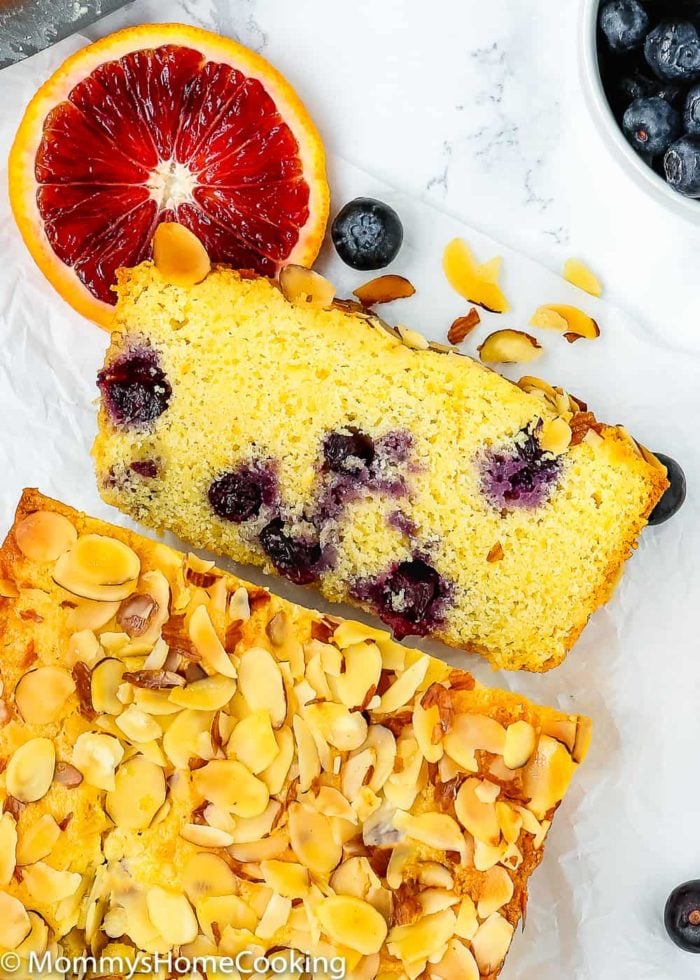 This Eggless Orange Blueberry Corn Bread really is to die for! And just like any other quick bread recipe, is so easy to make.
So if you're craving for a sweet, citrusy, and satisfying slice of heaven, this Eggless Orange Blueberry Corn Bread will not leave you disappointed. Pull out your loaf pan, and make you a delicious bread.
Happy Baking!!
Eggless Orange Blueberry Corn Bread
Ingredients
1 1/3

cups

yellow cornmeal

1

cup

self-rising flour

3/4

cup

sugar

1

teaspoons

baking powder

1

orange

1/4

cup

buttermilk

3/4

cup

plain low-fat Greek yogurt

1/2

cup

milk

1/3

cup

butter,

melted

8

oz

fresh blueberries

1/4

cup

sliced almonds

1

tablespoon

honey
Instructions
Preheat oven to 350º Grease bottom and 1/2 inch up sides of a 9x5-inch loaf pan.

In a medium bowl stir together yellow cornmeal, flour, sugar and baking powder. Set aside.

Remove 1 tablespoon zest and squeeze 3 tablespoons juice from the orange. Reserve.

In a medium bowl combine orange zest, 1 tablespoon of the juice, buttermilk, yogurt, milk and butter.

Mix dry and wet ingredients; stir just until moistened (batter should be lumpy). Fold in blueberries.

Spread batter into prepared loaf pan. Sprinkle with almonds.

Bake 50 to 55 minutes or until a toothpick comes out clean.

Meanwhile the bread is in the oven, in a small bowl combine remaining 2 tablespoons orange juice and honey.

When the bread is done, immediately, brush it with honey mixture.

Cool in pan 10 minutes. Remove; let it cool completely on wire rack. Wrap and store overnight before slicing.
Did you make this recipe? I want to see your yummy photos!
Tag @mommyshomecooking on Instagram and hashtag it #mommyshomecooking or Join my Private Facebook Group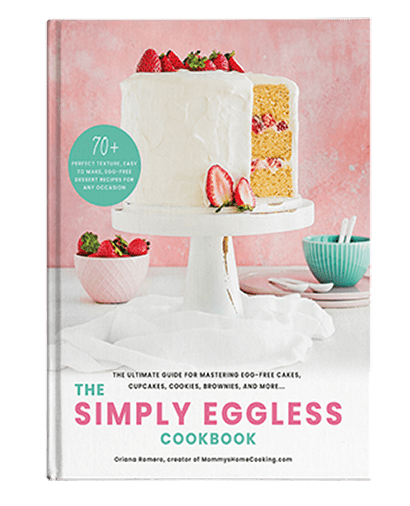 The Ultimate Guide to Eggless Baking!
Includes more than 70 easy-to-make recipes along with full-color photos, detailed instructions, and helpful tips for spectacular results.
Order Now!


Love what you see? Subscribe to Mommy's Home Cooking so you'll never miss a recipe! Follow along on Instagram, Pinterest, Twitter, and Facebook for more fun! 
If you make this recipe, be sure to snap a photo and hashtag it #MommysHomeCooking. I'd love to see what you cook.
* This post contains affiliate links, thank you for the support in keeping Mommy's Home Cooking up and running!
This is a compensated campaign in collaboration with Fuertes con Leche and #WeAllGrow Latina Network.